Against All Grain is a paleo-style cookbook by Danielle Walker which promotes easy-to make food that's gluten-free and dairy-free. But is it as easy and simple as it claims?
I tried out lots of the recipes, and this Against All Grain Cookbook review is a candid review of the cookbook and recipes.
Keep on reading to learn more about it and discover if it'd be a good fit to add to your cookbook library.
---
Are you new here? I also have the following posts to help you live gluten-free without the stress!
…get valuable support from me, and gluten-free peers, in my EXCLUSIVE Facebook community "Stress-Free Gluten-Free" by clicking here!
---
The gluten-free guide below is based on personal experience and research. Always be sure to discuss any medical changes with your doctor for your personal medical needs. Additionally, this post contains affiliate links. As an Amazon Associate I earn from qualifying purchases. My full disclosure isn't that interesting, but you can find it here.
Ready to take back control of your meals and love your gluten free life? Take the 45 second quiz to get a personalized plan with the guide you need to thrive!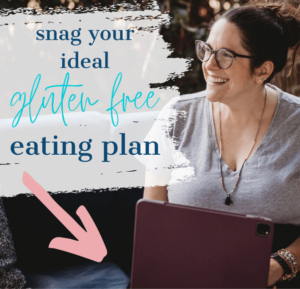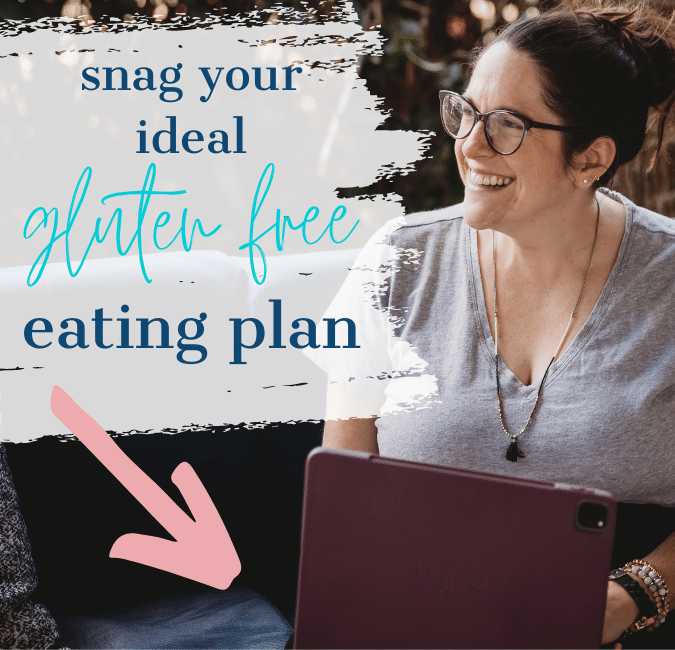 Danielle Walker, founder of Against All Grain and author of this cookbook Meals Made Simple, is an author I've followed for a LONG time.
When Tyler and I first got married, I found her blog so inspiring. I admire her transparency with her readers covering her ongoing journey with autoimmune disease and its effect on daily living.
However, I totally respect her ability to use food (specifically, a Paleo diet) to heal many aspects of autoimmunity. While my family hasn't totally made the transition to Paleo (I'd estimate we're about 80/20), we've been trying out Walker's second cookbook, Meals Made Simple, for about a month.
MEALS MADE SIMPLE: AN OVERVIEW
While Meals Made Simple includes over 100 recipes, it is a bit more than just a cookbook. Walker becomes your guide to a transition to the Paleo diet. She begins with a summary of her personal journey of transitioning to Paleo and her experience helping others.
She then shifts to become your guide in the kitchen—an introduction on how to use Meals Made Simple, a shopping guide (including a synopsis on ingredients you will use, quality of ingredients, essential kitchen tools, and more), and a simple guide to Paleo.
For her readers, Walker defines the Paleo diet as "reverting to the foods that our bodies were intended to consume and process before the days of the agricultural revolution and processed foods" (p. 34).
Finally, Meals Made Simple concludes with 8 weekly meal plans complete with shopping lists. This makes your planning easy–she does it for you!
THE RECIPES
All recipes in Meals Made Simple are Paleo—meaning that they are gluten-free (and dairy-free) by default (this also makes many of her recipes fitting for AIP and other diets).
Walker claims that these recipes are designed for busy-living. Many recipes are crockpot meals or even 30-minute recipes. Personally, I rely on my slow cooker a lot, so that's a major reason why I decided to finally give Meals Made Simple a try.
Meals Made Simple divides its recipes into the following categories: breakfast, soups & hearty salads, poultry, beef/pork/lamb, seafood, sides, basics, and simply sweets.
I tried out recipes for you—(you may have seen a couple teases of me making them in my Instagram Stories—if you don't follow me yet, click here and do it!). Here's what I tried and what we thought!
Biscuits: Rating 4.5/5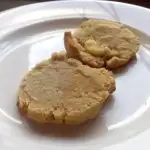 According to Meals Made Simple, this recipe makes 8 biscuits, takes 20 minutes of prep, and cooks for 18-20 minutes.
To make these, you'll need blanched almond flour, coconut flour, eggs, honey, almond milk, apple cider vinegar, baking soda, salt, and either palm shortening or ghee (I used Thrive Market brand's ghee—learn more about why I like Thrive Market here).
You'll also need parchment paper, a flour sifter, baking sheet, either a mixer with a dough hook or a pastry cutter (I used my Kitchen Aid's dough hook), a biscuit cutter (I just used my hands), and a wire cooling rack.
This recipe was easy outside of one issue: you had to sift a LOT of flour, and it felt like it took forever (and it made my hands tired—I know, wah wah).
I do think the sifting was necessary though because these biscuits–DANG they were good. The texture was great, but the taste was even better. We ate them warm with some ghee on top and the kids added jelly.
I do feel as if the result was worth the work and I'll probably make these biscuits again, I just know that I wouldn't have the gusto to make this recipe on a regular basis due to all the sifting. I'm a wimp, obviously.
Overnight Breakfast Casserole: Rating 5/5
According to Meals Made Simple, this recipe serves 6-8, takes 20 minutes of prep, and cooks for 6-8 hours in the crock pot.
To make this breakfast casserole, you'll use palm shortening or softened ghee, gf breakfast sausage, bacon, onion, white sweet potatoes, bell peppers, eggs, almond milk, full-fat coconut milk, salt, dry mustard, and black pepper.
For kitchen tools you'll need a slow cooker, a skillet (for precooking the sausage and bacon), a grater (I used my Kitchen Aid shredder attachment), a sharp knife for chopping, a whisk, and a bowl.
This recipe was so delicious, and pretty simple (CROCK POT). We actually made it for dinner (which I think was a good choice, since we actually stopped our crock pot early.
At only 5 hours of cooking the edges of the casserole were already a bit brown, and we sleep for more than 5 hours at night…). We had quite a bit of leftovers too. Tyler has actually asked me a couple time to make this again! It's on my list for a repeat next week.
Buffalo Chicken Salad: Rating 4.5/5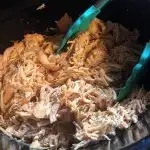 According to Meals Made Simple, this is a slow cooker recipe serving 6-8, takes 20 minutes of prep, and cooks for 4 hours.
To make the crock pot buffalo chicken you'll need boneless skinless chicken breasts, Buffalo sauce, ghee, white vinegar, salt, and cayenne pepper.
To turn it into a salad you'll also need romaine lettuce, celery, shredded carrot, and ranch dressing (Walker includes a recipe for Herb Ranch Dressing that we didn't try—we used Primal Ranch which is our FAVORITE. You can find it cheaper at some local stores or through Thrive Market). You'll also need a slow cooker.
I absolutely loved the simplicity of this recipe…almost as much as I love Buffalo anything! It honestly took much less than 20 minutes of prep.
To make things even simpler, I filled a couple gallon-sized freezer bags with the ingredients and tossed them into our chest freezer. Now I have meals prepped for weeks when I just can't get meal planning together!
While I ate it as a chicken salad, Tyler ate it as a wrap using a burrito sized gluten-free tortilla. Both ways it was great! One note: it was VERY spicy. Next time I'll probably leave out the cayenne pepper.
Cumin-Garlic Summer Squash: Rating 4/5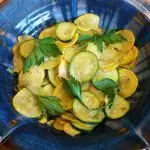 According to Meals Made Simple, this recipe serves 6-8, prep time is only 10 minutes, and the cook time is 15 minutes.
This recipe calls for ghee or olive oil (I used olive oil), garlic, zucchini, yellow squash, ground cumin, sea salt, and black pepper. You'll also need a knife & cutting board, and a skillet.
This recipe was simple perfection. It was one of those recipes that reminds you that regular food right from the earth is delicious.
I'd never had cumin as a seasoning straight up on veggies, and I liked it! It wasn't anything earth shattering, but a good, reliable way to eat your veggies.
MY OPINION
My overall rating of the cookbook is a 4/5. I really liked the recipes I tried, and there's more that I still want to try!
Not all the recipes fit my idea of 'simple'—but I think a quote from the book itself sums it up perfectly: "This way of cooking takes a bit of extra prep work but is, in the end, a lifesaver." (p. 13). It does take extra prep to eat healthy, whole foods. But it does improve your health—and that is worth it.
If you are curious about the Paleo diet (or just looking for more gluten-free recipes), click on over to Amazon to "peek inside" Meals Made Simple and some of Danielle Walker's other cookbooks (she even has a newer one, Eat What You Love, which is a whole cookbook of Paleo comfort foods–now that is right up my alley.
I know I personally will remake the Overnight Breakfast Casserole and Buffalo Chicken Salad. I mean, it's two more crock pot recipes in my arsenal. But I'll also continue trying new recipes from Meals Made Simple.
Have you tried any of Walker's recipes? Let us know in the comments below.
What's they key to loving your gluten free life? Take this quick quiz to get a personalized plan with the guide you need to thrive!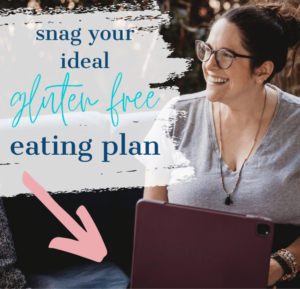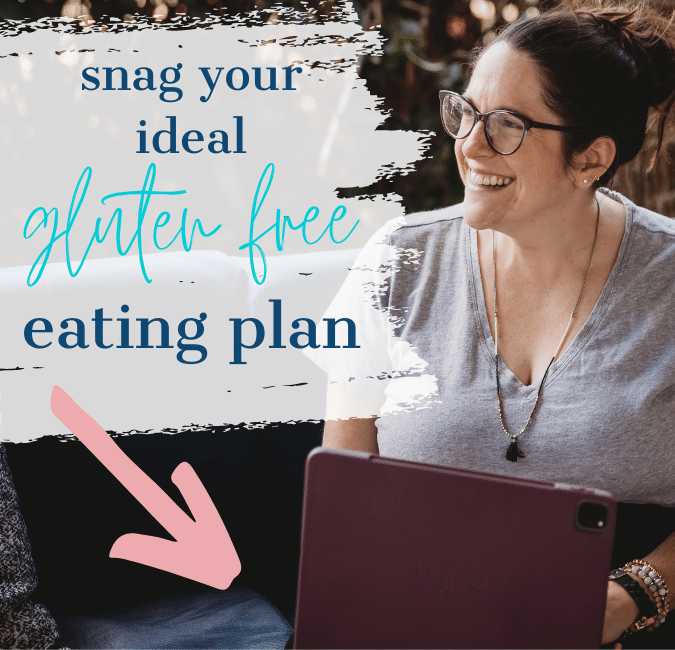 Other posts you may find interesting: