This fire-roasted corn salsa recipe is the perfect easy corn salsa recipe using only 5 ingredients!
Learn how to make this delicious gluten-free and vegan corn salsa using frozen corn in only a few minutes without even turning on any heat.
This recipe is definitely one to keep in your back pocket to jazz up taco night or bring as an easy corn salsa dip to your next event.
Keep reading for this salsa recipe with corn and tips for preparation, or use the jump to recipe button below to jump right to the recipe card.
---
Are you new here? I also have the following posts to help you live gluten-free without the stress!
…get valuable support from me, and gluten-free peers, in my EXCLUSIVE Facebook community "Stress-Free Gluten-Free" by clicking here!
---
The gluten-free guide below is based on personal experience and research. Always be sure to discuss any medical changes with your doctor for your personal medical needs. Additionally, this post contains affiliate links. As an Amazon Associate I earn from qualifying purchases. My full disclosure isn't that interesting, but you can find it here.
Ready to take back control of your meals and love your gluten free life? Take the 45 second quiz to get a personalized plan with the guide you need to thrive!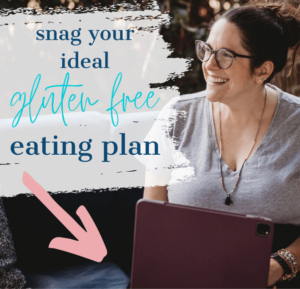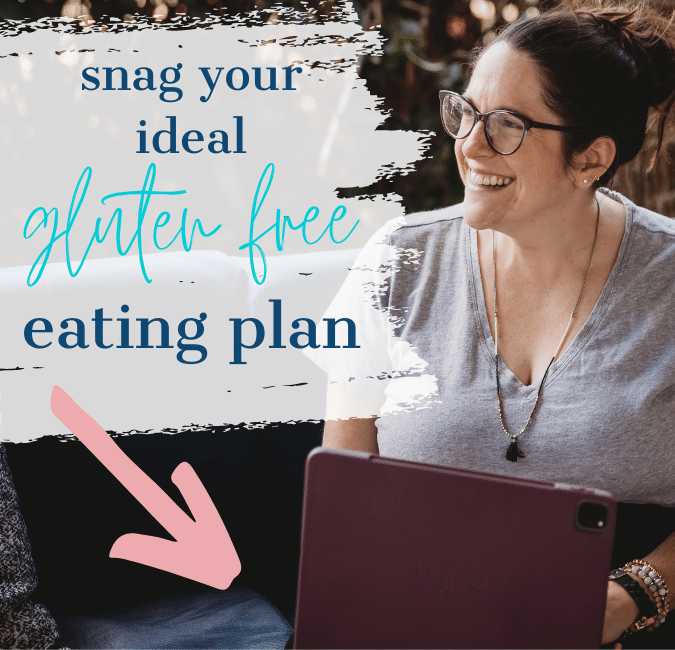 What you'll love about this spicy corn salsa recipe:
This easy corn salsa is the perfect, easy summer dip! Just pair it with chips and it's perfect for your next potluck or cookout.
It makes a great gluten-free corn salsa for tacos, burrito bowls, nachos, or even on its own as a corn salsa dip.
You can get the flavors of Chipotle's corn salsa recipe… but without the fear of cross-contact due to restaurant food handling.
Corn is an excellent gluten-free grain containing a good amount of potassium, fiber, and B6.
You get all the flavor of charred corn salsa without having to get out the grill!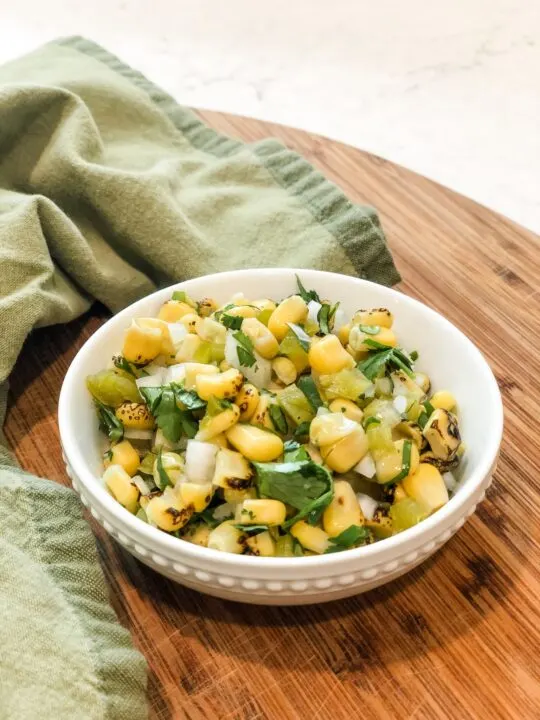 Gluten-Free Corn Salsa Ingredients
This gluten free salsa recipe only needs 5 simple ingredients. They should all be at your local grocery store, but I find great deals on gluten-free items such as jarred or canned jalapenos at Thrive Market.
Click here to learn more about Thrive Market & get a free gift worth up to $24 on your first order!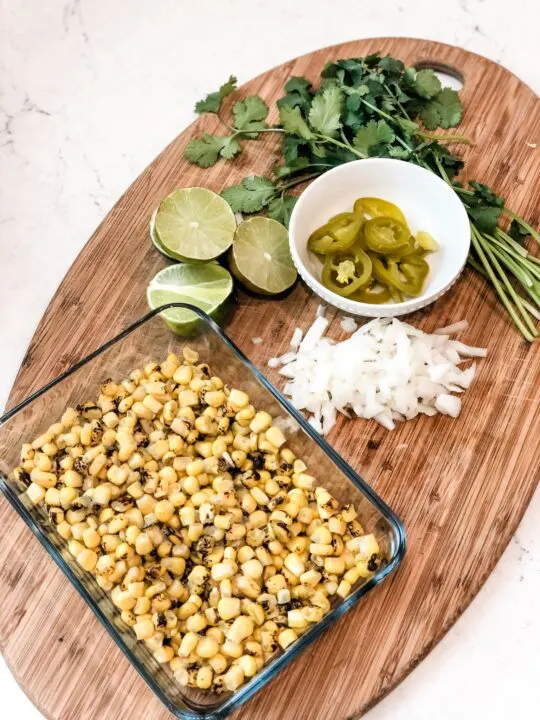 To make this Mexican corn salsa, you'll need:
Frozen fire roasted corn. The easiest way to make fire-roasted corn salsa is to use already roasted corn! I buy mine at Trader Joe's (see the picture below). You could use regular frozen corn for this recipe, but it won't have that same kick of flavor!
Pickled jalapenos. Adding more or less, or using hot jalapenos vs mild jalapenos will change up the flavor profile of this spicy corn salsa. If you love heat, load it up!
Cilantro. Since this recipe is so simple, I highly recommend you stick with fresh cilantro.
Diced onion. I used a sweet onion for this recipe, but if you really want a copycat Chipotle corn salsa recipe, use red onion.
Limes. Again, since this recipe is so simple, I highly recommend you use fresh-squeezed limes. However, if they aren't available to you, you can use prepared lime juice in a pinch!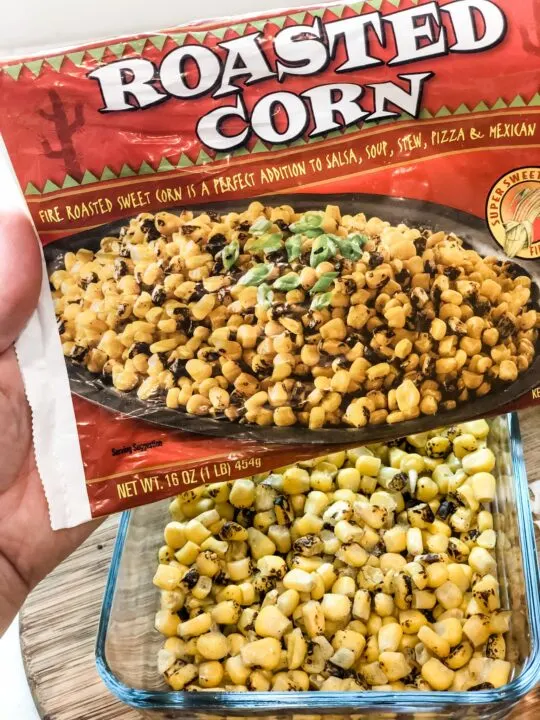 How to Make Corn Salsa
It is so simple to make gluten-free corn salsa! Especially when you make this corn salsa with frozen corn
You only need to defrost your frozen corn and dice your jalapenos, cilantro, and onion.
When those ingredients are ready, mix them up in a bowl and squeeze your fresh lime juice on top using a citrus squeezer.
Once the ingredients are evenly distributed, the vegan corn salsa is ready!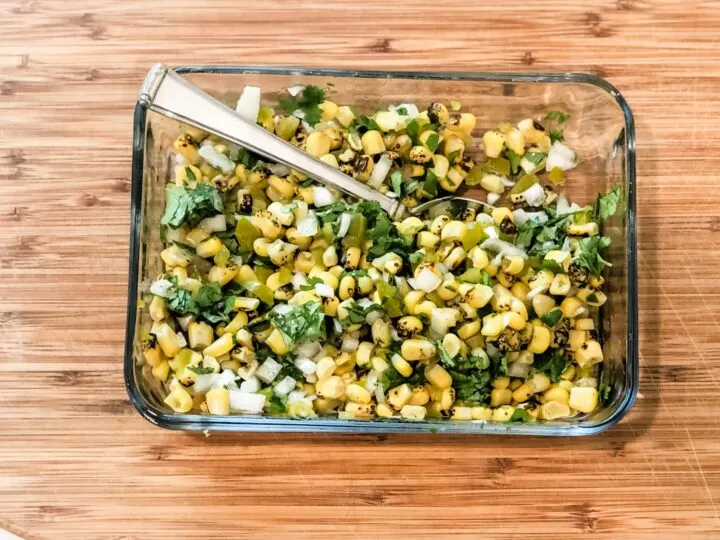 While you can serve it immediately, you can also let it sit for an hour, or even a day to allow the flavors to marinate more.
How can I make this into a mild recipe?
If you really don't like the heat, sub green chilies for the jalapenos. They have a bit less heat but will still provide the flavor. Just add it a tablespoon at a time until you reach the heat level you're comfortable with.
What to eat with corn salsa?
If you're wondering what to eat with corn salsa, oh boy do I have some suggestions!
Pair it with some gluten-free chips for a simple dip for a party. You can also add it to burrito bowls, tacos, quesadillas, and pretty much any Mexican food.
Beyond just being a topping for your favorite dishes such as a Mexican Rice Bowl, it's also a wonderful appetizer for a flavorful meal such as this Ajiaco recipe.
Can you freeze corn salsa?
Yes, you can freeze corn salsa! Simply place it in an airtight container or bag and it should freeze well for up to 3 months.
When you're ready to use, allow it to thaw in the fridge.
It will not be exactly the same once it thaws, but it will still be tasty!
How long will corn salsa last in the fridge?
This cilantro lime corn salsa should last up to 4-5 days in the fridge. If you won't finish it within that time, be sure to freeze it!
Scroll down for the printable recipe, and take the FREE quiz to discover your personalized gluten free plan to claim back your love of food!
What's they key to loving your gluten free life? Take this quick quiz to get a personalized plan with the guide you need to thrive!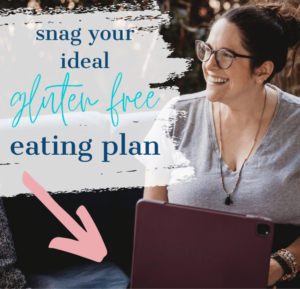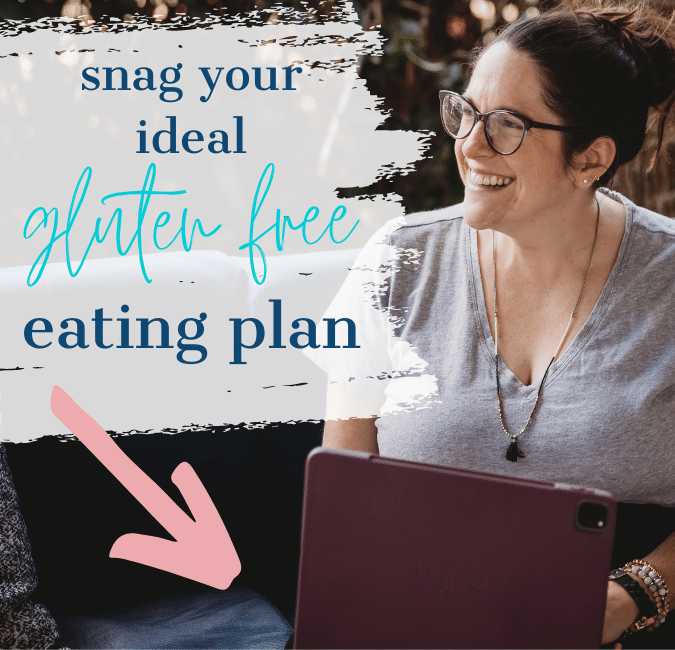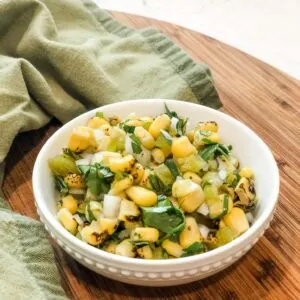 Fire-Roasted Corn Salsa Recipe (gluten-free | vegan)
This insanely easy gluten free corn salsa recipe is a delicious chipotle copycat and is such an easy corn salsa to throw together!
Ingredients
1

lb

fire-roasted frozen corn

thawed

1/4

cup

pickled jalapenos

chopped

1

handful

cilantro leaves

chopped

1/2

onion

diced

1

limes

juiced
Instructions
Defrost your frozen fire-roasted corn, and add it to a mixing bowl.

Dice the onion, jalapenos, and cilantro leaves.

Add to the corn, and squeeze the fresh lime juice over the top of the rest of the ingredients.

Stir until the ingredients are uniformly distributed and serve with chips, or over other dishes.
Notes
note: nutrition information is provided as a courtesy, but may not accurately reflect the final nutrition composition of your final dish depending on ingredients, substitutions, and serving size.
see the full blog post above post for:
ingredient suggestions & substitutions,
tips for modifying the corn salsa dip, and
frequently asked questions
Looking for other gluten-free Mexican inspired recipes?
Then you'll love these gluten-free recipes:
Did you love this vegan & gluten-free fire-roasted corn salsa recipe?
If so, use the social sharing buttons below to share it on social media or pin it to Pinterest for easy reference later!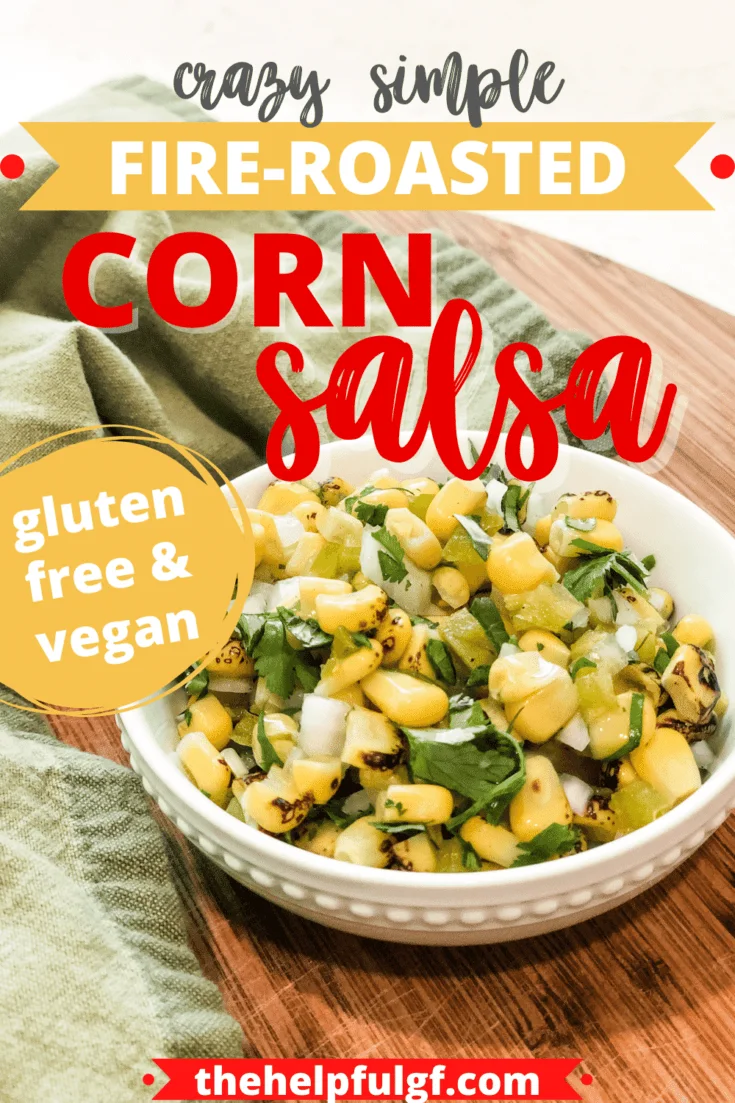 You Just Read: Fire Roasted Corn Salsa Recipe | Naturally Gluten Free and Vegan