Are you looking for a delicious, easy and healthy breakfast option that is also gluten free and high in protein? Look no further than these healthy zucchini pancakes!
This delicious breakfast idea is sure to give you the energy and nutrients you need to start your day right.
Keep reading for the full step-by-step recipe with pictures, ingredient tips and substitutions, and troubleshooting tips. Or use the jump to recipe button to go straight to the printable recipe card.
---
Are you new here? I also have the following posts to help you live gluten-free without the stress!
…get valuable support from me, and gluten-free peers, in my EXCLUSIVE Facebook community "Stress-Free Gluten-Free" by clicking here!
---
This post is sponsored by Naked Nutrition, though it has not influenced this review in any way and all opinions expressed are my own.
The gluten-free guide below is based on personal experience and research. Always be sure to discuss any medical changes with your doctor for your personal medical needs. Additionally, this post contains affiliate links. As an Amazon Associate I earn from qualifying purchases. My full disclosure isn't that interesting, but you can find it here.
Ready to take back control of your meals and love your gluten free life? Take the 45 second quiz to get a personalized plan with the guide you need to thrive!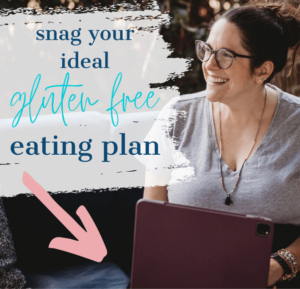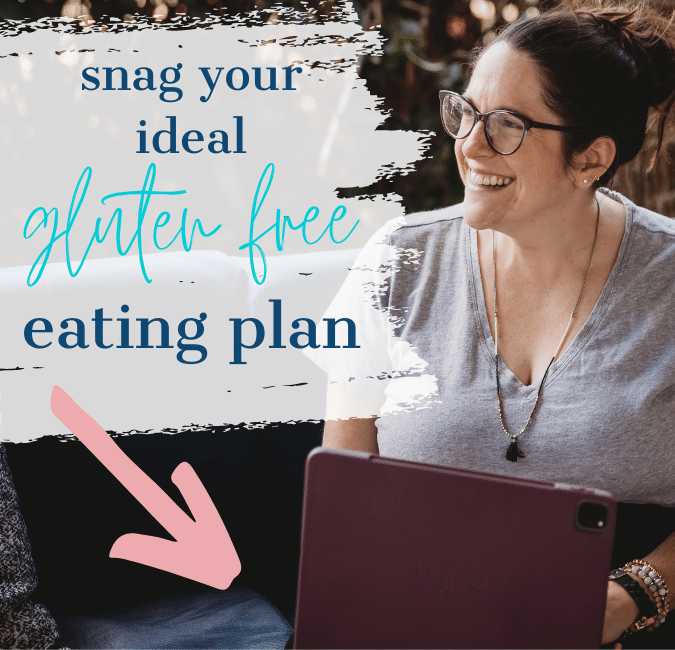 Why You'll Love this Healthy Zucchini Pancakes Recipe:
You'll love that these pancakes are high in protein (22g per serving!) and even contain veggies for a healthy start to your day!
They're so simple and easy to make containing only 5 simple ingredients.
This recipe only takes about 15 minutes from start to finish (and could even be made the night before and reheated for an even quicker breakfast on the go!)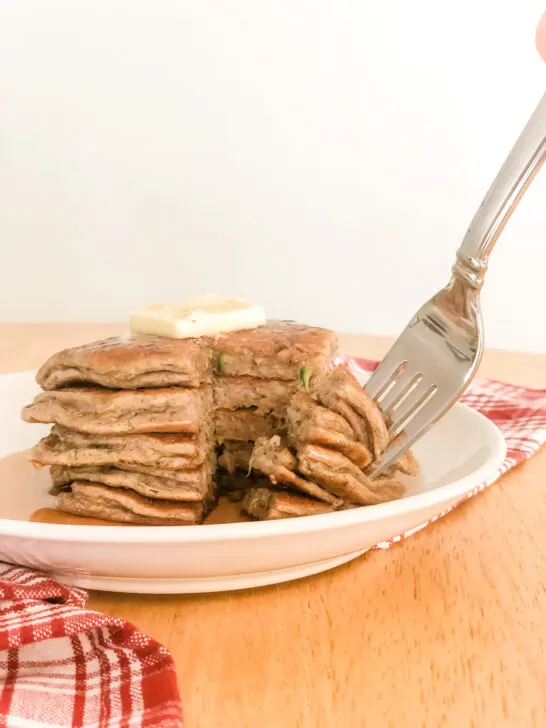 Why Add Zucchini to Pancakes?
Adding zucchini to your pancakes doesn't only give you a yummy breakfast reminiscent of delicious zucchini bread, but it's also an easy way to add a little extra boost of veggies to your day!
In fact, eating veggies for breakfast helps you get a head start on reaching your daily vegetable goals!
(it's also a great way to introduce kids to a new veggie in a not-intimidating way!)
What are the Health Benefits of Zucchini?
Zucchini has many benefits (and, fun fact, many of this vegetable's nutrients are in the dark green skin)!
Some of these health benefits include being high in vitamin B6, vitamin C, and fiber!
What is the Nutrition of Zucchini Pancakes?
These zucchini pancakes are made using Naked Cake Protein Pancake Mix, a gluten free high protein baking mix by Naked Nutrition. This pancake mix doesn't contain oats or soy and is certified gluten free. Looking to snag a tub of this mix? You can find it on Amazon here.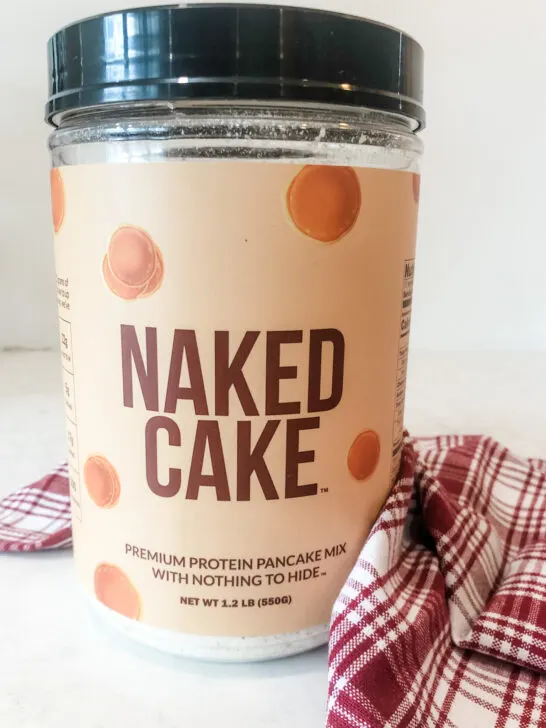 Using this specific pancake mix, each serving of this recipe contains around 205 kcal, 5 grams of fat, 17 grams of carbohydrates, and a whopping 22 grams of protein! Don't forget to add nutritionals from toppings, drinks, and anything else you pair with this breakfast!
If these pancakes were the only thing I was eating for breakfast, I'd eat the whole batch (all six pancakes)!
Equipment for Gluten Free Zucchini Pancakes
To make these healthy zucchini bread pancakes you'll only need a few pieces of equipment:
Grater. This is to grate the zucchini. I use this one.
Measuring cups and spoons.
Medium mixing bowl.
Spatula.
Pancake turner.
Nonstick skillet or electric griddle. My favorite skillet for pancakes is my Green Pan. I never need to use nonstick spray–even for protein pancakes! You can get the pans I use here.
Ingredients for High Protein Zucchini Pancakes
It only takes five ingredients to make these easy gluten free protein pancakes–some which you likely already have on hand!
You should be able to find these spices at your local grocery store (you can use the instacart button in the recipe card to add them to your grocery delivery easily), but you can also find great deals on gluten free spices online through Thrive Market.
Learn more about why I love Thrive Market here, or you can snag a promotional link to receive up to 25% off your first order plus a free gift by clicking here!
However, if you want to use the Naked Cake protein baking mix I used for this recipe, you'll need to snag that from Naked Nutrition's website or get a great deal here on Amazon.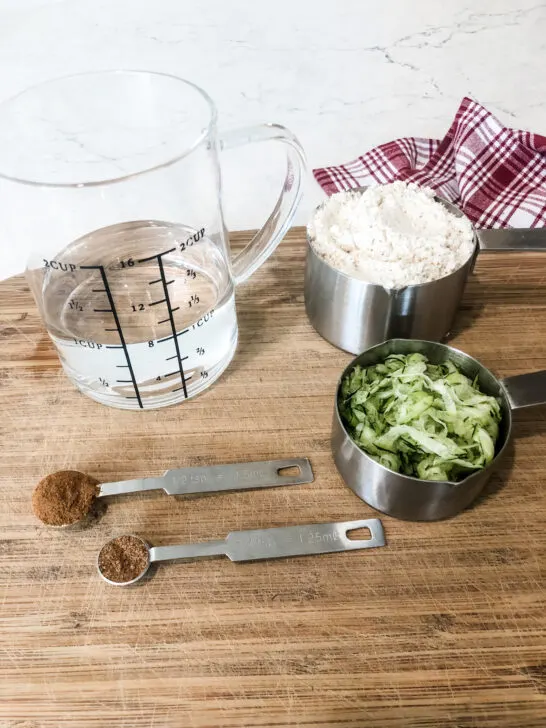 To make these high protein zucchini bread pancakes you'll need:
high protein gluten free pancake mix. I used this protein pancake mix by Naked Nutrition that has 22g of protein per serving! You could use any gluten free pancake mix for this recipe, but it will alter the protein content of the recipe (and possibly other ingredients–see the note in the recipe card below for more information)
water.
grated zucchini. Be sure to drain and squeeze out the water!
cinnamon.
nutmeg.
Flavor Variations for Gluten Free Zucchini Pancakes
Want to add a fun spin to these pancakes? Here's a few ideas:
Add a few tablespoons of chocolate chips to the batter
Add a few slices of banana to each pancake while cooking
Add a half teaspoon of fresh lemon zest for a refreshing twist!
Toppings Ideas
I topped mine with a pat of butter and a drizzle of pure maple syrup. For lower carbs try a sugar free syrup like Lakanto. This recipe would taste great topped with some fresh fruit like sliced banana or blueberries too.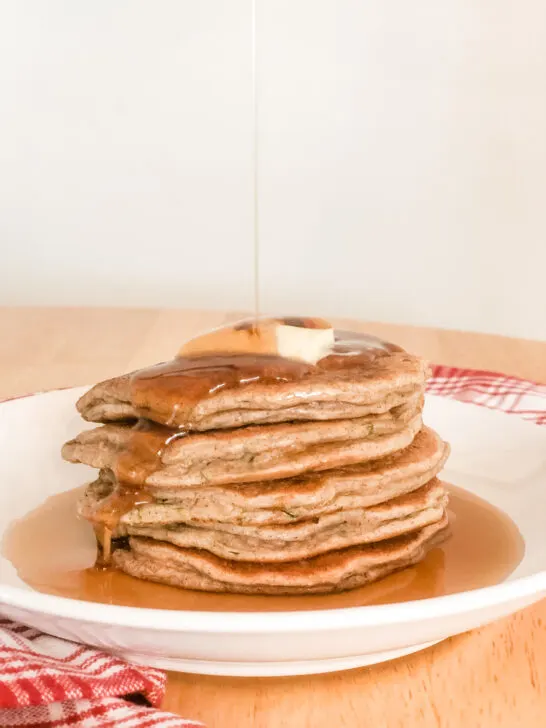 Want an extra punch of protein? Top with a spoonful of gluten free Greek yogurt.
How to Make Zucchini Pancakes
This recipe couldn't be easier!
First, start by grating about a half cup of zucchini. Squeeze out the water by pressing it in a clean tea towel.
Then snag your high protein gluten free pancake mix. I used Naked Cake pancake mix by Naked Nutrition. It has a whopping 22g of protein per serving! You can purchase a huge tub of this on Amazon here for a really great price.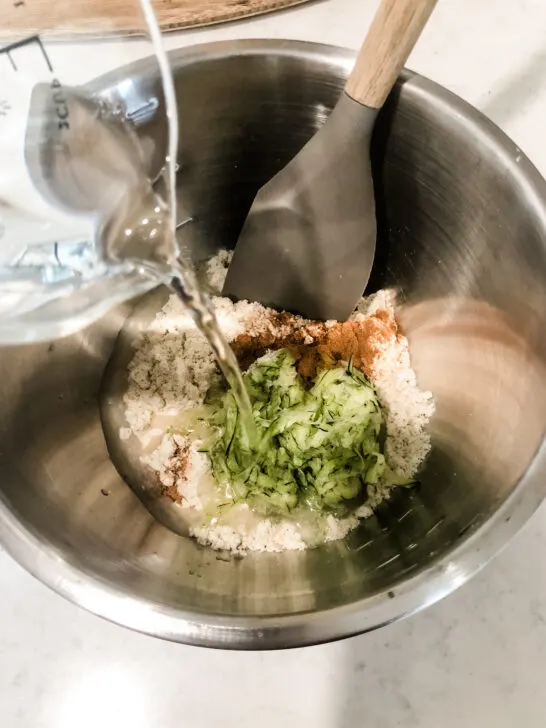 This pancake mix only needs to be mixed with water, so I mixed it in a medium mixing bowl with the appropriate amount of water, the grated zucchini, cinnamon, and nutmeg for that delicious zucchini bread flavor!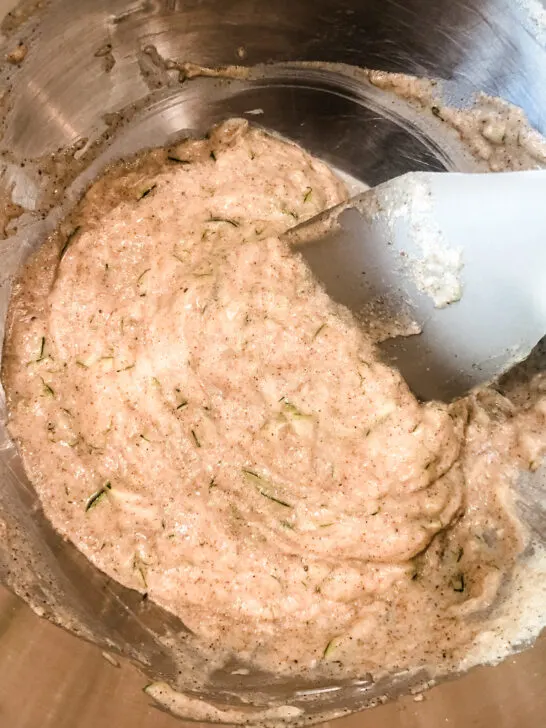 Don't over mix–the mixture will be slightly lumpy! If the mixture isn't holding together, add additional water 1 tablespoon at a time.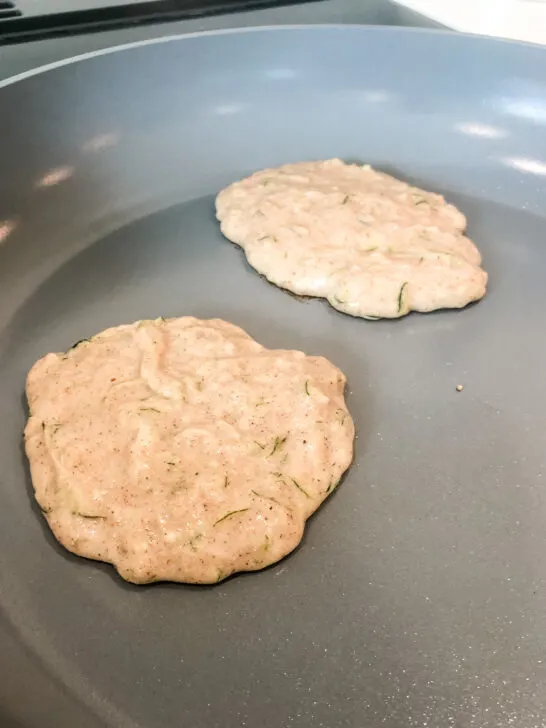 Next, heat a nonstick skillet over medium heat. If your skillet is prone to sticking, spray with a nonstick spray. Add batter to the pan using a ¼ measuring cup. This should make 5-6 pancakes depending on how full you fill the measuring cup.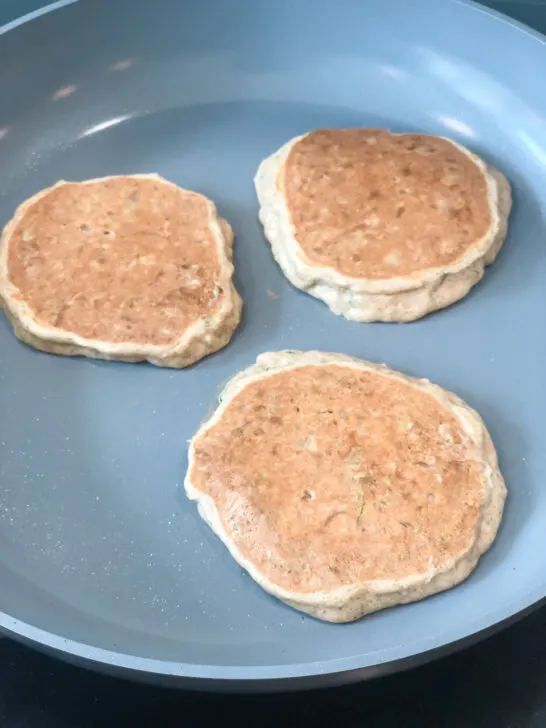 Allow pancakes to cook until golden brown and then flip. This should take about 2-3 minutes per side. You'll know the pancake is ready to flip when the bubbles on top of the cooking batter pop and the batter doesn't fill back in.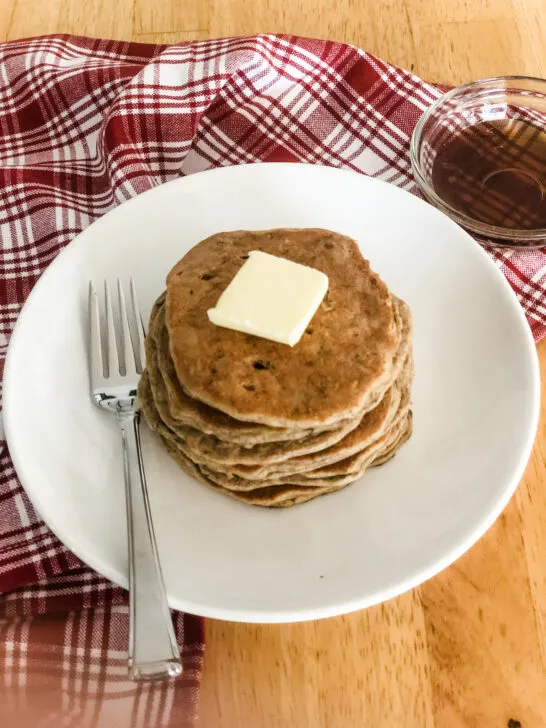 Remove your cooked pancakes from the skillet, divide into two servings, and stack them up! Top them with desired toppings and enjoy your high protein gluten free breakfast!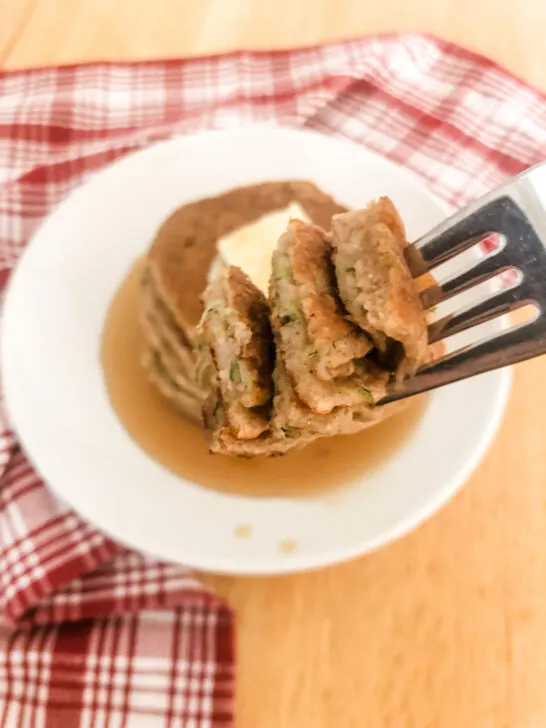 Can You Freeze Zucchini Pancakes?
You sure can! Once the pancakes cool, place a layer of parchment paper between each pancake before freezing to keep them from sticking together.
Keep reading for the printable recipe!
What's they key to loving your gluten free life? Take this quick quiz to get a personalized plan with the guide you need to thrive!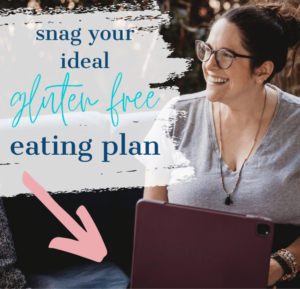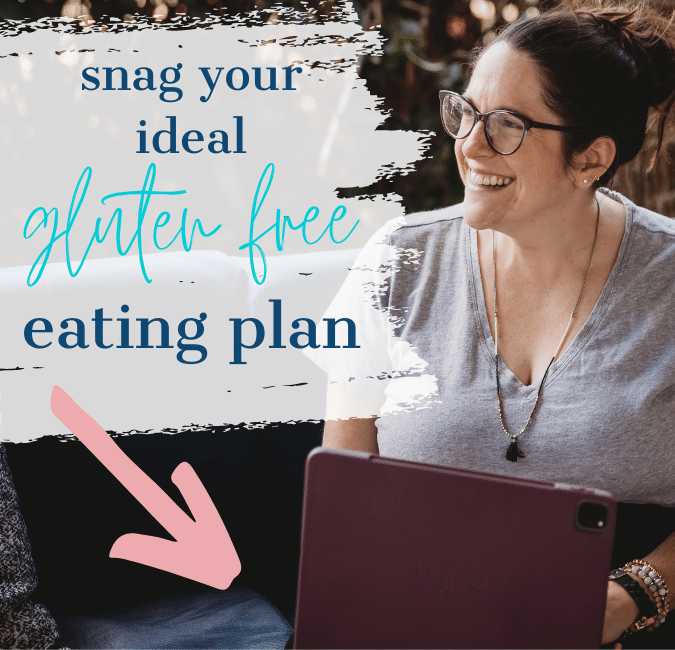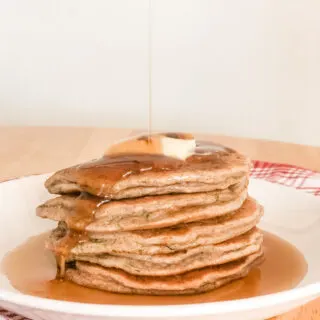 Healthy Zucchini Pancakes Recipe
This recipe for healthy zucchini pancakes is high in protein, gluten free, and made with Naked Cake pancake mix by Naked Nutrition. It's a delicious, easy, and healthy breakfast recipe!
Equipment
1 Grater

1 set measuring cups and spoon

1 medium mixing bowl

1 spatula

1 pancake turner

1 nonstick skillet
Ingredients
1

cup

high protein gluten free pancake mix

see notes for brand

1/2

cup

water

1/2

cup

grated zucchini

drained

1/2

tsp

cinnamon

1/4

tsp

nutmeg
Instructions
Combine all ingredients in a single bowl and mix until just combined–the batter will be lumpy. Do not over mix!

Heat a nonstick skillet over medium high heat and spray with cooking spray if your skillet sticks.

Using a 1/4 cup measuring cup, scoop batter onto the pan and cook approximately 2 minutes per side, flipping when golden brown.
Notes
I used Naked Cake protein baking mix by Naked Nutrition. This mix only required water for this recipe. Other gluten free pancake mixes may require different amounts or different ingredients to prepare, follow package directions and then add zucchini, cinnamon, and nutmeg.
note: nutrition information is provided as a courtesy, but may not accurately reflect the final nutrition composition of your final dish depending on ingredients, substitutions, and serving size.
see the full blog post above post for:
ingredient and equipment suggestions & substitutions,
troubleshooting tips, and
frequently asked questions
Did you love this easy gluten free breakfast recipe?
If so, be sure to share this healthy zucchini pancake recipe to social media or pin it to Pinterest using the social sharing buttons below!
Looking for some other healthy breakfast recipes that are 100% gluten free?
Check out these: