HOMEMADE GREEK SEASONING RECIPE
When cooking quick and easy meals, one of the easiest ways to up the flavor without upping the effort is to use a flavorful seasoning blend.
Unfortunately, so many seasoning blends are not gluten-free.
When I realized gluten was hiding in my seasoning blends, I freaked.
But soon I realized I could make my own super easily with minimal effort.
And now I share with you my super-simple recipe for gluten-free homemade Greek seasoning!
This post contains affiliate links. If you order through one of these links I'll earn a small commission at no extra cost to you! My full disclosure isn't that interesting, but you can find it here.
Ready to take back control of your meals and love your gluten free life? Take the 45 second quiz to get a personalized plan with the guide you need to thrive!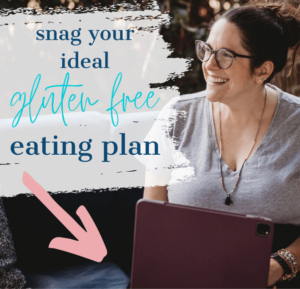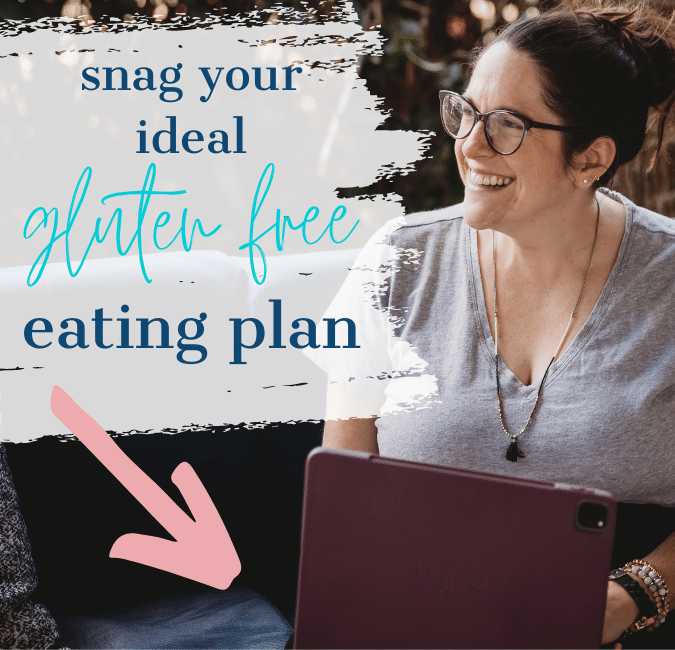 So what's the deal with spices and gluten?
While individual spices (you know, single spices like paprika or dried herbs like parsley) are naturally gluten-free, many become cross-contaminated with gluten during the manufacturing process.
This is due to processing on equipment shared with gluten-containing items. Honestly—we've had black pepper that states a "manufactured on equipment with wheat." ugh.
Want to know more about gluten cross-contamination? Click here!
In addition, seasoning blends often use gluten-containing ingredients (such as wheat flour) as a binder or a thickener in their blend.
What spices and seasonings are gluten-free?
Many companies have gluten-free claims on their ingredients and seasoning blends including, but not limited to:
Note: I love shopping online through Thrive Market! You can save a ton of money on specialty items. Learn more about why I love Thrive Market in this post and get a free trial + save up to $20 off your first purchase.
Back to the homemade Greek seasoning recipe!
To make this homemade Greek seasoning, all you need is a couple different basic spices—many of which you probably already have in your pantry! Just make sure the spices themselves are gluten-free.
I like to make it in bulk and store it in a spice jar (or mason jar if I really make a lot!) so I have it ready for super quick cooking!
This gluten-free Greek seasoning blend is so versatile. I use it to make salad dressing for easy Greek salad. I marinate chicken with it, drizzle it on roasted vegetables.
Don't forget to pin this recipe on Pinterest so you can find it when you want it!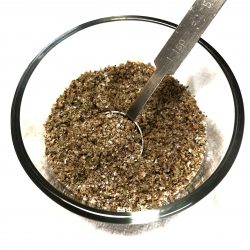 HOMEMADE GREEK SEASONING
Homemade Greek seasoning is so easy! It takes only a couple seconds to mix up and can be used in so many dishes. This blend is gluten-free, dairy-free, vegan, paleo, low carb, Whole 30, keto, and a Fuel Pull (FP) on the Trim Healthy Mama (THM) plan
Ingredients
1

tbsp

oregano

1

tbsp

dried minced garlic

1

tbsp

marjoram

1

tbsp

dill

1.5

tbsp

lemon pepper

2

tbsp

salt
Instructions
Mix all ingredients and store in an airtight container.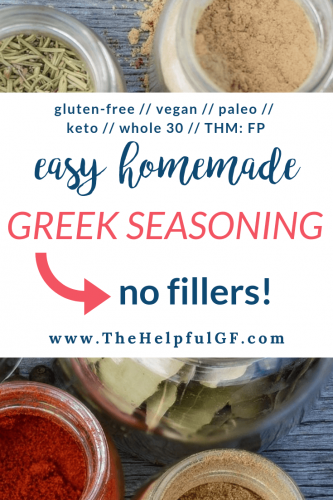 Looking for other yummy gluten-free recipes? Try these:
Easy Greek Seasoning Recipe | Only 5 Ingredients | Gluten Free