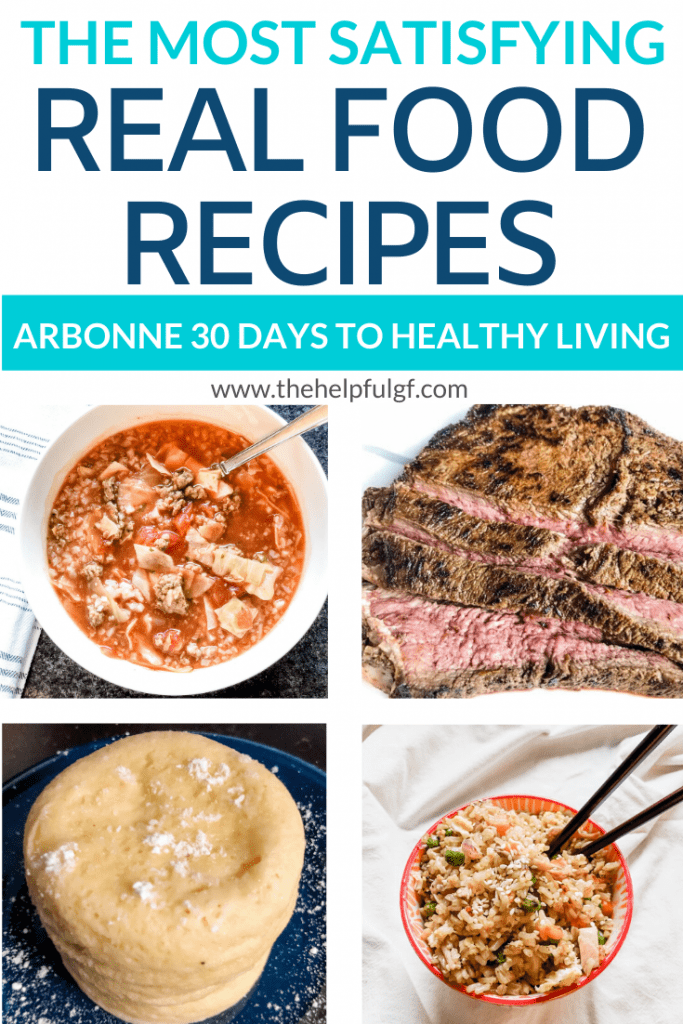 Arbonne 30 Days to Healthy Living Satisfying Meal Ideas
These clean eating meal ideas and recipes are perfect for the Arbonne 30 Days to Healthy Living challenge! Keep reading for more information about the Arbonne 30 Days to Healthy Living challenge, meal ideas, and a sample 1-day meal plan.
SCROLL DOWN FOR THE RECIPES FOR THE ARBONNE 30 DAYS TO HEALTHY LIVING MEAL IDEAS
---
Are you new here? I also have the following posts to help you live gluten-free without the stress!
…and of course, you should join my EXCLUSIVE Facebook community "Stress-Free Gluten-Free" by clicking here!
---
This post contains affiliate links. As an Amazon Associate I earn from qualifying purchases. My full disclosure isn't that interesting, but you can find it here.
Originally published 01/2020– updated 9/13/20
What is the Arbonne 30 Days To Healthy Living Challenge?
The 30 Days to Healthy Living challenge is a 30 day clean eating reset program by Arbonne.

Learn more about Arbonne here and why they're such a great gluten-free company.

During the 30 day challenge you:

1. Eliminate common allergens and other ingredients that are known to cause issues (looking at you gluten! but also sugar, artificial sweeteners, alcohol, dairy, and coffee—I know. saying goodbye to coffee for 30 days is soooo sad!)

2. Eat every 4-6 hours. (This helps you learn to recognize and distinguish between true hunger cues and eating out of habit)

3. Eat the proper portions (your plate is divided between ½ veggies, ¼ protein, 1/8 complex carbs, 1/8 healthy fat)

This is the program in a nutshell, but you also use nutrition products and tools designed by Arbonne to maximize your progress and get group coaching and peer support from others going through the program. Would you like more information about the program and how to participate? Click here to join the next 30 Days to Healthy Living Group!
---
Are you ready to simplify your dinner routine?
Download "FIVE IN FIVE"–my FREE e-cookbook of simple & easy gluten free dinners containing 5 ingredients or less!
---
Arbonne 30 Days to Healthy Living Food List
While the list below is not an exhaustive list, it's a great summary of the fresh, clean foods that youo get to enjoy during this program! Click here for a full grocery list of the anti-inflammatory foods perfect for the Arbonne 30 Days to Healthy living as well as taste-tested and approved brands!
Produce
Avocado, Berries, Broccoli, Carrots, Cauliflower, Celery, Cucumber, Garlic, Green apples, Leafy greens, Lemons, Limes, Onions, Peppers, Squash, Sweet Potatoes, and Tomatoes
Grains, Proteins & Dairy Substitutes (You can do this plan totally vegan!)
Almond milk, Beans, Brown rice, Coconut flakes, Coconut milk, Free range organic eggs, Grass-fed Organic meat (chicken, turkey, beef), Organic & wild caught fish & seafood, Nuts, Quinoa, and Seeds
Condiments & Spices
Almond butter, Almond flour, Apple cider vinegar, Avocado oil, Baking powder, Cacao nibs, Cacao powder, Chia seeds, Cocoa powder, Coconut aminos, Coconut flour, Coconut oil, Extracts, Flax seeds, Herbs, Spices, Stevia, Tahini, and Tea.

Find my top recommendations for brands of many of these items at a totally affordable price here.
Arbonne 30 Days to Healthy Living Meal Ideas
Creating meals for the 30 days to healthy living is as simple as mixing & matching. 

But if you need more inspiration, here are some recipes that are sure to keep you satisfied during the challenge!
17 Shakes & Smoothie Bowls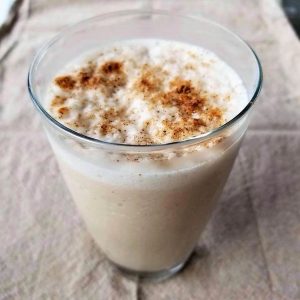 These shakes & smoothie bowls keep things interesting by providing fun new twists on your daily shakes!
Crockpot Cinnamon Applesauce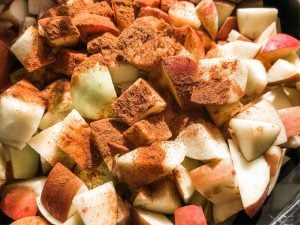 For this crockpot cinnamon applesauce recipe, use green apples and leave out the brown sugar and you have a simple and amazing snack perfect for the challenge.
Crockpot Chili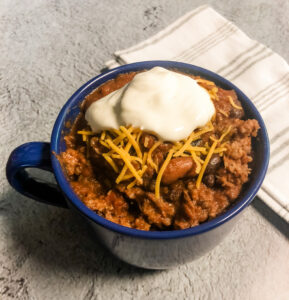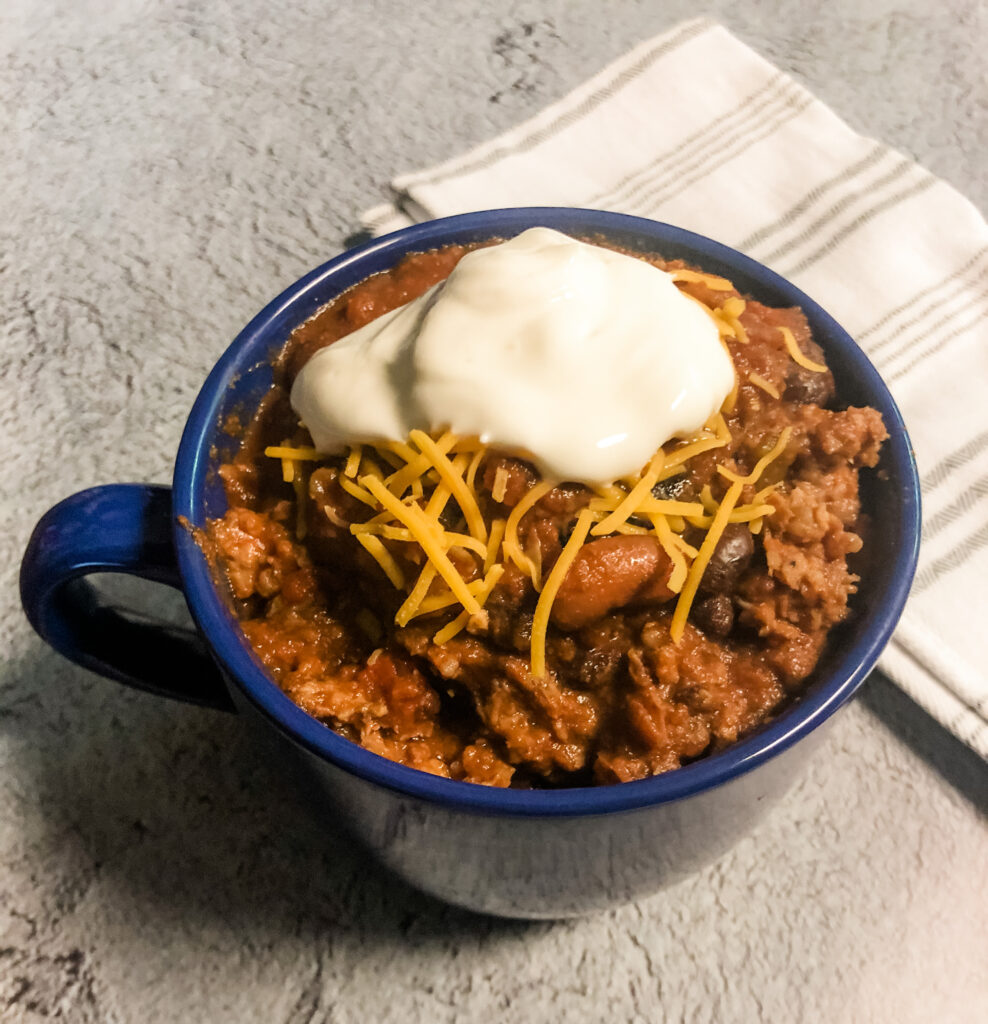 This simple & easy crockpot chili recipe is perfect for the cleanse as written! Let the crockpot do all the work for an easy well-rounded dinner packed with protein from both meat and veggies.
Fried Rice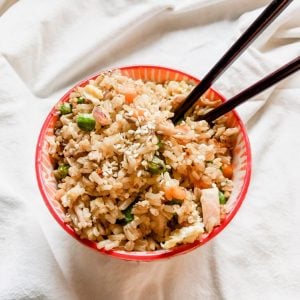 To make this fried rice recipe healthy living compliant simply use coconut oil instead of butter, coconut aminos instead of liquid aminos, and sub half of the brown rice with cauliflower rice. This recipe takes 10 minutes to whip up and will satisfy your take-out craving!
Steak Marinade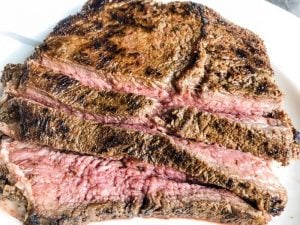 Marinade your grass-fed beef in this marinade that is totally 30 days to healthy living compliant!
Lemon Mug Cake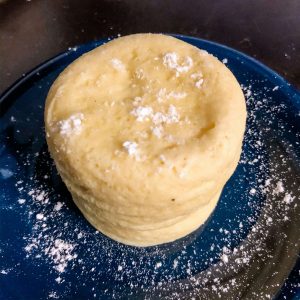 Yes, you can have cake during your healthy living challenge! Just be sure to make the dairy-free option of this lemon mug cake to satisfy your sweet tooth.
Slow Cooker Cabbage Soup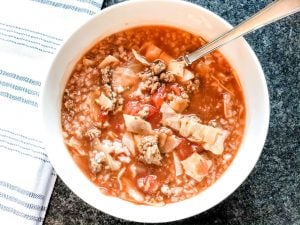 This cabbage soup is packed with protein and veggies, and has the proper proportions for a complete healthy living meal!
Microwave Apple Crumble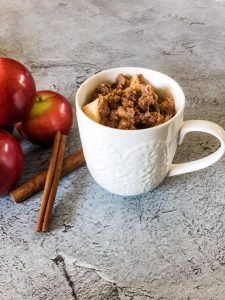 This apple crumble recipe for one mixes up fast and is ready in 1 minute. Satisfy your apple pie craving by using a granny smith apple and stay TOTALLY compliant with your 30 Days to Healthy Living challenge.
Crockpot Beef Barbacoa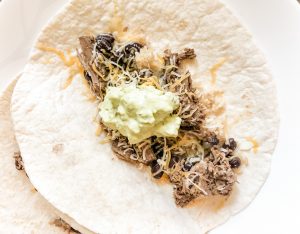 This Chipotle copycat recipe for Barbacoa is not only easy and delicious but PERFECT for Arbonne's 30 Days to Healthy Living. Get all the take out flavor at home.
I hope you found these recipes inspiring—eating healthy can be so easy and taste great!  If you loved these recipes, don't forget to pin this post so you can find it easily when you want to try a recipe.
---
Don't forget– Clear the confusion and make dinner simple with "FIVE IN FIVE"–the free
e-cookbook containing easy dinners you can make with 5 ingredients or less!
---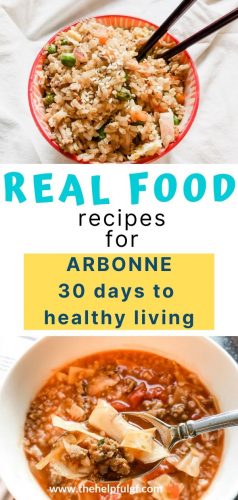 Looking for more gluten-free recipes?
Here are more recipes you will LOVE: