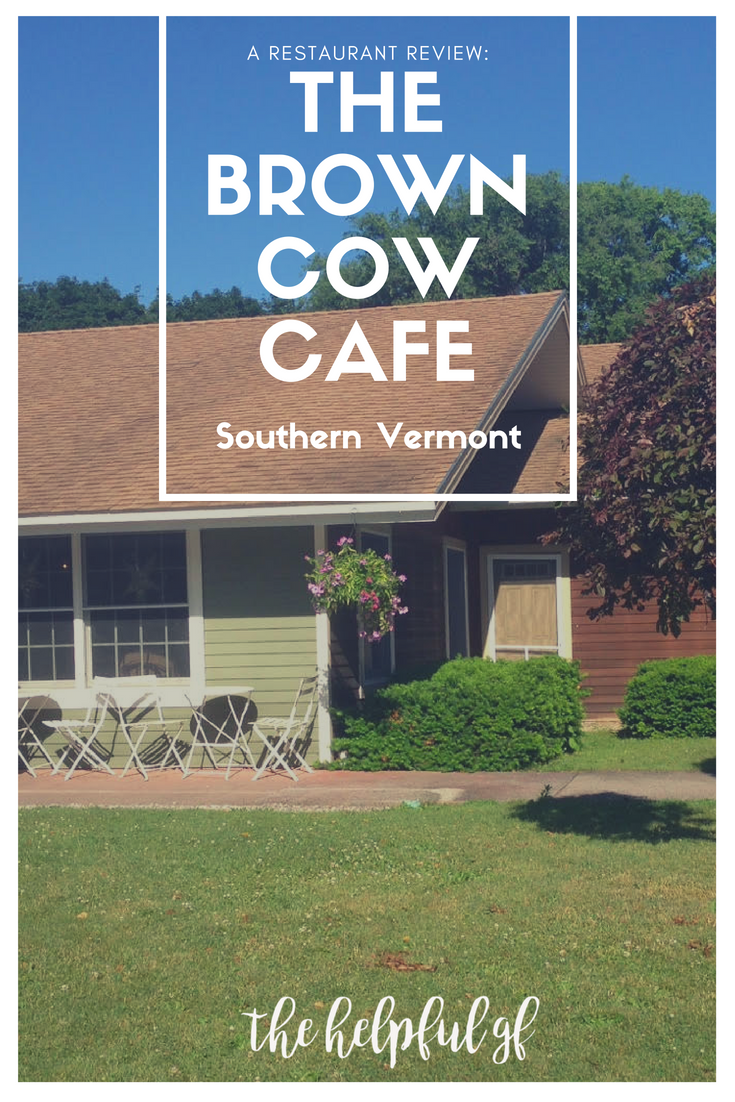 The Brown Cow Café:
A Restaurant Review, Southern Vermont
I love little, local cafés.  There's something so peaceful and nostalgic about them—like I want to forget about the day's responsibilities and and get lost in a good book.  Unfortunately, it's often difficult to find a small restaurant able to accommodate the needs of gluten-free patrons.  However, The Brown Cow Café in Bennington, Vermont is that gem.
This post contains affiliate links.  As an Amazon Associate I earn from qualifying purchases. My full disclosure isn't that interesting, but you can find it here. 
Atmosphere
The atmosphere at The Brown Cow Café is totally inviting.  Upon entering, you quickly notice they have all the cute aspects of the typical eclectic café—the chalkboard menu, a treat case, café tables for two.  Off to the side they have a larger dining room with tables that can accommodate larger parties (and comfy couches if that's more your thing) and the walls feature the work of local artists.  There's even a shelf with toys on it for the kids!  As a mom, I totally appreciate this.
They also have outdoor seating, perfect for the typical Vermont summer day.
Menu
Their menu is diverse for a small café.  They serve breakfast all day, soup, salad, and sandwiches.  And, the best part, they offer gluten-free, dairy-free, and vegan options in each category!  To accommodate gluten-free, they will substitute Udi's bread, Udi's bagel, or a Toufayan gluten-free wrap.  [Note: when ordering, always be sure to inform them if you have Celiac or an allergy to ensure there's no cross-contamination.  As a tip, if you order a bagel or toast, try requesting them to toast it in a clean pan instead of the toaster!]  In addition, they also try to source local ingredients whenever available.  You can see their current suppliers here.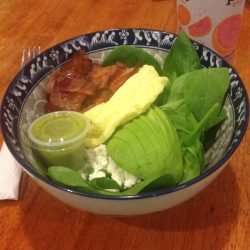 It was honestly difficult to choose what I wanted to try.  I went back and forth between the Brown Cow Club (a sandwich with turkey, bacon, avocado, lettuce, tomato, and chipotle mayo) and the Breakfast Bowl (a bed of spinach topped with scrambled eggs, avocado, bacon, feta, and a pesto vinaigrette).  I ended up ordering the Breakfast Bowl, and I am so glad I did!  It was filling, while still feeling fresh and light.   Plus, it was served in a gorgeous bowl.
Since eating there for lunch, I've been back and gotten an iced coffee made with almond milk.  Yay for dairy-free coffee!
Final Thoughts
I've known about The Brown Cow Café for a couple years, but I'm so happy I finally went.  I know I will be returning, and I highly recommend it to all of you!  If you ever visit Southern Vermont, make sure you put The Brown Cow Café on your restaurant list.
Plus, I designed something special for you–my gluten-free friend!  Download this custom made (by me!) restaurant card, print it out, and put it in your wallet (it's business card sized!) to bring with you whenever you eat out!  Just give it to the person taking your order so your dietary needs are clear.
Are you ready to simplify your dinner routine?
Download "FIVE IN FIVE"–my FREE e-cookbook of simple & easy gluten free dinners containing 5 ingredients or less!