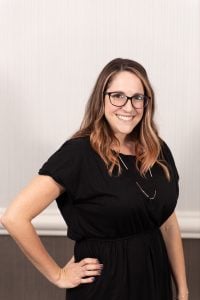 Hi, I'm Sharon and I'm so happy that you have come to take a peek at my blog! Welcome to The Helpful GF where I share my family's gluten-free journey with you. Here you'll find updated research on eating gluten free and autoimmune disease, taste tests of gluten-free products, guides for eating out and traveling, recipes and helpful gluten-free kitchen tips, and general resources for living with chronic illness (and supporting your loved ones with chronic illness).
My husband, Tyler, was diagnosed with Celiac disease in 1997 (back when you could really only get gluten-free food from a mail-order catalog and it pretty much tasted like cardboard…. or maybe sand?). When we married in 2012, I not only had to adjust to living with a boy, but also learn what in the world this whole gluten-free thing was. In these past years, I've had a few opportunities to share what I've learned with others who have had to become gluten-free, and I'm so excited to be able to share it with you. Keep reading to learn more about my family and me.
About Sharon
I love organization so we're going to break it down here…
I'm a student pursuing a Masters in Nutrition and Dietetics. I'm a full-time grad student working on a Masters of Science in Nutrition and Dietetics with credentials to become a Registered Dietitian. I'm also a Student Member of the Academy of Nutrition and Dietetics and the Greater New York Dietetic Association. The work-home balance is challenging and once I think I have it figured out something always happens to shake things up—like starting this blog!
Tyler and I have known each other since we were kids. Actually, his mom was my 5thgrade teacher. However, we didn't start dating until after college when we were both in graduate school. Our parents were friends and decided to go on a trip together to Puerto Rico, inviting the two of us to tag along (Actually, my dad orchestrated the whole thing to "arrange our marriage" I guess… and, much to my father's vindication, it worked). As poor grad students, neither of us were going to say "no" to a free Caribbean vacation… who would? Well, less than 2 years later, we were married.

(Tyler and I just relaxing in Puerto Rico!)

I'm a city girl who lives in the country. I was born in Houston, Texas, but my family moved to Upstate New York on the Vermont border when I was 11. It was a shock for my little brain to learn that the state of Vermont has a smaller population than the city of Houston (And that the closest mall would be an hour away. I mean, even the Wal-Mart 15 minutes away was really the size of a gas station market…). I escaped country life during college when I moved to Manhattan to attend The King's College. Once again, I was falling asleep to the sound of cars and construction. Post-graduation, I moved back home to attend graduate school and am still here. To be honest, I still crave the excitement of the city, but for this season of life, being near extended family is priceless.
I was a vegetarian for 5 years. Technically, I was a pescatarian (I still ate eggs, dairy, and seafood). In college, I watched way too many documentaries about the meat-packing industry and….ewwww! Once I was engaged to Tyler, though, I slowly started re-integrating meat into my diet. Gluten-free living was hard enough; gluten-free vegetarian just seemed downright difficult at the time! However, I still make meatless meals at least two-times a week.
My husband, Tyler, doesn't just have Celiac Disease. He actually has a severe form of Celiac Disease called Refractory Celiac Sprue. Basically, this means that even when he follows a super-strict gluten free diet (and has been tested to show he hasn't had accidental exposure to gluten) he is still sick. Click here to read about Tyler's medical journey! And, since autoimmune diseases often run in packs, Tyler also has Type 1 Diabetes, Psoriasis, and Lymphocytic Colitis. He's lucky he's cute.
I love couponing and budgeting. If you're reading this, you probably already know that eating gluten-free tends to be a bit pricy. Early on in our marriage I learned how to coupon (yes, the people in line behind me roll their eyes when I pull out the envelopes full of coupons at the store). Back in 2012, couponing helped us save money on other expenses so we could afford the specialty food our family needed. Today, there are so many gluten free products on the shelf—and so many coupons to go with them! Don't worry, I won't keep all the deals to myself, I'll share them with you. 😉
I don't do this blog alone. I am a firm believer in having a tribe—we weren't made to do life alone, and I don't do this blog alone. I love collaboration! Whenever collaborators posts, there will be a short bio about them so that you can get to know them, too.
Thanks for connecting with me on this adventure! Please connect with us on social media and subscribe to our newsletter. I can't wait to learn more about you and your gluten-free story–comment below and share it with us!
My beautiful blog theme was designed by Angie Makes. These themes are amazing and come with tutorials that are so helpful! Explore her website here: