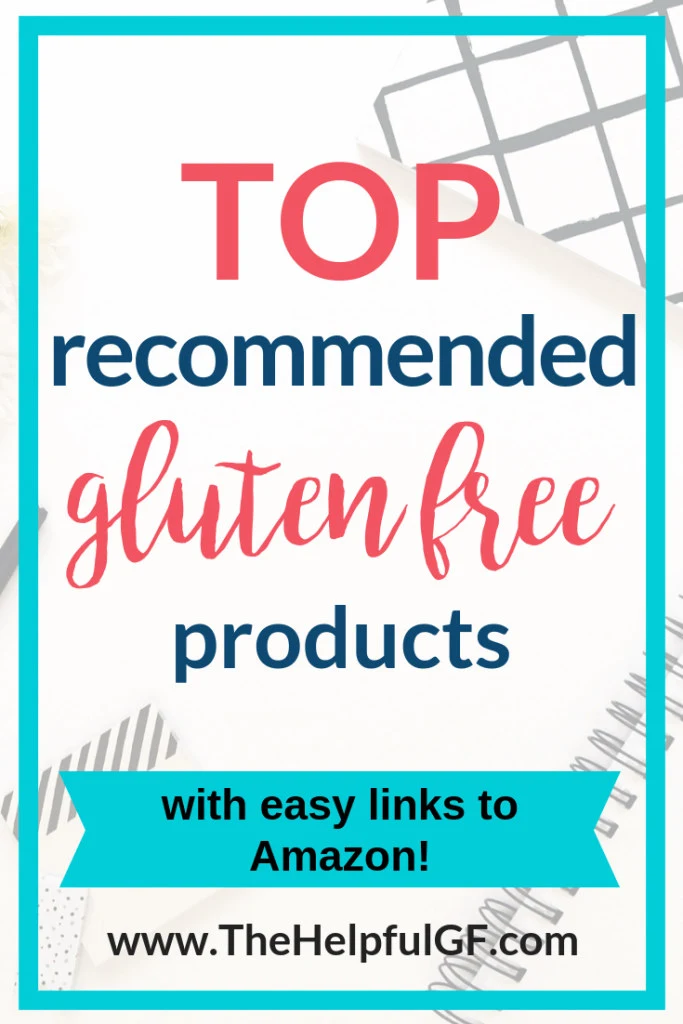 Top Recommended Gluten-Free Products
My goal at TheHelpfpulGF is to help you keep living gluten-free totally stress free. One way I keep things simple is by ordering online. Finding gluten-free products, much less any recommended gluten-free products, in the grocery store can be like a scavenger hunt. Shopping online makes it easy to classify items by "gluten-free."
The gluten-free guide below is based on personal experience and research. Always be sure to discuss any medical changes with your doctor for your personal medical needs. Additionally, this post contains affiliate links. As an Amazon Associate I earn from qualifying purchases. My full disclosure isn't that interesting, but you can find it here.
My 3 favorite places to order recommended gluten-free products are Thrive Market, Brandless, and Amazon (scroll down to see my recommended gluten-free products from Amazon)!
Gluten-Free Shopping with Thrive Market
Thrive Market is a neat place to discover new products, plus it's easy to sort not only by "gluten-free" but other values as well, such as vegan or Paleo. In addition, you can get GREAT deals. Read more about Thrive Market here.
Try out 1 month of Thrive Market for FREE and save up to $20 off your first order by clicking here.
Gluten-Free Shopping with Brandless
Brandless is also a neat online service. There is no yearly fee and everything they sell is $3 or less. The selection of gluten-free products is excellent! If you want to try Brandless, click here for a coupon saving you $6 on your first purchase!
Gluten-Free Shopping with Amazon
Now for Amazon. There are so many gluten-free products available, it can be hard to know what you actually need, much less which product will work or taste good. Here are the recommended gluten-free products that I personally recommend for various categories with links to Amazon.com:
appliances
baking mixes
candy
extracts & sprinkles
flours
pasta
protein
spices
Appliances
While gluten-free living does not necessarily require different appliances than regular cooking, it may be necessary to invest in new appliances when you make a transition to gluten-free living to: 1. avoid cross contamination (learn more about this here!) or 2. make products that you might not have wanted before the transition.
Here are my suggestions for appliances:
Baking Mixes
Gluten-free baking is more difficult than regular baking, so I often rely on baking mixes. Click here to read my in depth reviews of gluten-free cake mixes, and keep reading to see my top recommendations!
My absolute favorite gluten-free baking mixes are the ones by King Arthur Flour. There are many varieties including cake, pancakes, muffins, cookies, and brownies.
Another honorable mention, particularly for pancake mix, are Pamela's Gluten-Free mixes. These mixes are versatile and tasty.
If you're looking for grain-free mixes, my favorite by far are Simple Mills mixes.
Candy
While a couple of the mainstream candy companies do claim their candy is gluten-free when contacted, it's more difficult to find companies that will actually label their products gluten-free. Here are my favorites that do!
One of my more recent gluten-free candy company discoveries is Lovely Candy Company. There's an amazing variety and their sea salt caramels are to die for.
Justin's brand not only makes excellent gluten-free nut butters, but transforms them into amazing peanut butter and almond butter cups!
If you need gluten-free candy that is also top 8 allergen free, be sure to buy from Enjoy Life! We almost exclusively use their chocolate chips for baking, but they make chocolate in bar form as well.
Extracts and Sprinkles
Gluten can hide in baking essentials like extracts & sprinkles. Here are my recommendations for safe gluten-free baking!
For extracts, I rely on Watkins extracts. Not only are they reasonably priced, but they come in a variety of flavors!
Sprinkles by Chef's Select are actually certified gluten-free like these rainbow jimmies, but also come in other flavors.
If you're looking for more decorative shapes, try these sprinkles by Supernatural Kitchen. note: this brand also makes gluten-free food coloring!
Flours
There are a variety of gluten-free flours to choose from! Here are my top choices for an all-purpose flour and my favorite grain-free alternative flours. note: Gluten-free flours do not have the same shelf-life as regular flour. I store mine in the freezer until it's time to bake!
My absolute favorite gluten-free all-purpose flour is this one by King Arthur. If you aren't a fan of King Arthur's, try Pamela's All Purpose flour.
If I'm not using gluten-free all-purpose flour, I'm usually baking grain-free with almond flour. My favorite almond flour is this one by Wellbee's.
I also use coconut flour on occasion. This one by Anthony's is my favorite.
Pasta
Finding the right kind of gluten-free pasta can be difficult. Here are my personal favorites!
For gluten-free pasta that tastes almost like the original, I like Barilla brand. Barilla even makes gluten-free sheets of oven-ready lasagna.
For brown rice pasta, I recommend the Tinkyada brand. I rate this second as brown rice pasta can be a bit more difficult to cook than other varieties, but many people love it the most!
If you want something a bit more wholesome with a protein punch, try chickpea pasta like Banza.
Protein
I use protein powders daily. While my favorite protein is Arbonne's vegan protein (click here to read more about it!) there are also some tasty options on Amazon.
My top choice on Amazon for certified gluten-free whey protein is Designer Whey. It comes in multiple flavors and tastes great.
If you are looking for a tasteless option, try collagen peptides! I use this in my coffee daily for a protein boost and can't taste it at all.
Spices
Spices are another place where gluten commonly hides. Read more about that in this post! Here are my favorite brands you can find on Amazon!
My top choice is the Badia brand–they are priced low plus are certified gluten-free.
Primal Palate is another great gluten-free brand. Plus, they make lots of gift sets and seasoning packets without additives and fillers as well.
If you're looking for some fun spice blends, try Blnd by Kitchen Crafted. These blends come in a couple fun flavor combos!
I hope you found this guide to my favorite recommended gluten-free products helpful! Are you looking for any recommended gluten-free products not listed here? Comment below and let me know or visit the Gluten Free Resource Directory's website for even more highly recommended gluten-free products!