Birthday Bash: Gluten-Free Cake and Icing Reviews
One of the questions I get the most from readers is: "What is the best gluten-free cake mix?"  Whether getting ready for a birthday party or wanting to use a gluten-free cake mix as the base of another recipe entirely (like bars or cookies), finding a good gluten-free cake mix opens up many gluten-free baking possibilities!  Keep on reading for reviews of gluten-free cake mix and frosting!
This post contains affiliate links.  As an Amazon Associate I earn from qualifying purchases.  My full disclosure isn't that interesting, but you can find it here.
Gluten-Free Cake Mix
King Arthur is a brand I enjoyed even before I knew gluten-free was a thing.  Their baking mixes (regular and gluten-free) are delicious and when I first started experimenting with gluten-free baking I started with King Arthur mixes.  When I read the ingredient list on the box of the King Arthur gluten-free yellow cake mix I was relieved to see that it didn't contain gluten, dairy, soy, or nuts!  The box even has clear directions on the back for how to keep the cake dairy-free.  Score!
To make this cake mix you will need to add:
½ cup butter (to keep it dairy-free and soy-free I used Earth Balance Soy Free)
2 tbsp vegetable oil (I used this avocado oil)
4 large eggs
2/3 cup milk (to keep it dairy/nut/soy free I used this coconut milk)
I baked my cake in my 12 inch Wilton Aluminum Round Cake Pan and sprayed it with Chosen Foods avocado oil spray since it doesn't contain soy as a propellant.  The directions require you to use an electric mixer.  I used my Kitchen Aid Artisan Stand Mixer with the flat beater.
So, what was the verdict?
Pros: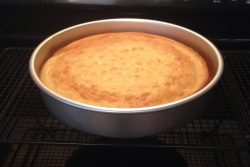 Ummm… this cake is DELICIOUS!
It's moist (not crumbly or dense as you find in so many other gluten-free cakes)
It held up well coming out of the pan
King Arthur's gluten-free products are certified gluten free by GFCO.  Learn more about certification in this post.
Cons:
If you haven't made a King Arthur mix before, there are more steps involved than a typical cake mix that you just throw together and toss in the oven. It's a bit labor intensive, but not at all difficult.
Overall Score: 5/5
This is the cake mix I most often bring to events or parties.  Often, people will choose it and like it  more than the gluten-filled desserts.  This truly is a delicious mix.
Although you can find this product at many local grocery stores and on Amazon.com, I find that it is usually cheaper at Thrive Market.
Click here to read more about Thrive Market and why I love it!
Are you ready to simplify your dinner routine?
Download "FIVE IN FIVE"–my FREE e-cookbook of simple & easy gluten free dinners containing 5 ingredients or less!
This gluten-free cake mix is a great option if you are trying to eat paleo-friendly!  It's an easy one to whip together, plus it only contains a few simple ingredients (yes, simple).  The box has directions for making one 8 inch round cake or 12 cupcakes.
To make this gluten-free cake mix you'll need:
I baked it in my 8 inch Wilton Aluminum Round Cake Pan sprayed with Chosen Foods avocado oil spray dusted with the cake mix (per box directions).  I whisked the mix with my silicone whisk.
Pros: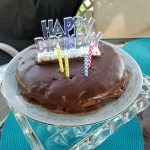 This gluten-free cake mix is not only certified gluten-free, but grain-free and only contains 6 ingredients!
It's paleo-friendly, dairy-free, and soy-free (it does contain nuts however).
Quick and easy to mix up and get in the oven!
The box directions of dusting the pan was great for ensuring that it did not stick
The cake was moist (not crumbly like many grain-free cake recipes)
The vanilla taste was prominent and super yummy!
Cons:
We used grapeseed oil in the mix, and there was a hint of the taste.  The next time we make it we will experiment with different oils.
Overall Score: 4.5/5
Although you can find this product at many local grocery stores and on
Amazon.com
, I find that this also is often cheaper at
Thrive Market
.
Bob's Red Mill gluten-free flours and cake mixes have been around for years.  They've been in the gluten-free business a loooong time, so they have a large variety of products!  One bag of this gluten-free cake mix makes a lot of batter.  It can make 2- 8in or 9in round pans, a 9x13in pan, or 18-20 standard sized cupcakes.
To make this gluten-free cake mix, you'll need:
3 eggs
butter or vegetable oil (we used butter)
water
We made ours in a 9×13 pan sprayed with Chosen Foods avocado oil spray and mixed with my Kitchen Aid Artisan Stand Mixer using the whisk attachment.
Pros: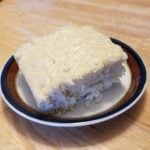 The flavor of this cake mix is a pretty classic vanilla cake flavor
One package makes a lot of cake
The package also includes directions to make a white cake
Cons:
The cake is a bit crumbly
The finished product can turn out dense (which is why I beat it with the whisk attachment to give it some more air)
Overall Score: 3.5/5
While we buy this mix frequently, we don't usually eat it straight up as cake.  This is a mix we often turn into something else (most recently my mom used it as the cake base in trifle).  When we have this mix, we often reference our book: The Cake Mix Doctor Bakes Gluten-Free to 'doctor' it up!
Keep on reading for reviews of premade gluten-free frosting AND an awesome FREEBIE just for you.
Are you ready to do gluten-free living totally STRESS-FREE? Get FREE instant access to my online library of free printables designed to make your gluten-free lifestyle totally easy!
Gluten-Free Frosting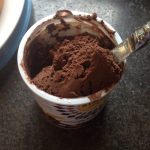 My little 2 year old niece is not only gluten-free, but dairy-free, soy-free, and nut-free.  Finding a gluten-free premade frosting can be challenging enough, but throwing in dairy, soy, and nut free also?  I wondered if it would be impossible.  With all the other things that pile up on to-do lists, I don't want to think about making something from scratch.  When I found this canned frosting, I was so excited!  I knew that I could pair it with the King Arthur gluten-free cake mix above and have a cake that is safe for her to eat too!  It can also be paired with the Simple Mills cake mixes to stay fairly Paleo friendly.  I followed the directions and ensured that the frosting was room-temperature before attempting to spread it on my cake.   Here's my review:
Pros: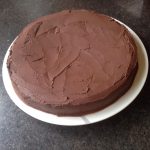 Comes in a can, ready to go.  No prep!
Only 8 clean, easy recognizable, ingredients (have you looked at the ingredients lists of other canned frosting??)
The flavor is yummy! It's very chocolatey. (Due to coconut oil as a main ingredient I was concerned about an overpowering coconut taste. There isn't one!)
Cons:
It was a little difficult to spread. The frosting was very thick, so it was a bit tricky to spread it without tearing the cake.  Note: tricky but not  I was able to frost an entire cake without many crumbs at all!  It just took some extra care.
When we sliced & served the cake, the frosting stuck to the cake server instead of the cake.
Overall Score: 4/5
Update: We just tried Simple Mills' Vanilla Frosting.  It was good too–I personally like the chocolate better (because, chocolate!), but Tyler was a bigger fan of the vanilla.  I personally found the vanilla to be more sweet and less rich than the chocolate.  Also, due to the stickiness and stiffness of the frosting when I used it before, I microwaved this can (remove the foil first!) for 7 seconds and then stirred it up.  It was SO easy to spread!
Be sure to add some of these gluten-free cake mixes to your meal plan and shopping list.  I created a weekly meal planner and shopping list just for you!
Don't forget– Clear the confusion and make dinner simple with "FIVE IN FIVE"–the free e-cookbook containing easy dinners you can make with 5 ingredients or less!
Looking for more gluten-free recipes or tips?
Here are more recipes and tips you will LOVE: