This recipe for gluten free loaded baked potato soup is the perfect comforting weeknight meal.
Learn how to make the best loaded potato soup that's perfectly gluten-free and deliciously creamy with this easy 30 minute recipe.
This is definitely a recipe you'll want to add into your rotation of family favorite gluten-free dinners.
Keep reading for the best tips on how to prepare this delicious gluten free loaded baked potato soup recipe or use the jump to recipe button below to jump right to the recipe card.
---
Are you new here? I also have the following posts to help you live gluten-free without the stress!
…get valuable support from me, and gluten-free peers, in my EXCLUSIVE Facebook community "Stress-Free Gluten-Free" by clicking here!
---
The gluten-free guide below is based on personal experience and research. Always be sure to discuss any medical changes with your doctor for your personal medical needs. Additionally, this post contains affiliate links. As an Amazon Associate I earn from qualifying purchases. My full disclosure isn't that interesting, but you can find it here.
Ready to take back control of your meals and love your gluten free life? Take the 45 second quiz to get a personalized plan with the guide you need to thrive!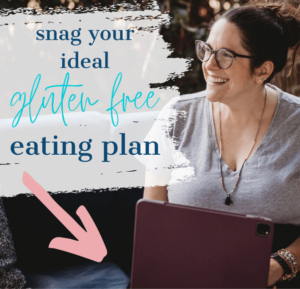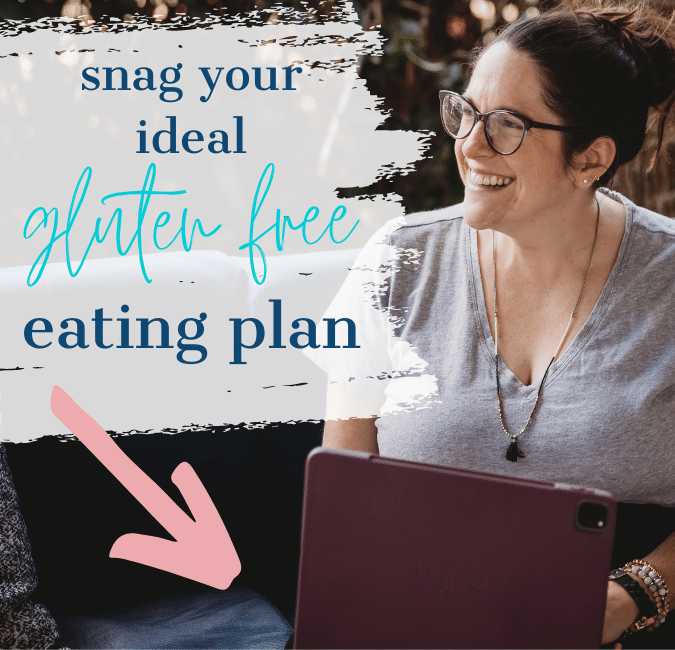 Why you'll love this easy gluten free potato soup:
This soup is super hearty–especially for a cold day!
It's simple and fairly quick to make for weeknight meals
Potatoes are an excellent source of vitamin C, potassium, and B6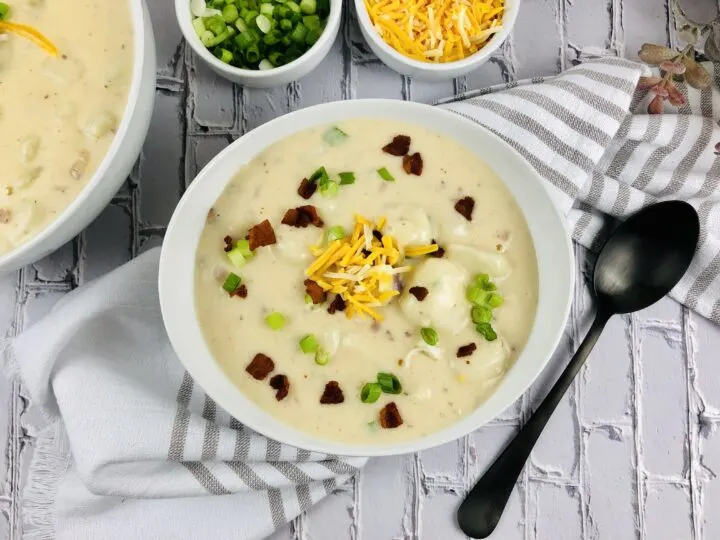 Is Potato Soup Gluten-Free?
You may be wondering: Is cream of potato soup gluten-free? The answer is, it depends.
Often, potato soup will be made with wheat flour or other gluten-containing grain or starch such as barley or rye. This would make the potato soup not gluten-free.
If you're purchasing pre-made potato soup at the store, you want to be sure to check the ingredients label and/or look for a gluten-free claim.
By contrast, if you are ordering soup at a restaurant, be sure to double (triple!) check that the restaurant is using safe ingredients + safe handling to prevent gluten cross contact.
Alternatively, you can make safe gluten-free potato soup at home and have the assurance that it fits within your dietary needs. And this recipe is the perfect one to try!
Do Russet Potatoes Have Gluten?
Potatoes do not contain gluten–in their natural form. Gluten is a protein found in wheat, barley, rye, and sometimes oats (due to growing & harvesting with gluten-containing grains).
However, you want to watch out for instant potatoes as they often have bulking agents added, and these may contain gluten. Always check ingredient labels.
Ingredients for Gluten-Free Baked Potato Soup
Most of these ingredients for this gluten free cream of potato soup can be found at your local grocery store. However, you can get a really great deal on some of these ingredients (like gluten free all purpose flour and chicken broth) at Thrive Market.
Click here to learn more about Thrive Market & get a free gift worth up to $24 on your first order!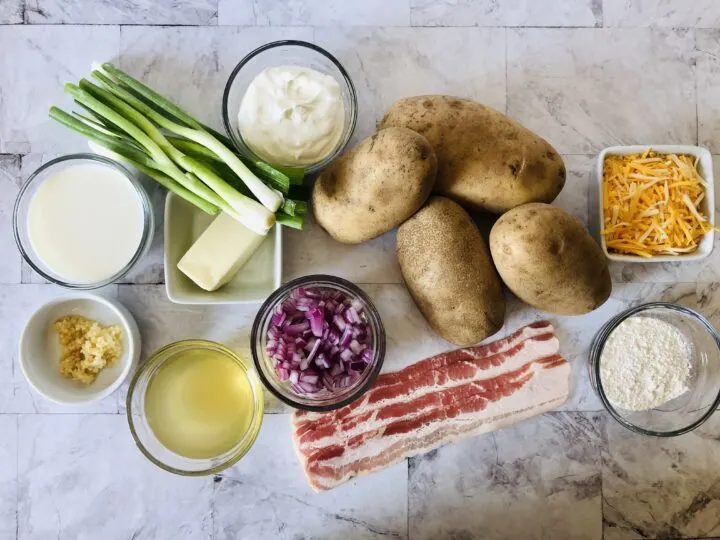 To make this creamy potato soup recipe you'll need:
Potatoes. I used Russet potatoes for this recipe, but you can sub your favorite!
Bacon. This is used both as an ingredient and as a topping. Be sure that your bacon is gluten-free as some brands may have gluten in the bacon seasoning.
Butter.
Onion.
Minced garlic. You can mince fresh cloves, or use pre-minced garlic.
Gluten-free flour blend. You need to use a traditional gluten-free flour blend for this recipe because you need the starches. Almond flour or coconut flour will not work well. There are a number of good gluten-free flour blends. However, my absolute favorite is King Arthur's measure-for-measure flour. You can get large bags for a great price on Amazon here.
Whole milk. Using low-fat or skim may result in a runny, or even grainy, soup.
Chicken broth. This is another ingredient that you want to double check is gluten-free. Alternatively, you could sub water + gluten-free bouillon. See my favorite gluten-free bouillon brands in this post.
Shredded cheddar cheese. For an even creamier soup, I suggest shredding your cheese yourself. I know that takes more work and effort, but it really does help the consistency. Sometimes, I'll shred up a bunch of my own cheese using this attachment for my Kitchen Aid stand mixer. Be sure to reserve some extra shredded cheese for garnish.
Sour cream. Just like the milk, you'll want to use full-fat sour cream.
Salt & Pepper to taste.
Green onions. For garnish
How to make gluten free cream of potato soup
Making homemade gluten-free potato soup is fairly simple.
First, you need to prep your potatoes by peeling and cubing them into small chunks, and boiling them until fork-tender. This should take about 8-10 minutes. Once they are cooked through, drain them and set them aside.
In a separate large soup pot, brown the chopped bacon. Using a slotted spoon, carefully remove the bacon from the pan and set it on a towel-lined plate to drain while leaving the grease in the pot.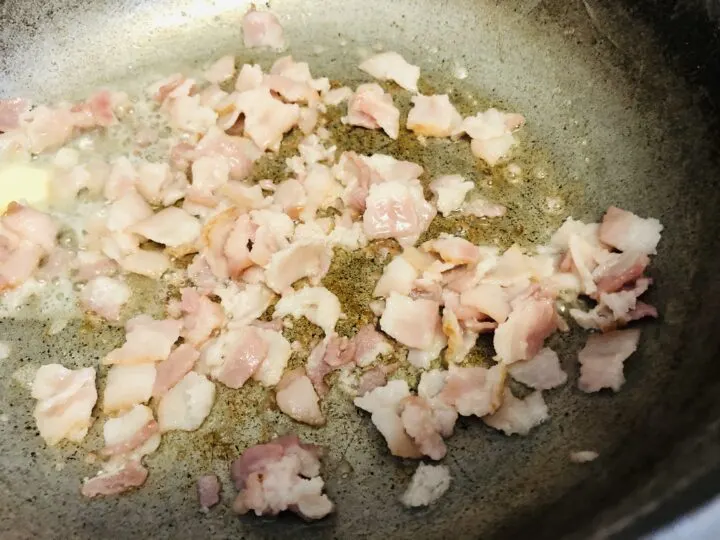 Add the butter and onion to the bacon fat and cook until the onions are soft and begin to become translucent.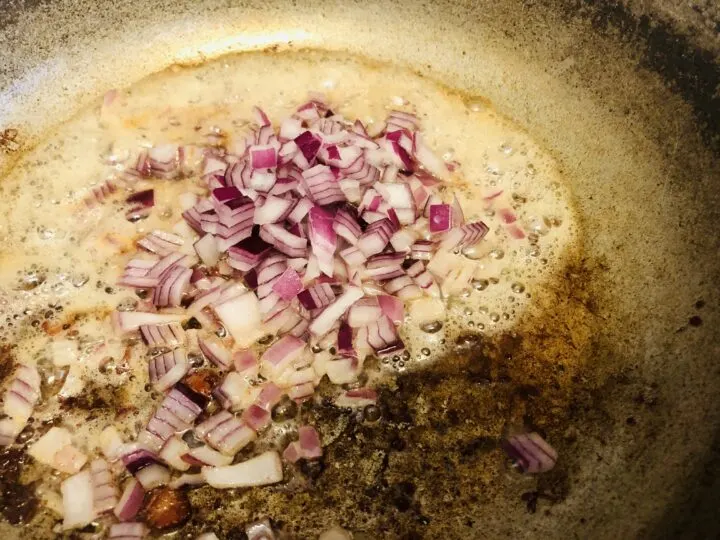 Add the garlic and cook for 1 minute.
Then, add the gluten-free flour a bit at a time, whisking to ensure that no lumps remain.
Once smooth, slowly add in the broth and the milk, whisking continuously to ensure that everything mixes together without lumps.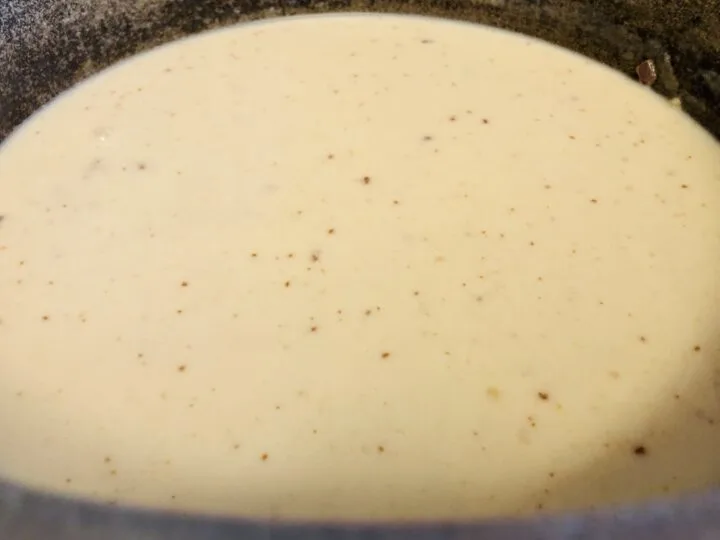 When well combined, stir in the cooked potatoes, sour cream, cheese, and half of the bacon.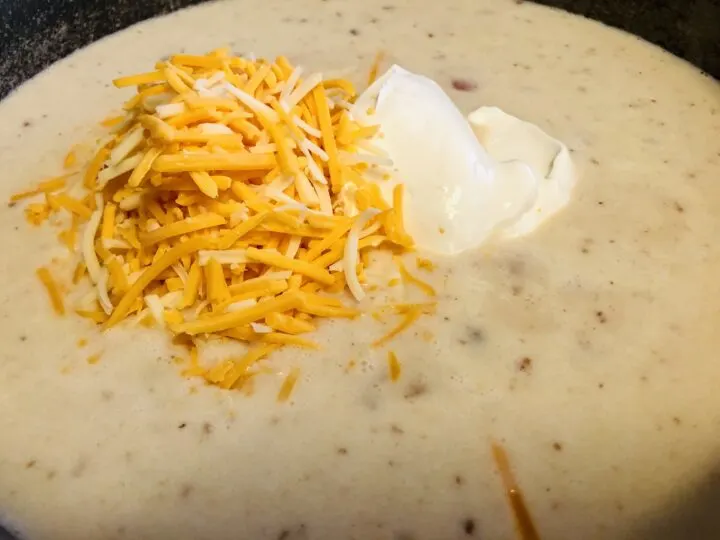 Bring to a boil and then remove from heat.
The soup should be thickened. Add salt & pepper to taste.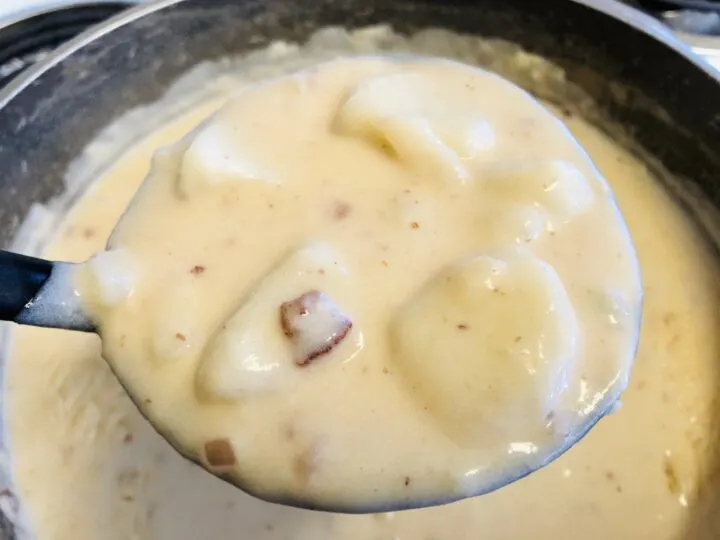 Serve into individual bowls, topping with more shredded cheese, green onions, and bacon for garnish.
Enjoy!
Why is my potato soup runny?
If your potato soup is runny, you can remedy this by adding a cornstarch slurry and cooking it for 5-10 more minutes.
In a separate bowl, mix 1 tbsp cornstarch and with 1 tbsp cold water until fully mixed, and stir into your soup. Bring it back up to a low boil and this should help thicken your soup.
Alternatively, you can also try adding another quarter cup of sour cream.
What do I serve with creamy cheesy potato soup?
Crusty gluten-free bread would be a nice addition–try heating up these Schar baguettes in the oven while your soup cooks!
You could also pair this with a light side salad.
Scroll down for the printable recipe, and take the FREE quiz to discover your personalized gluten free plan to claim back your love of food!
What's they key to loving your gluten free life? Take this quick quiz to get a personalized plan with the guide you need to thrive!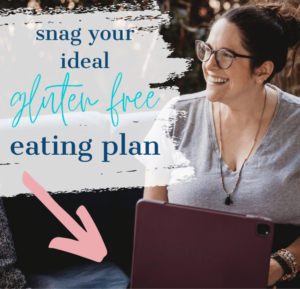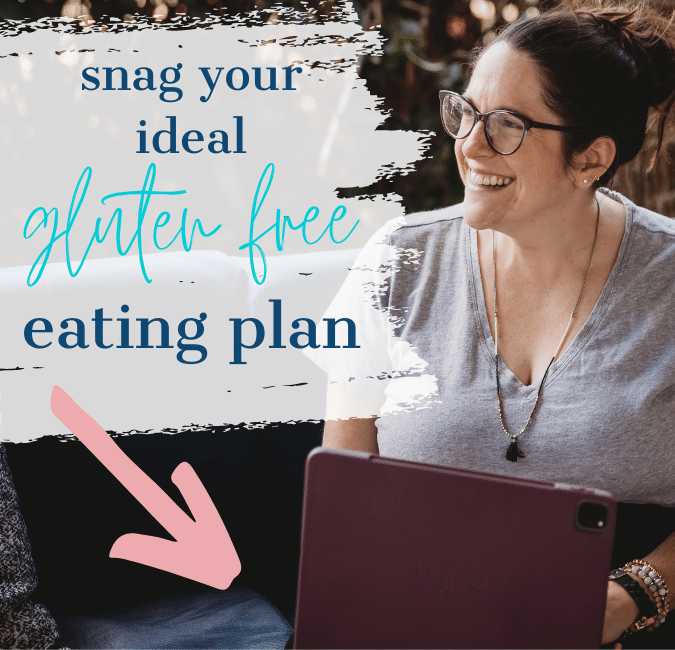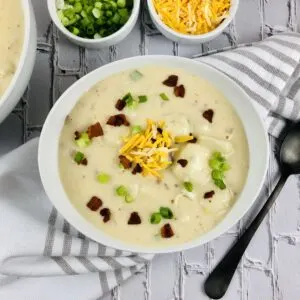 Gluten-Free Loaded Baked Potato Soup
This recipe for gluten free loaded potato soup is simple and easy and ready in just about 30 minutes on the stove top! This creamy soup is a gluten-free dinner that your whole family will love and is totally comforting.
Equipment
2 large pots

1 cutting board

1 chef's knife

1 whisk

1 cooking spoon
Ingredients
4-6

large

potatoes

1

cup

bacon

chopped

4

tbsp

butter

1/2

onion

chopped finely

2

tbsp

minced garlic

1/4

cup

gluten-free flour blend

2 1/2

cups

milk

whole

2 1/2

cups

chicken broth

1

cup

cheddar cheese

shredded

1/2

cup

sour cream

salt & pepper to taste

green onions

for garnish
Instructions
Peel & chop the potatoes into small bite-sized cubes.

Boil the potatoes until fork tender (approx 8 minutes), drain, and set aside.

In a large pot, cook the chopped bacon until brown, remove from pot but reserve just over a tablespoon of the grease in the pan.

Add the butter and onion into the bacon fat and cook until onions are soft and translucent.

Add in garlic, cook 1 minute, stirring.

Whisk in flour then slowly add in broth and milk, stirring constantly to ensure there are no lumps.

Stir in cooked potatoes, sour cream, cheese, and ½ the cooked bacon.

Bring to a boil then remove from heat. Add salt & pepper to taste.

Serve the potato soup, garnishing with green onions, more shredded cheese, and bacon.
Notes
note: nutrition information is provided as a courtesy, but may not accurately reflect the final nutrition composition of your final dish depending on ingredients, substitutions, and serving size.
see the full blog post above post for:
ingredient and equipment suggestions & substitutions,
tips for preparing the soup, and
frequently asked questions
Looking for other easy gluten-free weeknight recipes?
Try out these:
Did you love this Gluten-Free Loaded Baked Potato Soup Recipe?
If so, use the social sharing buttons below to share it on social media or pin it to Pinterest!