In 2014, the FDA's food labeling regulations were enacted. Basically, in order for any food to be labeled "Gluten-Free" the manufacturer must ensure that the product contains less than 20 ppm (parts per million) of gluten.
While this was a small victory for gluten-free labeling, the manufacturers are not required to test their finished product for the presence of gluten in any specific way. If this sounds confusing, it's because it is!
(PS–there is currently NEW legislation working its way through US Congress making labeling even more clearer!)
Therefore, my family and I rely on the following methods to check if products are truly gluten free:
Look for an independent gluten-free labeling seal,
Read product testing reports at glutenfreewatchdog.org ,
(Gluten Free Watchdog independently tests products both with gluten-free packaging claims and without and the testing reports online)
and contact the manufacturer directly.
In this post, I'm going to unravel the world of what those gluten free logos are that you see on packages, plus give you suggestions of my favorite brands who adhere to the standards so you can add them to your shopping list!
---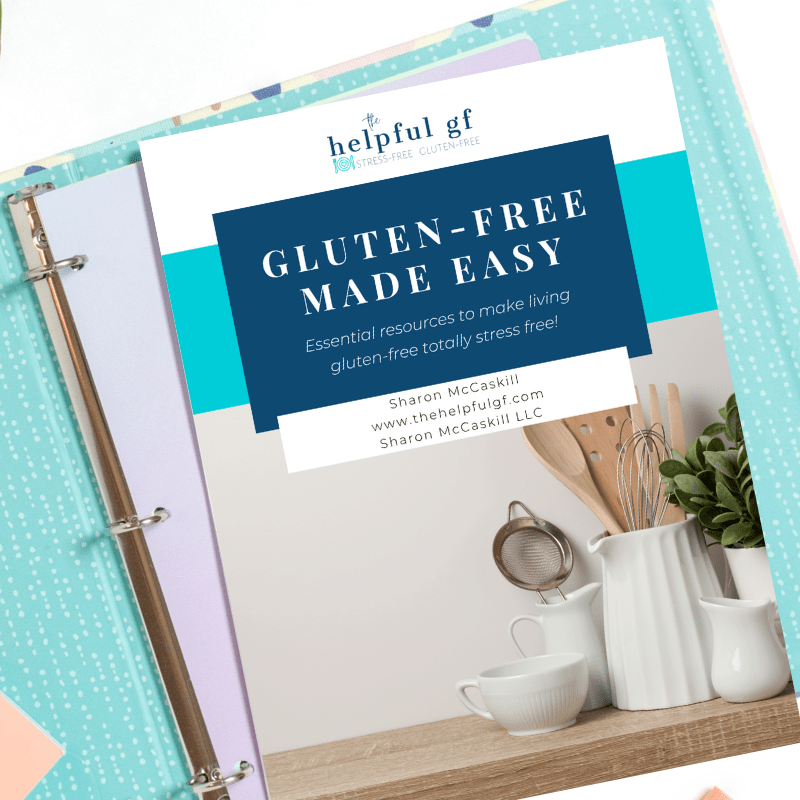 Grab your FREE copy of Gluten-Free Made Easy!
15+ pages of essential resources to make living gluten-free totally stress free.
---
In the United States, there are currently only 4 gluten-free independent certification agencies.
What is an independent certification agency?
These are agencies which manufacturers can hire to independently test their products for the presence of gluten. Once a product is deemed to meet the standards of the agency, the manufacturer can then place the agency's logo on their packaging. All four agencies exceed the FDA's requirements.
Here are the 4 gluten-free independent certification agencies whose logos you may see in the United States.
This post contains affiliate links. As an Amazon Associate I earn from qualifying purchases. My full disclosure isn't that interesting, but you can find it here.
1. Beyond Celiac Endorsed Gluten-Free Certification Program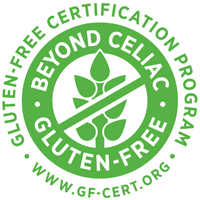 The GFCP is the first North American Alliance of gluten-free labeling (meaning you will see this logo in both the United States and Canada).
This gluten-free certification goes beyond just testing final products for the presence of gluten, but also inspects the manufacturer's manufacturing process, sourcing, equipment and more.
Some of my favorite brands certified by the GFCP to add to your shopping list are:
Baby Mum-Mum; Kinnikinnick; Simply Asia; and the live G free line from Aldi
2. Gluten-Free Certification Organization (GFCO)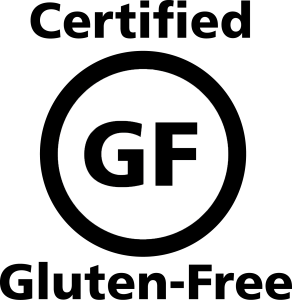 The GFCO tests both United States and international manufacturer's finished products to ensure that the final product contains 10ppm or less of gluten.
Beyond this, GFCO inspects equipment and requires manufacturers receiving gluten-free certification to continually submit already-approved products for routine review.
Some of my favorite brands to add to your shopping list who are certified by GFCO are:
Barney & Co; Angie's BOOMCHICKAPOP; Purely Elizabeth; King Arthur Flour; Primal Kitchen
Note: GFCO is rolling out a new label. It looks like the one below. You may see either one on GFCO packaging.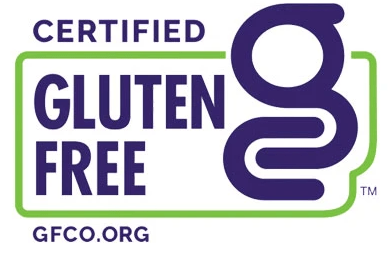 3. The Public Health and Safety Organization (NSF)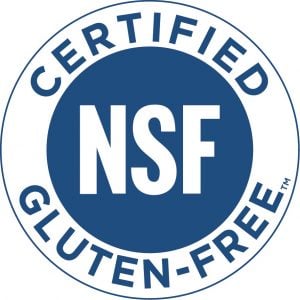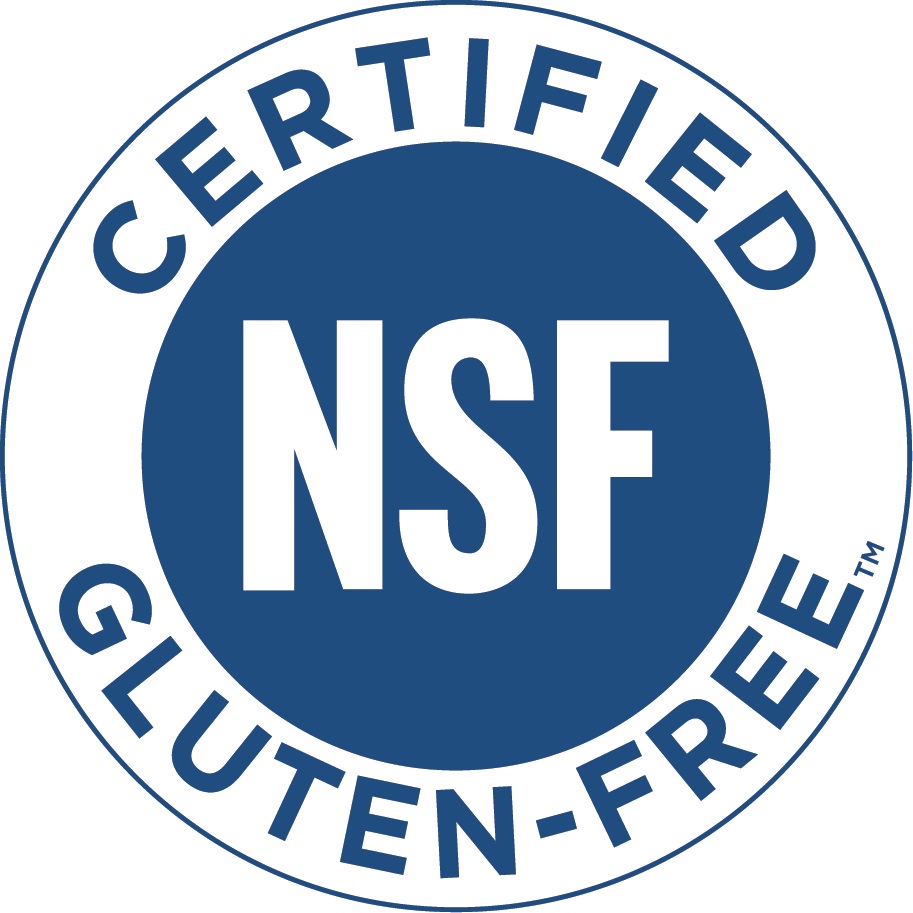 The NSF conducts on-site inspections of their manufacturers' processes and equipment and certifies through random batch sampling that products test at 15ppm or less of gluten.
Some of my favorite brands with gluten-free certification by NSF are:
TruRoots Ancient Grain; BetterBody Foods. These are some basics to add to your weekly plan and shopping list.
4. National Celiac Association (NCA)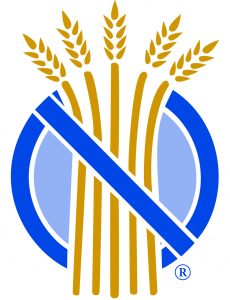 The NCA has very strict standards for gluten-free certification ensuring that each final product tests at 5ppm or less of gluten.
Some of my favorite NCA certified brands that I add to my shopping lists are:
Daiya; Joy Cone Company; Hodgson Mill
One place I love to shop for gluten-free food is at Thrive Market. We don't have any health stores nearby and Thrive has a great selection (plus, you can filter by diet type: gluten-free, paleo, keto, and more!).
Click here to get a free month trial of Thrive Market and save up to $20 on your first order!
Learn more about my experience with Thrive Market and what I order regularly here!
PS—Don't be deceived by brands who have their own 'label' which appears official (for example, Frito-Lay's, Bob's Red Mill, or General Mills).
What about other gluten free logos outside of these four?
While these products may in-fact be gluten-free and safe for consumption by Celiac Disease and others requiring a strict gluten-free standard, this is not an independent certification.
For products like this, I search Gluten Free Watchdog and contact manufacturers.
---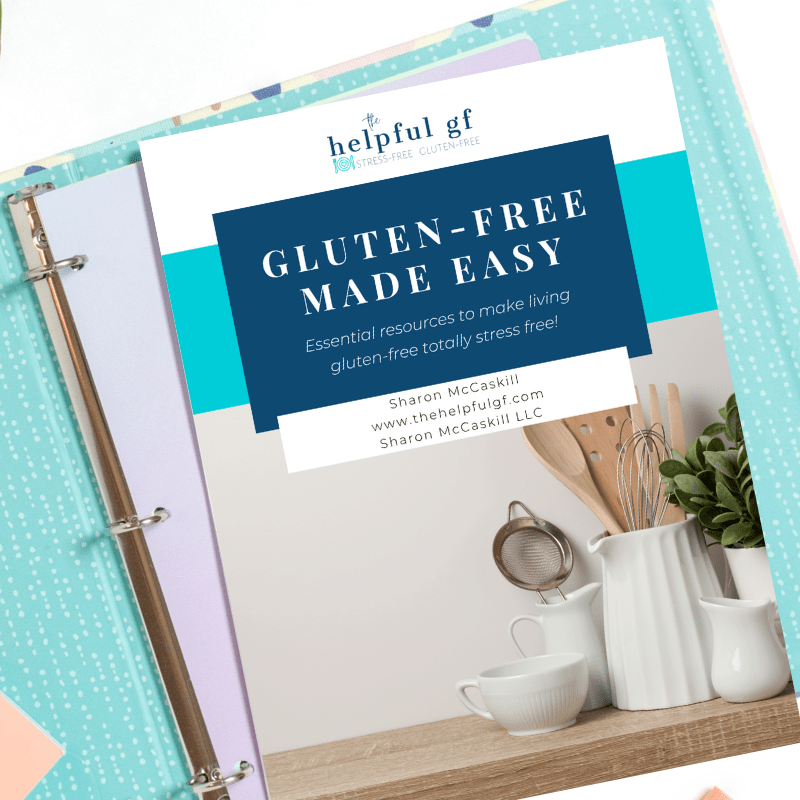 Grab your FREE copy of Gluten-Free Made Easy!
Over 15 pages of essential resources for living gluten-free without the stress in an easy to use reference guide.
---
Here are some recipes and other tips you will LOVE: