If you're looking for a fast casual restaurant that specializes in bowls, tacos, and burritos chances are you're heading straight to Chipotle. If you follow a gluten free diet you're going to need to know all the ins and outs of eating gluten free at Chipotle.
In this guide, we'll cover everything you need to know about the world of gluten-free options at Chipotle. Discover the abundant gluten free toppings, the safe and delicious menu items, and the added measures you can take to ensure a safe and enjoyable dining experience.
Keep reading or use the table of contents to jump to your favorite Chipotle menu item.
---
Are you new here? I also have the following posts to help you live gluten-free without the stress!
…get valuable support from me, and gluten-free peers, in my EXCLUSIVE Facebook community "Stress-Free Gluten-Free" by clicking here!
---
The gluten-free guide below is based on personal experience and research. Always be sure to discuss any medical changes with your doctor for your personal medical needs. Additionally, this post contains affiliate links. As an Amazon Associate I earn from qualifying purchases. My full disclosure isn't that interesting, but you can find it here.
Ready to take back control of your meals and love your gluten free life? Take the 45 second quiz to get a personalized plan with the guide you need to thrive!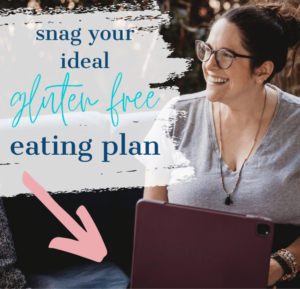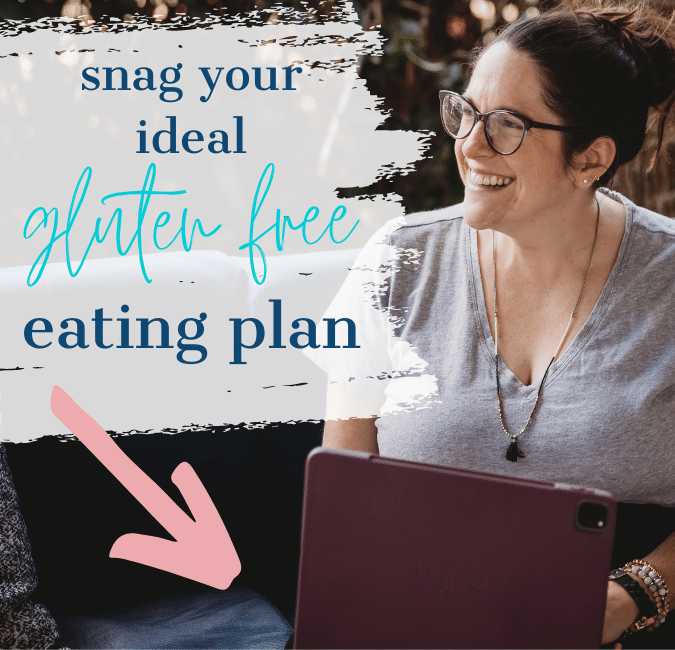 Does Chipotle have anything gluten-free?
Yes! Chipotle is one of the best fast service restaurants you can opt for if you are gluten free because almost all of the items on the menu are safe.
Chipotle staff are even trained to take extra precautions against cross contact whether you're ordering in-store or online. Don't worry, below I'll explain exactly how to ensure your order is being processed with those extra safety measures.
Chipotle Gluten Free Menu
Chipotle has a great menu with a wide variety of burritos, bowls, quesadillas, tacos, salads and sides. The menu items are made to order and you get to choose everything from the protein or veggie to rice, beans, toppings and sides.
If you have allergies like dairy, soy, or gluten to worry about they've put together this handy quick reference guide for their ingredients.
You may notice that the Chipotle menu mentions that items containing corn 'may have trace amounts of gluten from potentially co-mingling with gluten-containing grains in the field'.
Personally, I don't worry too much about it because that happens during growing, and because corn grows in a husk. Where I would be much more concerned is if the corn were processed with wheat after it was husked.
This is definitely a matter of personal preference and risk tolerance, and you should always do what's best for you!
How to Order Gluten Free at Chipotle
Quick service restaurants, especially ones that are not completely gluten free, always come with an increased risk for cross contact. That's because orders that use wheat containing ingredients, like flour tortillas, are made on the same line as the gluten free orders.
Cross contact occurs when your gluten free food comes into contact with crumbs from the gluten containing foods. Depending on how sensitive you are to gluten, this cross contact can make you very sick.
Some restaurants like Chipotle, understand this well and train their staff to take additional precautions. If asked, the employees will change gloves before preparing your food and will use fresh ingredients from the back that haven't had tortilla fall into them or a spoon/tongs touching a tortilla. Before you place your order, let them know you're gluten free and request that they change gloves.
If you're ordering online, here's some tips: when building your meal, click "nutrition preferences" and specify your need to avoid gluten (and any other nutrition preferences that fit your needs). At the end of your order I recommend putting an extra reminder in the notes.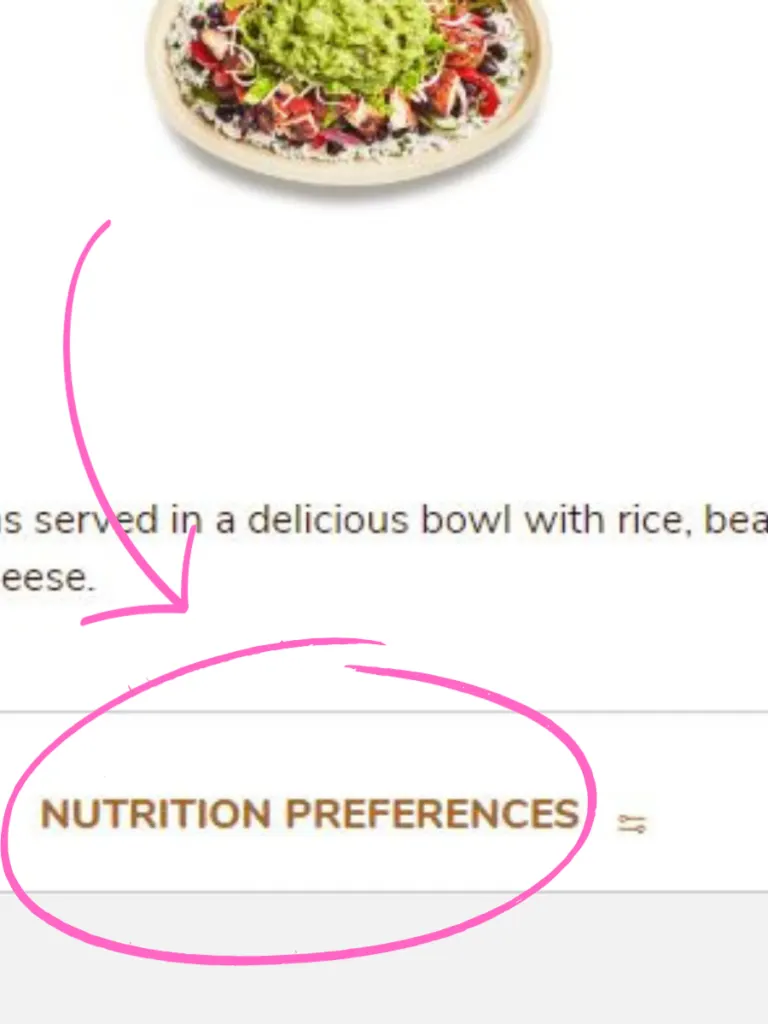 Gluten Free Options at Chipotle
If the best thing about Chipotle is that you can eat there on a gluten free diet, then the second best thing is how many choices you have! They even offer vegan and vegetarian options too.
Gluten Free Meal Options
There are so many meal options to choose from at Chipotle. Everything is gluten free except the burrito and soft taco because they both use a flour tortilla.
Burrito Bowl
Lifestyle bowl
Quesadilla on corn tortilla
Salad
Tacos with corn tortilla or crunchy shell
Kids meals using corn tortillas or crunchy shells
Gluten Free Protein or Veggie Options
If you are looking for gluten free protein Chiptole has plenty of meat options as well as vegan and vegetarian options too.
Chicken
Steak
Barbacoa
Carnitas
Sofritas
Veggie
Carne Asada (when available)
Gluten Free Rice Options
Rice is naturally gluten free so you don't have to worry there!
Gluten Free Beans Options
If you like to add beans to your bowls or in your tacos, you can choose either of these gluten free options with confidence.
Gluten Free Toppings
If you ask me, the toppings are what take your meal to the next level! Whether you want to add some veggies or a kick of heat, there are so many tasty gluten free options!
Guacamole
Fresh Tomato Salsa
Roasted Chili-Corn Salsa
Tomatillo-Green Chili Salsa
Tomatillo-Red Chili Salsa
Sour Cream
Fajita Veggies
Cheese
Romaine Lettuce
Queso Blanco
Gluten Free Sides
No meal is complete without a delicious side of chips & dip.
Chips
Chips & Guacamole
Chips & Fresh Tomato Salsa
Chips & Tomatillo-Red Chili Salsa
Chips & Tomatillo-Green Salsa
Chips & Roasted Chili-Corn Salsa
Chips & Queso Blanco
Guacamole
Queso Blanco
Gluten Free Drinks
Round out your meal with a refreshing gluten free beverage.
Organic Lemonade
Organic Mandarin Agua Fresca
Organic Berry Agua Fresca
Fountain Drink Soda and Iced Tea
Mexican Coca-Cola
Mexican Sprite
San Pellegrino Sparkling
Grapefruit Izze
Blackberry Izze
Apple Juice
Peach Orange Juice
Bottled Water
Pineapple Orange Banana Juice
Frequently Asked Questions about Chipotle:
Are Chipotle Chips Gluten-Free for Celiac?
Yes! Chipotle chips are made from corn and are gluten free.
Is Chipotle Queso Gluten-Free?
Yes, Chipotle queso is made with gluten free ingredients.
Are Chipotle Chips Corn or Flour?
Chipotle chips are made from corn, which is great news if you are gluten free.
Is there Gluten in Chipotle Barbacoa?
No, Chipotle Barbacoa is listed on their allergens list as being free from gluten.
Is Chipotle Rice Gluten Free?
Yes! Rice is naturally free from gluten.
Does Chipotle Have Gluten Free Tortillas?
No, Chipotle tortillas are made with wheat flour. If you are looking for a gluten free alternative, Chipotle offers corn tortillas instead.
Have You Eaten Gluten Free at Chipotle?
Chipotle is a great quick service restaurant for anyone who follows a gluten free diet. With so many choices you can enjoy the taste and convenience of eating out without worrying about your safety.
Don't forget to tell them about your gluten allergy at the start of your order or by checking the box online. New gloves and fresh ingredients will ensure you have a great dining experience every time!
Have you eaten gluten free at Chipotle? Comment below about your experience and tell us about your favorite gluten free menu items!
Ready to take back control of your meals and love your gluten free life? Take the 45 second quiz to get a personalized plan with the guide you need to thrive!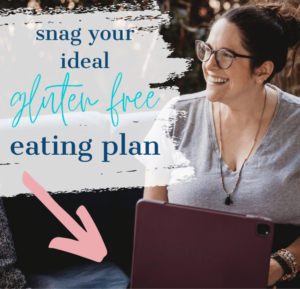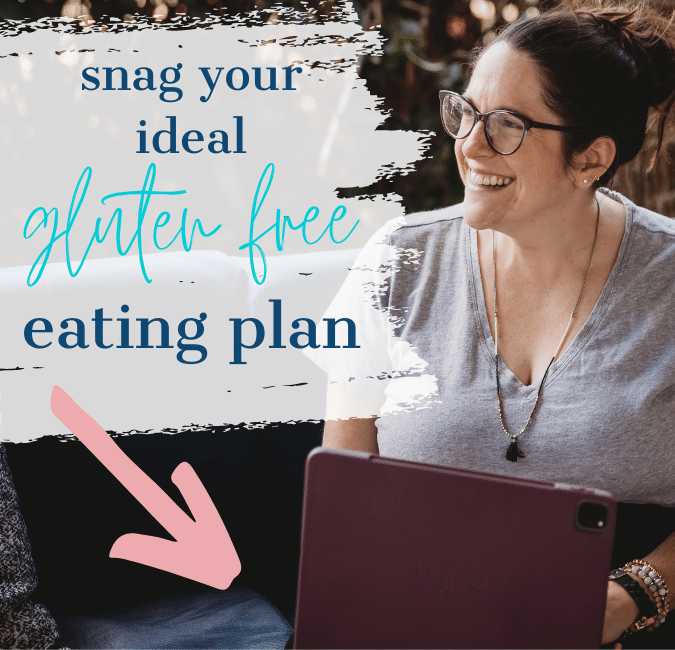 Other Fast Food Restaurant Guides You'll Love: