The Connection between Breastfeeding and Gluten
There are so many questions concerning breastfeeding and gluten if your baby when family members have Celiac Disease or a gluten allergy, and unfortunately, conclusive research on the subject is difficult to find.
With so many different opinions floating around on the internet, what IS the truth when it comes to breastfeeding and gluten?
Keep reading to find out, or use the Table of Contents below to navigate to a specific point in this post!
---
Are you new here? I also have the following posts to help you live gluten-free without the stress!
…and of course, you should join my EXCLUSIVE Facebook community "Stress-Free Gluten-Free" by clicking here!
---
This post contains affiliate links. As an Amazon Associate I earn from qualifying purchases. My full disclosure isn't that interesting, but you can find it here.
I interviewed Jada Glover, a lactation counselor at Lactationmamas.com, seeking answers for all of these questions such as:
Is breast milk gluten-free?
Should I not eat gluten if I'm breast feeding a baby at risk for Celiac disease?
Should we introduce gluten into the baby's diet, and how?
And what gluten-free foods increase milk supply?
What are the best gluten-free snacks to eat while breastfeeding?
Scroll to the bottom of the post to watch my interview with Jada on breastfeeding and gluten, or keep reading for all the information, plus easy shopping links to easy gluten-free snacks to eat while nursing.
Ready to take back control of your meals and love your gluten free life? Take the 45 second quiz to get a personalized plan with the guide you need to thrive!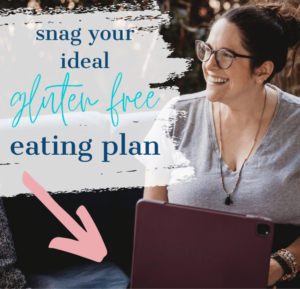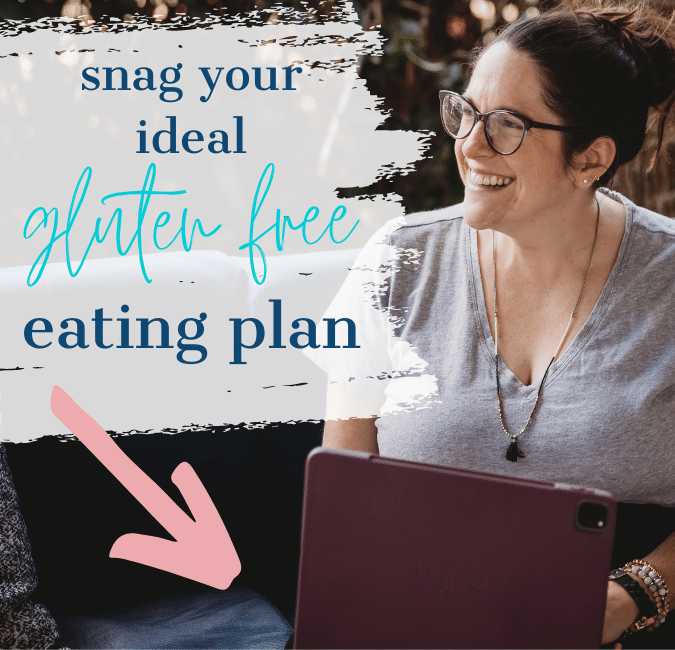 Can gluten transmit through breast milk?
The short answer is probably YES.
There are many studies on this, although there is still a lack of conclusive evidence.
Gliaden, a component of gluten which is typically responsible for the intestinal reaction of gluten, DOES pass through breast milk. This is because gliaden (as one of many food proteins) passes through the lining of your small intestine into your blood.
Milk production occurs when your milk making cells take the proteins, sugars, and fats out of your blood and turn it into milk.
In a study conducted to see if gliaden does pass through the lactating mother's small intestine into her breast milk, women were given 20 grams of gluten and their milk samples were then analyzed to see if there was a presence of gluten as a result of them consuming it, and the peak levels of this gliaden compound were identified up to 4 hours after the ingestion of gluten.
This tells us that gluten does pass through breast milk.
What is less known, is the effect of this on the baby. There's not a lot of human research on the effects of gluten consumption through breast milk in young infants.
There are some animal studies that show the presence of gluten in breast milk may have a protective effect on an infant or help them build up a tolerance to gluten if they are introduced to gluten early on.
This may tell us that if a child is at genetic risk for the development Celiac Disease they may be protected if they're being breastfed by a mother who eat gluten (if the mother herself does not have Celiac Disease)—especially during the first 6 months of life.
Based on the research, if the lactating mother eats gluten, there are low levels of gluten in breast milk.
note: these low levels in most cases are less than 20ppm and may meet your country's definition of gluten-free although some gluten may be present.
How can you tell if your nursing baby has a sensitivity to gluten?
This is where your motherly instincts come in.
Babies are naturally gassy in the first few months, but there are a few symptoms you should look for to see if your baby has a food sensitivity (whether gluten or other food sensitivity):
unusually gassiness,
trouble sleeping,
diarrhea,
diaper rash,
eczema
As you nurse your baby, be observant and look for these signs as they may signal some type of food sensitivity or reaction in your baby.
If you're concerned about your baby developing a food sensitivity, it's a great idea to keep a food journal and note: what you ate & at what time, and what time your baby eats.
It takes about 4 hours for the food that you eat to enter your milk, so from there you can begin to build correlations between the food you eat and what foods may be bothering your baby.
Note: when you eliminate the food from your diet, specific food proteins may still take over a week to become absent from your breast milk.
The foods most likely to be causing a sensitivity in an infant are gluten, dairy, soy, fish, shellfish, peanuts, and tree nuts. If you notice a reaction in your baby, it may be helpful to seek medical advice about how to best identify which foods could be causing the sensitivities
With a baby that is genetically at-risk for developing Celiac Disease, a wheat allergy, or sensitivity, what is recommended in terms of introducing gluten into the baby's diet?
If there's a family history of Celiac Disease, you need to be aware that your baby has an increased risk of also developing Celiac Disease as it is a genetic issue.
Note: if your baby is at a genetic risk to develop Celiac Disease, it is a good idea to talk to your pediatrician to see if they have any specific recommendations. The recommendations below are simply general food guidelines for food introduction.
First, you likely want to avoid introducing your baby to gluten until they are 6 months old. 6-11 months of age is the time when it's easiest to know whether the food is affecting them.
When you introduce food, you want to choose a time when you are able to closely monitor your baby for signs and symptoms. You want to be able to watch your baby for the day for any type of adverse reactions. Be sure to note changes in your baby's stools (especially diarrhea or blood).
In the absence of any adverse reactions, you'll want to feed the baby the food in a very small amount and gradually increase exposure to 2-7 times a week for 3-6 months. This shows the best results to prevent any type of reaction later on.
What gluten-free foods can help a lactating mother increase her milk supply?
Oats, even those grown under a gluten-free purity protocol such as GF Harvest oats, often can cause individuals with Celiac Disease gluten-like reactions. So, what gluten-free foods, besides oats, can a nursing mom eat to increase her milk supply?
In general, a mom eating a healthy diet consisting of whole foods is the best diet a mother can eat for nursing.
This includes: lots of fruits and vegetables (in their purist whole form), healthy fats and protein including grass-fed beef, pork, and chicken. Instead of dieting, it's important for nursing moms to focus on ensuring their diet contains appropriate amounts of key nutrients such as B12, calcium, iron, zinc, iodine, omega 3, and antioxidants—all of which are shown to have a positive effect on milk supply.
Some great easy gluten-free snack ideas for nursing moms include:
Gluten-Free Nuts
Veggies and Dips like hummus
Peanut Butter or Almond Butter with celery or apples
Cheese
Olives
Low-Sugar Yogurt
Make your own Chia Seed Pudding
You can also find great deals on other healthy gluten-free snacks at Thrive Market. If you've never ordered from Thrive Market you can save $20 off your first order when you shop using this link.
The key is to stick with the whole foods we tend to associate with a general healthy diet.
Do you have any more questions about breastfeeding and gluten? Comment below!
Jada Glover is a lactation consultant and has an online breastfeeding course that lactating moms and moms to be can take from the comfort of their homes.
What's they key to loving your gluten free life? Take this quick quiz to get a personalized plan with the guide you need to thrive!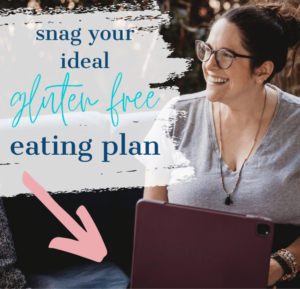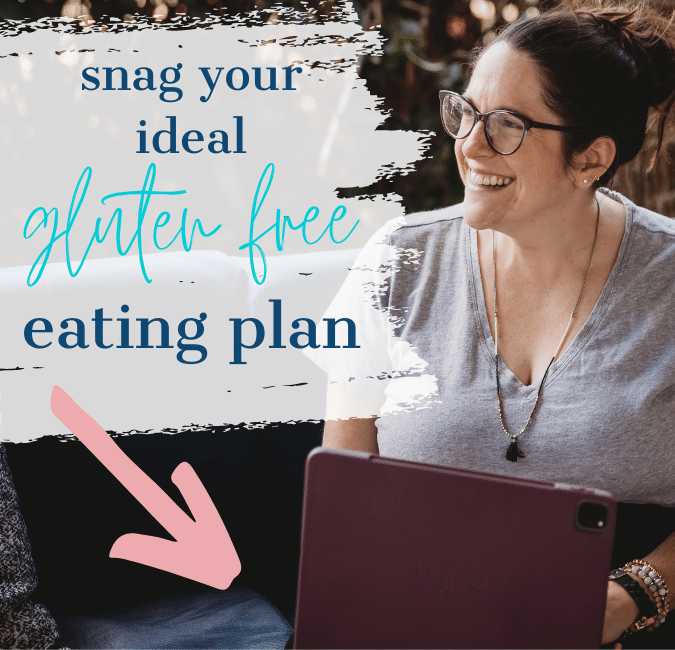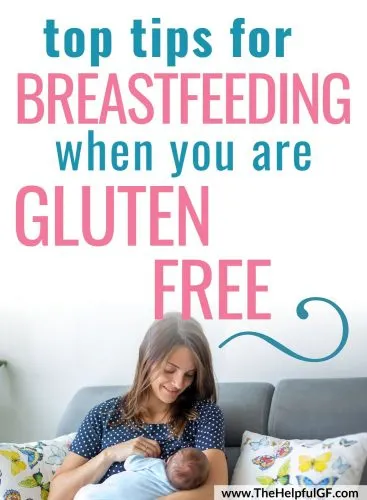 Here are some more posts on gluten-free living that you will LOVE:
Top Tips for Breastfeeding When You Are Gluten-Free