Learning how to live a gluten-free lifestyle comes with many challenges.
But doing so when you have a super busy schedule feels nearly impossible.
When you're already juggling a lot, follow these 6 simple tips and see how to live a gluten-free lifestyle with ease!
---
Are you new here? I also have the following posts to help you implement the gluten-free diet without the stress!
…and of course, you should join my EXCLUSIVE Facebook community "Stress-Free Gluten-Free" by clicking here!
---
HOW TO LIVE A GLUTEN-FREE LIFESTYLE WHEN YOU DON'T HAVE TIME
The gluten-free guide below is based on personal experience and research. Always be sure to discuss any medical changes with your doctor for your personal medical needs. Additionally, this post contains affiliate links. As an Amazon Associate I earn from qualifying purchases. My full disclosure isn't that interesting, but you can find it here.
When you have a medical need to be gluten free, remaining gluten free even when it is SO difficult is really an act of self love. So take a breath, say some self love affirmations, and use the tips below to keep going!
Make a Plan
I know that meal planning feels like work—but honestly, meal planning is the key for how to live a gluten-free lifestyle!
When you're juggling multiple responsibilities, you need a plan.
Nothing increases my stress more than coming home after a busy day, with a list of things that still must be done and NO dinner plans.
There are a lot of different ways to meal plan!
I like to plan two weeks of meals at a time, make my shopping list, and do my shopping for those two weeks all at once.
My sister-in-law does her meal plans a whole month at a time and aims to do about 2 grocery hauls a month.
I have a friend who literally has the same meal plan each week for Monday-Friday and then changes it up and tries new things on the weekends.
What kind of plan you have is not important—but what is important is that you have a plan.
Once you have a plan, keep everything straight using some type of planner! This can be a menu board in your kitchen, something digital, or a printable PLR planner.
Ready to take back control of your meals and love your gluten free life? Take the 45 second quiz to get a personalized plan with the guide you need to thrive!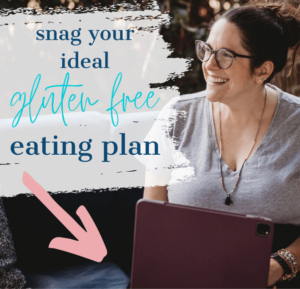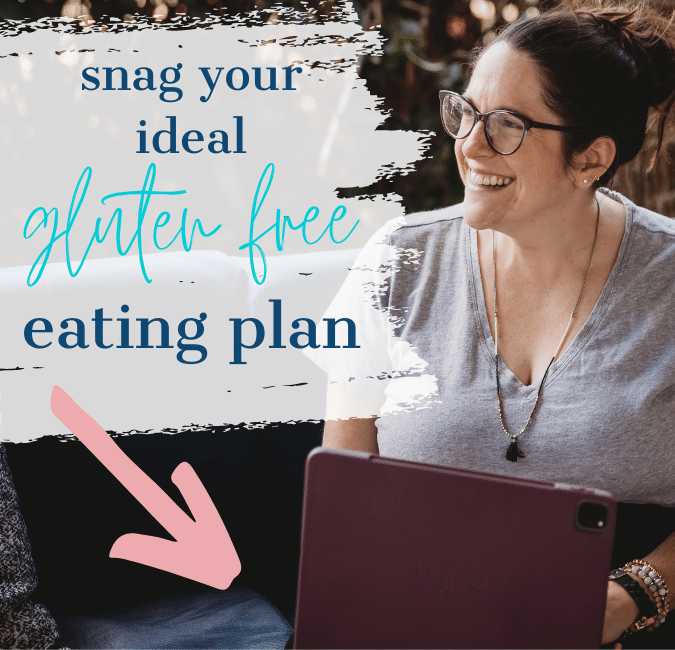 Shop Online
Shopping online saves so much time! I can get my shopping done without ever taking my kids anywhere (and usually getting a better deal on gluten-free specialty food than my local grocery store).
My three favorite places to purchase gluten-free products online are Amazon.com and ThriveMarket.com (explore Thrive Market and save 25% off your first order by clicking here).
Want to know more about Thrive Market? Click here to read more!
There are also some meal delivery companies such as Green Chef & Hungryroot who provide gluten free meal delivery! Curious about other meal delivery companies? Read this Hello Fresh review.
Stock Grab & Go Snacks
When you do your meal plan and make your shopping list—be sure to get some grab-and-go snacks for when you really don't have time to cook!
In my family this looks like keeping bars, veggie straws, and fruit in stock for those mornings you wake up too late to eat breakfast or times you need to run out the door.
This is one of my top tips for how to live a gluten-free lifestyle. You'll see it repeated in multiple posts throughout my blog!
For more grab & go gluten-free snack ideas, check out this article!
Find a Couple "Sweatpants" Recipes
Ok, so I know the name of this tip is ridiculous, but if you're wondering how to live a gluten-free lifestyle when you just.can't.even. this tip is for you.
A "sweatpants" recipe is a recipe you can prepare on autopilot. You know, something you can put on the table for dinner when you're so ravenous you want to cry, or toddlers are pulling on you and SCREAMING.
Have two of these recipes in mind—and keep the items for the recipe stocked and ready at home!
Honestly, learning how to live a gluten-free lifestyle is so much easier when you have a few go-to recipes you can just whip out at a moment's notice.
We have a couple go-to sweatpants recipes: my 5 ingredients pizza quesadillas recipe, gluten-free noodles with sauce, and scrambled eggs.
We also keep gluten-free soup in the pantry and Aldi's brand Gfree Mac and Cheese for real emergencies!
Make a Slow Cooker and/or Instant Pot your BFF!
Crock-Pots are NOT just for making soup. You can make pasta, dessert, applesauce and much more.
Honestly, I use my Crock-Pot at least twice a week. It's the best for simple and easy meals at home. I love it because before I leave for work I can just dump my food in it, turn it on, and when I come home starving—dinner's done and ready to eat.
Some Crock-Pots even have timers—so even if you arrive home later than planned, it'll switch to warm mode automatically.
InstaPots are great too, because if you're too busy to prep your food in the morning, you can prepare dinner quickly in the evening.
Most models even have a slow cooking option. An InstaPot is almost like an all-in-one appliance than you can use to make anything.
The other advantages? It makes a giant pot of food, so it's great for leftovers. And clean up is easy too.
Most inserts are dishwasher safe, and for even easier clean up you can purchase these Crock-Pot liners! No stuck-on soup residue anymore.
Make Meals Ahead of Time
Who says you need to cook on the day you eat??
I love making food ahead of time to eat throughout the week. Make a large egg casserole and cook once but have breakfast pre-made for 3 days! You can also prep your lunches for a week in individual containers.
See some of my gluten-free lunch suggestions here!
Bonus tip for how to live a gluten-free lifestyle when you're super busy:
When getting a meal together for the Crock-Pot or marinating meat for the oven, make an extra! Then put it in a freezer bag.
This way on SUPER crazy weeks, you can just take the prepped meal out of the freezer, thaw it in the fridge overnight, and dump it in your Crock-Pot that morning on low OR it's ready to toss into the oven.
Don't Set Unrealistic Expectations
So, you saw this amazing gluten-free recipe on Pinterest with only 15 steps and the picture looks JUST like that thing you used to order at that restaurant back when you ate gluten….. go ahead and pin it!
But save it for a time when you are not under time constraints. One of the quickest ways to become discouraged when you're first learning how to live a gluten-free lifestyle is becoming overwhelmed with all these new ideas and recipes.
Listen—I love trying out new, fun recipes (this is why I review cookbooks for you all! See my cookbook reviews here).
But when you have a crazy busy schedule, you just cannot do this every day.
I save fun new recipes for Saturdays at lunch time. This is when we are usually at home and aren't constrained by long to-do lists or scheduling. Maybe your extra time is a Tuesday evening.
Build it into your meal plan.
And if all else fails, just toss some gluten free frozen waffles into the oven and have breakfast for dinner!
What's they key to loving your gluten free life? Take this quick quiz to get a personalized plan with the guide you need to thrive!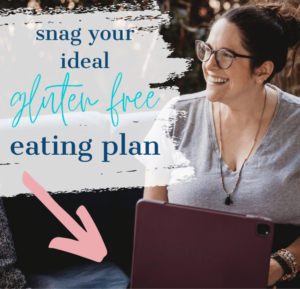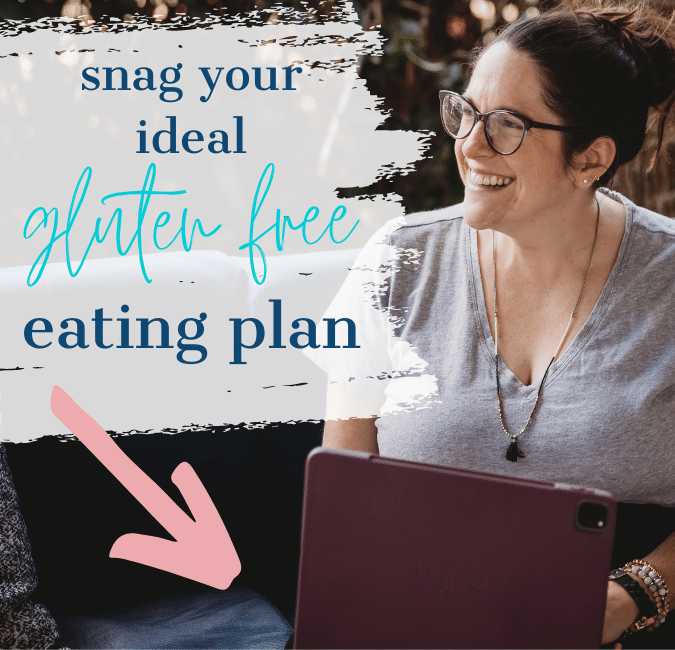 Experimenting with new recipes keeps things fun—but don't let it add to your daily stress. Keep it simple in the day to day!
Do you have any tips on how to live a gluten-free lifestyle when you're crazy busy and don't have time? Comment below and share them with us.
Did you like these tips? Share this post with your friends and pin it for later using the social sharing buttons below!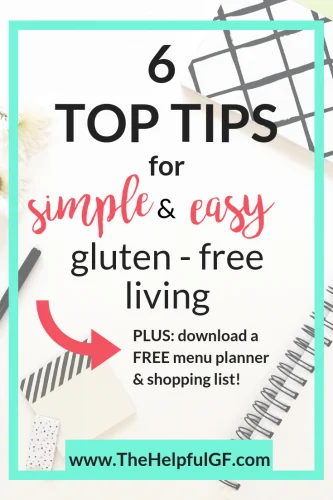 Other Posts on Gluten-Free Living You May Like:
Top Tips for Simple and Easy Gluten-Free Living