These Gluten Free Cinnamon Apple Pork Chops are delicious made with sliced apples and cinnamon blended with brown sugar, nutmeg, rosemary, and paprika.
The tart apples and sweet sauce make it a great dish for the whole family, and it will soon be a favorite gluten-free weeknight recipe.
Keep reading for the best tips to prepare this easy clean eating cheese sauce or use the jump to recipe button below to head straight to the recipe card.
---
Are you new here? I also have the following posts to help you live gluten-free without the stress!
…get valuable support from me, and gluten-free peers, in my EXCLUSIVE Facebook community "Stress-Free Gluten-Free" by clicking here!
---
The gluten-free guide below is based on personal experience and research. Always be sure to discuss any medical changes with your doctor for your personal medical needs. Additionally, this post contains affiliate links. As an Amazon Associate I earn from qualifying purchases. My full disclosure isn't that interesting, but you can find it here.
Ready to take back control of your meals and love your gluten free life? Take the 45 second quiz to get a personalized plan with the guide you need to thrive!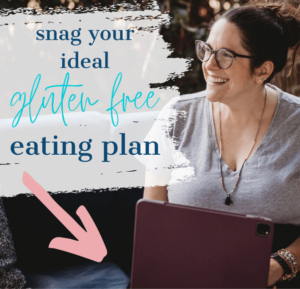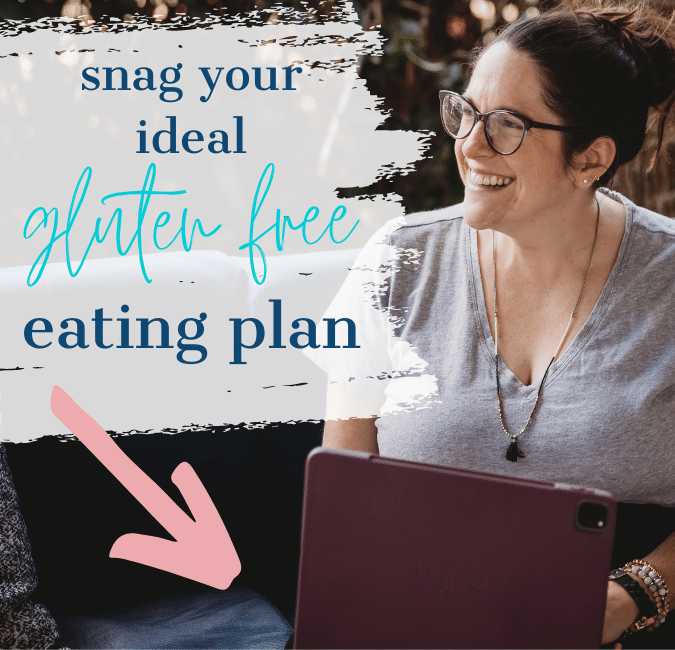 Gluten Free Cinnamon Apple Pork Chops
This is one of the best pork chop recipes I have so I make it often. You can always change it up by using different kinds of apples or switching the apples for pears or peaches.
If you like this gluten-free pork chops recipe, look for other apple recipes that you can make for your family like this slow cooker applesauce. New recipes are always fun to try out.
The flavors of brown sugar and cinnamon with the apple slices give these juicy pork chops a 'gourmet-ized' version of your typical pork chop meal, and they are ready in minutes.
This blend of sweet apples and brown sugar with rich spices are a great way to make a gluten-free pork recipe more flavorful without relying on expensive specialty ingredients!
In fact, this cinnamon and apples recipe is one of my favorite ways to make chops, but pork chops are super versatile. You can also make air fried pork chops that are crispy on the outside and juicy on the inside.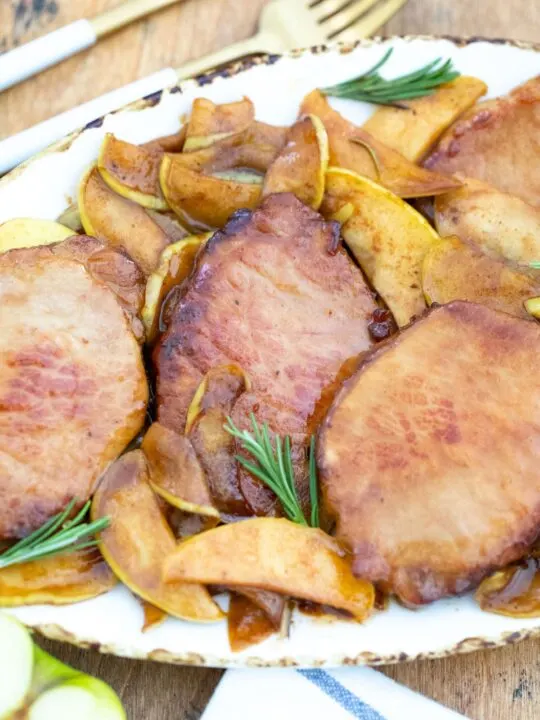 Ingredients needed for apple cinnamon pork chops:
This recipe for gluten free pork chops with apples uses simple ingredients making this an easy gluten-free recipe that your whole family will love.
However, you can get a great deal on gluten free cooking essentials like brown sugar and spices as well as organic pork online at Thrive Market.
Click here to learn more about how Thrive Market saves my family money on gluten-free groceries. Or, try Thrive Market using this special link and get a free gift up to $24!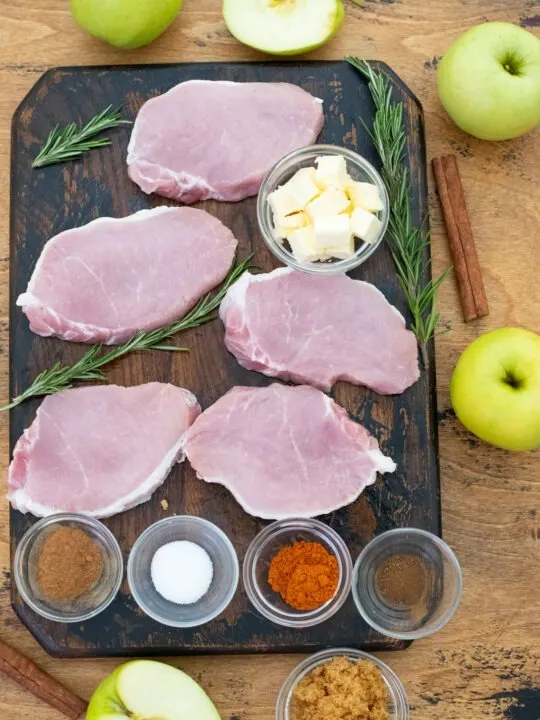 For this recipe you'll need:
Boneless pork chops. You can use bone-in as well, but this will change the cooking time.
Butter: Softened to room temperature and divided.
Medium granny smith apples: Sliced thinly.
Brown sugar
Ground cinnamon
Ground nutmeg
Smoked paprika
All spice
Salt
Black pepper
Fresh rosemary sprigs
Are you looking for spices that you know are gluten-free? My favorite band is Badia. I love that they are labeled gluten-free for extra peace of mind, but aren't more expensive than other brands.
You might find Badia spices at your local grocery store, but they are also on Amazon here.
For exact measurements and step-by-step instructions, scroll down to the printable recipe card at the bottom of the page.
Want to make Paleo cinnamon apple pork chops?
Simply sub ghee for the butter (or use a bit of coconut oil) and use coconut sugar instead of the brown sugar!
How to cook cinnamon apple pork chops from scratch?
First, Cook the pork chops: In a large skillet over medium heat and melt one tablespoon butter before adding pork. Give them a good sear before you cook for four to five minutes on each side or when a meat thermometer reads 145 degrees F.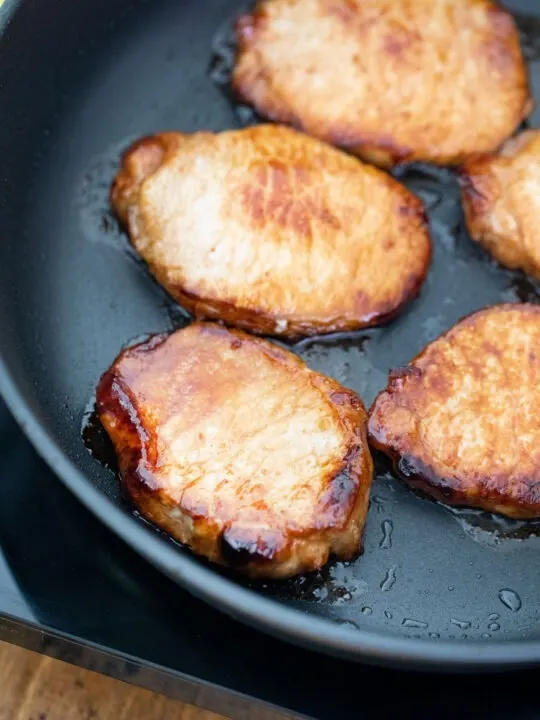 Next, make the brown sugar mixture: Meanwhile, combine salt, black pepper, paprika, nutmeg, cinnamon, all spice, and brown sugar in a small bowl.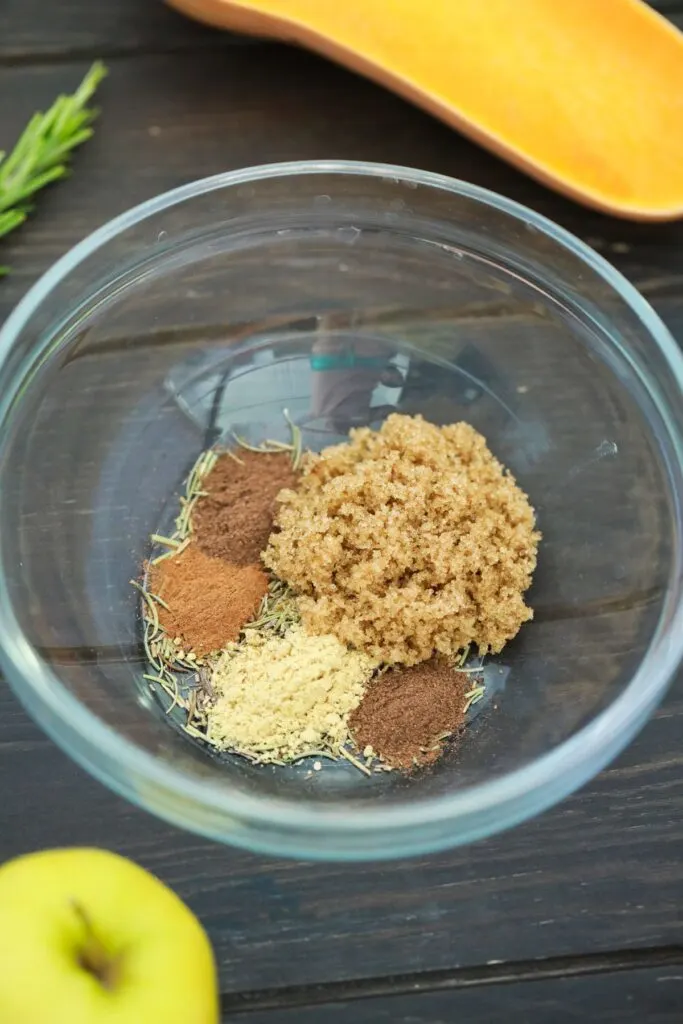 Remove the chops: Then, remove meat from the pan and keep them warm in a baking dish lightly coated in olive oil and covered in aluminum foil.
Cook apple mixture: After removing the chops, add the remaining butter, brown sugar mixture, apples, and rosemary sprigs. Cook over medium-high heat until apples are tender.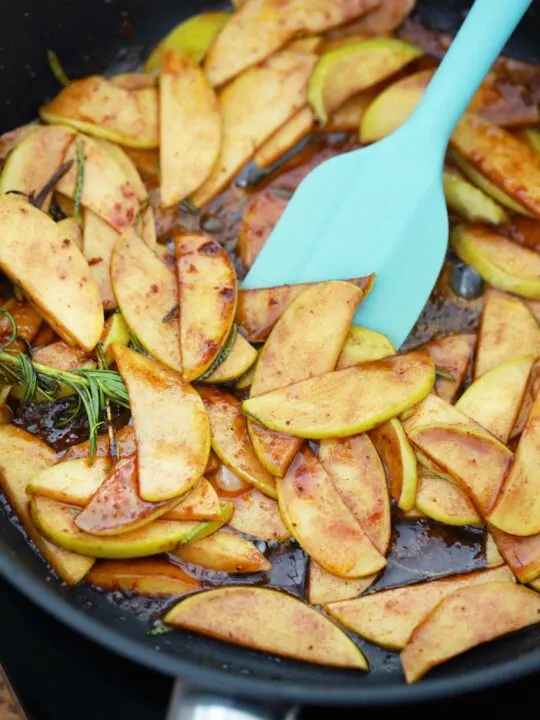 Serve: Lastly, remove and discard rosemary before serving with apple mixture on top or on the sides. You can also garnish with fresh rosemary.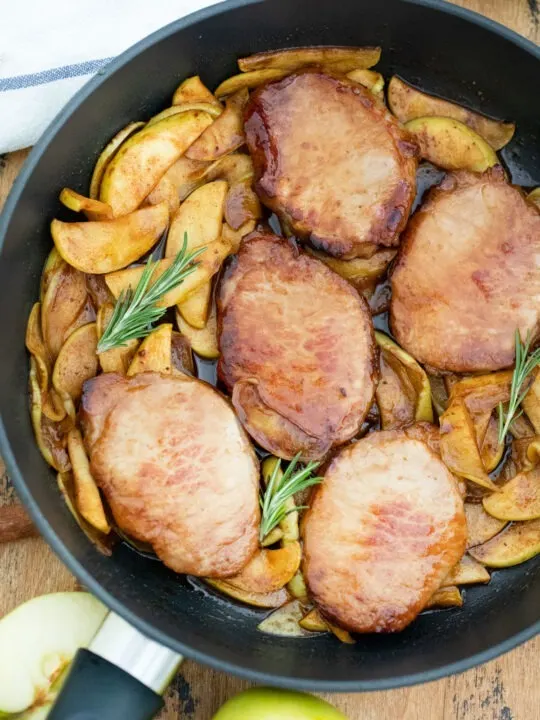 Recipe variations:
Bone-in: You can use bone-in chops instead of boneless for this recipe, but you will need to increase the cooking time.
Marinate: You can definitely use a gluten-free marinade in this recipe. One options is to soak chops in apple cider vinegar or white wine overnight before cooking for tender and tangy meat.
Different apples: Any type of apples will do but tart apples are best for this recipe.
More cinnamon: Feel free to add one more teaspoon ground cinnamon to the mix for more flavor.
Dairy Free: To make gluten free dairy free cinnamon apple pork chops, you can use a gluten-free dairy free butter like one of these options.
Creamy Pork Chops: Add ¼ cup heavy cream for a creamier apple cinnamon sauce.
Lemon juice: Add a teaspoon of lemon juice for a tangy flavor.
Cooking methods: You can use other cooking methods such as baking, slow cooking, air frying, or making it in your instant pot as well.
How to serve these fall pork chops:
These apple cinnamon pork chops go great with any side dish. Or try one of these ideas:
Serve these cinnamon apples pork chops with sweet potatoes and green beans for a delicious and well rounded dinner.
Pork pairs well with just about anything you serve along with a glass of white wine.
Add sautéed red onion strips to the top of the meat before serving for an extra kick of flavor.
You could also serve the cinnamon apples as a side dish or dessert.
Add other veggies like diced potatoes, carrots, or corn to the pan when cooking the apple mixture for a hearty meal.
This is a delicious dish when served with white gravy or whatever kind you prefer.
Frequently asked questions
What is the best way to cook pork chops without them drying out?
Nobody likes dry pork… except maybe the dog.
For the best pork, you want to make sure you get the right cut of meat. The best ones are the bone-in pork loin chops.
Don't use pork tenderloin because it dries out quickly since it has very little fat. Cooking them in juice or butter is also important for juicy pork chops.
What is the best way to tenderize pork chops?
The fastest way to tenderize your pork is to beat it with a meat mallet like this one.
This breaks up the muscle, which tenderizes the meat. You should also make sure you get the thickest chops you can find. Also, you can marinade overnight in vinegar, white wine, or some kind of citrus juice.
Why are my pork chops tough?
Boneless pork loin chops are very lean, so they are susceptible to becoming tough if you do not cook them properly. One of the best tips is to marinate them and use a meat mallet to break up the muscle as mentioned above.
But you should also sear the meat to keep the juices in and make sure you do not overcook them. Not even for one minute because they will dry and toughen fast.
How to store leftover pork chops:
Store: Wrap leftover chops in plastic wrap and put them in an airtight container in the fridge for up to four days.
Freeze: If you cannot eat them in a few days, put chops in a freezer bag and freeze them for up to three months.
Thaw: Thaw overnight in the fridge for best flavor.
Reheat: Reheat for one minute in the frying pan or about 45 to 90 seconds in the microwave.
Recipe tips:
You should always remove your meat from the fridge at least 15 minutes before preparing. They need to be at room temperature for best results.
Do not overcook. That is the leading cause of tough and dry chops. The internal temperature of the pork should be 145 degrees F with a meat thermometer.
Make sure to always rest your meat after cooking no matter what it is. Five minutes is the minimum.
Organic pork is always better as the quality of your meat is very important.
The pork should be a reddish pink to purple color for the freshest cuts. The darker it is, the fresher it is.
Using fresh apples gives a better flavor but to save time you can used canned.
The thickness of your pork chops really matters. Thick chops are more tender and juicier.
Cook time will vary depending on the thickness of the meat.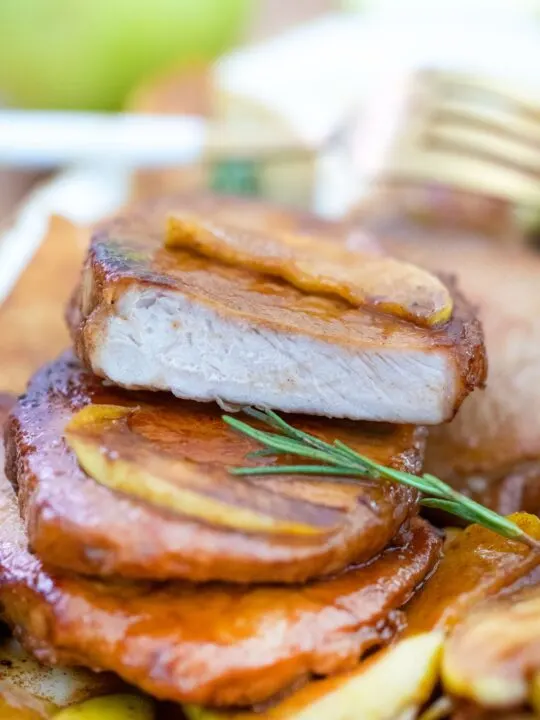 If you're ready to try this delicious gluten free pork chops recipe, scroll down for the printable recipe! If you're looking for an easy tenderloin recipe, try this stove top pork tenderloin that's also gluten free.
What's they key to loving your gluten free life? Take this quick quiz to get a personalized plan with the guide you need to thrive!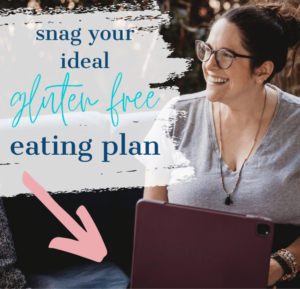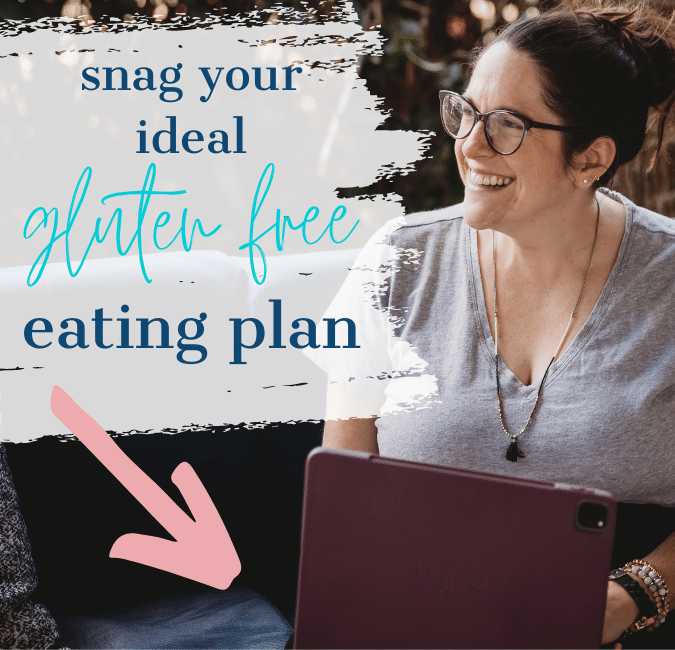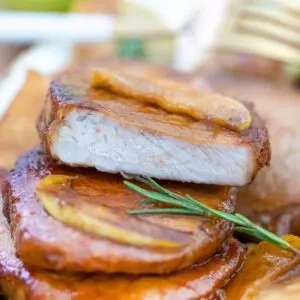 Gluten Free Cinnamon Apple Pork Chops
These Gluten Free Cinnamon Apple Pork Chops are delicious made with sliced apples and cinnamon blended with brown sugar, nutmeg, rosemary, and paprika.
Equipment
1 chef knife

1 cutting board

1 nonstick skillet

1 spatula

1 tongs
Ingredients
3

tbsp

butter (or vegan butter)

divided

4

boneless pork chops

4 oz each

2

tbsp

brown sugar

1

tsp

ground cinnamon

1/4

tsp

ground nutmeg

1/4

tsp

smoked paprika

pinch

allspice

1/4

tsp

salt

4

medium granny smith apples

thin sliced

3

fresh springs rosemary
Instructions
Place a large cast iron skillet, over medium heat and add 2 tablespoons butter.

Stir it to melt and immediately add the pork chops. Cook 4-5 minutes on each side or until a meat thermometer inserted in the thickest part of the meat reads 145 degrees F. (if using bone-in pork chops, cooking time will increase)

In the meantime, in a small bowl, mix brown sugar, cinnamon, nutmeg, paprika, all spice, and salt.

Remove the pork chops to a plate and cover with foil to keep warm.

To the pan, add 3 rosemary sprigs, apples, brown sugar mixture, and remaining butter; cook and stir until apples are tender. This will take about 5-7 minutes.

Discard the rosemary. Add back the pork chops.

Garnish with fresh rosemary sprigs and serve.
Notes
note: nutrition information is provided as a courtesy, but may not accurately reflect the final nutrition composition of your final dish depending on ingredients, substitutions, and serving size.
see the full blog post above post for:
ingredient and equipment suggestions & substitutions,
tips for modifying the recipe, and
frequently asked questions
Did you love this easy gluten free cinnamon apple pork chop recipe?
If so, be sure to share these fried apples with pork chops on social media or pin it to Pinterest using the social sharing buttons.
Other gluten free weeknight dinners you'll love: