The flavors of cereal with ice cream is sooo delicious! If you haven't tried it, now is the PERFECT time with these Fruity Pebbles cereal bowls.
Plus—this Fruity Pebbles Ice Cream Sundae is 100% gluten free, so enjoy freely!
Jump to the recipe or keep reading for the full post with step-by-step directions, pictures, brand recommendations, and more!
---
Are you new here? I also have the following posts to help you live gluten-free without the stress!
…get valuable support from me, and gluten-free peers, in my EXCLUSIVE Facebook community "Stress-Free Gluten-Free" by clicking here!
---
The gluten-free guide below is based on personal experience and research. Always be sure to discuss any medical changes with your doctor for your personal medical needs. Additionally, this post contains affiliate links. As an Amazon Associate I earn from qualifying purchases. My full disclosure isn't that interesting, but you can find it here.
Are Fruity Pebbles Gluten-Free?
Yes!!! Both Fruity Pebbles and Cocoa Pebbles are, in fact, gluten-free!
However, seasonal varieties and the ones containing marshmallows may NOT be gluten-free. Always check the box. Post is good at labeling.
Ready to take back control of your meals and love your gluten free life? Take the 45 second quiz to get a personalized plan with the guide you need to thrive!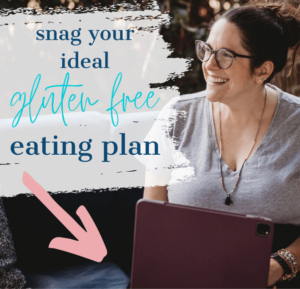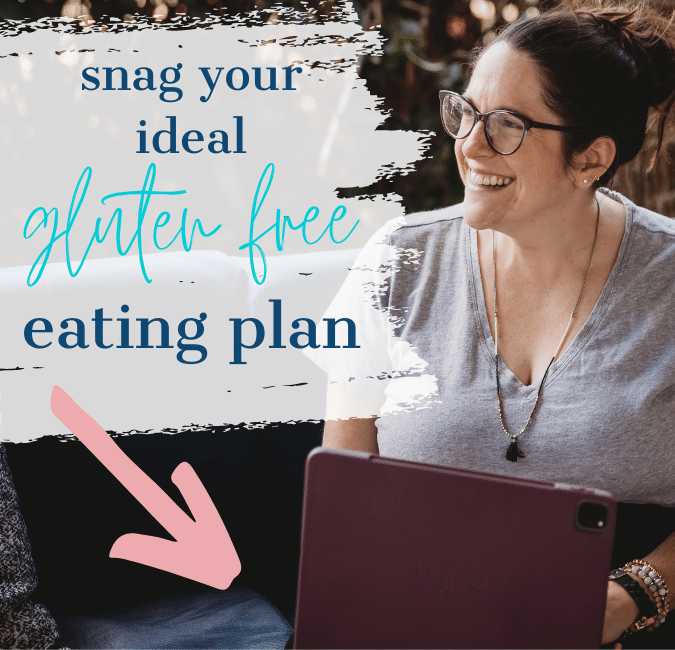 Ingredients for Fruity Pebbles Cereal Cups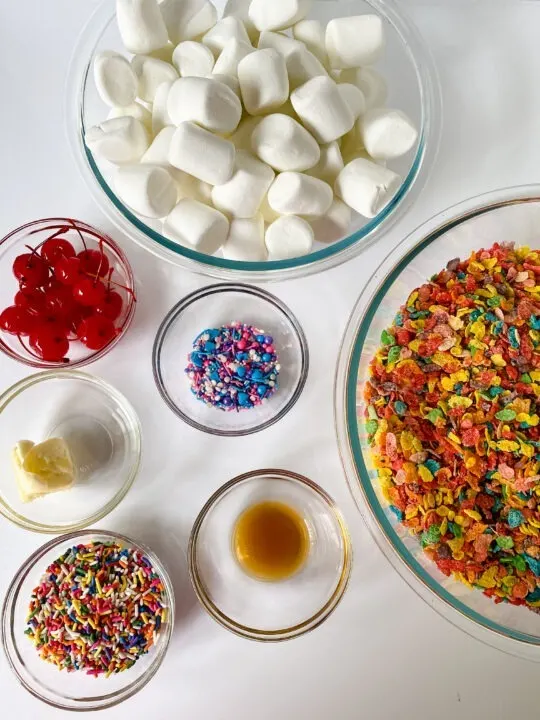 I looove when I can churn out a gluten-free recipe with ingredients from your NORMAL neighborhood grocery store.
The only thing you may not find for these Fruity Pebble cereal bowls at your normal grocery store are gluten-free sprinkles.
I order mine online from Sweets Indeed. They make such cute varieties and they are totally allergy friendly too (which is great when your family has multiple dietary restrictions).
Instead, you could also make your own Sanding Sugar. It looks so pretty on top of whipped cream!
To make these cereal bowls, you'll need:
Lastly, to turn it into a full-blown Fruity Pebbles Sundae you'll top it with:
It's super simple
Special note: Post is manufacturing Fruity Pebbles and Cocoa Pebbles Cereal Milk Light Ice Cream. Although both cereals on their own are gluten-free, this ice cream is NOT. It contains Barley Malt Extract.
Equipment to Make Fruity Pebbles Dessert Bowls
To make these delicious bowls to fill with ice cream, fruit, or other deliciousness, you only need a few things you probably already have on hand:
Ice Cream Cereal Bowl Variations
Not a huge fan of Fruity Pebbles?
I'll be honest, I'm not either… but they're my husband's favorite!
These Fruity Pebbles Cereal Bowls are simply a twist on a traditional rice crispy treat—and just as versatile.
You can totally make these with really any gluten-free cereal.
I'm a big fan of using Cocoa Pebbles (helloooooo chocolate!), but you could use gluten-free rice cereal, gluten-free cocoa rice cereal. Try it with your favorites.
If the cereal has really big pieces, the texture will definitely change… but the taste should still be on point.
How to Make these Rainbow Cereal Cups
Making these cereal cups is easy and takes less than 30 minutes from start to finish!
Step 1: Combine Cereal Treat Ingredients
First, melt your butter in a Dutch oven or heavy pot over medium-low heat.
Once melted, add marshmallows, and stir constantly while they melt.
Remove from heat and add vanilla and your cereal. Keep stirring, being sure that the cereal doesn't burn to the bottom.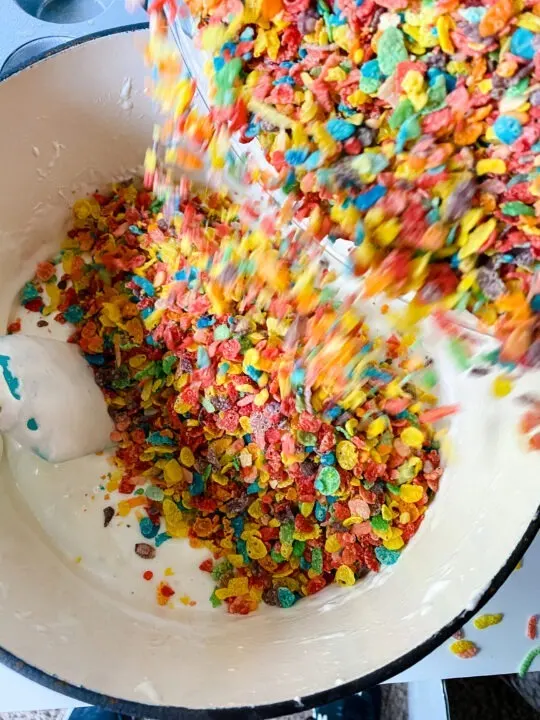 Spray your muffin pan with gluten-free nonstick spray and press the cereal treat mix into the cups.
Press down on the center of the cups with a spoon to leave an indentation (a groove to add your ice cream–they're cereal bowls)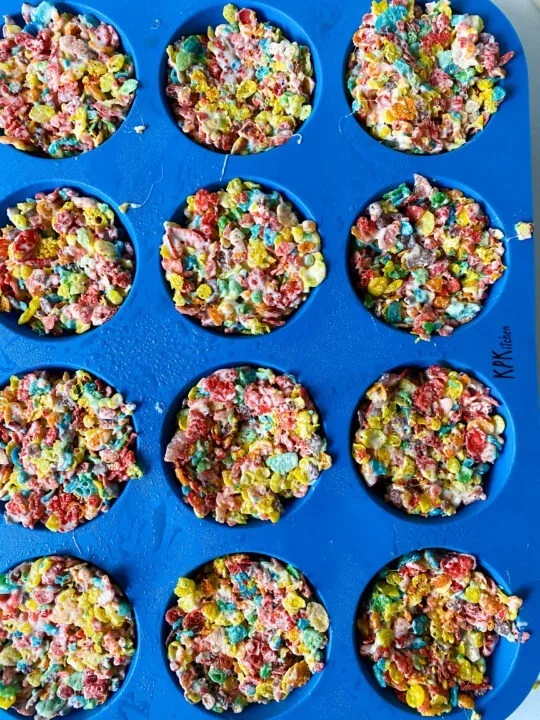 Put cereal cups in the fridge to cool and you have your cereal cups!
Now turn these Fruity Pebbles cereal bowls into the Sundaes of your dreams.🍨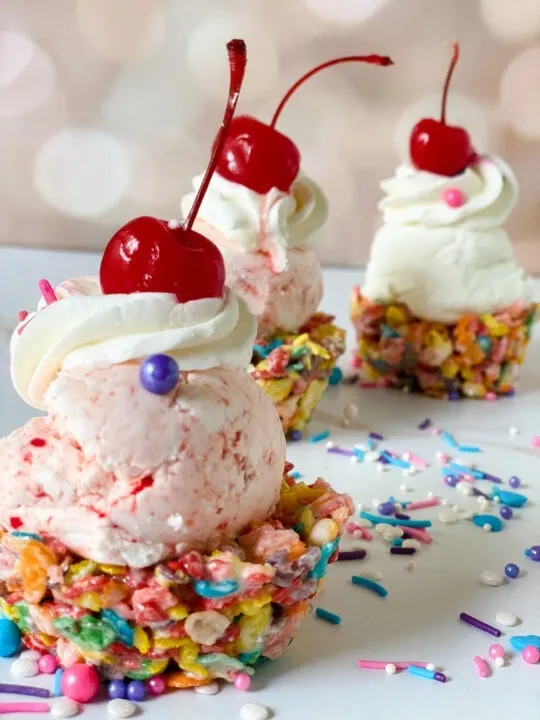 What do you think of these sundaes made from Fruity Pebbles cereal bowls?
Will you serve it at your next party?
Be sure to share it to social media or Pin it for later using the social sharing buttons. Also, be sure to come back and rate this recipe!
Scroll down for the printable recipe and take the FREE quiz to discover your personalized gluten free plan to claim back your love of food!
What's they key to loving your gluten free life? Take this quick quiz to get a personalized plan with the guide you need to thrive!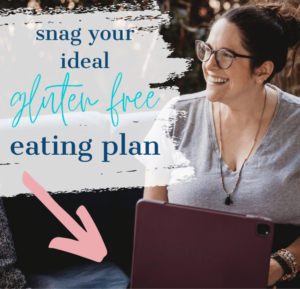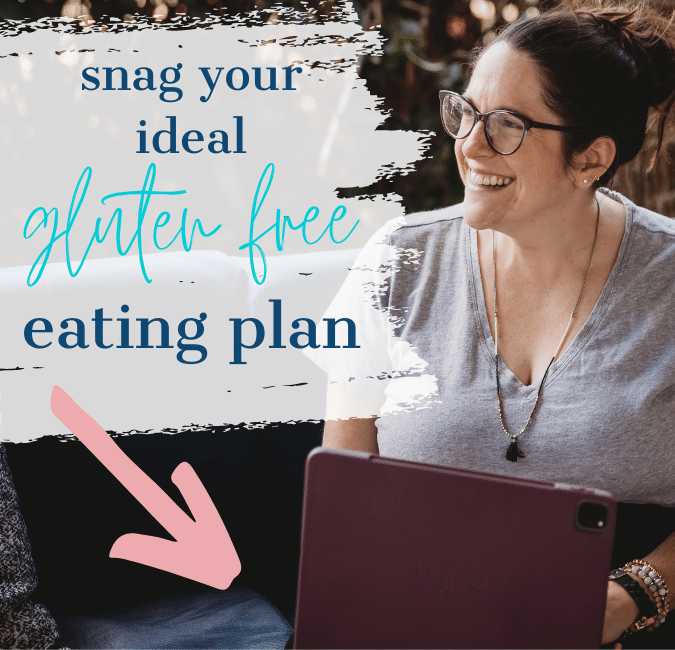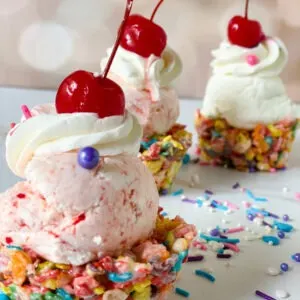 Fruity Pebbles Cereal Cups for Fruity Pebbles Ice Cream Sundaes
These easy homemade Fruity Pebbles Cereal Cups are the perfect base for a delicious gluten-free ice cream sundae!
Equipment
Dutch Oven (or heavy bottom pot)

Muffin Tin (I prefer Silicone)

spatula
Ingredients
Fruity Pebble Cups
1½

tbsp

butter

(or vegan butter)

5

oz

mini marshmallows

1

tsp

vanilla

½

box

Fruity Pebbles

(about 6-7 cups)

nonstick spray

(gluten free)
Turn them into Sundaes!
12

scoops

gluten-free ice cream

1

can

whipped cream

12

Maraschino Cherries

sprinkles, chocolate chips, other candies
Instructions
Melt the butter in the Dutch oven over medium-low heat.

Once melted, add in the marshmallows stirring constantly until smooth and melted. Remove from heat.

Stir in vanilla and Fruity Pebbles (be sure they don't stick/burn to the bottom.

Spray muffin tin with gluten-free nonstick spray and press the cereal treat mix into the cups. Use a spoon or your fingers to press down on the middle to create an indent (the perfect groove for ice cream!)

Cool in fridge for 15-20 minutes until firm.

Gently remove the cereal bowls from the muffin tin and top with ice cream and desired toppings to make a delicious cereal sundae!
Notes
Nutrition facts are automatically calculated based on the cereal cup only. They will vary depending on ingredient choice and composition of your sundae.
See the full blog post above for:
ingredient and equipment suggestions + substitutions,
tips,
and FAQs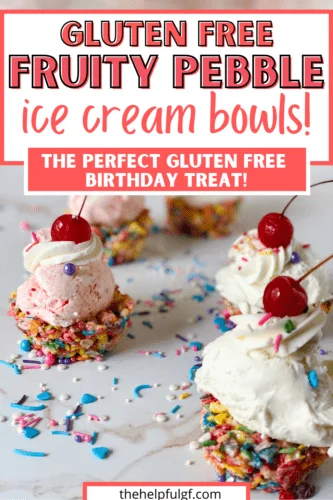 Other Gluten-Free Treat Recipes You Will Love: