Are you looking to find the best gluten free restaurants in Hamilton County, Indiana? Look no further – this guide has you covered. With an abundance of options in this ever-growing county, we've identified the 13 best restaurants and bakeries that offer delicious and healthy gluten free meals.
From vegan to American cuisine, we've got your taste buds covered with this ultimate guide. We'll provide you with details on the food, atmosphere, and location of each restaurant, along with information on what makes them great for those with a gluten-free lifestyle. At the end of this guide, you'll have all the knowledge you need to make an informed decision and enjoy a delicious and safe meal. Let's get started!
Keep reading to learn about the best 13 places you MUST try if visiting the area, or use the table of contents below to jump to the section of your choice.
---
Are you new here? I also have the following posts to help you live gluten-free without the stress!
…get valuable support from me, and gluten-free peers, in my EXCLUSIVE Facebook community "Stress-Free Gluten-Free" by clicking here!
---
The gluten-free guide below is based on personal experience and research. Always be sure to discuss any medical changes with your doctor for your personal medical needs. Additionally, this post contains affiliate links. As an Amazon Associate I earn from qualifying purchases. My full disclosure isn't that interesting, but you can find it here.
Ready to take back control of your meals and love your gluten free life? Take the 45 second quiz to get a personalized plan with the guide you need to thrive!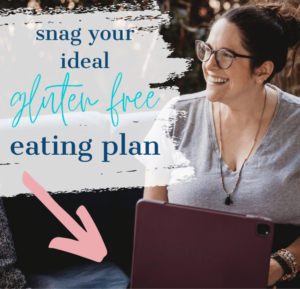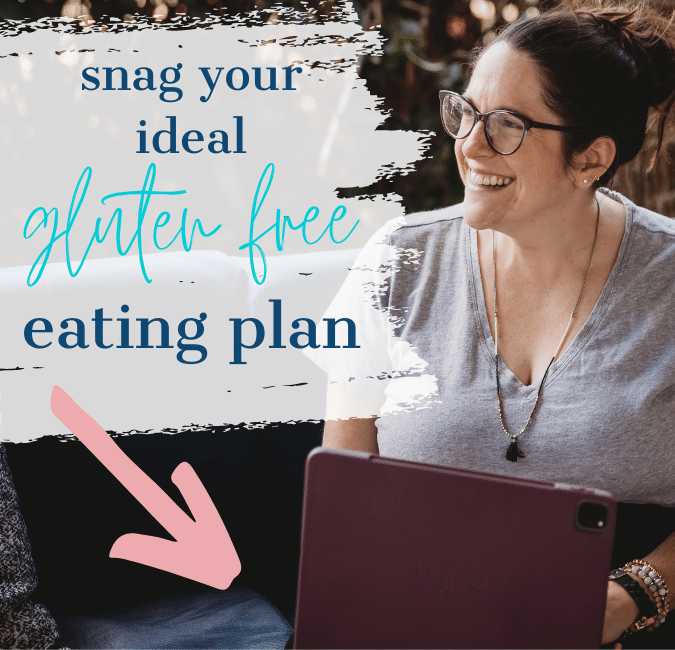 Tips for Eating at Gluten Free Restaurants in Hamilton County
Hamilton County is made up of 4 towns. They are Carmel, Fishers, Noblesville and Westfield. The county is a booming community and have lots of new restaurants opening all the time! A good number are gluten free restaurants in Hamilton County (or at least, have safe gluten free offerings)!
Before jumping into where to go, I recommend always speaking to the chef or management about the details of food prep as it applies to your needs. But the good news is many of the following locations have practices in place to help you out!
Want to know more about best practices when eating out gluten free? Check out my in-depth guide to eating out gluten free here.
The Best Gluten Free Breakfasts in Carmel Indiana
Cafe Patachou in Carmel, Indiana
Cafe Patachou has 2 locations in Carmel! (and a couple others just outside Hamilton County) What makes them so special is they serve Native Bread. This bread is made locally in the area! It's gluten free, doesn't fall apart, thick and tasty! They will make cinnamon toast on Native Bread for you at Cafe Patachou!
They understand food allergies/sensitivities and your food comes out marked with a red flag to designate allergies. My favorite item is their Vegan Chickpea Crepe!
It's a hot spot for the locals and often busy! Try to be on the later or earlier side of popular meal times.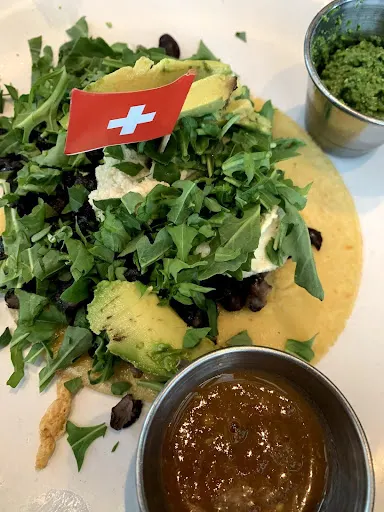 Rize in Carmel, Indiana
Rize is another great breakfast spot if you're looking for gluten free restaurants in Carmel, Indiana. They have fresh squeezed OJ, delicious coffee options, build your own omelet's, breakfast sandwiches on gf bread and a delicious avocado toast.
Among some other lunch options. I often build my own breakfast sandwich on gluten free bread with an almond milk vanilla latte.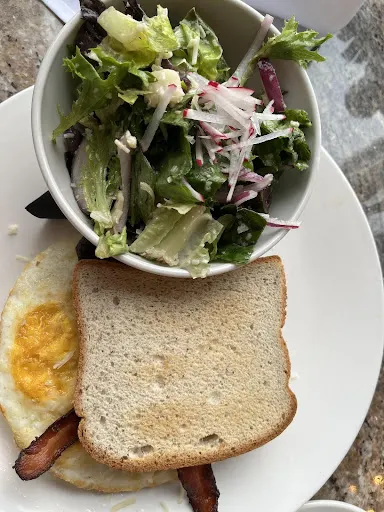 Best Lunch around Hamilton County
While these lunch spots are also an easy dinner spot, you'll definitely want to try out the options on this list!
Asian Grill – Gluten Free in Noblesville
Noblesville has a spot called the Asian Grill! They have gluten free orange chicken and chicken curry, with generous serving sizes! And some delicious spring rolls! This spot is great for lunch or dinner!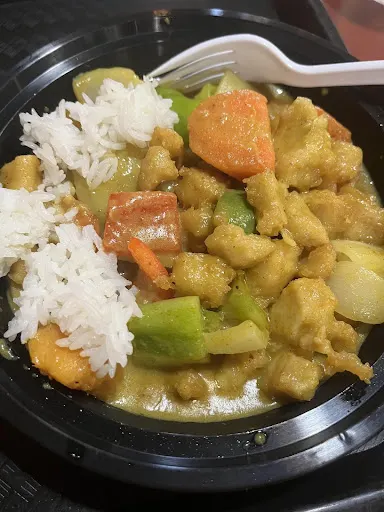 Condado Tacos Indiana
If you're interested in a fast taco fix for lunch, Condado's has some delicious options and you can build your own bowl or corn taco. Plus, the chip basket is safe! Enjoy tasty margaritas on the outside patio if you're able!
HC Tavern + Kitchen in Fishers, Indiana
If you're not far from Fishers, and have time for a sit down. I highly recommend HC Tavern! They have safe fries, gluten free flatbread options, ciders and more.
There are many delicious options to choose from and a great variety for the lucky family and friends who can have gluten. Everyone will be happy!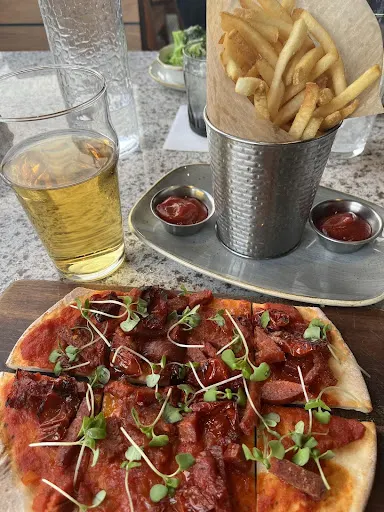 Best Gluten Free Dinner Options in Hamilton County
This list gets bigger every day! And many of the places are also open for lunch!
Bru Burger Bar – Carmel, Noblesbille
Bruburger has several locations around Indiana, Kentucky, and Ohio which offer gluten free buns, vegan cheese and the Carmel location has safe fries! (Not all their locations have safe fries due to kitchen space so ask at each location)
I typically build my own burger (adding some peppadew jam) or have the Valencia salad. I'm also dairy free so I ask to swap out the cheese for the vegan cheese.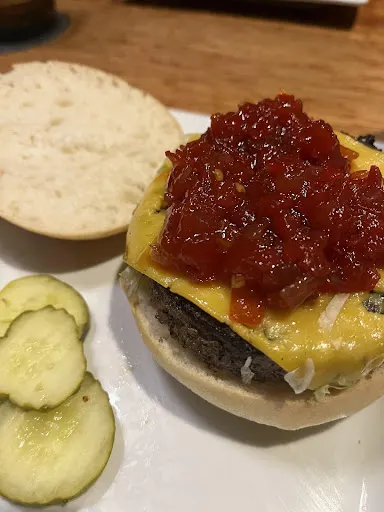 Check out the Bru Burger Gluten Free Menu here.
Divvy Carmel, Indiana
Divvy is one of my newest favorites! I'm not a vegetarian or vegan but I always get their vegetarian board because you won't find a single "boring vegetable" on the plate! It comes with Buffalo style spicy cauliflower (not too spicy), delicious glazed brussel sprouts, cashew cheese with gluten free pita bread. The whole board is gluten free!
Divvy also has delicious drinks and cocktails and let's not forget about gluten and dairy free desserts that aren't just a fruit cup!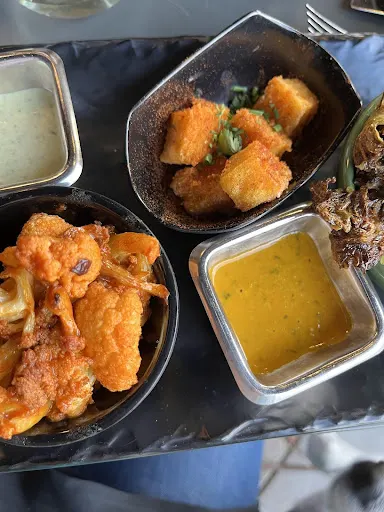 Field Brewing in Westfield
I can't let you go without sharing what's booming in Westfield!
Check out Field Brewing for some delicious farm to table style with gluten free options! The owner's wife is a dietitian so you get fresh and healthy meals! The menu item's change from time to time but the times I have been, the fries have been safe. I've also had a delicious egg sandwich on the Native bread. They have an outdoor patio with a kid friendly space.
Rail Cafe with Cone + Crumb in Westfield
Find Rail in Westfield, which has combined Cone and Crumb with some fresh lunch and dinner options! The Cone and Crumb side has ice cream with a few gluten free flavors, plus a dairy free ice cream that rotates in flavor and is gluten free. They also serve a gluten free waffle cone.
On my most recent visit the cashier excitedly told me the extra care they provide if you have celiac! This includes sanitizing and cleaning a special prep area when you order food.
My favorite part is the dairy free ice cream comes in fun flavors you don't find in many places!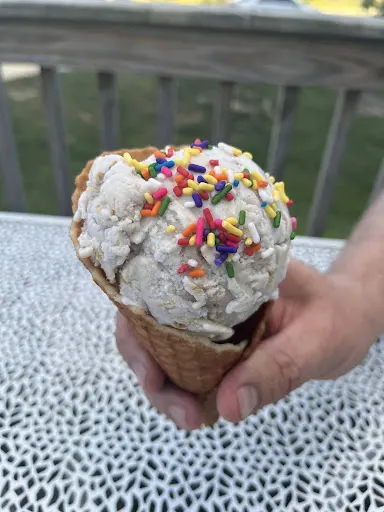 Gluten Free Bakeries in Carmel and Hamilton County
If you're looking for a dedicated gluten free bakery in Carmel, we've got you covered with two options!
Simple Taste Bakery in Carmel
Simple Taste bakery was the only bakery I could find back in 2016 who would make me a gluten free cake for my wedding and bridal shower. Not only was it gluten free but it was also dairy and soy free for my other food sensitivities!
The owner has a special place in my heart for all her help and what she does.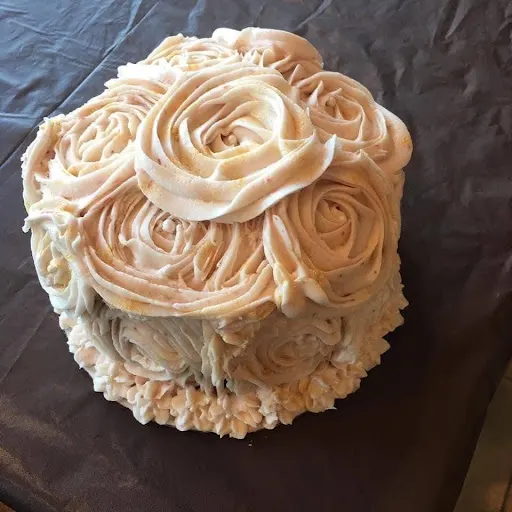 No Label at the Table
No Label at the Table is dedicated gluten and dairy free with many of their baked goods also accommodating other food sensitivities! Another quality that makes them unique is they are staffed by our friends on the autistic spectrum.
Learn more about No Label at the Table here.
Aspasia
While Aspasia, isn't in Hamilton County, it's not too far out. And it's a fully dedicated gluten free space! There are currently some light meal options, lots of baked goods, coffee and even alcohol!
It's a great sit down space and even has a private special events room to rent. They will make a dedicated gluten free cake for the event! No outside gluten is allowed in!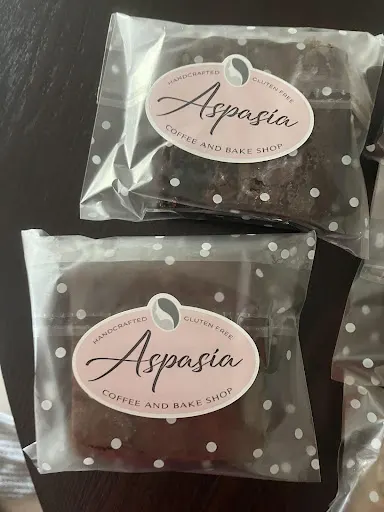 Gluten Free Chains in Hamilton County
In addition to the amazing places on this list, Hamilton County also has your national chain favorites such as Red Robin, PF Chang's, Chipotle, 5 Guys, Cooper's Hawk and Seasons 52.
What's they key to loving your gluten free life? Take this quick quiz to get a personalized plan with the guide you need to thrive!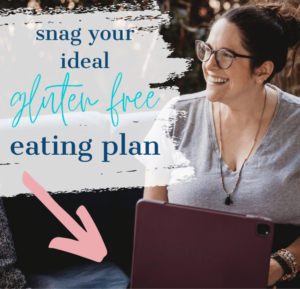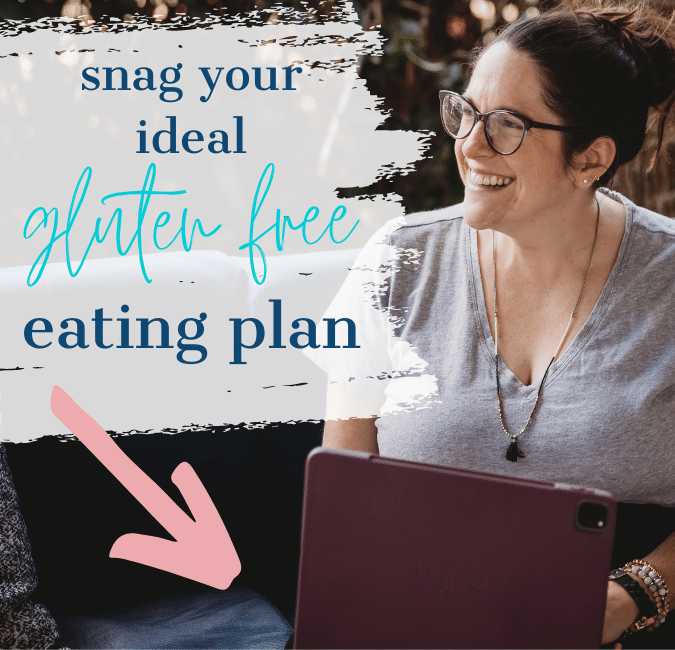 In conclusion, this guide to gluten free restaurants in Hamilton County, Indiana is the perfect start for anyone looking to enjoy the many dining options in the area. With a wide range of delicious, nutritious, and gluten free options, there's something for everyone. From upscale bistros to locally-sourced eateries to family-friendly spots, there's something to please every palate.
So don't miss out on the opportunity to experience all that Hamilton County has to offer. With the delicious and gluten free options at the 13 top restaurants, life is good… and gluten free!
Did you love this Guide to Gluten Free Restaurants in Indiana?
If so, be sure to share it on social media or pin it to your gluten free travel boards on Pinterest or flip it to Flipboard using the social sharing buttons!
This Gluten Free Guide to Hamilton County Restaurants was written by @celiac_fitness_coach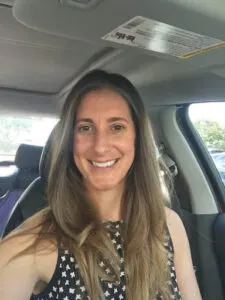 This gluten-free guide was written by Susan Hittle who was diagnosed with celiac during the holidays of 2013. The diagnosis reignited her passion to help others on their health and wellness journey! Susan has a bachelors in dietetics and is a certified nutrition coach through Precision Nutrition. Susan helps women safely navigate their gluten free needs with a balanced approach to nutrition. She teaches group fitness in barre and Silver Sneakers. Susan also loves to travel and all things Gilmore Girls!
Follow Susan on Instagram @celiac_fitness_coach
Looking for more Gluten Free Travel & Restaurant Guides?
Then you'll love these posts: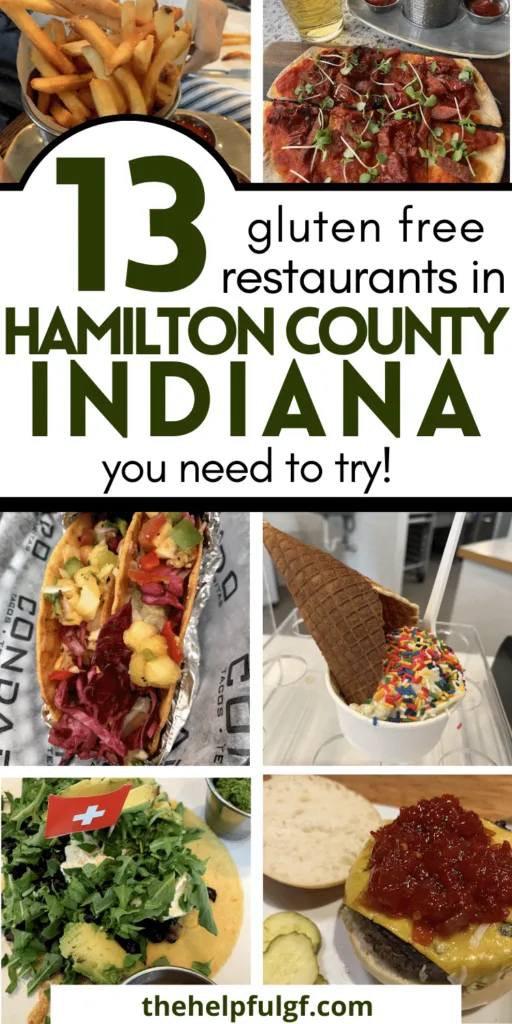 Thanks for Reading about these 13 Gluten Free Restaurants in Hamilton County, Indiana