New York City, the city that never sleeps, is not only a culinary paradise but also a haven for gluten-free foods.
In this article, I'll cover the best gluten-free restaurants, bakeries, and food spots NYC has to offer.
Use the Table of Contents below to navigate to the section of your choice or keep reading for more information.
---
Are you new here? I also have the following posts to help you live gluten-free without the stress!
…get valuable support from me, and gluten-free peers, in my EXCLUSIVE Facebook community "Stress-Free Gluten-Free" by clicking here!
---
Ready to take back control of your meals and love your gluten free life? Take the 45 second quiz to get a personalized plan with the guide you need to thrive!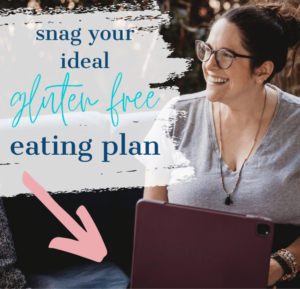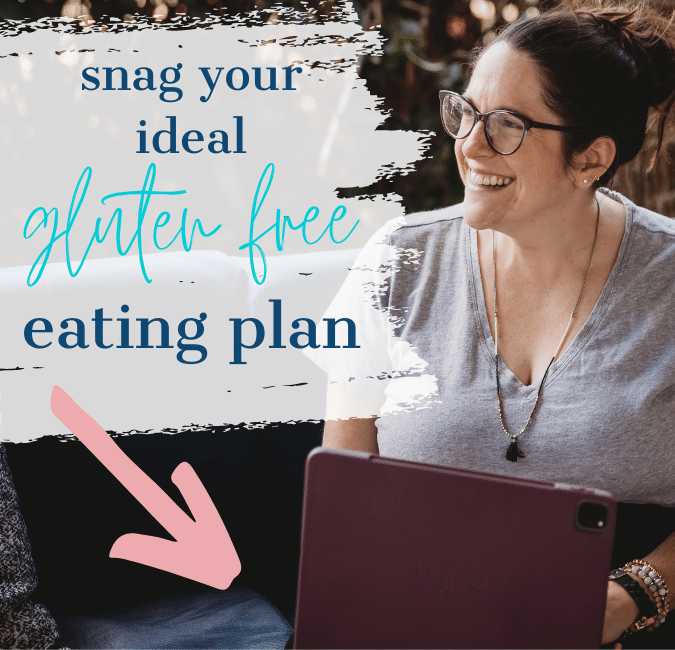 Gluten-Free in NYC
Whether you're a local or a visitor, embracing gluten-free in the Big Apple has never been more delightful. The variety of gluten-free delights in the city is nothing short of astounding. From charming neighborhood bakeries serving up gluten-free pastries and restaurants that provide grab-and-go dinners, the options are endless.
If you're ready to embark on a gluten-free adventure in the city that never sleeps, keep reading to discover some of my top gluten-free picks.
Or, if you prefer a visual feast, you can watch my Youtube video capturing the joy of eating gluten-free in NYC. Let's dive in and savor the gluten-free marvels of the concrete jungle.
How To Eat Gluten-Free in New York
Eating gluten-free in the bustling food scene of New York City can be an absolute delight, but it's essential to be well-prepared to make your dining experiences enjoyable and safe.
Before heading out to dine in New York City, it's wise to do your homework and plan ahead. Check out my blog post on 5 Tips for Eating Out Gluten-Free at Restaurants for a comprehensive guide on what to do before dining out. These tips will help navigate menus, communicate your dietary needs to restaurant staff, and ensure a safe and enjoyable dining experience.
You can also use the Find Me Gluten Free App. This app provides a curated list of gluten-free friendly restaurants and eateries in the city, complete with reviews and ratings from fellow gluten-free diners. It's a valuable tool for discovering safe and delicious dining options.
Exploring NYC's vibrant neighborhoods can lead to unexpected hunger pangs. Fortunately, the city's corner markets and bodegas often stock a variety of gluten-free snacks, making it easy to refuel on the go. Keep an eye out for gluten-free chips, protein bars, fresh fruit, and other convenient options.
Best Gluten-Free Food in NYC
Let's dive right in and explore the finest gluten-free gems that NYC has on its menu! Each item on this list is a place I've personally tried and really believe it belongs on this list!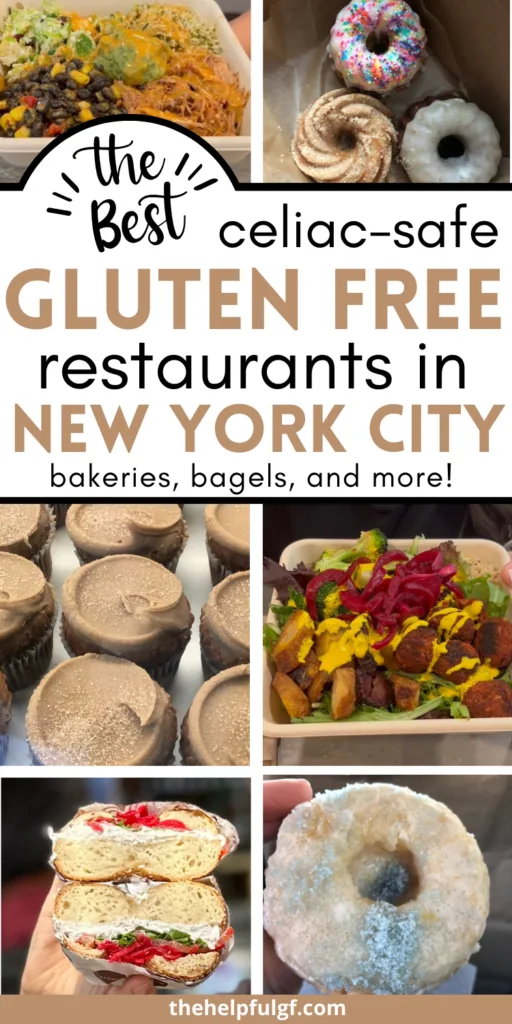 Modern Bread and Bagel
Modern Bread and Bagel, nestled in the heart of New York City, a gluten-free haven that has redefined the concept of artisanal bread and bagels. Dedicated to making gluten-free options that are as delicious as they are wholesome, this eatery is a must-visit for anyone.
One of the standout features of Modern Bread and Bagel is its unwavering commitment to gluten-free dining. Every item of their menu is made with gluten-free flour, ensuring that those with celiac disease or gluten sensitivities can indulge without worry. While their gluten-free bagels are renowned, their offerings extend far beyond this beloved classic.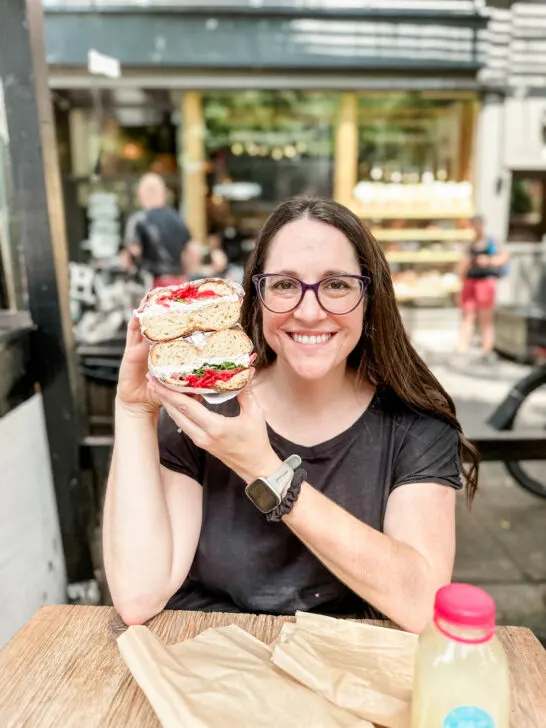 Modern Bread and Bagel also offers online ordering and nationwide shopping, making their exceptional gluten-free creations accessible beyond NYC.
To check out their menu, you can visit here to see what options are available!
The Little Beet
The Little Beet is a beacon of gluten-free dining in New York City. It's not just an option for gluten-free foods, it's an establishment that's 100% dedicated to the cause. From the moment you step inside any of their multiple locations across the city, you're welcomed into a world where gluten-free dining thrives.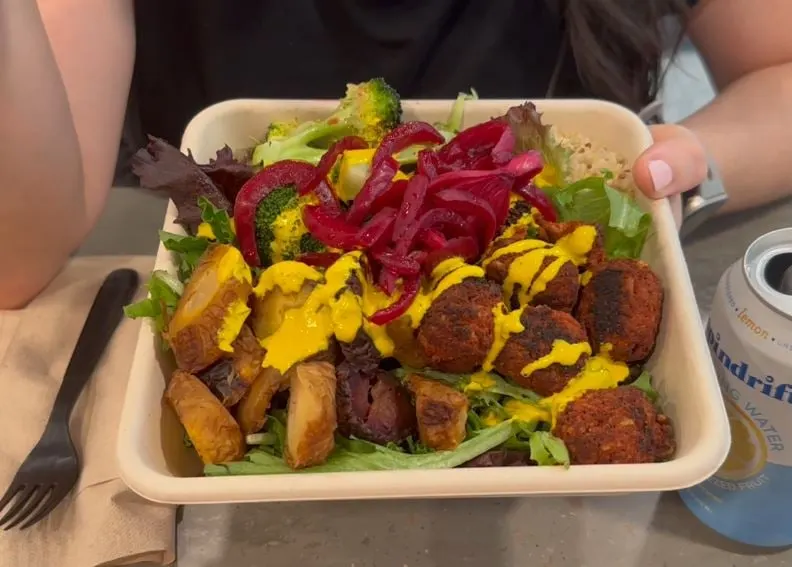 Their commitment to providing a safe and delicious dining experience for those with gluten sensitivities or celiac disease is evident in every dish they serve.
With several locations sprinkled throughout NYC, The Little Beet makes it easy for gluten-free foodies to enjoy a delightful meal without compromise, no matter what neighborhood they find themselves in.
For a taste of the city's finest dedicated gluten-free dining check out their menu here to see what treat you are in for.
By The Way Bakery
By the Way Bakery is a gem in the world of gluten-free and dairy-free foods. This bakery, with several locations in New York City and beyond, has earned a dedicated following for its commitment to creating treats that are not just gluten-free but also dairy-free and kosher.
Whether you are craving chocolate cake, a flaky pastry, or a classic cookie, their extensive range of treats is designed to delight your taste buds while accommodating your dietary preferences.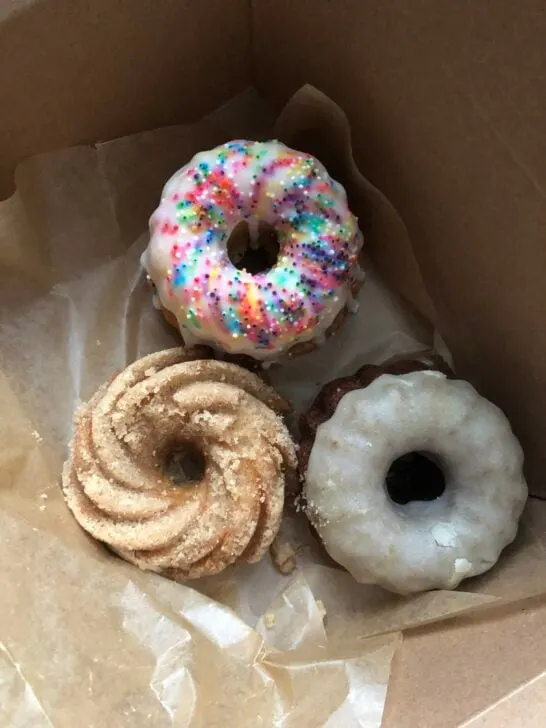 With locations that span from Manhattan to Westchester, By the Way Bakery invites you to savor their delectable creations and discover the sweet side of gluten-free living.
Learn more about By the Way Bakery here.
Erin McKenna's Bakery NYC
Erin McKenna's Bakery NYC is a gluten-free, vegan, and refined sugar-free wonderland. With multiple locations across the USA, you are sure to enjoy every bite from their kitchen and be reminded of their commitment to creating delicious, health-conscious delights.
Erin McKenna's Bakery creates decadent desserts and baked goods that cater to a wide range of dietary needs. Whether you are gluten-free, vegan, or simply looking to cut back on refined sugar, this bakery has you covered.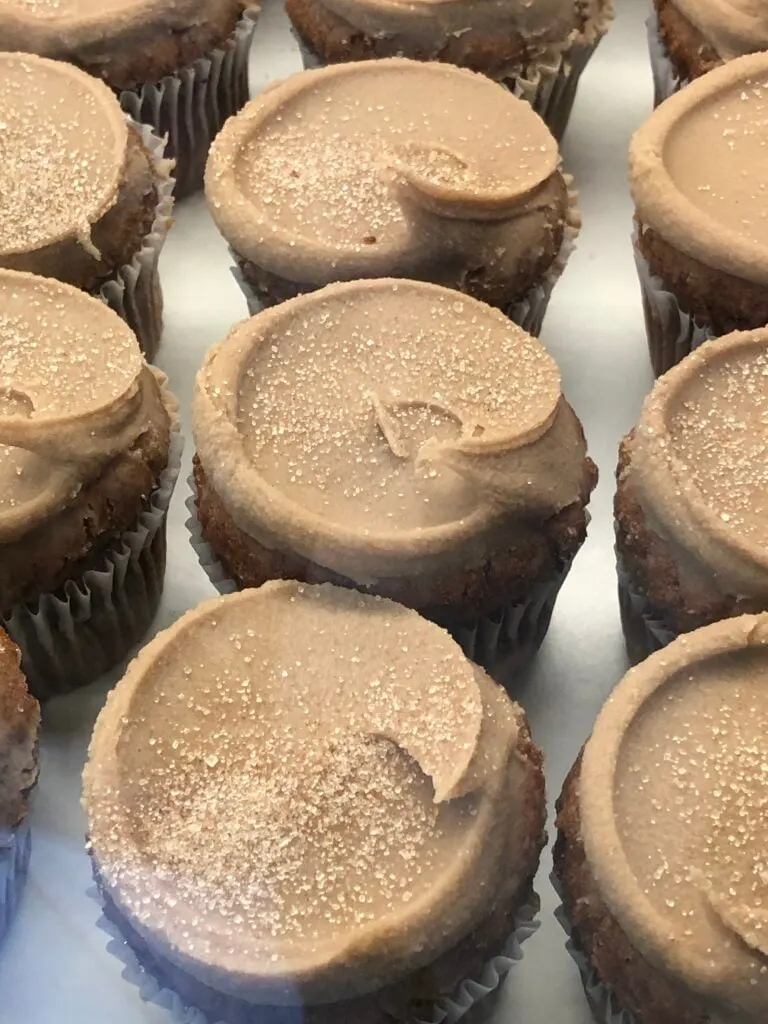 Want my full review on Erin McKenna's Bakery? Check out my full review to learn more about location information, menu options, what I've personally tried and information about Erin McKenna's Cookbooks.
You can check out Erin McKenna's Bakery here to learn more about this amazing place!
Have you been to any of these gluten free restaurants in NYC?
If so, comment below telling us what you thought!
Did you love the Guide to Gluten Free New York Restaurants?
If so, be sure to pin it to Pinterest, flip it to Flipboard, or share it on social media using the social sharing buttons!
Hope You Enjoyed This Peek Into Gluten-Free Manhattan
I hope you enjoyed this peek into gluten-free options of New York City. From dedicated gluten-free bakeries that make pastries taste heavenly, Manhattan's food scene proves that great flavors don't need gluten. It's a place where you can enjoy gluten-free food that's just as delicious as the traditional stuff.
Whether you live in NYC or you're visiting, exploring gluten-free spots is a treat. Manhattan's gluten-free community is thriving, and there are always new flavors to discover. Let your taste buds lead the way as you explore the city and savor every gluten-free bite.
More Gluten Free Travel Guides: