The "camera eats first" movement is a widespread phenomenon. A quick scroll through the #food feed on any social media platform is definitive proof of this. It's definitely a fun way to share your kitchen creations with the world, so why not hop on the bandwagon?
Whether you just wanna show off your culinary skills or brag about the amazing gluten-free meal you had eating out, keep reading for how to take food photos to share on social!
---
Are you new here? I also have the following posts to help you live gluten-free without the stress!
…get valuable support from me, and gluten-free peers, in my EXCLUSIVE Facebook community "Stress-Free Gluten-Free" by clicking here!
---
The gluten-free guide below is based on personal experience and research. Always be sure to discuss any medical changes with your doctor for your personal medical needs. Additionally, this post contains affiliate links. As an Amazon Associate I earn from qualifying purchases. My full disclosure isn't that interesting, but you can find it here.
Ready to take back control of your meals and love your gluten free life? Take the 45 second quiz to get a personalized plan with the guide you need to thrive!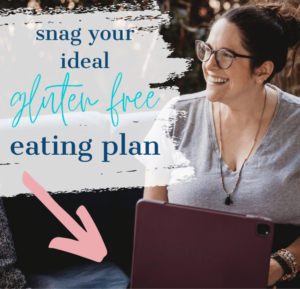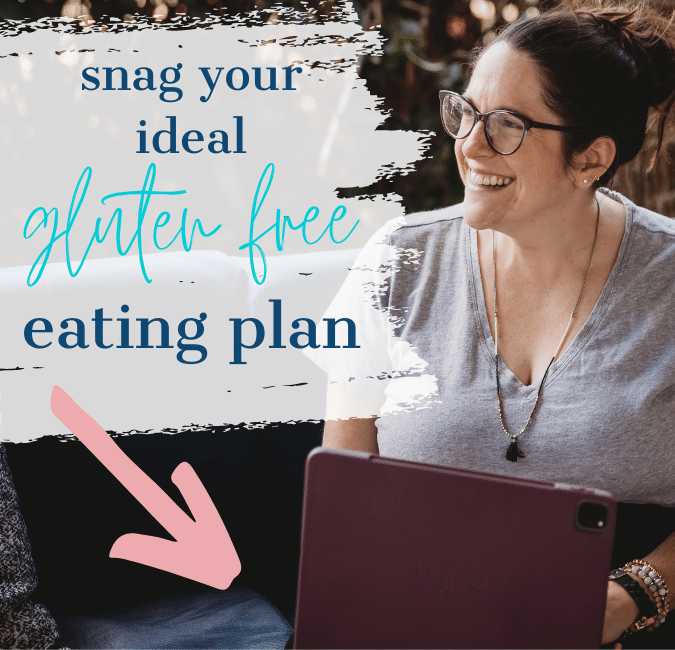 Have a specific question? Use the table of contents below to jump to it in the post!
Why You Should Take Food Photos
There are so many reasons you might choose to take pictures of your meal… here are a few!
A Record for Your Recipes
While pictures of food are primarily for showing other people, they also serve a documentary purpose. Photographing food lets you archive past recipes you've tried.
This way, you can easily revisit these photos and take note of what you liked and didn't like, so you can make adjustments the next time you recreate these dishes.
To Inspire Others
Lots of people hear "gluten-free" and immediately think that it's going to be boring, bland food. Most of the time, that's just not the case!
Let's prove them wrong!
Taking great photos of gluten-free and other diet-specific foods is important to help inspire more people to welcome these dishes into their diet.
This lets people see that modifying recipes using items from our Easy Gluten-Free Substitutes and Ingredients Swap Guide still makes great-tasting and great-looking food.
Plus, when people see fantastic pictures of food, they're very likely to want to try it for themselves.
The Food Photography Process
Looking for the easy step by step process?
First, Curate Food Presentation
One of the key things about food presentation is plating. This involves how each component of the dish is arranged on the plate. A well-presented dish makes it more memorable, and there's no hard-and-fast way to do it.
Private chef Effie Noifelt explains that presentation is based solely on creativity, and while there are techniques and trends to be learned, the ideas need to come from the individual.
Sure, you can look through food magazines and blogs to look at how they present their dishes, but ultimately, yours should represent your identity as a gluten-free cook— whether that be fun and spontaneous or thoughtful and uncomplicated.
Second, Use the Right Equipment
The right equipment will make all the difference to a photo's quality. Adorama features professional photography gear such as high-performance cameras and lenses that are available for any vision and budget.
So, if you're looking for a starter camera, you can get the Panasonic Lumix DMC-G85 or the Sony a5100, which allows you to take professional-quality photos with the kit lens.
Later on, you may want to invest in lenses that photographers swear by, try one of these best mirrorless cameras. Or snag a 50mm prime lens that lets you capture all the details of the dish.
Another important consideration for photography equipment is lighting. The Spruce Eats' list of food lighting tools recommends the Ego Lighting Kit by Lowel, which includes diffusion screens and multiple background options for you to choose from.
I know what you're thinking, can't I just use my camera phone? Honestly, camera phones are great! These tips are for someone who really wants to step up their game.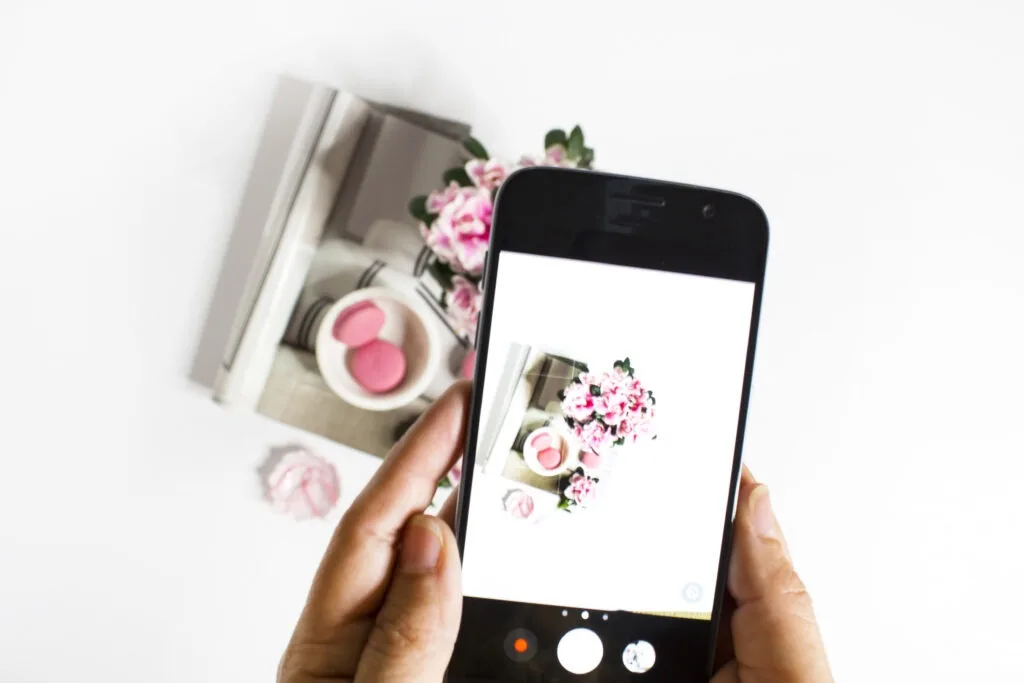 Third, Pay Attention to Composition
Not all dishes and food are meant to be photographed the same way, and this is why you need to arrange the composition around it.
A BBC Good Food how-to guide on food photography says that recipes that have a strong graphic identity look more striking when shot from directly above. In these cases, you'll need to arrange a table layout that would look enticing in a flatlay photo.
In the same guide, it's suggested that other subjects with lots of profile details, such as a tiered cake or a burger, would look better when shot from a lower angle.
You also need to think about the glassware, cutlery, napkin, background, and surface ahead of time, so that you won't have food sitting too long before you get your golden photo.
Gluten-free dishes are so delicious and good for you, it only makes sense that you should take photos that do them justice. To help you get started on this journey, check out some recipes here at The Helpful GF.
What's they key to loving your gluten free life? Take this quick quiz to get a personalized plan with the guide you need to thrive!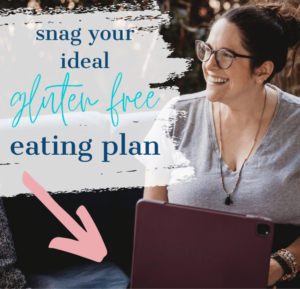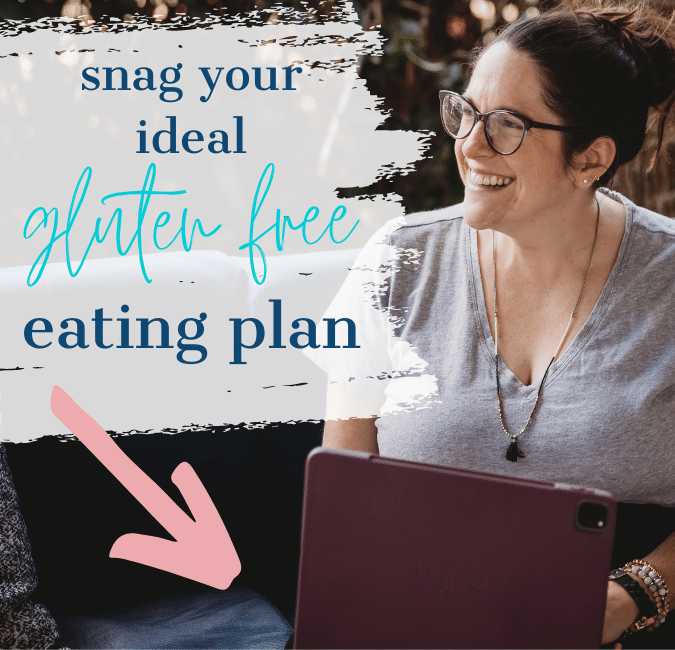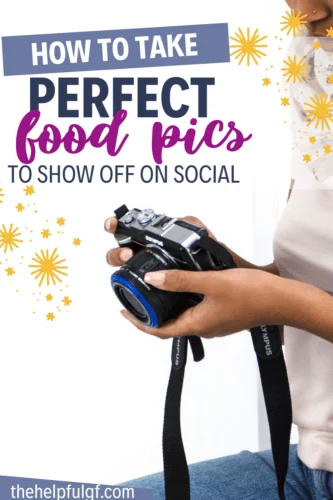 Love this post? Don't forget to share it on social using the social sharing buttons.
Here are some other fun gluten-free living tips you will love: