Are you on the search for gluten-free substitutes for the foods and recipes you love?
The good news is that so many options exist for alternatives.
Easy swaps make the transition to a gluten-free diet easier! Learning some of these, and having them in your head, makes turning regular recipes into gluten-free masterpieces!
Keep reading for the best easy gluten free swaps or use the table of contents below to jump to the section you want!
The gluten-free guide below is based on personal experience and research. Always be sure to discuss any medical changes with your doctor for your personal medical needs. Additionally, this post contains affiliate links. As an Amazon Associate I earn from qualifying purchases. My full disclosure isn't that interesting, but you can find it here.
Ready to take back control of your meals and love your gluten free life? Take the 45 second quiz to get a personalized plan with the guide you need to thrive!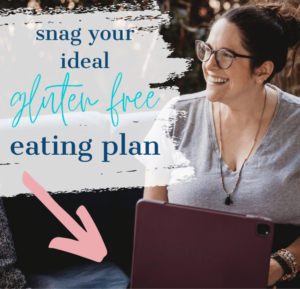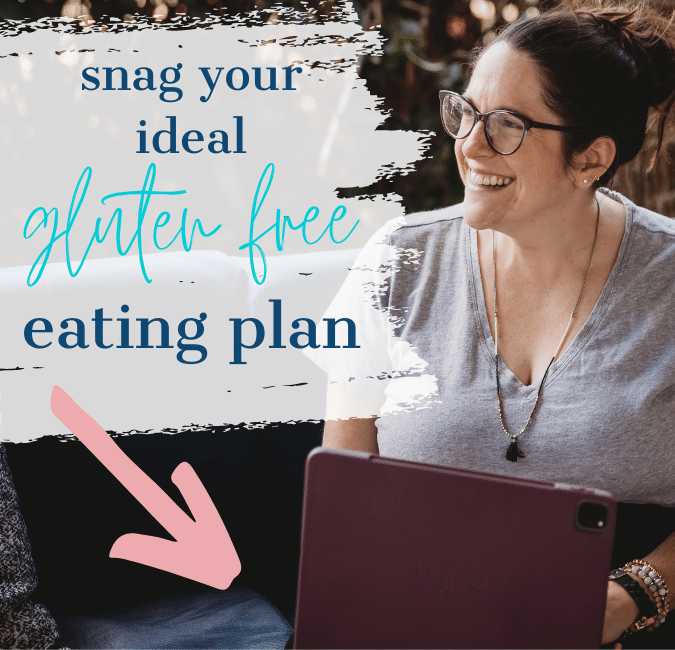 Gluten–Free Grain Alternatives
These grains and grain alternatives are naturally gluten-free and can be safely consumed on a gluten-free diet. However, packaging labels should still be read to watch out for cross-contact with gluten containing grains.
Almond flour
Amaranth
Arrowroot
Beans
Cassava
Chia
Coconut flour
Corn
Fonio
Flax
Guar gum
Millet
Oats **see note below
Potatoes (white and sweet, and potato starch)
Rice (white, brown, wild, and rice flour)
Quinoa
Sorghum
Soy flour
Teff
Tigernut
Check out some of my favorite gluten-free brands in the shop here, and keep reading for more details about simple and easy ingredient swaps to keep your recipes gluten-free!
What about Oats?? Are Oats Gluten-Free?
This is a complicated question. While oats in their natural form are gluten-free, many oats are grown in fields with gluten-containing grains which gives them a strong likelihood of cross contact. If you want to consume oats on a gluten-free diet, you absolutely must consume oats that have been tested to be gluten-free.
But… there's more.
There are two types of gluten-free oats: mechanically sorted and purity protocol.
Purity Protocol Oats
Purity protocol are the oats you definitely want if you have Celiac Disease or an allergy. This is because these oats never come into contact with gluten-containing grains throughout the production and manufacturing processes.
My two favorite brands of these are GF Harvest and Gluten Freeda. Both are available at Amazon.
Mechanically Sorted Oats
By contrast, mechanically sorted oats (such as that used by General Mills) sorts oats and gluten-containing grains by weight to get rid of the grains containing gluten.
While some products made with this technology may test below gluten limits for a label, they are deemed unsafe for someone with Celiac disease by the National Celiac Association (yes, this includes Cheerios).
If you want to learn more, read up on gluten-free labeling of oats at Gluten Free Watchdog here.
Continue reading for specific ingredient swaps by category (with brand recommendations)!
Gluten-Free Bread Alternatives
When substituting bread, the easiest thing to do is to simply sub store-bought gluten-free bread loafs. However, especially when you're new to the gluten-free diet, many people do not enjoy the taste of store-bought gluten-free bread.
Don't worry! There are other options available to you! Try these gluten-free bread alternatives:
Are you looking for a non-bread substitute for sandwiches?
Try wrapping up your sandwich fillings in these ideas:
Lettuce Wrap
Collard Greens
or just roll up your deli meat and cheese!
Or even top rice cakes with different spreads for delicious rice cake snacks!
Gluten-Free Alternatives to Pasta
There are so many gluten-free pasta alternatives! You're sure to find something that satisfies you from these choices:
Gluten-Free Alternative to Bread Crumbs
While you can always make your own gluten-free bread crumbs from gluten-free bread, if you're looking for a quicker and easier option, try one of these ideas for gluten-free bread crumb alternatives:
Gluten-Free Substitutes for Whole Grains
When looking to substitute items like semolina, bulgur wheat, farro, couscous, or barley as a whole grain—there are some great alternatives for your soups, salads and side dishes.
Instead of these gluten containing grains, try these naturally gluten-free grain options:
Gluten-Free Cereal Substitutes
There are so many gluten-free cold cereals on the market!
The key is to look for a brand that is Certified Gluten-Free—many cereal companies are using mechanically sorted oats in their production which may not be safe for someone with Celiac Disease.
Looking for Cream of Wheat or hot cereal gluten-free substitutes? Try:
Gluten-Free Tortilla Alternatives
The easiest, and probably the cheapest, alternative for flour tortillas is to swap in corn tortillas. Luckily, most mainstream corn tortilla brands are labeled gluten-free.
Corn tortillas taste great when heated or lightly fried.
However, there are other options for gluten-free tortillas available as well:
lettuce wrap
cabbage wrap (this holds better than lettuce)
collard greens wrap
soft corn tortillas (Mission is certified GF)
crunchy shells (while there are many brands that are labeled gluten-free, Garden of Eatin is delicious)
gluten-free flour tortillas (try BFree)
grain-free tortillas (try Siete brand)
homemade gluten-free tortillas
Tacos fillings also taste great right on top of rice, salad, or gluten-free tortilla chips.
Gluten-Free Alternatives for Baking
When baking, the easiest gluten-free substitution is to sub a cup for cup gluten-free flour for all-purpose flour.
You can also use a blend of gluten-free flours to achieve an ideal texture and density in your baking, but that does take more ingredients (and patience!)
Try these gluten-free baking alternatives for no fail gluten-free baking:
Gluten-Free All-Purpose Flour (King Arthur is my favorite)

note: this may also be called cup for cup gluten free flour. This is by far the easiest to work with, none of the flours below are as close to an easy swap as amounts will need to be modified and liquids used in baking may need to be adjusted.

nut flours (such as almond, coconut, tigernut–Anthony's has great prices on all of these)
rice flours (Anthony's also has great prices on these)
Plus: You can turn gluten-free all purpose (cup for cup) flour into gluten-free self-rising flour by simply adding 1 ½ tsp baking powder and ¼ tsp salt to each cup of gluten-free all purpose flour.
Gluten-free substitutes for soups, seasonings, and sauces
Wheat is often a thickener in seasoning packets, soups (including bouillon), and sauces.
The best gluten-free substitutes to seasoning packets is to make your own. It's not difficult at all, gives you control over your ingredients, and you can make it in bulk!
My favorite gluten-free spices and seasoning brand is Badia.
If making your own recipe, try some of these gluten-free roux bases instead of all-purpose flour:
corn starch
cream cheese
gluten-free flour blend (like King Arthur)
If purchasing gluten-free soups and sauces, these brands are my favorites:
Imagine brand has yummy creamy soups
Looking for bouillon recommendations? My favorite is the brand Bou, but you can find more recommendations for gluten-free bouillon in this post.
Gluten-Free Alternatives to Croutons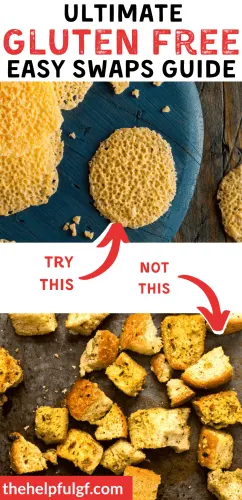 While you can buy some gluten-free croutons or make your own, there are some other creative ideas as well to get that same crunch!
Try:
Gluten-Free Condiments
While many condiments are gluten-free as is, you must become familiar with reading labels. Gluten is often used as a stabilizer, thickener, or as a flavoring.
While the condiments you use very well may already be gluten-free, I swapped a lot of mine out for Primal Kitchen since they are certified gluten-free and contain clean ingredients.
Save 10% off your Primal Kitchen order through this link using code THEHELPFULGF10
One of the biggest gluten-offenders is soy sauce. Regular soy sauce contains wheat. But there are a couple great alternatives to try!
Instead of soy sauce try:
Want to know more about gluten-free soy sauce?
Read my in-depth post about gluten-free soy sauce by clicking here.
Gluten also hides in various mustard products (isn't that crazy?)
You can read my full guide on gluten in mustard + the best safe brands here.
These are my top picks for gluten free Caesar Dressing (with dairy free and vegan options too!)
Gluten-Free Alcoholic Beverages
Many alcoholic beverages are not gluten free. These would be fermented beverages made with a gluten containing base or that are malted.
But don't worry—there are many gluten-free substitutes such as gluten-free beer,** gluten-free hard cider, and gluten-free mead.
**note about gluten-free beer—be sure to purchase beer that is crafted gluten-free. Stay away from gluten-removed beer as it is not safe for individuals with allergies, Celiac Disease, or intolerances.
Read my in-depth post about gluten free beer options here.
If you are making a recipe that calls for beer, it's likely being used for its carbonation. You can save money by using seltzer or a cola.
By contrast, distilled beverages like bourbon, even if made from a gluten containing grain, do meet the qualifications for gluten free.
Learn more about why distilled beverages are gluten free in this post.
Want to know more about alcohol on a gluten free diet? Check out the ultimate guide to alcohol and gluten here!
Produce
Don't worry—fresh produce (fruits and vegetables) are naturally gluten-free! This includes tubers such as potatoes.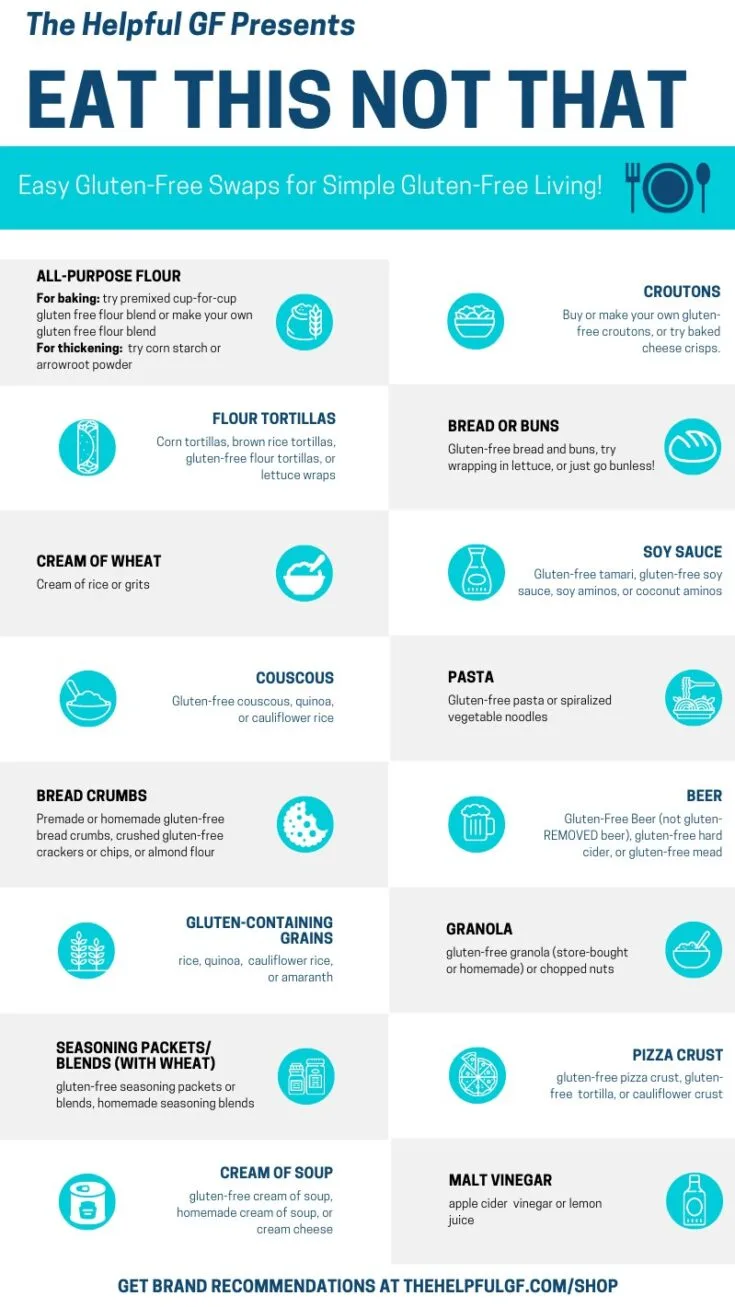 If this guide to the best gluten-free substitutes was helpful to you, please pin the post to Pinterest for later or share it with your friends using the social sharing buttons below!
What's they key to loving your gluten free life? Take this quick quiz to get a personalized plan with the guide you need to thrive!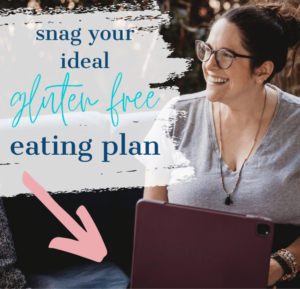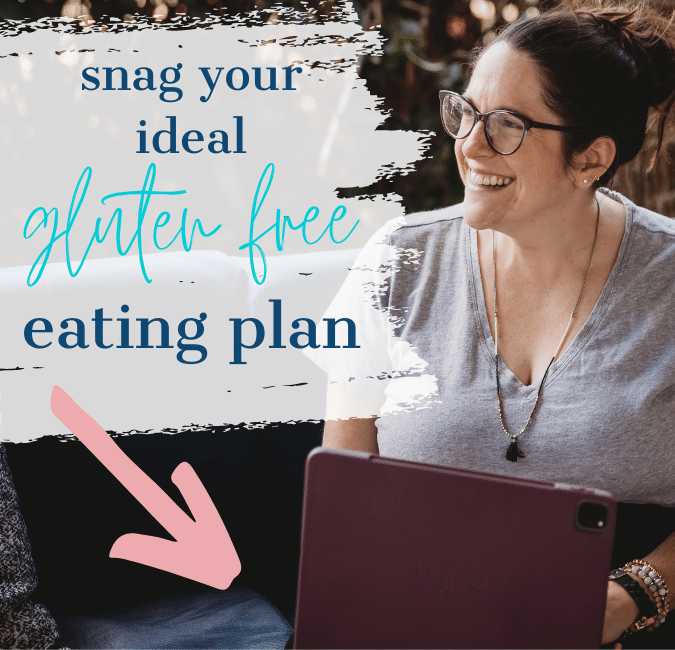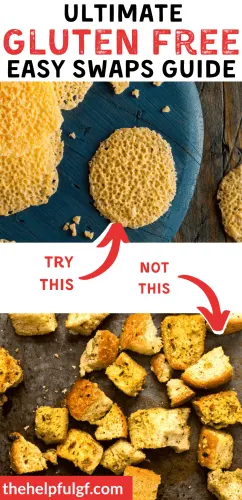 Looking for more information on transitioning to a gluten-free diet?
Check out these posts:
Best Gluten-Free Swaps