Orzo is a small, thin oval shaped pasta. It's very versatile and can be used in all sorts of dishes from salads to soups to casseroles. If you follow a gluten free diet, there's a good chance at some point you've wondered 'is orzo gluten free'?
Traditional orzo is not gluten free. Despite looking a whole lot like rice, orzo is actually pasta. It is usually made with some type of wheat flour which makes it unsafe for celiacs.
There are plenty of gluten free options and alternatives to traditional orzo. Keep reading to learn which brands are great gluten free choices and what other ingredients you can use instead. Or use the table of contents to jump straight to the section you're looking for.
---
Are you new here? I also have the following posts to help you live gluten-free without the stress!
…get valuable support from me, and gluten-free peers, in my EXCLUSIVE Facebook community "Stress-Free Gluten-Free" by clicking here!
---
The gluten-free guide below is based on personal experience and research. Always be sure to discuss any medical changes with your doctor for your personal medical needs. Additionally, this post contains affiliate links. As an Amazon Associate I earn from qualifying purchases. My full disclosure isn't that interesting, but you can find it here.
Ready to take back control of your meals and love your gluten free life? Take the 45 second quiz to get a personalized plan with the guide you need to thrive!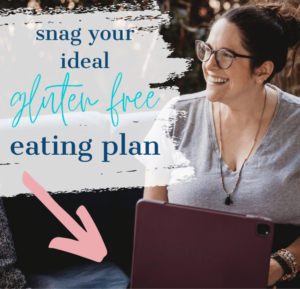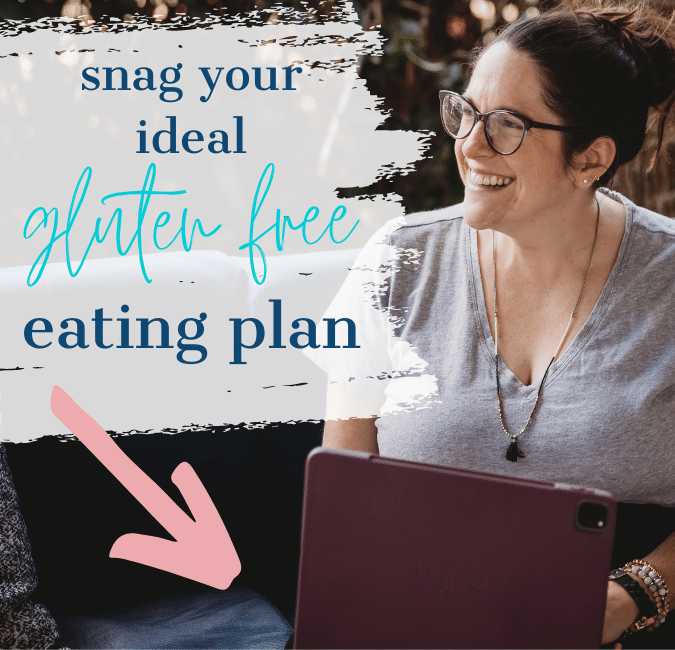 What is orzo made of?
Orzo can be a confusing ingredient because it looks just like rice. Despite its appearance orzo is actually a pasta that is made from wheat flour.
Gluten free orzo can be made with a variety of gluten free ingredients including cassava, corn, rice, or amaranth.
Is orzo pasta gluten free?
If you're wondering does orzo contain gluten, then unfortunately, orzo pasta is not gluten free. Orzo is traditionally made from semolina flour which comes from durum wheat. Wheat is the most common source of gluten.
Durum wheat is preferred for things like pasta and bread because it actually contains higher levels of the gluten protein. The gluten is what creates the elasticity needed for pasta.
Interestingly, the word 'orzo' literally means Barley in Italian. Orzo is not made from barley, but it does look a lot like a grain of barley, which is where the name comes from.
Barley is another source of gluten, so the name is a good way to remember that this ingredient is not gluten free!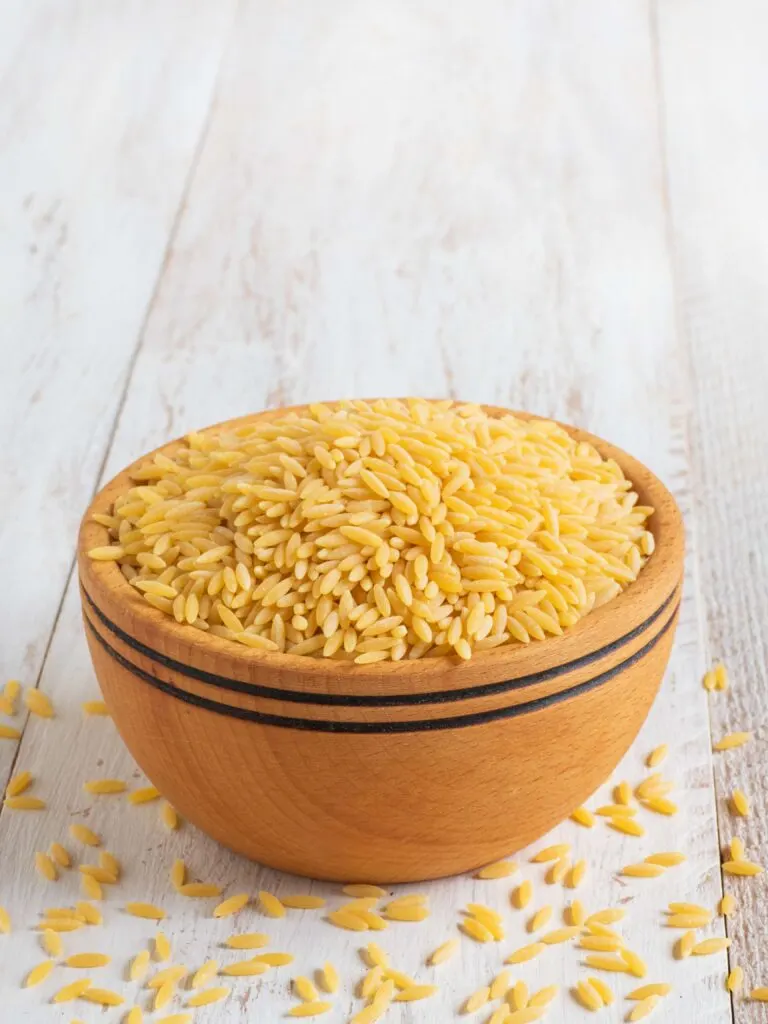 Is organic orzo gluten free?
If you're new to gluten free eating it can be a little overwhelming to distinguish between the wide variety of claims on ingredients these days. What is very important to understand is that organic does not mean gluten free.
A product can be organic and still contain gluten. It can also be organic and gluten free. When it comes to orzo specifically, being organic definitely does not mean it's gluten free.
There are some excellent organic, gluten free orzo options available, which I'll include for you below!
Can celiacs eat orzo?
Someone with Celiac disease can eat gluten free orzo varieties. When you are shopping for orzo or any other ingredients, it's important to read ingredient labels, and watch for gluten free labeling and certification.
Once you get the hang of what to look for when it comes to labels and gluten free certification, shopping becomes much easier!
Take a look at this helpful guide that makes understanding gluten free labeling quick and easy!
Is there a gluten-free substitute for orzo?
There are a few different options you can use as a gluten free orzo substitute. Depending on which one you choose, you may have to modify the cooking instructions. The amount of water or overall cooking time may need to be adjusted.
Gluten Free Orzo
Gluten free orzo is the closest gluten free substitute for orzo. You can switch out regular orzo in your recipe for a gluten free option instead.
As an added bonus to this alternative, there are plenty of recipes available on the internet that are made specifically with gluten free orzo!
I listed some of my favorite options below so scroll down to see the options!
Rice
All natural forms of rice are gluten free! You can use brown, white or wild rice as a gluten free substitute.
The amount of water you need will depend on which kind of rice you choose, so be sure to follow the instructions on the package.
Quinoa
Quinoa is another popular substitute for orzo. It can change the texture of your dish a little bit because it tends to be more crunchy than orzo.
Quinoa is often preferred to rice because it is more nutritious.
If gluten free orzo is what you want to use there are plenty of great options to choose from! Keep reading to find out more.
Where to buy gluten free orzo
Gluten free orzo is readily available at many different grocers. Because it is a dry food, it's easy to order online. I usually find it on Amazon, through Whole Foods or Thrive Market.
If you want to know more about how Thrive Market can save you money on a gluten-free diet check out my full review here, or Best Gluten Free Orzo Options
Jovial Cassava Orzo Pasta
I love that this pasta is certified gluten free. It's made with cassava, which is a root vegetable that is dried and ground into flour.
It's also organic, vegan, vegetarian, paleo, Non-GMO, and dairy free.

Purchase Jovial Cassava Orzo Pasta at Thrive Market here.
DeLallo Gluten Free Orzo Pasta
This all natural pasta is made with corn and rice and makes a great orzo substitute. It's certified gluten free and climate pledge friendly!
It gets great reviews for flavor and texture, but it is more costly than some of the other options.

Purchase DeLallo Pasta at Amazon here.
Mountain High Organics Gluten Free Orzo
If you're looking for an organic gf orzo option, this is it! This certified organic pasta is made with rice, quinoa, and amaranth.
Mountain High products are made in a dedicated allergy friendly facility.

Purchase Mountain High Organics at Amazon here.
Frequently asked questions about orzo and gluten
Is gluten free orzo healthy?
Any gluten free food can be part of a healthy and balanced gluten free diet.
Is orzo a barley or a wheat?
Orzo is a pasta that is made with wheat. The word 'orzo' means barley in Italian, however it is named after its appearance (it looks like a grain of barley) rather than what it's made of.
Is Tesco orzo gluten free?
No, Tesco orzo is made with wheat, and notes the allergen in bold on the ingredients list.
Is Barilla orzo gluten free?
Barilla orzo is made with wheat flour (semolina) and is not gluten free.
Did you find this post on helpful? If so, be sure to share it on social using the sharing buttons below or pin it to Pinterest to save it for later!
What's they key to loving your gluten free life? Take this quick quiz to get a personalized plan with the guide you need to thrive!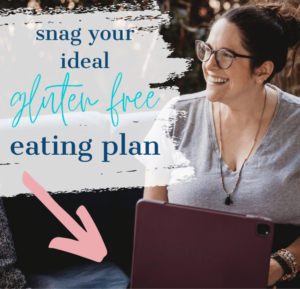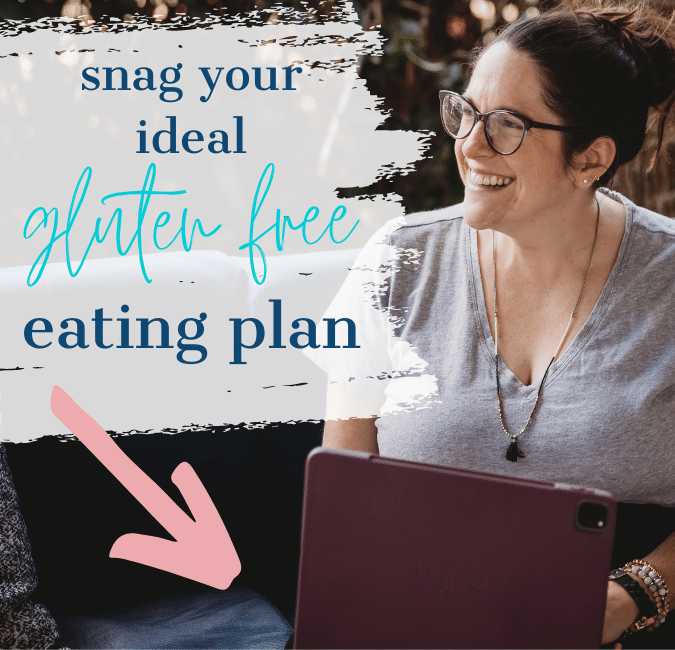 Other posts you'll love: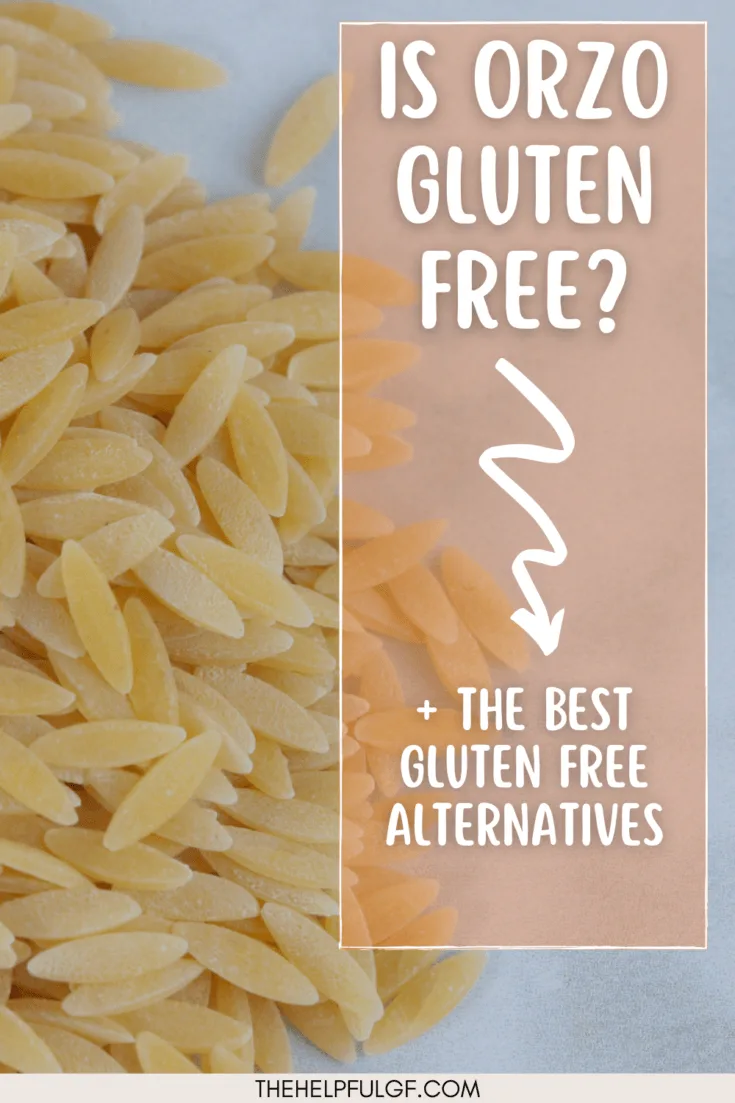 Thanks for reading this post on does orzo have gluten!