Being gluten-free doesn't mean you can't enjoy a good Italian dish. You may be wondering is Risotto gluten-free?
Most of the time the answer is yes. However, it is important that you are checking the ingredients of the broth and other ingredients you are using to ensure that they are also gluten-free.
In this article, I will cover everything you know about gluten-free Risotto, including what ingredients go into Risotto and how to prepare it yourself.
I've also included some gluten free risotto recipes for you at the end of this article to try out.
Use the Table of Contents below to navigate to the section of your choice or keep reading for more information.
---
Are you new here? I also have the following posts to help you live gluten-free without the stress!
…get valuable support from me, and gluten-free peers, in my EXCLUSIVE Facebook community "Stress-Free Gluten-Free" by clicking here!
---
The gluten-free guide below is based on personal experience and research. Always be sure to discuss any medical changes with your doctor for your personal medical needs. Additionally, this post contains affiliate links. As an Amazon Associate I earn from qualifying purchases. My full disclosure isn't that interesting, but you can find it here.
Ready to take back control of your meals and love your gluten free life? Take the 45 second quiz to get a personalized plan with the guide you need to thrive!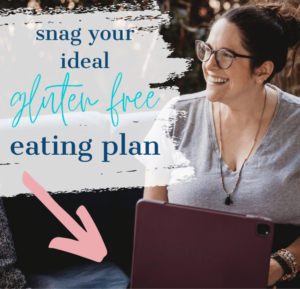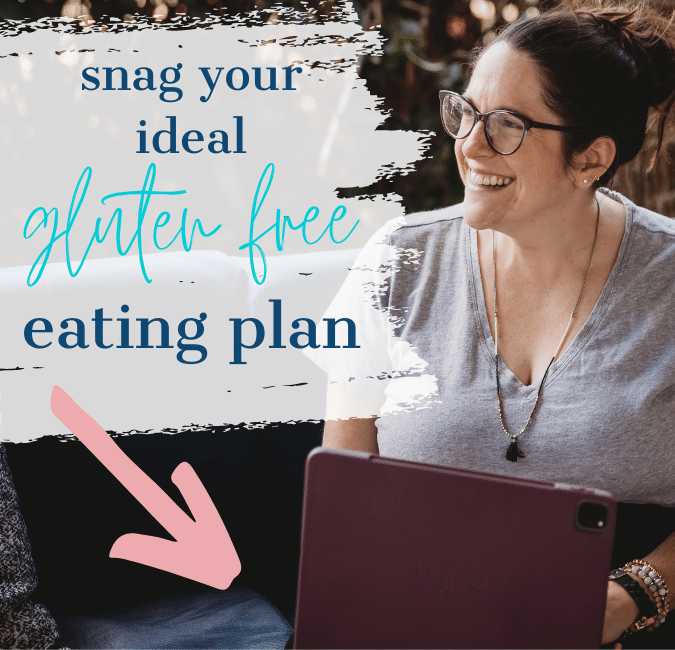 What is Risotto?
Risotto is a traditional Italian rice dish usually made with Arborio rice that is cooked in broth until it becomes creamy.
Risotto may also include different ingredients, such as vegetables, meats, or seafood. Many Risotto dishes are also finished with Parmesan cheese for extra flavor.
Does Arborio Rice Have Gluten In it?
No! Arborio rice is naturally gluten-free.
Gluten is a protein found in various different grains, including wheat, rye, barley, or oats if they weren't grown separately from gluten-containing grains. You might see these ingredients on the ingredients list of the nutrient label instead of the word 'gluten' itself.
According to the FDA, a product can only be labeled as gluten-free in the United States if it contains less than 20 mg of gluten per kilogram, you will want to watch for cross-contact during processing.
If you are Celiac, I do not recommend shopping in the bulk bins as they are not safe due to cross-contact.
It is essential to mention that at restaurants, risotto may be made with arborio rice, but it may be made with a mix of grains. Always take a minute to ask.
Can You Use Regular Rice to Make Risotto?
While you can make Risotto with any type of rice, I would suggest avoiding using long-grain rice like white, basmati, and jasmine. They cook fluffy and don't contain enough starch to help create the creaminess.
If you are in a pinch and do not have arborio available, here are a few other options:
Carnaroli – It is medium-grained rice. Carnaroli is a popular option for making Risotto as it is higher in starch and can create a creamier dish.
Vialone Nano – This is another medium-grained rice option for making Risotto, however, Vialone Nano can be easily overcooked so you will need to pay careful attention if you plan on using it.
Sushi Rice – This short-grained rice is most commonly used in Japanese dishes but Sushi Rice can be a great option for Risotto.
Gluten-Free Risotto Brands
There are really great risotto mixes to make your own risotto easily. Here are some of my faves:
Keep reading to find out more about them and where to buy them.
RightRice
RightRice Risotto is a quick and simple meal option for the whole family. Made with a blend of vegetables, this certified gluten-free risotto offers us a lower carb and calorie count. This is also a great option if you follow a vegetarian or vegan diet.
RightRice Risotto is available in Wild Mushroom & Creamy Parmesan Style. These packets come with 4 servings that are protein-packed.
While you may find RightRice at your local grocery store, you can also order RightRice on Thrive Market here.
Alexia
Alexia Risotto is a creamy and delicious gluten-free option. Made with butternut squash, each serving has 4g of protein plus calcium and iron, this is a perfect addition to your meal.
If you are looking for a quick and healthy meal to whip up, you can cook Alexia Risotto in the microwave or stovetop and be enjoying it within 10 minutes.
Find Alexia Risotto on Thrive Market here.
RiceSelect
This certified gluten-free arborio rice is perfect to use when you are wanting to make your own risotto dish.
Ready to cook, RiceSelect cooks up nicely and offers a Risotto recipe on the back of the packaging that your whole family can enjoy!
Shop RiceSelect on Amazon here.
Knorr
This gluten-free risotto includes different flavors for you to enjoy such as four cheese and tomato & parmesan.
This quick and easy to prepare side dish has no artificial flavors or preservatives.
Lundberg
This personal favorite is certified gluten-free, organic, and sustainably grown.
With flavors like Creamy Parmesan, Butternut Squash, or Garlic Primavera, you will not be disappointed with this rich and creamy meal. Lundberg Risotto does take longer to cook than most other packaged Risotto options, but a great addition to your family meal.
What Ingredients Go Into Risotto?
To make this creamy and delicious meal there are some key ingredients for risotto.
Arborio Rice
Butter or a mixture of butter and oil
Flavored broth
Some other popular additions are wine, basil, cheese, meats, and vegetables.
How To Prepare Risotto
Traditionally risotto is made on the stovetop and takes up to 30 minutes to prepare. Risotto does require special attention when cooking so make sure you have the time to stay close by. It is also important to note that you should have everything you need to be prepped and ready to go before you begin.
You can also successfully prepare it in a slow cooker or instant pot. When using the slow cooker you will add all ingredients and cook on high for 2 to 2 ½ hours. When adding parmesan cheese, mix in and cook uncovered for another 15 minutes or until cheese is melted.
Try one of these Easy Risotto Recipes!
Creamy Vegetable Risotto
This gluten free vegan risotto recipe is one of the most easy risotto recipes featuring spring and summer vegetables that you will love! This will become your go-to creamy vegetable risotto recipe that's totally dairy-free!
Check out this recipe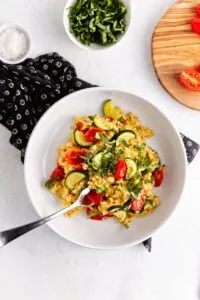 Slow Cooker Butternut Squash Risotto – Gluten Free
With this easy-to-follow recipe, you'll soon be serving up a creamy and nutritious slow cooker butternut squash risotto made with brown rice.
Check out this recipe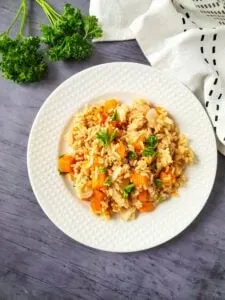 Frequently Asked Questions About Risotto
Is Alessi Risotto Gluten-Free?
Yes, Alessia offers gluten-free options.
Is Risotto a grain or pasta?
Risotto is short-grain rice.
Does mushroom risotto contain gluten?
Mushroom risotto sometimes contains gluten depending on ingredients used, however there is a way you can make a gluten-free mushroom risotto.
Is gallo risotto rice gluten free?
Yes, gallo risotto is a great option for those who have celiac disease.
Is Trader Joe's Mushroom Risotto Gluten-Free?
No, Trader Joe's Mushroom Risotto mixture does contain wheat
Is Trader Joe's Asparagus Risotto Gluten-Free?
No, Trader Joe's Asparagus Risotto mixture does contain wheat
Is Carnaroli Risotto Gluten-Free?
Yes, Carnaroli risotto is gluten-free if prepared with gluten-free ingredients.
Is Priano Risotto Gluten Free?
No, Priano Risotto is not a gluten-free option
Are boxed risotto mixes safe for Celiac Disease?
You will need to check the ingredients on each package. For safe practices I recommend you look for boxed mixes that are labeled gluten-free.
As you can see, you can enjoy a great gluten-free Risotto whether you choose to make it from scratch or buy a packaged mixture.
Did you find this post on gluten-free risotto helpful?
If so, be sure to share it on social using the share buttons below or pin it to Pinterest to save it for later!
What's they key to loving your gluten free life? Take this quick quiz to get a personalized plan with the guide you need to thrive!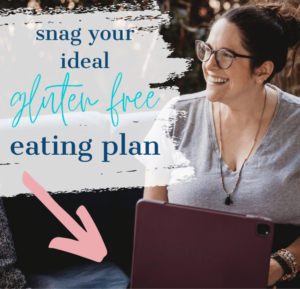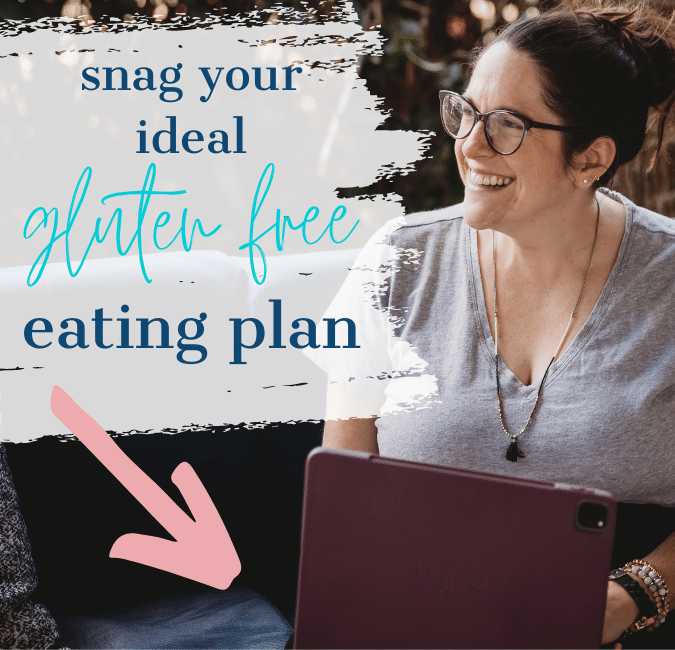 Other posts & recipes you will love: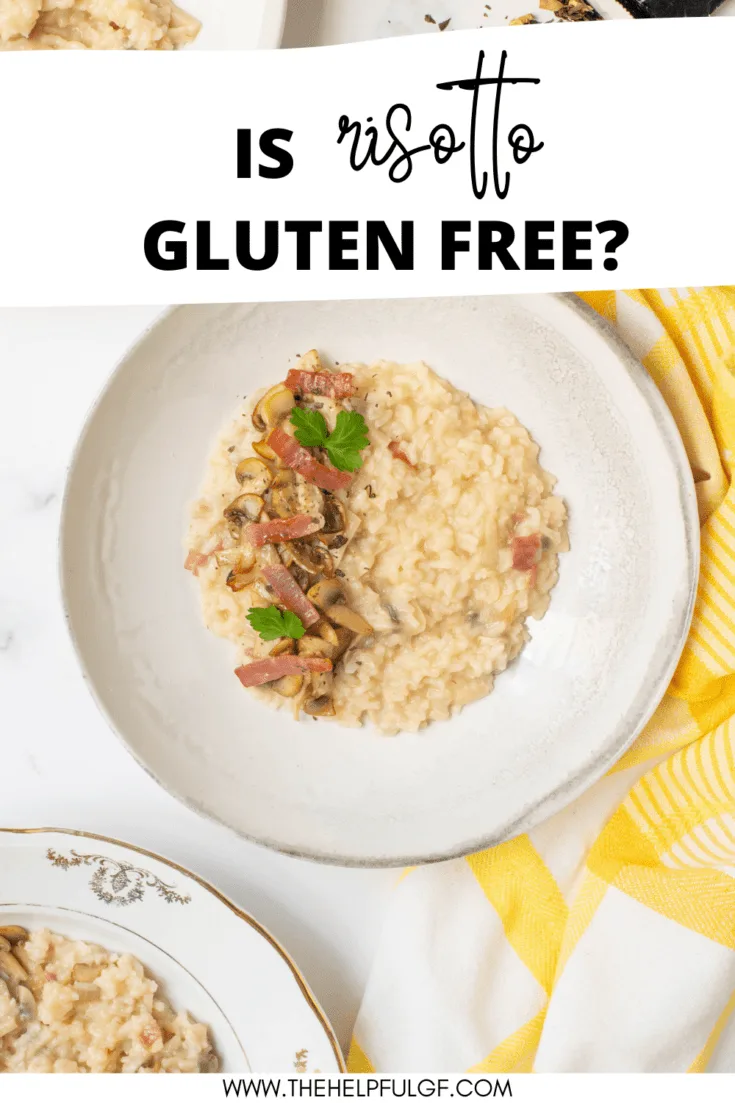 Thanks for reading "is arborio rice gluten free?"