There is nothing better than a hot cup of coffee with a splash of creamer to kick start your morning.
Being gluten free doesn't mean you can't enjoy that delicious morning beverage, but it does probably leave you wondering 'are coffee creamers gluten free'?
Yes, there are plenty of gluten free coffee creamer brands, but like so many products, it depends on the ingredients.
The 4 best gluten free coffee creamer brands are:
Coffee Mate Natural Bliss Coffee Creamer
International Delight
Dunkin' Extra Extra Coffee Creamer
Great Value Half and Half Cream
In this article, I'll cover everything you need to know about gluten free creamer. I've even included 3 awesome homemade coffee creamer recipes for you to try!
Looking for gluten free and vegan options? Check out this post instead.
Keep reading for the best brands + where to buy them or use the Table of Contents to jump to the section of your choice.
---
Are you new here? I also have the following posts to help you live gluten-free without the stress!
…get valuable support from me, and gluten-free peers, in my EXCLUSIVE Facebook community "Stress-Free Gluten-Free" by clicking here!
---
The gluten-free guide below is based on personal experience and research. Always be sure to discuss any medical changes with your doctor for your personal medical needs. Additionally, this post contains affiliate links. As an Amazon Associate I earn from qualifying purchases. My full disclosure isn't that interesting, but you can find it here.
Ready to take back control of your meals and love your gluten free life? Take the 45 second quiz to get a personalized plan with the guide you need to thrive!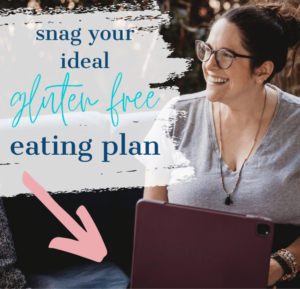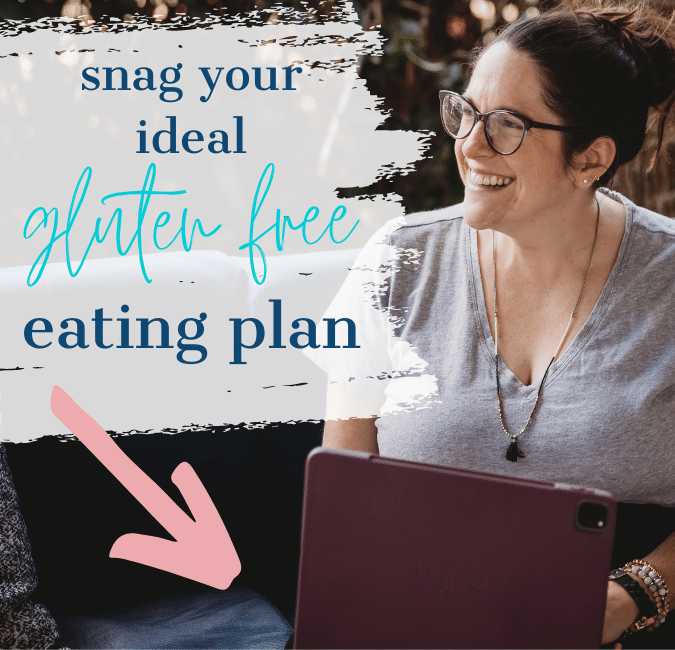 Is coffee creamer gluten-free?
Following a gluten free diet can be overwhelming, especially when you're just getting started. You may already know that gluten is a protein found in wheat, rye and barley. But what do wheat, rye or barley have to do with coffee creamer and is creamer gluten free?
Traditional dairy cream is naturally gluten free. Many milk alternatives like soy and almond milk are also gluten free, since soy and nuts are naturally gluten free.
Where we can start to link wheat, rye and barley to coffee creamer is in the added ingredients. Gluten can be hiding in places like thickening agents, and syrups which are often used to make certain brands of creamer.
In order to determine whether a specific coffee creamer brand is gluten free, you need to carefully read the ingredients or look for gluten free labeling.
If you're new to gluten free eating (or in this case, drinking) the fastest and easiest way to determine if a product is gluten free, is to look for a 'Certified Gluten Free' label.
Any gluten-free claim has to meet specific FDA standards. What makes a certified gluten free claim special is that the claim has been third party tested.
Opting for products that are certified can give you a boost of confidence while you're getting comfortable with following a gluten free diet. Also, check out this post – it's an easy reference guide to help you understand how gluten free labeling works.
Gluten Free Coffee Creamer List
Before we jump into our list of coffee creamers, if you are looking for gluten-free and dairy free creamers, you'll want to check out this list instead.
Coffee Mate Natural Bliss Coffee Creamer
This delicious, gluten free coffee creamer brand is made with all natural ingredients, including real milk and cream, no GMO ingredients, and no added growth hormones.
If you love variety when it comes to creamer in your coffee, Coffee Mate has you covered. This gluten free coffee creamer comes in Hazelnut, Vanilla, Sweet Cream, and Classic Caramel.
Although the product bottle isn't labeled gluten-free, Nestle includes this product in a gluten-free search on their website and states its gluten free status in the online product descriptions.

Add a bottle (or two) to your next Walmart pick up order by clicking here or snag it at Target here.
International Delight Coffee Creamer
If you need gluten free and lactose free, the International Delight brand is for you. And with this coffee creamer, gluten free does not have to be boring!
Try the Cold Stone Creamery Sweet Cream flavor, or go for something really scrumdiddlyumptious with the Wonka Whipple Scrumptious Fudgy Caramel Coffee Creamer.

Treat yourself to a new flavor the next time you place a pick up order at Walmart. Or, click here to get it at Target instead!
Dunkin' Extra Extra Coffee Creamer
Sometimes you need to bring Dunkin' Donuts right into your own kitchen, and you can do that with this gluten-free coffee creamer.
This brand is simple, sweet and made with real cream and sugar.

Grab yours from Target here. Or snag it from Walmart here.
Great Value Half and Half Cream
If you prefer your coffee with half and half cream to sweetened creamers, this Walmart brand is just what you need. It uses Grade A homogenized milk, and no artificial colors or flavors.
With its natural ingredients, and only 40 calories per serving, this is also the healthiest creamer for coffee.
It's also worth noting that any brand of basic half and half creamer will also be gluten free, as long as no other ingredients have been added.

Get your Great Value Half and Half Creamer here.
Homemade Gluten-Free Coffee Creamer Recipes
Homemade Cinnamon Vanilla Coffee Creamer
Preparation Time: 5 minutes
Makes: 14 ounces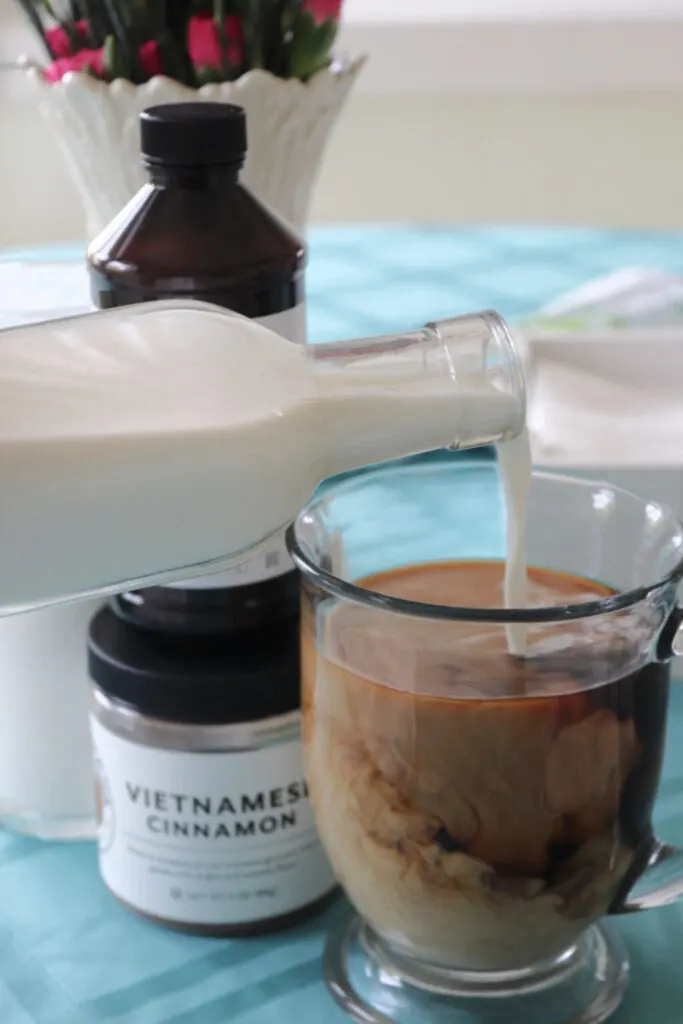 This budget friendly recipe brings all the deliciousness of vanilla, cinnamon and creamer to your coffee in 5 minutes or less.
With 3 simple ingredients, it's super easy to make and it will last for up to 2 weeks in the fridge.
Find out how to make this homemade coffee creamer recipe on FamilyAroundtheTable.com
Candy Cane Coffee Creamer
Preparation Time: 10 minutes
Because the holiday season doesn't officially kick off until you've had that first taste of peppermint!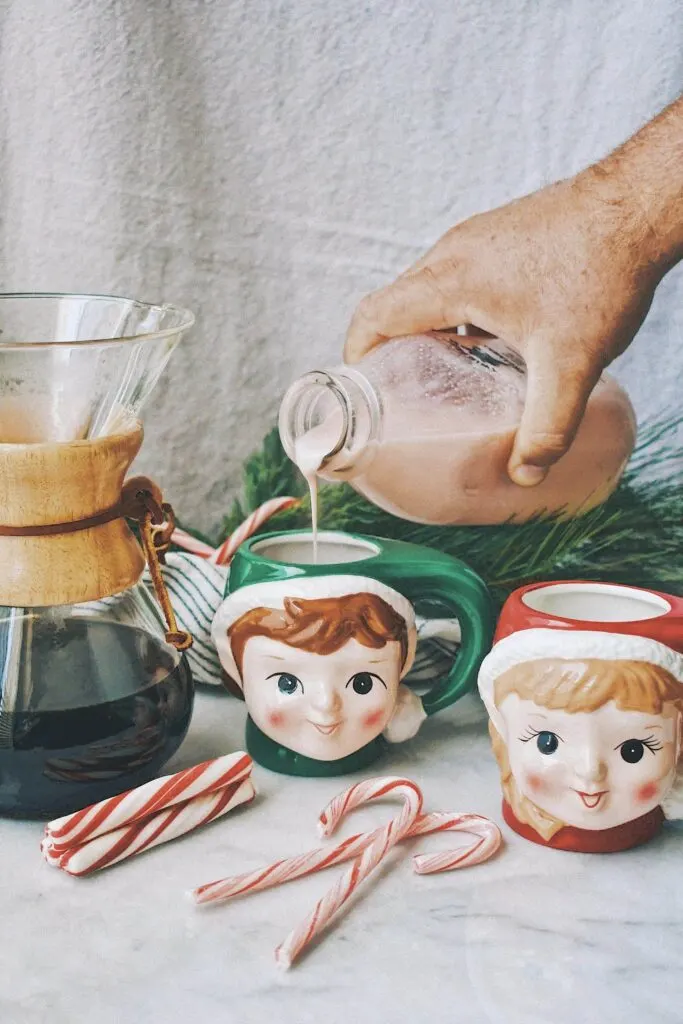 The best part about this recipe is you can change the amount of peppermint flavor based on your preferences by adjusting the number of candy canes you add. It's Christmas in a cup and you're going to love it!
Learn more about this homemade coffee creamer recipe on KendellKreations.com
Pumpkin Spice Coffee Creamer
Preparation Time: 7 minutes
Makes: 16 Tablespoons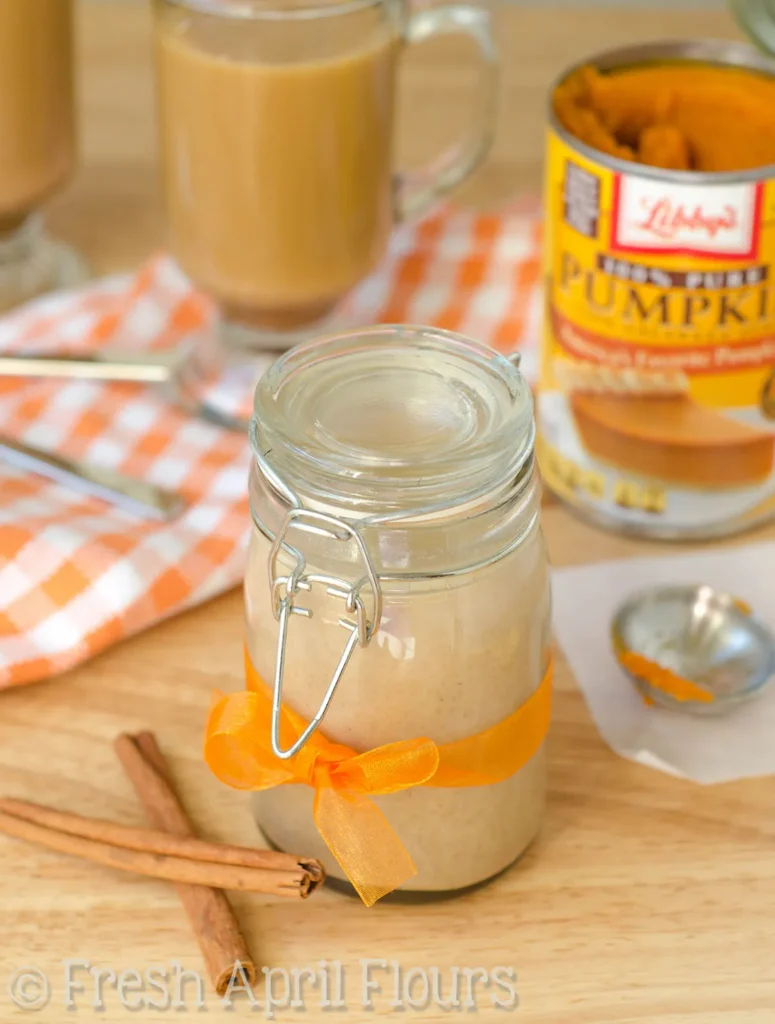 Pumpkin spice? Yes, please!
This all natural coffee creamer only requires 4 ingredients (plus water) and it's ready in just 7 minutes.
You probably even have these ingredients at home, waiting to be turned into delicious flavored creamer for your coffee.
Learn how to make this homemade coffee creamer on FreshAprilFlours.com
Frequently Asked Questions about Coffee Creamers:
Does coffee mate liquid creamer have gluten?
Coffee mate liquid creamer does not contain gluten. Although the product bottle isn't labeled gluten-free, Nestle labels the product gluten-free in the description on their website.
Is International Delight coffee creamer gluten-free?
Yes, International Delight coffee creamer is gluten free. The product bottle itself is not labeled gluten free, but the FAQs section of their website confirms their coffee creamers are gluten free.
Is Nestle French vanilla creamer gluten-free
Yes, the Nestle website labels the French Vanilla coffee creamer as gluten free on their website.
Is half and half cream gluten-free
Yes, half and half cream is naturally gluten free. Be sure to double check the ingredients list on the brand you choose to ensure there are no added ingredients.
What's they key to loving your gluten free life? Take this quick quiz to get a personalized plan with the guide you need to thrive!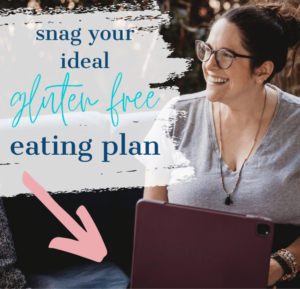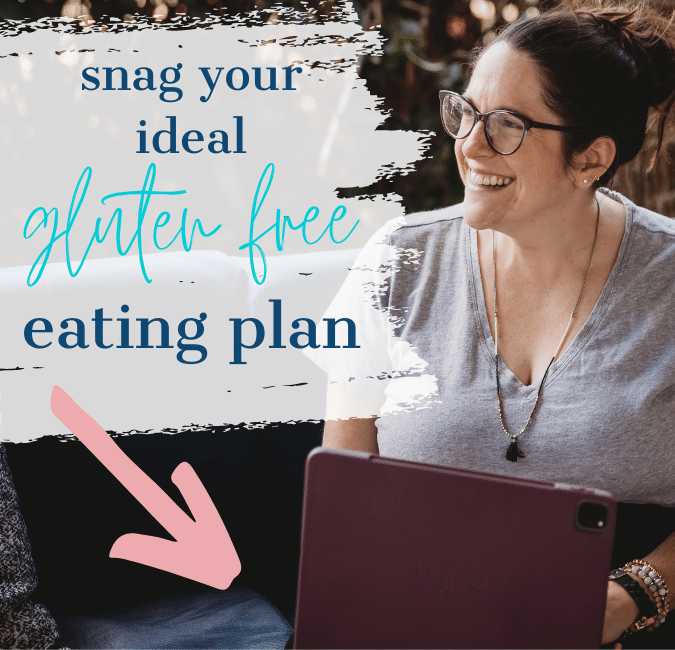 Other posts you will love: