Do you miss Pop Tarts since going gluten-free? Then you need to try this delicious homemade gluten free pop tarts recipe! (It's better than the original, trust me!)
This recipe will make you so happy and kids will love making these diy gluten free pop tarts and decorating them however they want!
KEEP READING FOR THE RECIPE:
The gluten-free guide below is based on personal experience and research. Always be sure to discuss any medical changes with your doctor for your personal medical needs. Additionally, this post contains affiliate links. As an Amazon Associate I earn from qualifying purchases. My full disclosure isn't that interesting, but you can find it here.
---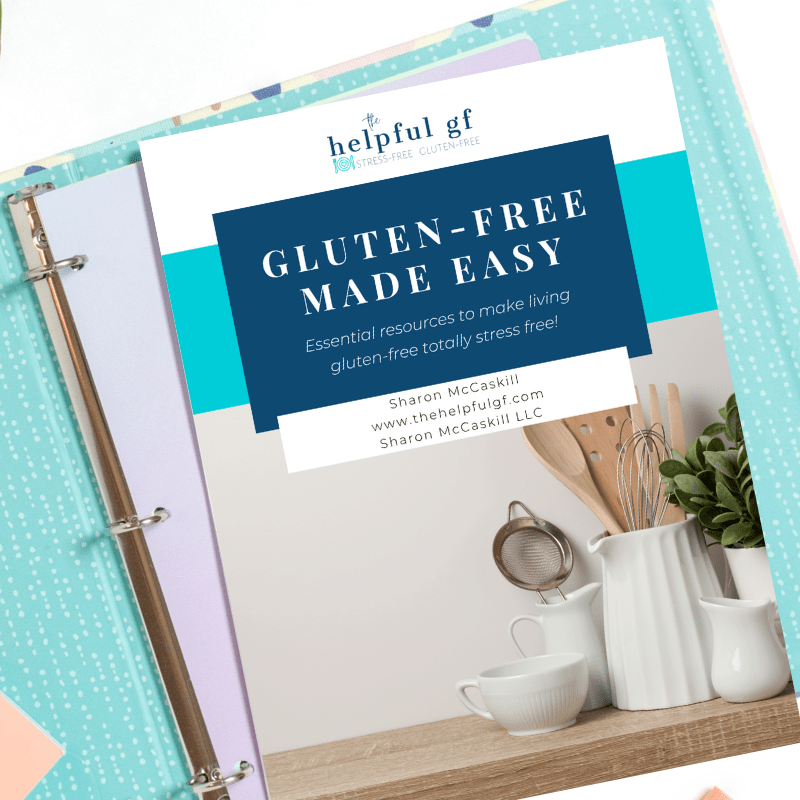 Grab your FREE copy of Gluten-Free Made Easy!
15+ pages of essential resources to make living gluten-free totally stress free.
---
Why you'll love this recipe for gluten-free toaster pastries:
You'll love this gluten-free toaster pastry recipe because:
It's such a delicious gluten free breakfast pastry
It's an easy pop tart recipe that only takes 4 ingredients (+ the homemade icing & sprinkles)
These are not only a homemade gluten-free alternative to name-brand Pop-Tarts, but are also a healthier toaster pastry!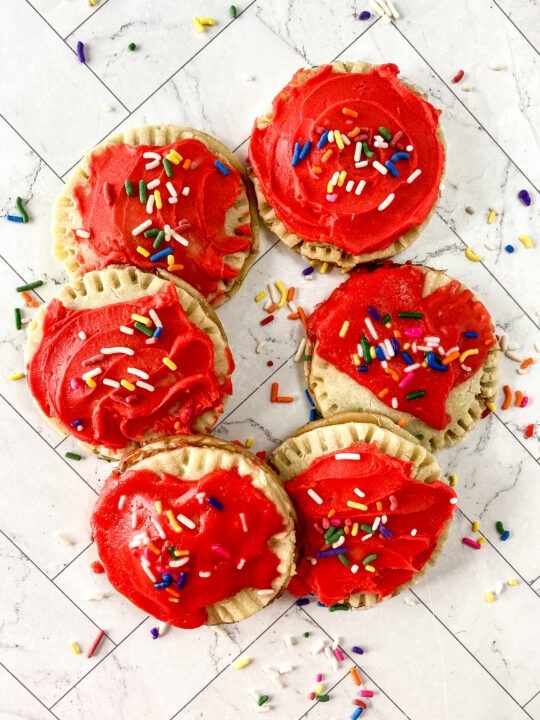 Are Pop-Tarts gluten-free?
If you are asking about whether name-brand Pop-Tarts have gluten, then the answer is yes they do contain gluten.
Unfortunately, none of the Kellogg brand Pop-Tart flavors are gluten-free.
But, are there gluten free pop tarts? Yes, there are a few gluten-free brands who make their own gluten-free Pop-Tart alternatives (aka: gluten-free toaster pastries) in a variety of flavors.
The only brand I've tried are Bobo's Toasters.
You can purchase Bobo's brand gluten-free toaster pastries at some Target stores here, at Amazon here, and at Thrive Market here.
Bobo's Toasters come in quite a few flavors (like brown sugar cinnamon and raspberry). While they are certified gluten free they are made with oats, so if you are someone who cannot tolerate oats, then unfortunately these delicious treats are not for you.
Ingredients for Homemade Gluten-Free Pop Tarts
Most of the ingredients to make these homemade pop tarts can be found at your local grocery store, but you'll find great deals on gluten-free ingredients such as gluten-free flour online at Amazon or Thrive Market.
To learn more about Thrive Market and how great it is for gluten-free food, check out my full review here!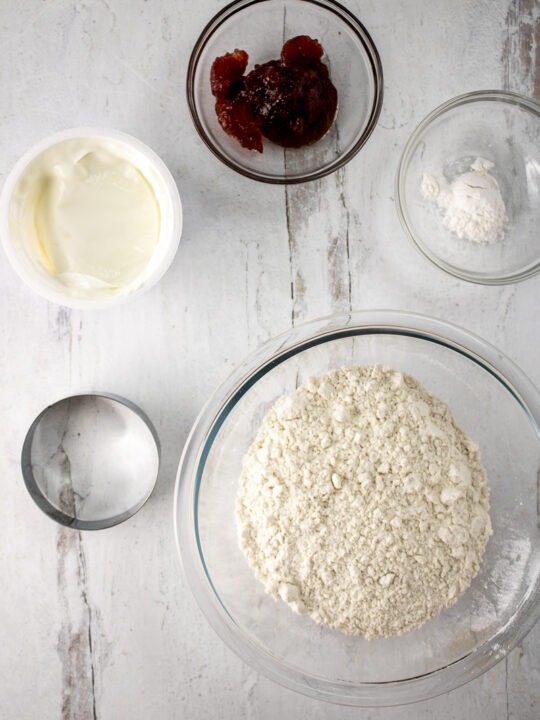 To make the gluten-free pop-tart crust you'll need:
1:1 Gluten-Free Flour. For this recipe I used Bob's Red Mill, but other 1:1 gluten-free flours may work as well. You can find Bob's Red Mill on Amazon here.
Greek Yogurt. The plain, non fat kind.
Baking Powder.
Unsalted butter, melted. This is for brushing on the pastries to make them golden brown while baking. yum!
For the filling, I used strawberry preserves. But any flavor jam or preserves will do! Customize it to your favorite flavors!
To make the icing you'll need:
Powdered Sugar
Milk.
Food Coloring. Food coloring is one ingredient that you want to be sure that it's labeled gluten-free. Personally, I really love the gel colors by Nomeca as it is gluten-free but also soy free, nut free, and vegan for easy allergen free recipes! The colors are also so bright!
You can find Nomeca gel food coloring on Amazon here.
Finally, to make these toaster pastries extra fun, you'll want gluten-free sprinkles. Again, sprinkles sometimes contain gluten.
My favorite gluten-free sprinkles are by the brand Sweets Indeed. They come in the best colors and shapes too.
You can grab Sweets Indeed Sprinkles on Amazon here.
Equipment to make Gluten-Free Copycat Pop Tarts
The only equipment you'll need for these is:
Baking sheet
Parchment paper
Large mixing bowl
Cookie or biscuit cutter (2.5-3 inches)– or you can use a knife to cut rectangles
Rolling pin
A fork (for crimping!)
Pastry brush
How to Make Gluten-Free Toaster Pastries
To make the homemade toaster pastries, you'll start by preheating the oven to 350F and gathering all your ingredients.
First, start with the crust.
Completely whisk together the dry ingredients and then add in the yogurt stirring to combine.
The mixture will be crumbly (see picture below)!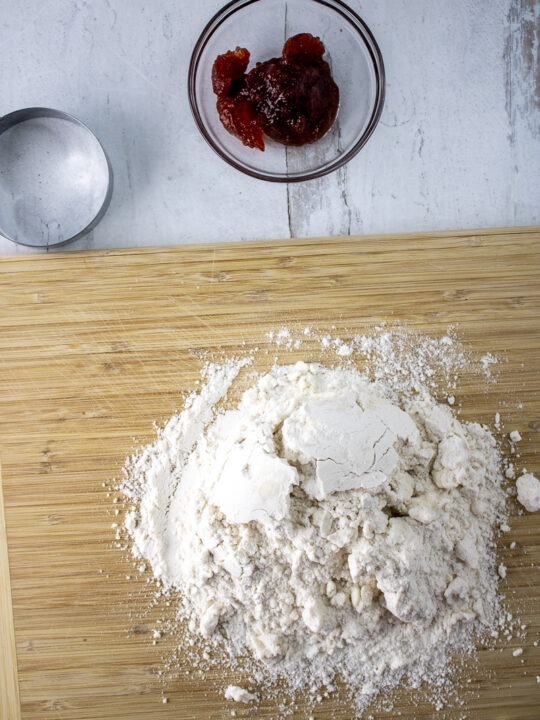 Turn the mixture out onto a cutting board or other surface that's dusted with more gluten-free flour and knead until a ball of dough forms.
If the dough is crumbly, slowly add some water 1 teaspoon at a time.
Using the rolling pin, roll out the dough.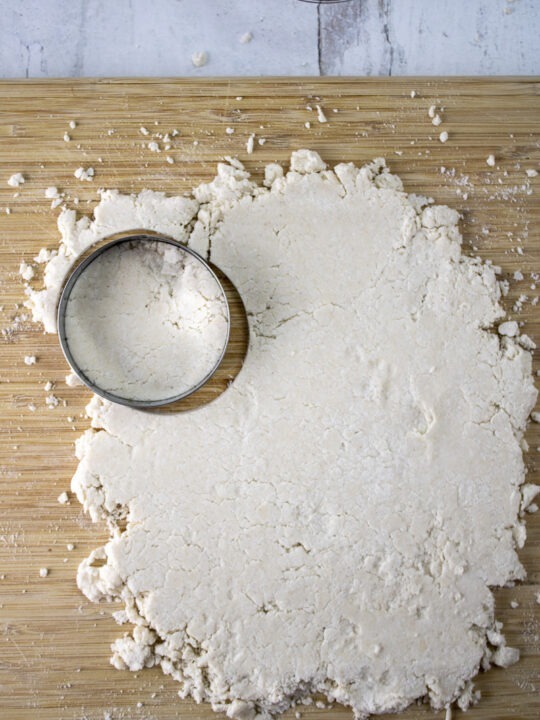 Use your cookie cutter (or biscuit cutter, or knife) to cut out your shapes.
Top half of your circles (or rectangles… or squares… Whatever fits your fancy!) with your jam in the center (leave the edges free of jam–see image below!)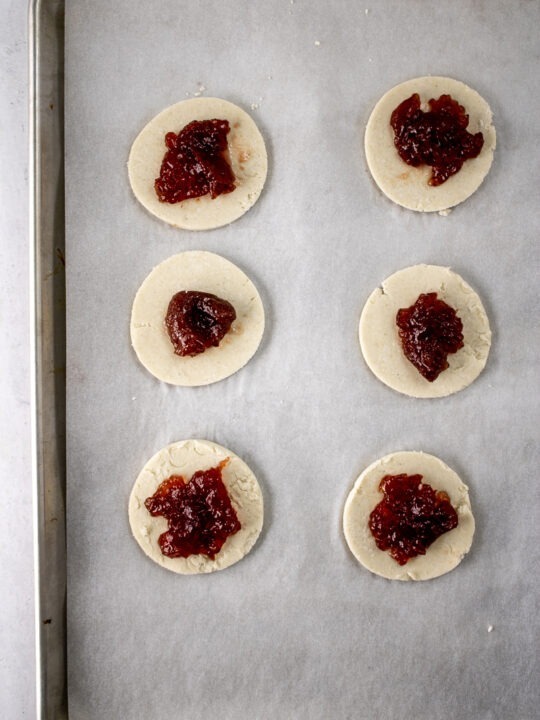 Place the other half of the shapes over the top, and use a fork to crimp the two pieces together.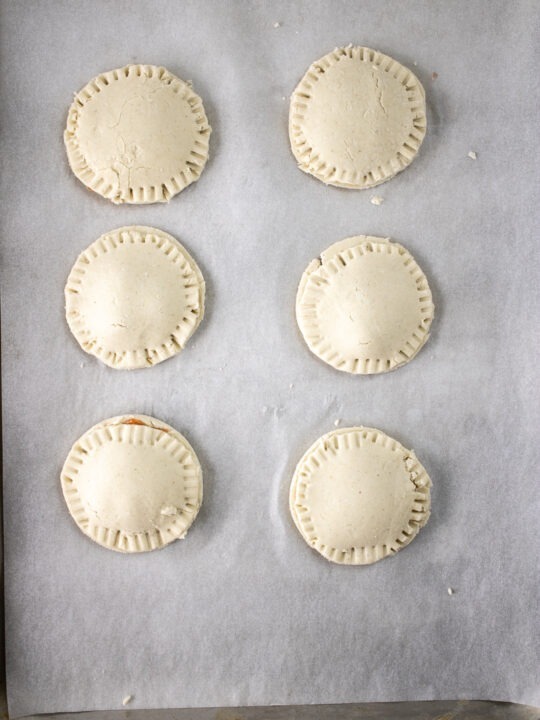 Brush the pastries with melted butter and bake until golden.
While baking, prepare the icing by whisking the icing ingredients until smooth.
When the pastries are done, remove from parchment and cool on a rack.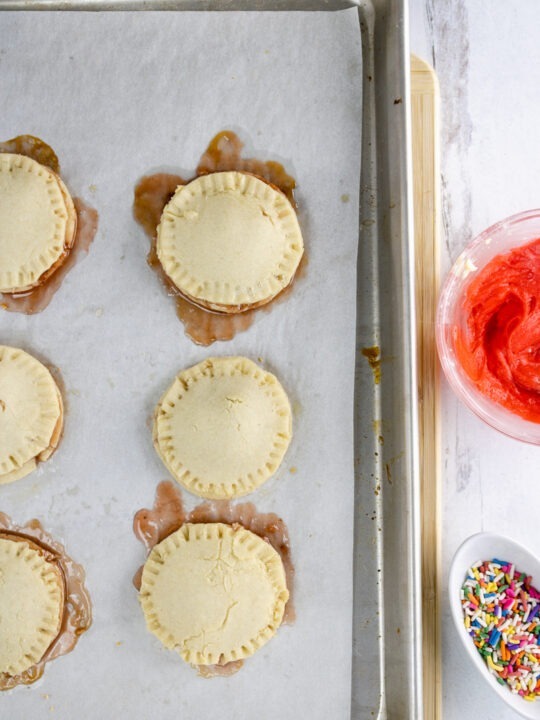 Spread the icing on the pop tarts and top with sprinkles.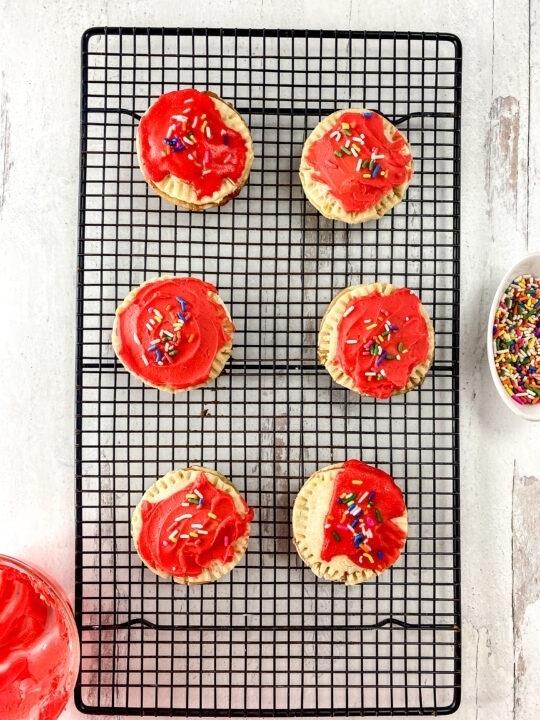 I enjoy these best while they're still warm, but you can allow them to cool completely if you prefer. (they will harden as they cool)
What if my gluten-free dough is crumbly and doesn't form a ball?
While kneading, gradually add some water 1 teaspoon at a time until it comes together.
How to Store Homemade Pop-Tarts
This recipe did not stay soft when left out, so I recommend storing them in an airtight container once cooled (if they last that long!)
Scroll down for the printable recipe, but also be sure to grab your free copy of Gluten-Free Made Easy! It's filled with tips, tricks, and recipes for simple gluten-free living.
---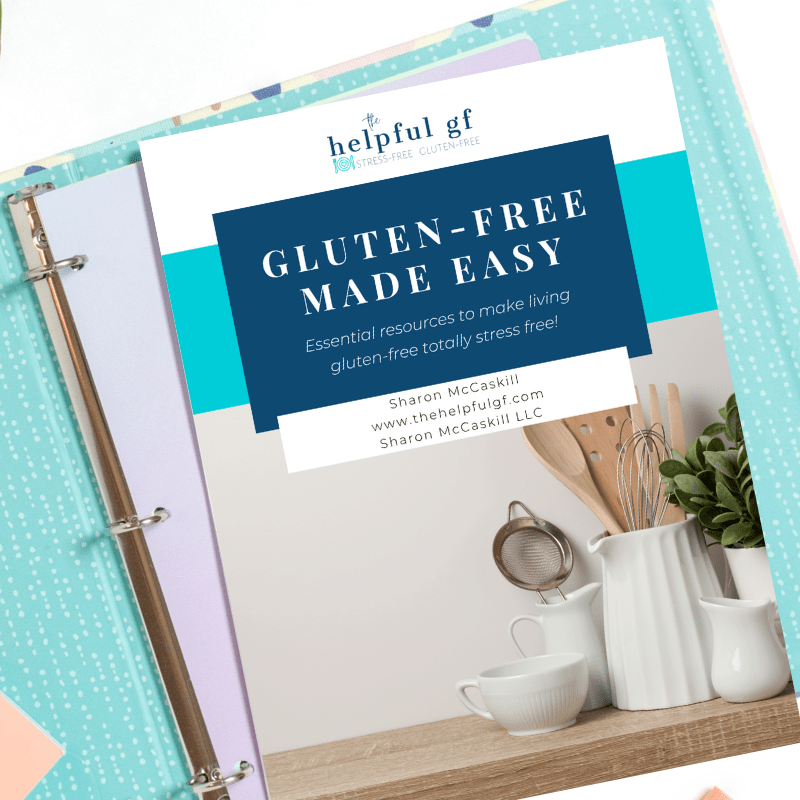 Grab your FREE copy of Gluten-Free Made Easy!
Over 15 pages of essential resources for living gluten-free without the stress in an easy to use reference guide.
---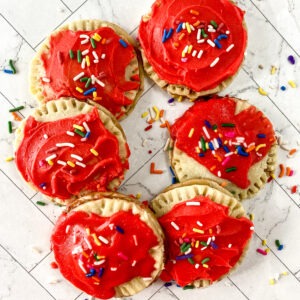 Homemade Gluten-Free Pop Tarts
Do you miss Pop-Tarts since going gluten-free? This recipe for delicious homemade gluten-free pop-tarts will make you and your kids sooo happy!
Equipment
baking sheet

parchment paper

large mixing bowl

2.5 – 3 in cookie cutter or knife

Rolling Pin

pastry brush
Ingredients
Pastry
1 1/2

cup

1:1 Gluten-Free Flour

1 1/4

cup

Greek Yogurt

nonfat, plain

1

tsp

baking powder

1

cup

jam or preserves

2

tbsp

unsalted butter

melted
Icing
6

tbsp

powdered sugar

1

tbsp

milk or cream

1

drop

gel food coloring
Instructions
Prepare the crust by whisking together the gluten-free flour and baking powder. Add in yogurt and stir to combine. The mixture will be crumbly

Dump out crumbly mixture onto floured work surface and knead together ingredients until a ball of dough forms. note: if mixture is too crumbly to come together while kneading, add water 1 tsp at a time and continue to knead just until a ball can form.

Roll out dough on surface using a rolling pin to about 1/8 inch thick.

Use your cookie cutter (or knife) to cut out 12 uniform circles or rectangles.

Add about 2 tablespoons of jam to the center of 6 circles.

Place the remaining 6 circles over the top (like a sandwich) and use a fork to lightly crimp the two pieces together.

Brush each pastry with melted butter and bake for 18-20 minutes until golden.

Transfer pastries to a cooling rack to cool for about 5 minutes.

While cooling, whisk together the icing ingredients to make your icing.

Spread the icing on the poptarts and top with sprinkles.

Serve warm or allow to cool a bit more (the longer it cools, the harder the crust will get) and enjoy!
Notes
See blog post above for:
preparation images
equipment and ingredient suggestions
tips
and more!
Looking for other gluten-free breakfast pastry recipes?
If so, check these out these other 100% gluten-free recipes!