If you must be gluten-free and dairy free, chances are you're on the search for the best gluten-free dairy-free coffee creamers.
You're in luck–gluten free dairy free creamer totally exists, and this post reviews 5 of the most popular options available on taste and consistency.
Keep reading for these top non dairy gluten free creamers or use the table of contents below to jump to the brand you want to know about the most!
---
Are you new here? I also have the following posts to help you live gluten-free without the stress!
…get valuable support from me, and gluten-free peers, in my EXCLUSIVE Facebook community "Stress-Free Gluten-Free" by clicking here!
---
The gluten-free guide below is based on personal experience and research. Always be sure to discuss any medical changes with your doctor for your personal medical needs. Additionally, this post contains affiliate links. As an Amazon Associate I earn from qualifying purchases. My full disclosure isn't that interesting, but you can find it here.
Ready to take back control of your meals and love your gluten free life? Take the 45 second quiz to get a personalized plan with the guide you need to thrive!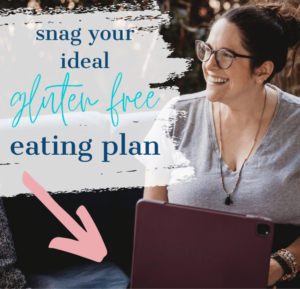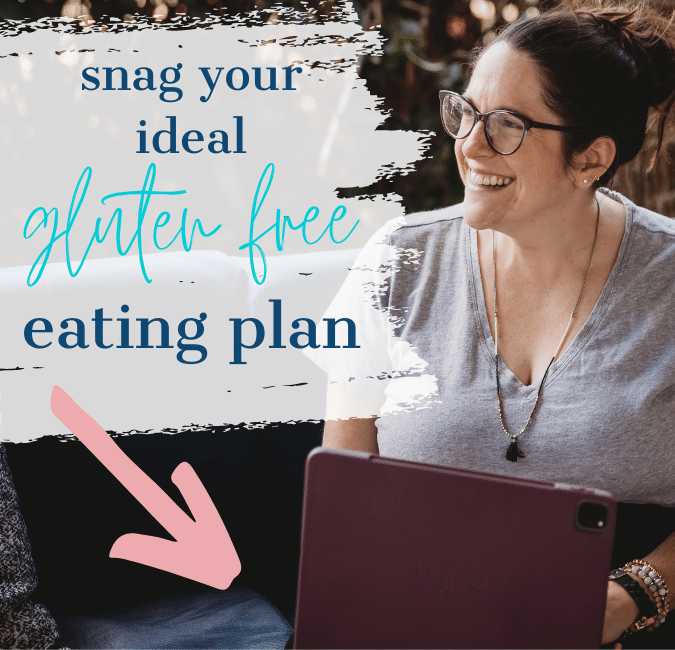 Is Dairy Free Coffee Creamer Gluten-Free?
If you're new to a gluten free diet it can be pretty daunting to figure out what is safe to eat. Gluten is a protein found in wheat, barley, rye, and variations of these grains.
Traditional dairy cream is naturally gluten-free, as are many milk alternatives such as the soy or nut-based options since soy and nuts are naturally gluten-free.
However, answering the question is non dairy creamer gluten-free can be a bit trickier, because we're dealing with added ingredients.
It's always important to read labels and check for a gluten-free claim or certification to ensure that the product you are looking to buy meets your gluten-free standards.
For a list of the best gluten-free milk-based coffee creamers, check out this post instead!
Top Gluten-Free Dairy-Free Coffee Creamers
This post reviews the top gluten-free dairy-free coffee creamers in alphabetical order.
Almond Breeze Almond Milk Creamer
Coffee Mate Natural Bliss Creamer
Nutpods Creamers
Ripple Half & Half
Silk Dairy Free Almond Milk Creamer
Scroll on down to find full reviews of gluten and dairy free creamer and also where to buy them.
No matter how you brew your coffee– whether you take care and attention over a french press, or you just need it quick and brew a k-cup in your Keurig, here are my discoveries that you'll be wanting to add to your next grocery list.
Almond Breeze Almond Milk Creamer
This almond milk creamer by Almond Breeze is also available in many local grocery stores. I find it to be very similar both in taste and consistency to the Coffee Mate Natural Bliss creamer (see below).
Neither has a distinct aspect making it a clear winner, so which gluten-free dairy-free creamer you choose will come down to personal preference.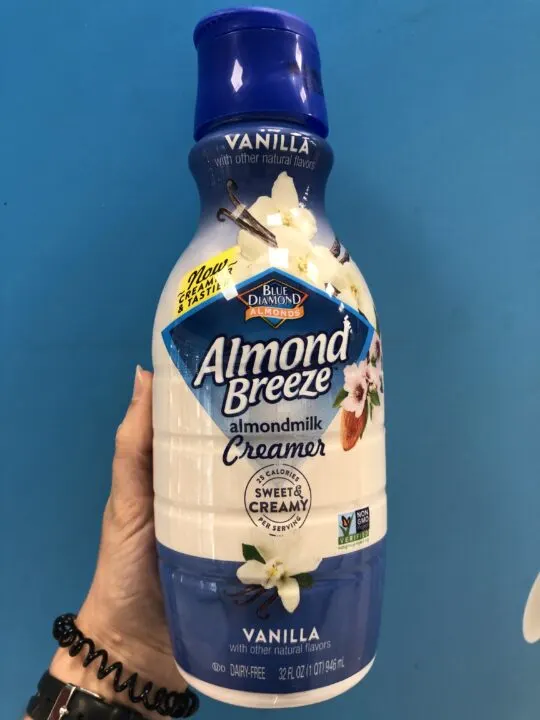 Pros:
Available in local stores
Free of both saturated fats & cholesterol
Fully vegan
Cons:
extremely sweet (although, this might be a pro to you!)
doesn't last long enough to use up the bottle before best-buy date passes
Overall score: 3/5
Coffee Mate Natural Bliss Almond Milk Creamer
One of the great things about this creamer is that it's available in most grocery stores. I was a bit weary of it–wondering if the quality would be up to standard for creaminess. But overall–it was decent!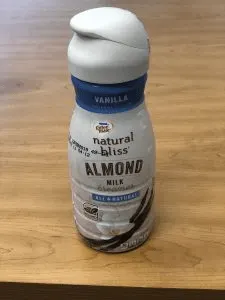 Pros:
Easy to find in stores
Non-GMO
The taste is pretty good!
Cons:
It separates (like curdling) in your coffee
Not as thick as half and half
Overall score: 3/5
I would buy this again–if I couldn't find another alternative.
Add this almond milk Coffee Mate to your next Walmart pick up order here.
Nutpods Creamer (Almond + Coconut)
When I searched the internet for the best gluten-free dairy-free coffee creamers, this one was the highest recommended. I was hesitant to spend the money and try it after trying regular almond milk and coconut milk in my coffee. However, I was pleasantly surprised! Nutpods come in a variety of flavors (including seasonal ones!)–I tried the unsweetened French vanilla flavored creamer.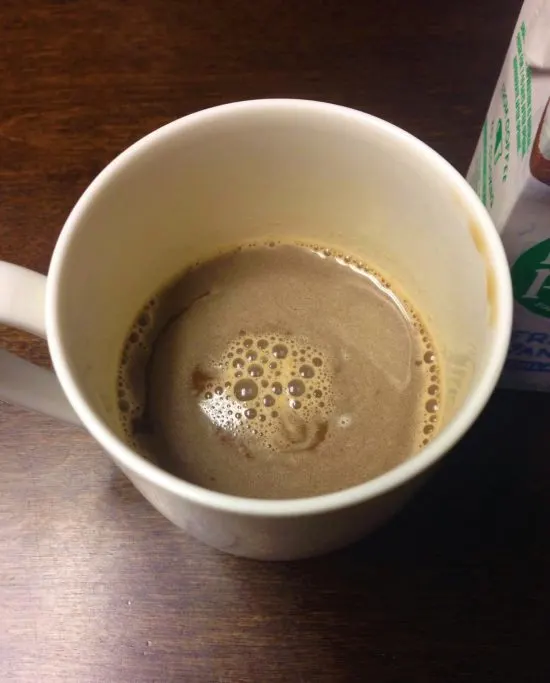 Pros:
Whole 30 approved
Non-GMO
Vegan
Shelf-stable until opened (you can stock up!)
Multiple flavors (I tried the French vanilla, but it also comes in original, hazelnut, and even vanilla lemon)
It froths well (do any of you use one of these to mix your coffee? I do sometimes, and this creamer froths up well!)
Cons:
Coconutty taste (this should be obvious, but it didn't really taste like half and half, it tasted coconutty. The flavor was good—just not the flavor of plain coffee with half and half)
Not as thick as dairy half-and-half. I used about twice as much as normal dairy creamer to get the creaminess you see in this photo.
Slightly grainy (As you can see in my picture, the creamer didn't blend as well as regular dairy creamer. While it does look kind of grainy, it didn't really taste grainy)
Overall Score: 2.5/5
(note: in my most recent update I lowered NutPods from a 3.5 to a 2.5. With so many newer gluten and dairy free creamers available now, NutPods just doesn't taste as good in comparison although it tends to be a cleaner option.)
Not only are these in the grocery store, but you can find great deals on these online!
Click here to shop now through Amazon and see all their flavors–regular and seasonal!
You can also get a great deal on NutPods with Thrive Market. If you've never tried Thrive Market I encourage you to read about my experience with Thrive Market here. PS–click here to save up to $20 on your first order! Don't you love deals?
Ripple Half-and-Half
I discovered Ripple while I was just browsing through one of my local grocery stores. I'd seen commercials for their pea milk, but never tried it. This makes it a great option if you can't tolerate soy or nuts. I was pleasantly impressed by this one!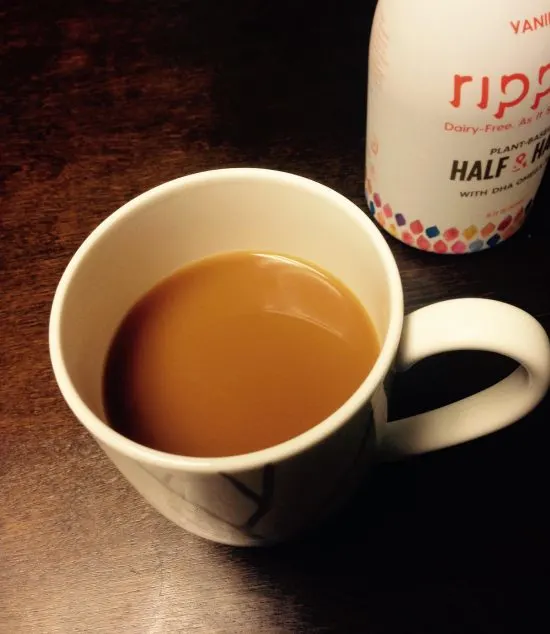 Pros:
Non-GMO
Vegan
No cholesterol or saturated fat
It's creamy and blends into your coffee like real dairy creamer
No weird aftertaste
Available in a regular, unsweetened flavor which is great for substituting as half and half in recipes
Available in your local grocery store
Cons:
Since I'm being honest, it doesn't taste exactly like dairy-based creamer, but it is very close!
It's made from peas (my very adventurous, food-loving husband is totally weirded out that it is made from pea protein. I personally don't think that's a turn-off. However, he insists that although he agrees it tastes drastically more like dairy half-and-half than any other dairy-free coffee creamer I've brought home, he doesn't want peas in his coffee)
Overall Score: 4.5/5
Out of all the options, this non dairy gluten free creamer by Ripple is by far my favorite.
Silk Dairy-Free Almond Creamer
This gluten and dairy free creamer by Silk is also widely available at local stores. I've even seen it as a creamer option for coffee they sell at my local convenience stores.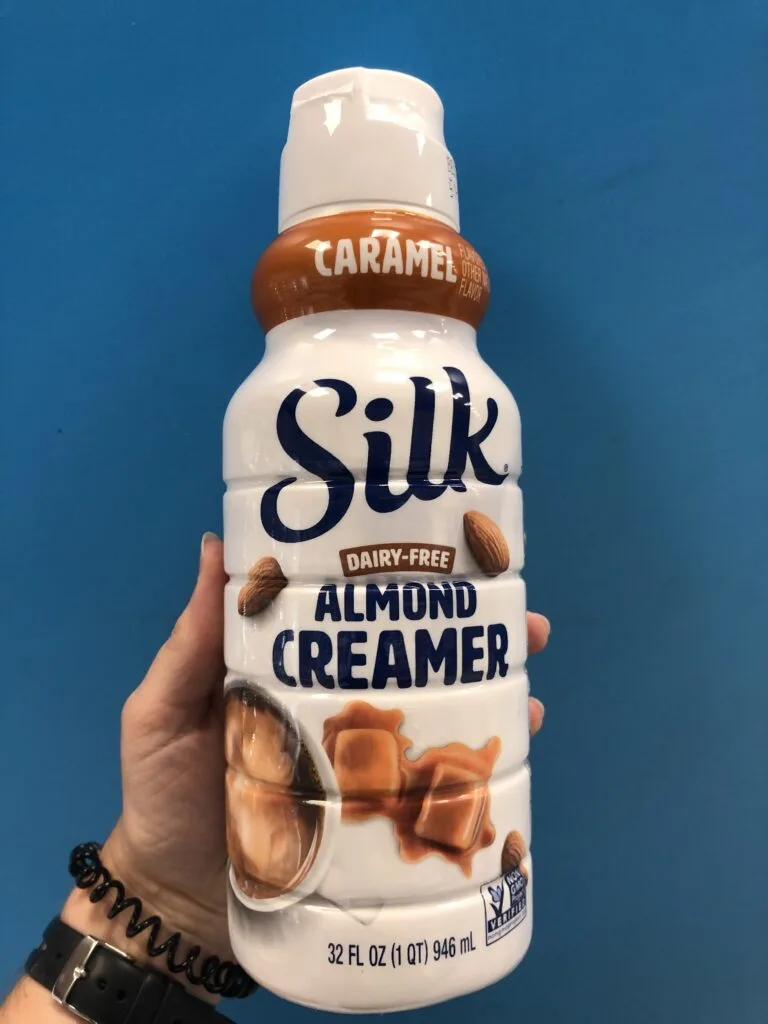 Pros:
Available in a variety of flavors (including holiday options like Peppermint or Pumpkin Spice)
Can purchase in your local store
Also makes unsweetened varieties
A thick creamer–don't need to add a lot to get a very creamy consistency
Cons:
Similar to other creamers on this list, it is very sweet.
The unsweetened varieties are difficult to find
Overall Score: 3.5/5
You can add Silk dairy-free almond creamer to your next Walmart order here.
Or snag this from Target here.
Have you tried any of these dairy-free coffee creamers? Share your experience and comment below!
What's they key to loving your gluten free life? Take this quick quiz to get a personalized plan with the guide you need to thrive!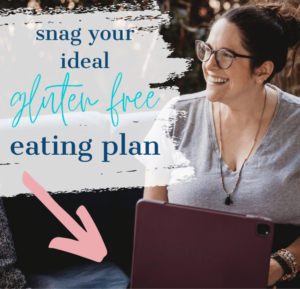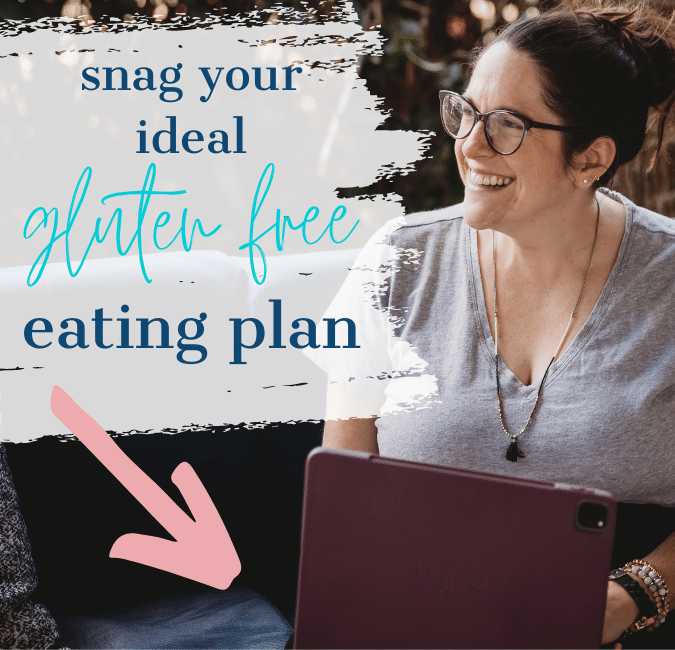 Here are more gluten-free product reviews that you will enjoy:
Did you like this post on the Best Gluten Free Dairy Free Coffee Creamers?
Then be sure to share it on social media or Pin it to Pinterest for later using the social sharing buttons below