Summertime gluten free baking couldn't be easier with this gluten free cake mix peach cobbler recipe.
Cobbler is a classic American dessert consisting of fruit baked inside a biscuit or pastry crust.
Traditional gluten free desserts can take quite a bit of time to put together, but you don't need to bake a pie shell to create a delicious peach cobbler.
Instead, simply use a gluten free cake mix as the base. Bake until golden brown and serve warm.
Keep reading for this super easy peach cobbler recipe made with a gluten free cake mix, how to make it dairy free or vegan, and troubleshooting tips to try!
---
Are you new here? I also have the following posts to help you live gluten-free without the stress!
…get valuable support from me, and gluten-free peers, in my EXCLUSIVE Facebook community "Stress-Free Gluten-Free" by clicking here!
---
The gluten-free guide below is based on personal experience and research. Always be sure to discuss any medical changes with your doctor for your personal medical needs. Additionally, this post contains affiliate links. As an Amazon Associate I earn from qualifying purchases. My full disclosure isn't that interesting, but you can find it here.
Ready to take back control of your meals and love your gluten free life? Take the 45 second quiz to get a personalized plan with the guide you need to thrive!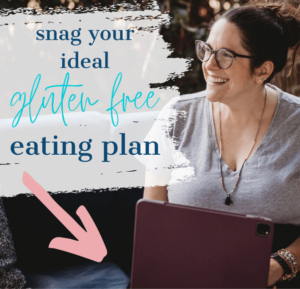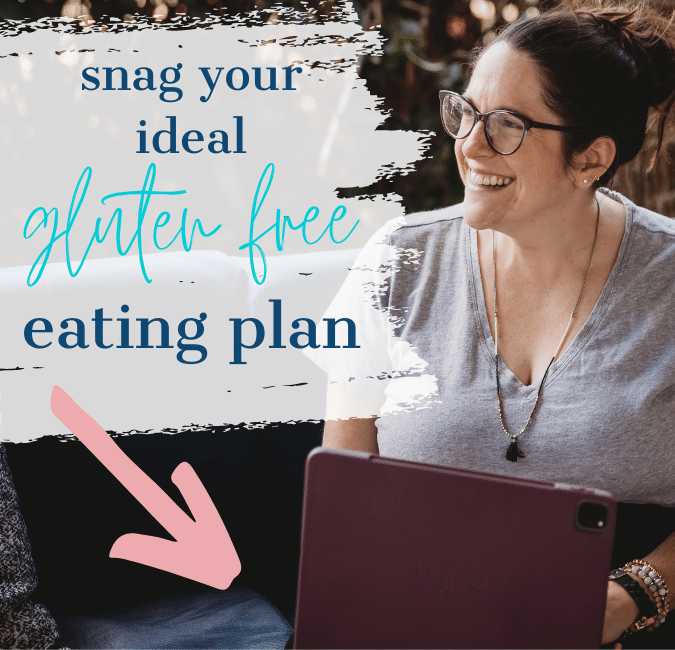 Why you will love this recipe for gluten free cobbler with cake mix
You'll love this recipe because:
It couldn't be easier using a cake mix and frozen or canned peaches, but tastes like you spent hours in the kitchen!
It has all the feels of this Southern home comfort–especially when topped with some gluten free ice cream
It'll be a hit at your next family dinner or potluck–no one will even know it's gluten free!
You can customize this gluten free cake mix peach cobbler recipe to make it dairy free, vegan, or suit any other dietary restrictions by choosing a specific cake mix.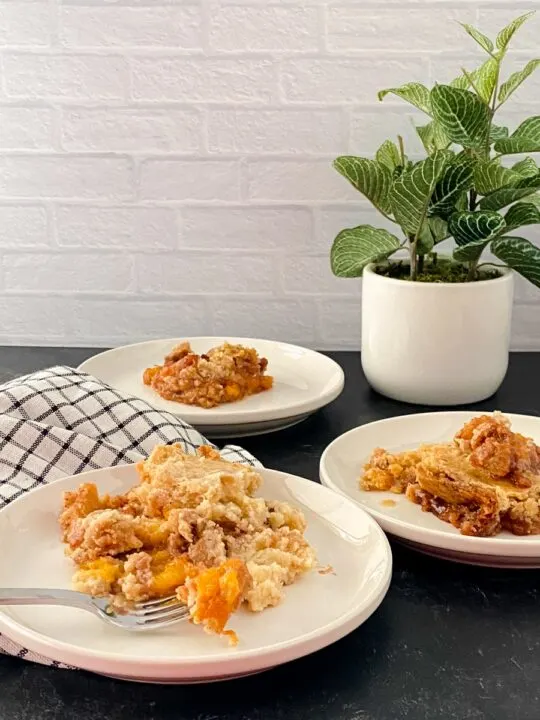 What is the difference between a dump cake and a cobbler?
Traditionally, cobblers use a homemade pie crust or biscuit topping.
While a gluten free dump cake uses a cake mix.
That said, this recipe will taste like something in between!
Can you make a cobbler using cake mix?
You can't make a full traditional cobbler using a cake mix and some of the ratios will be off.
However, you can get pretty darn close (and close enough when it comes to ease of the recipe!)
Ingredients for easy gluten free cake mix peach cobbler
Most of these ingredients can be found at your local grocery store, but you'll find great deals on gluten-free cake mixes, spices, and more at Thrive Market.
Click here to learn more about Thrive Market and a promotional link to receive up to $20 in free product on your first order!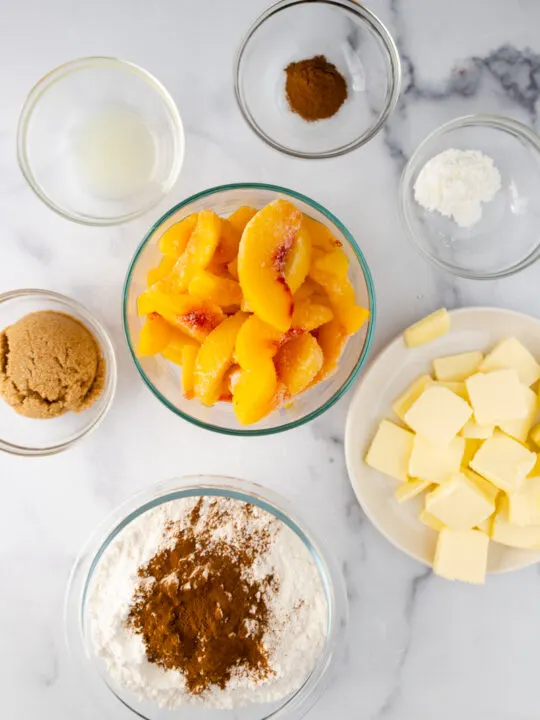 To make this cake mix peach dump cake you'll need:
Frozen sliced peaches. Want to use fresh peaches? Go for it! Just be sure you peel them and slice them evenly. Want to use canned peaches instead? You can do that too. Just be sure you drain them well. Unless you want a more syrupy peach cobbler, then use the canned peaches in syrup and don't drain them as well.
Brown sugar. You could use coconut sugar instead with just as good results! Here's my GF guide to brown sugar & sugar free substitutes.
Cornstarch. Cornstarch is naturally gluten-free. Just be sure that it isn't processed in a facility with wheat or gluten containing grains. Even better, you can look for one with a gluten-free claim on the label like this one!
Lemon juice.
Ground cinnamon.
White or yellow gluten free cake mix. Use your favorite gluten free cake mix for this recipe. I've reviewed a number of gluten free cake mixes, you can find those reviews here.
Unsalted butter. This recipe will also work with non-dairy or vegan butter.
Optionally, you could add some other ingredients into the topping such as purity protocol gluten-free oats or chopped walnuts.
Dairy Free and Vegan Peach Cobbler
If you want to make a gluten free dairy free peach cobbler or a gluten free vegan peach cobbler, you can easily make this recipe dairy free or vegan.
First, you'll need to use a dairy-free or vegan cake mix like King Arthur Flour's mixes. You can find that that mix here.
Secondly, you'll need to use dairy-free or vegan butter that's gluten free. You can find my guide to gluten free vegan butter here.
How to make a gluten free peach dump cake
To make this easy peach dump cake, first you will preheat the oven to 350F and grease a baking pan with cooking spray.
Next you'll combine your peaches, sugar, cornstarch, lemon juice, and cinnamon in one of the mixing bowls and pour it into your prepared baking pan.
In the other bowl, you'll measure out your cake mix and combine it with the cinnamon.
Sprinkle this mixture over your peach mixture and spread out until fairly even.
Next, thinly slice your butter sticks and space the squares evenly over the top of the cake mix.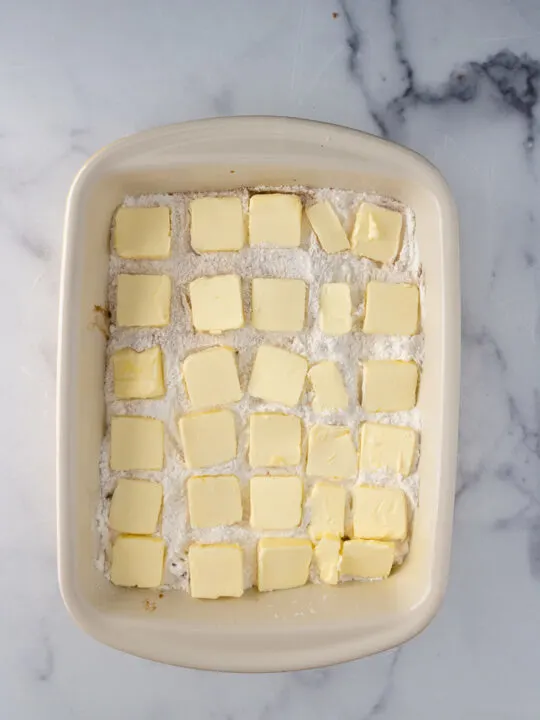 Bake for 20 minutes. Rotate the pan and look for dry spots on top.
If any spots seem dry, add a bit more butter to those spots.
Cook for another 20-25 minutes until golden. Let cool before serving.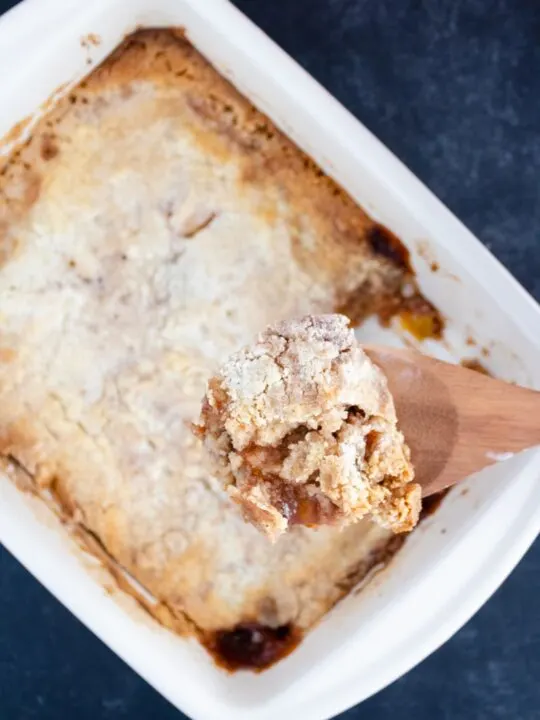 Tips and Recipe FAQ
Why is my peach cobbler soggy?
If your cobbler turned out runny, it's likely one of three problems.
First, you may not have cooked it enough. Be sure to cook it for the full amount of time. If it begins to brown too soon, turn down the temperature in the oven to 325 degrees F.
Secondly, it may not have cooled enough! Be sure to let it sit out and cool before serving so the mixture has time to set.
Lastly, your fruit may have been too juicy. If using canned peaches, be sure they are completely drained before using or you may end up with a runny or soggy cobbler.
Does peach dump cake need to be refrigerated?
Since this recipe is made with fruit, it needs to be refrigerated once it has cooled. Fruit will spoil quickly at room temperature, but in the fridge it should last up to 5 days.
Can peach dump cake be frozen?
Yes, you can freeze this in an air-tight container. It should last up to 3 months in the freezer, but the consistency may change during thawing.
What's they key to loving your gluten free life? Take this quick quiz to get a personalized plan with the guide you need to thrive!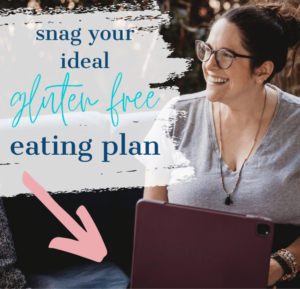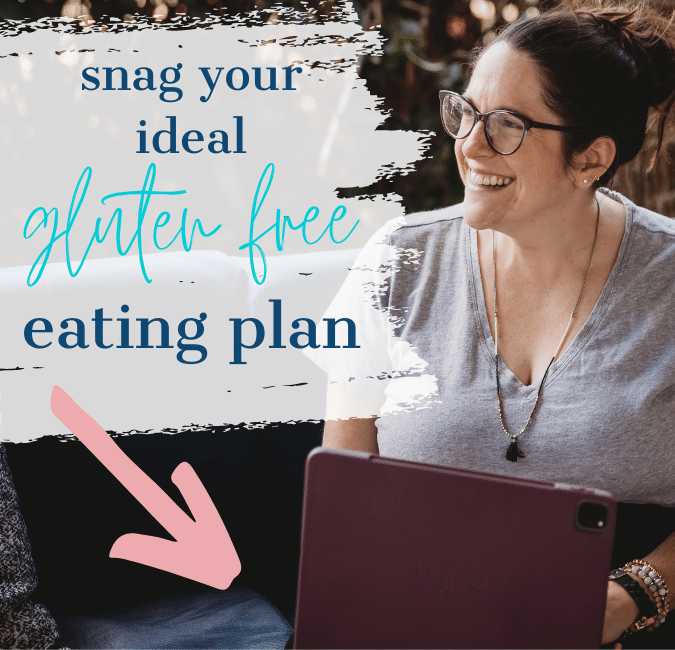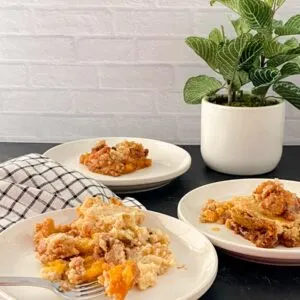 Gluten Free Cake Mix Peach Cobbler
This gluten free cake mix peach cobbler is so simple made with a cake mix crust and easily modified to be dairy free or vegan
Equipment
1 9×13 pan

2 mixing bowls

1 wooden spoon or spatula
Ingredients
Peach Filling
16

oz

frozen peaches

1/3

cup

light brown sugar

or coconut sugar

1.5

tsp

cornstarch

1

tsp

lemon juice

1

tsp

ground cinnamon
Gluten Free Topping
2.5

cups

gluten free cake mix

vanilla or white

1

tsp

cinnamon

12

tbsp

unsalted butter, cut

regular or vegan
Instructions
Preheat the oven to 350 degrees F

Grease a 9×13 baking pan with cooking spray

Combine peaches, sugar, cornstarch, lemon juice, and cinnamon in the bowl and pour into the prepared pan.

In a separate bowl, combine cake mix and cinnamon and then sprinkle over the peach mixture.

Slice butter and place all over the top of the cake mix spacing evenly.

Bake for 40-45 minutes until golden and bubbly. Halfway through baking, rotate the pan and ensure that there are no dry spots. If there are, add a bit more butter to those spots.
Notes
note: nutrition information is provided as a courtesy, but may not accurately reflect the final nutrition composition of your final dish depending on ingredients, substitutions, and serving size.
see the full blog post above post for:
ingredient and equipment suggestions & substitutions,
tips for modifying the recipe (including subbing canned peaches), and
frequently asked questions
Did you love this super simple cobbler with cake mix recipe?
Then be sure to share it on social media or pin it to Pinterest by using the buttons below.
Looking for more delicious gluten free dessert recipes?
Then you should check these out these 100% gluten free recipes: