It's difficult enough to come up with a good gift, but good gluten-free gift ideas? Well shoot!
Don't worry, we've got you covered! Here's the ultimate guide to gluten-free gift ideas for all ages and price ranges!
---
Are you new here? I also have the following posts to help you live gluten-free without the stress!
…and of course, you should join my EXCLUSIVE Facebook community "Stress-Free Gluten-Free" by clicking here!
---
This post contains affiliate links. If you order something through one of these links I'll earn a small commission at no extra cost to you! My full disclosure isn't that interesting, but you can find it here.
Gluten-Free Gift Ideas: the Ultimate Gluten-Free Year-round Gift Guide
1. Gluten-Free Candy
Candy is a great gluten-free gift idea for stocking stuffers, coworker gifts, and more!
This caramel candy by Lovely Candy Company, is not only gluten-free, but also non-GMO and made without high fructose corn syrup and soy! Order them from Amazon here.
You also can't go wrong with chocolate! These peanut butter cups by Justin's are 100% awesome!
Ready to take back control of your meals and love your gluten free life? Take the 45 second quiz to get a personalized plan with the guide you need to thrive!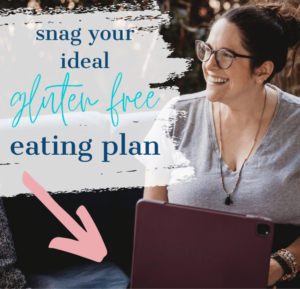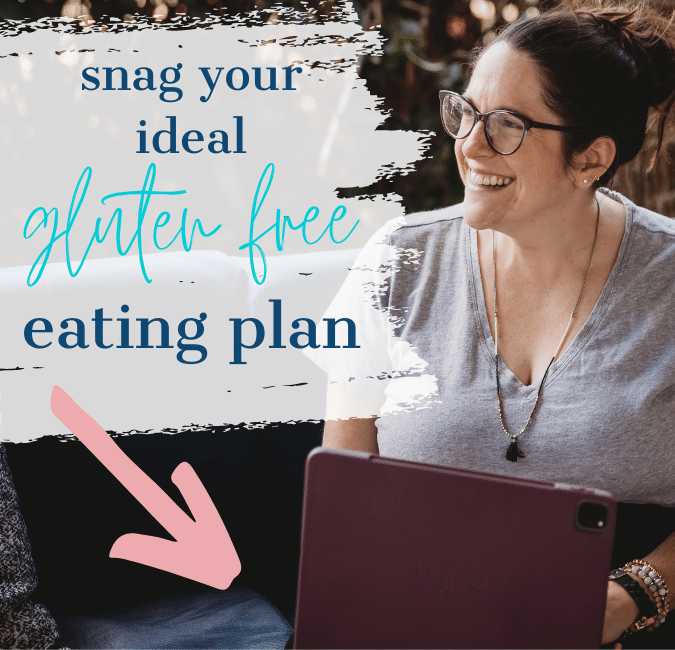 2. Gluten-Free Gift Basket
This gift idea is perfect for a college student—or someone who just doesn't like to cook!
You can always make your own, but if you need convenience, you can order one that's already premade here!
3. Gluten-Free Baked Goods
For this gift you can either go homemade and bake up a batch of homemade toffee or gluten-free blondies, OR if baking is not your thing, you can do a special order from a gluten-free bakery.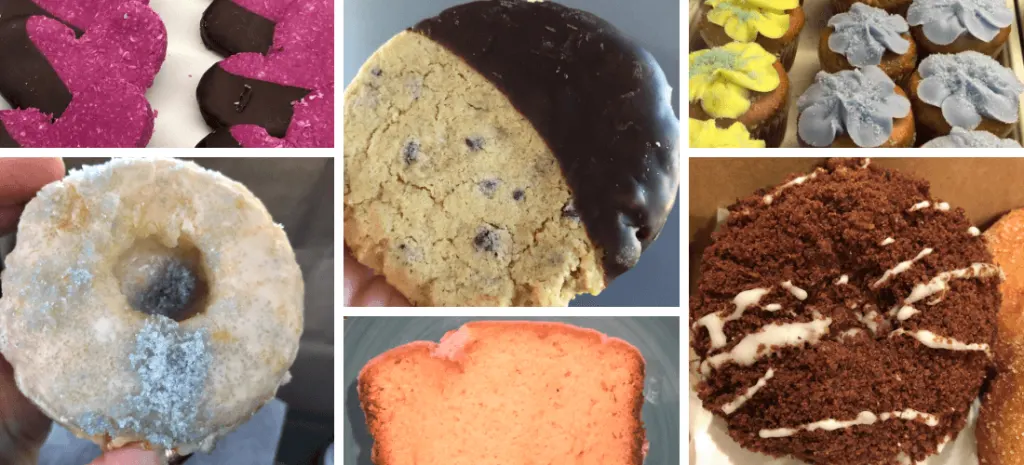 I love the baked goods from Erin McKenna's. You can see my full-review of their bakery or check out their website and create an order here.
You can also custom order bagels from gluten-free bakeries. Check out some of my favorite options in this post.
Does your recipient love to bake? You also can't go wrong a gift a baker would love.
4. A Gift for the Gluten-Free Coffee Addict
We sure are lucky that coffee is gluten-free! You can snag some really delicious coffee from my favorite brand: Fire Department Coffee.
FDC is veteran and firefighter owned and operated and gives back to injured first responders. And their coffee tastes great!
Check out their coffee options and swag here.
5. Gluten-Free Skincare Products
Skin Care is still a great gift option when your loved one is gluten-free.
There are some really great brands that I love (+ would make great gifts). I've compiled them all into these two posts:
6. Gluten-Free Beer Kit
When searching for a good gluten-free beer the struggle is REAL!
7. Gluten-Free Graphic T-Shirt
There are some really creative designers that have come up with some funny t-shirt ideas that anyone who's gluten free would love to receive.
Check out some more great designs here.
8. Aroma Dough
Play Doh is one of those places where gluten likes to hide…. Don't let the kids miss out on the fun with this gluten-free version!
Plus, it comes in amazing scents like vanilla or ocean wave.
Order it on Amazon here.
9. Gluten-Free Children's Books
Books are always a great gift, and can be a great gift for a gluten free kid.
If you know a child who is adjusting to a new gluten-free diet, they may really enjoy reading about a gluten-free superhero or simply another child going through what they are.
I've compiled my absolute favorite gluten-free children's books here.
10. Cookbooks
If you're looking for a gluten-free gift idea for someone who loves to cook, get them a new cookbook (or two!) to try out! Need a good suggestion?

I really love the cookbooks by Danielle Walker and the True Roots cookbook by Kristin Cavallari.

You can see my review of Danielle Walker's Meals Made Simple here and my review of Cavallari's True Roots here.
I also published my own digital cookbook: Simple & Easy Gluten Free which contains 50 quick & easy gluten free recipes containing 5 ingredients or less! Learn more about it here.
11. Gluten-Free Magazine Subscriptions
Stretch out the gifting fun by ordering a subscription to a top gluten-free magazine!
Some of my favorites are:
Both of these magazines are filled with such great tips on living a gluten-free lifestyle!
12. Gluten-Free Spice Set
Spice blends are another place where gluten likes to hide.
Your gift recipient can cook safely and with a TON of flavor with this spice set by FreshJax.
Do you want to know more about what other spice brands are gluten-free?
I list a couple brands and where to find them in this post!
13. Air Fryer
Enjoy gluten-free fried foods at home with an air fryer (plus, it'll be healthier!)
Check out the NuWave air fryer here.
Your recipient will be using it all the time!
14. A One Year Subscription to Thrive Market
Make shopping so much easier by purchasing a 1-year subscription to Thrive Market as a gluten-free gift idea!
It makes gluten-free shopping so much easier when you can select to ONLY see gluten-free offerings, you can purchase it at a discount price, and they ship it right to your front door. Plus, they even sell meat and wine!
Read more about why I love Thrive Market in this post!
15. Bread Maker with Gluten-Free Setting
It's HARD to find a good premade gluten-free bread… so stop trying and gift a bread maker that has a special setting for gluten-free bread!
What's they key to loving your gluten free life? Take this quick quiz to get a personalized plan with the guide you need to thrive!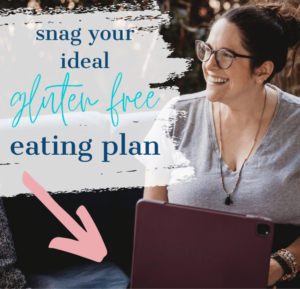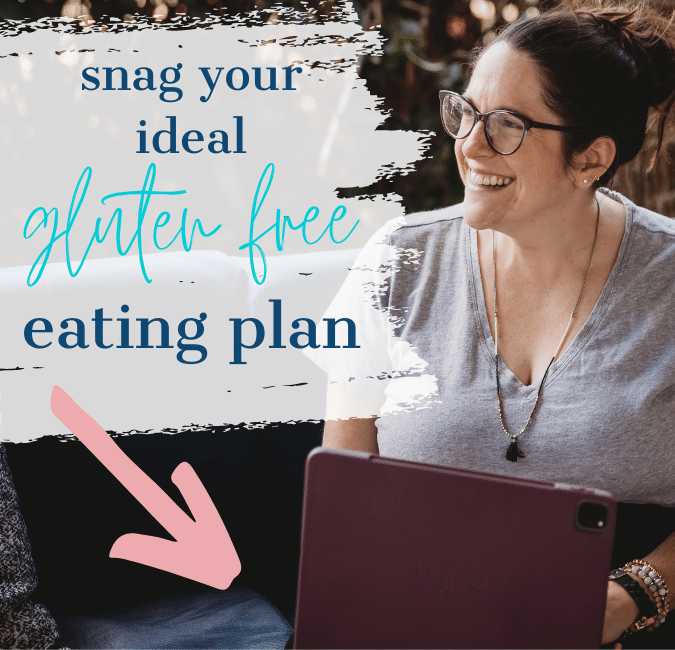 Which one of these gluten-free gift ideas is your favorite? Comment below and let us know!
And don't forget to pin it for later or share it on social media using the share buttons below so you don't forget these gluten-free gift ideas!
Other Posts for Gluten-Free Holidays that you will love: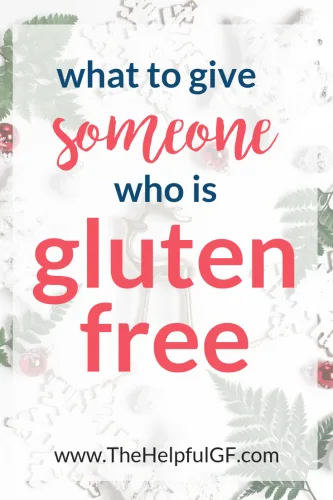 The Ultimate Gift Guide for Someone who is Gluten-Free