A Celiac's dining dream is 100% gluten-free eateries—and Erin McKenna's bakery doesn't just fill that role but exceeds expectations.
Whenever we travel near an Erin McKenna location, we make it a priority to stop by.
This review contains location information, Erin McKenna's bakery menu, what I tried (with my full review), AND information about the Erin McKenna cookbooks!
Keep reading for my full review of Erin McKenna Bakery!
---
Are you new here? I also have the following posts to help you implement the gluten-free diet without the stress!
…and of course, you should join my EXCLUSIVE Facebook community "Stress-Free Gluten-Free" by clicking here!
---
Erin McKenna Bakery NYC Review: 100% Gluten-Free and Vegan Bakery
This gluten-free review of the Erin McKenna Bakery is based on personal experience. Always be sure to discuss gluten-free options with each eatery and ensure that they are able to accommodate your personal dietary needs.
Also, this post contains affiliate links. If you order something through one of these links I'll earn a small commission at no extra cost to you! My full disclosure isn't that interesting, but you can find it here.
Erin McKenna Locations
Erin McKenna has locations in three cities:
New York City,
Los Angeles,
and Orlando (at Disney Springs).
The New York City and Los Angeles locations have personal delivery service through Postmates (aaaaamaazing!), and The Erin McKenna bakery Orlando location actually supplies baked goods to a couple of resorts and restaurants throughout Disney World such as Art of Animation and Pop Century.
Looking for other places to eat gluten-free in Orlando? Click here for the ultimate guide to eating gluten-free at Orlando's Disney Springs!
Another great thing about the Erin McKenna bakery Orlando / Disney Springs location is that you can use your Walt Disney World dining credits to purchase baked goods. Most items are eligible for use of your snack credits!
Check out my full-post here on tips for eating gluten-free at Walt Disney World.
~~ If you're planning a trip to Disney, I highly recommend contacting Jessica Tullino at http://www.imagineeredvacations.com. She is a Disney Concierge and she planned everything for us (fast passes, meal reservations, tips, and more!) plus found us some excellent deals at no extra cost to us! I highly recommend her—click through to her website for a quote and tell her I, Sharon from The Helpful GF, recommended you.~~
I've personally visited both the New York City and Orlando locations. Both are phenomenal! And I'm sure the Los Angeles location is just as spectacular.
Can't make it to any of Erin McKenna's bakery locations?
Not only do they ship nationwide, but Erin McKenna has published THREE cookbooks as well.
You can bake your own delicious gluten-free vegan treats at home with these cookbooks!
Click through the cookbook images below to learn more about them and keep reading for my review of the menu at Erin McKenna's!
Ready to take back control of your meals and love your gluten free life? Take the 45 second quiz to get a personalized plan with the guide you need to thrive!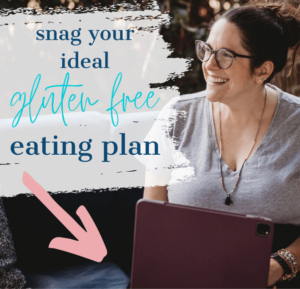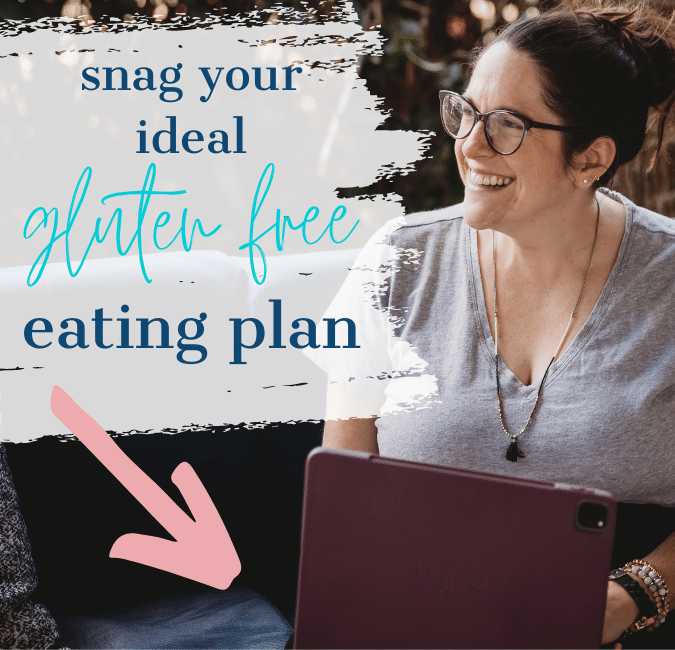 Cookbooks by Erin McKenna:

Bread & Butter: Gluten-Free Vegan Recipes to Fill Your Bread Basket by Erin McKenna
Click here to purchase on amazon.com

BabyCakes Covers the Classics: Gluten-Free Vegan Recipes from Donuts to Snickerdoodles by Erin McKenna
Click here to purchase on amazon.com

BabyCakes: Vegan, (Mostly) Gluten-Free, and (Mostly) Sugar-Free Recipes from New York's Most Talked-About Bakery by Erin McKenna
Click here to order on amazon.com
note: an Erin McKenna cookbook would make a GREAT gift for a gluten-free foodie! These are gorgeous hardcover cookbooks with beautiful pictures and amazing recipes.
Erin McKenna Bakery Menu
The Erin McKenna Bakery menu has an extensive assortment of baked goods and treats. In addition to typical bakery finds like donuts, breads, cookies, and cupcakes, Erin McKenna Bakery's menu also includes specialty items like thin mints, coconut mounds, and holiday specialties.
If you're traveling and want to bring back a fun souvenir, you can actually purchase a baking kit with a baking mix and frosting!
Furthermore, customers can take comfort in the fact that not only is it a 100% gluten-free facility, but all bakery items are also:
refined sugar free,
soy-free,
dairy-free,
egg-free,
vegan,
kosher,
and gluten & wheat free (I know I already mentioned that… but this is a gluten-free review, so EMPHASIS on gluten-free!)
In addition to the in-store Erin McKenna bakery menu, they will also create and ship specialty cakes for special occasions.
We tried an assortment of items including cupcakes, slices of loaves, and donuts! Check out this amazing collage of goodies below.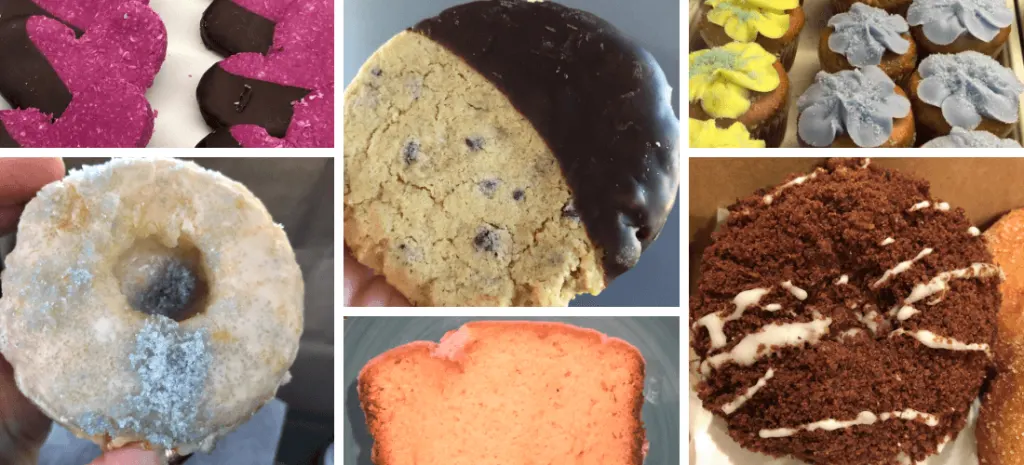 Check out the full Erin McKenna Bakery Menu here.
Final Thoughts
The Erin McKenna Bakery is a must-visit if traveling to New York City, Los Angeles, or Orlando. Not only can you take comfort in a 100% gluten-free eatery, but this bakery sets the standard for delicious gluten-free and vegan goodies!
If you enjoyed this review of Erin McKenna Bakery, be sure to share it on social media and pin it to Pinterest using the social media buttons below.
Have you ever been to one of the Erin McKenna locations? Comment below and tell us what you thought.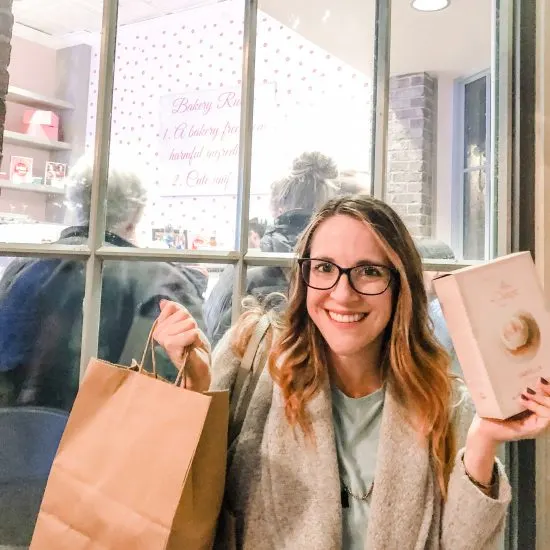 What's they key to loving your gluten free life? Take this quick quiz to get a personalized plan with the guide you need to thrive!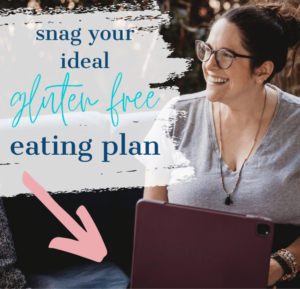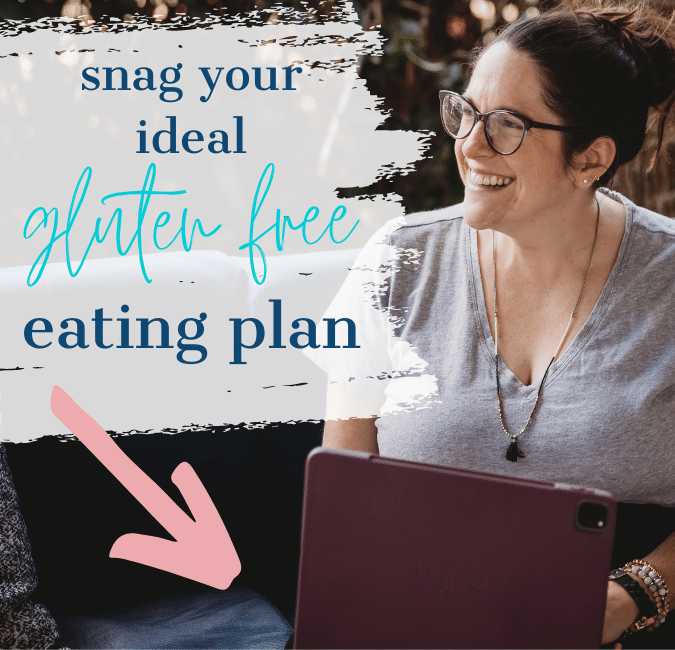 Looking for some other restaurant reviews like this one?
—The Ultimate Guide to Eating Gluten-Free at Disney Springs in Orlando
—Eating Gluten-Free (and Vegan) at Tarpon Springs, Florida
—The Best Gluten-Free Cake Mixes and Frostings