15+ GLUTEN-FREE LUNCH IDEAS FOR BACK TO SCHOOL
It's August—which means it's almost time for back to school. Coming up with lunch ideas for school can be challenging in general, but extra challenging when you need to come up with gluten-free lunch ideas! This is especially important if your school cafeteria does not accommodate your child's specific gluten-free needs (not to mention adding in the complexity of needing nut-free, dairy-free, or vegan lunches). Due to this, it's so important to plan ahead when it comes to prepping lunch for your gluten-free child.
I like to make a list of the lunches I'll pack that week (I usually pick 2 ideas a week and alternate days so they don't get too bored with what I pack!). Then I plan it on my menu planner and shopping list. I also keep a couple fall back ideas available for when I just can't even. You know what I mean. 😉 You can download your own weekly menu planner and shopping list here for FREE so you're not caught off guard.
Are you ready to simplify your dinner routine?
Download "FIVE IN FIVE"–my FREE e-cookbook of simple & easy gluten free dinners containing 5 ingredients or less!
I have a couple ideas that I use over and over for my kids—but the variety is lacking. I needed some more ideas, so I reached out to some blogger friends and they shared some of their gluten-free lunch ideas. And now, I share them with you. 😊 Here's a roundup of 15+ gluten-free lunch ideas for back to school!
This post contains affiliate links. These links help me to earn enough money to refill my coffee so I can keep up with life! My full disclosure isn't that interesting, but you can find it here.
Main Star Gluten-Free Lunch Ideas!
These gluten-free lunch ideas are strong enough to be the main star of your kids' lunch. Throw in a couple sides and a drink and you'll be all set. (Keep reading for sides ideas at the end!)
1. TURKEY CHEESE APPLE SANDWICHES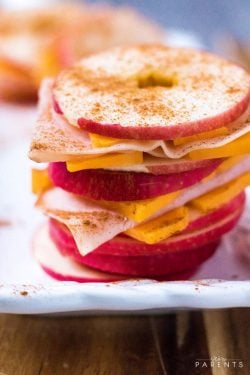 (nut-free, leave out the cheese for dairy-free)
2. APPLE PEANUT BUTTER SANDWICHES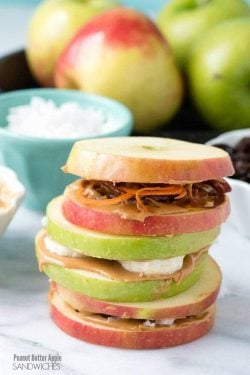 (dairy-free, vegan, substitute sun butter for a nut-free lunch!)
My kids aren't huge fans of gluten-free bread (unless it's toasted), so using apple slices as the "bread" of a sandwich is GENIUS! These turkey & cheese apple sandwiches by We're Parents (number 1) and these apple peanut butter sandwiches by Boulder Locavore (number 2) have the kids wanting more.
3. Easy Pizza Quesadillas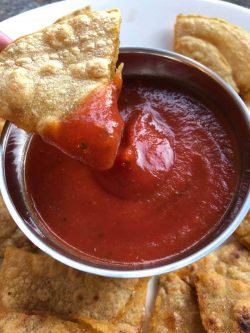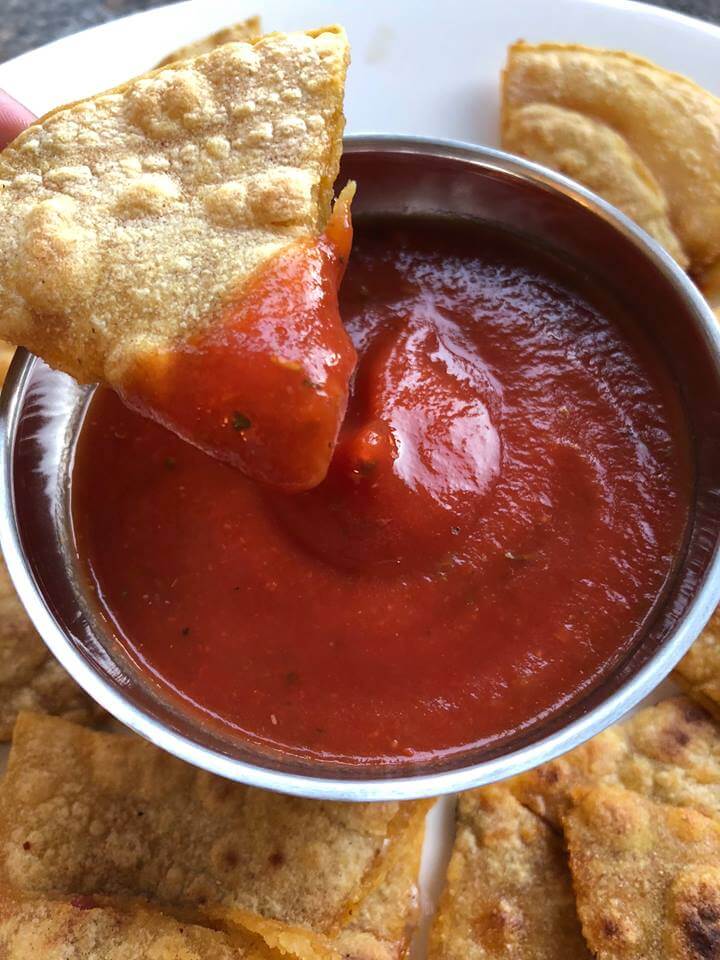 (nut-free, dairy-free or vegan option)
My recipe for these quesadillas with a pizza twist are easy to cook up and taste great warm or cold! Plus, you can fill them with any of your kids' favorite pizza toppings.
4. VEGAN RAINBOW VEGETABLE TORTILLA WRAP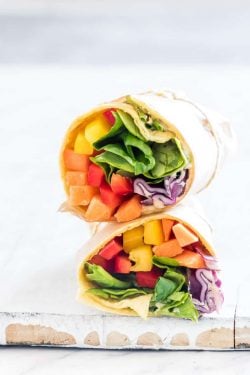 (dairy-free, nut-free—double check your hummus!, vegan)
If you're trying to help your kid eat more veggies, this vegan wrap idea by Recipes from a Pantry is a sure winner! Plus, look how pretty it is!
5. MUFFIN TIN SUSHI CUPS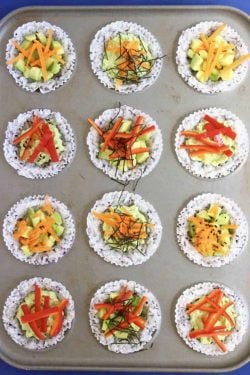 (dairy-free, nut-free, vegan)
Is your gluten-free kid a lover of world cuisine? These muffin tin sushi cups by Rhian's Recipes will be perfect! Just make sure that your soy sauce is gluten-free—or use coconut aminos. Plus—these are great to make ahead and use throughout the week.
6. GLUTEN-FREE GRILLED CHEESE KABOBS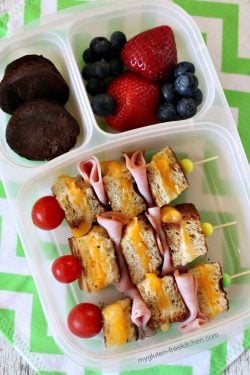 Sometimes you just need a classic lunch idea. These gluten-free grilled cheese kabobs by My Gluten-Free Kitchen are not only a classic choice, but putting bite sized pieces on a kabob make them totally fun as well!
7. HOMEMADE GLUTEN-FREE PIZZA LUNCHABLES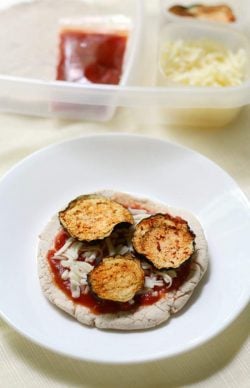 (dairy-free, nut-free, vegan)
Every kid loves Lunchables! If your gluten-free kid is disappointed they don't get Lunchables like everyone else, pack them this gluten-free copycat by Strength and Sunshine. This recipe makes 3 servings (see—prepping ahead) and the crust is not only gluten-free, but grain-free as well. (If dairy-free cheese isn't your thing, just sub regular mozzarella and any toppings you wish).
8. EASY ASIAN TUNA VERMICELLI NOODLE SALAD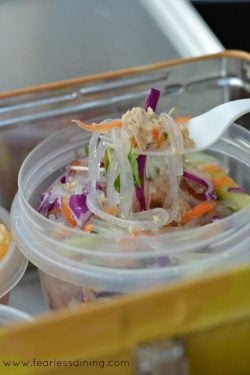 (dairy-free, nut free)
My girls LOVE noodles—they are so fun to eat! This Asian tuna vermicelli noodle salad by Fearless Dining is one of those lunches that kids find fun to eat. This recipe makes 4 servings—and you'll find yourself packing it for lunch too!
9. The Best Low Carb Ham and Egg Cups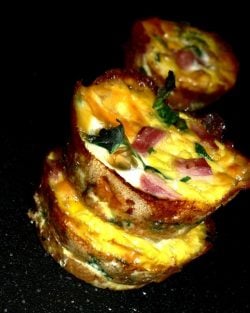 (nut-free, to make it dairy free leave out the cheese and use a non-dairy milk)
If your child has access to a microwave to heat up their lunch, pack them these ham & egg cups by Easy Low Carb Recipes. They are packed with protein and have veggies for an extra health punch! This is another make-ahead option for easy prep. Just make sure your cooking spray is gluten-free! My favorite is this one by Chosen Foods.
10. CRUSTLESS PIZZA – LOW CARB HAM AND CHEESE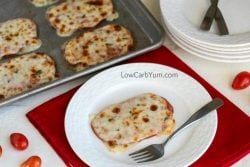 (nut-free)
Every kid loves pizza. This crustless pizza by Low Carb Yum is another great protein-filled option for kids who can heat their lunches. This is another one of the gluten-free lunch ideas that you can prep ahead of time for the coming week!
10. Annie's Gluten-Free Rice Pasta & Cheddar Microwavable Macaroni & Cheese Cups
(nut-free)
If your kid has access to a microwave at lunch, keep a couple of these hidden in the pantry for those times when you just couldn't get your planning together for gluten-free lunch ideas.  These will save you!
12. CAULIFLOWER LETTUCE WRAPS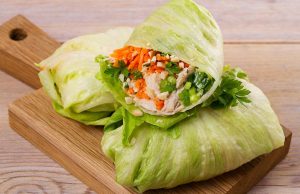 (dairy free, nut free)
These portable lettuce wraps by Kiss my Keto are simple and easy to make ahead. Plus, the cauliflower makes for the perfect 'hidden veggie' for kids.
Meal Booster Gluten-Free Lunch Ideas!
These gluten-free lunch ideas are great additions to pack as a snack, add in as a side, or could totally be the star for a younger or light eater.
13. CRACKERS, CHEESE, AND PEPPERONI
(nut-free–depending on cracker ingredients)
This is one of my kids' favorite lunches. I cut up some cheese, add some gluten-free pepperoni (I like Applegate Farms), and some gluten-free crackers. Easy peasy! You could do this with other lunch meats as well for a gluten-free kind of Lunchable.
14. YOGURT, FRUIT, & GRANOLA
(for nut-free choose nut-free granola. For dairy-free/vegan, use coconut or soy yogurt)
This is another fallback idea for my kids. They love to make a parfait of yogurt, fruit, and granola in their lunch. I pack it all separate and they love to add the fruit and granola to their yogurt at lunch time. Just make sure that your granola is certified gluten-free!
Learn more about gluten-free certification and what it means here!
I actually really love this Paleo granola because it has low sugar levels and doesn't contain oats and other grains.  Thrive Market makes a bunch of Paleo granola flavors as well: the pumpkin pie one is totally one of our favorites!
Click here to learn more about Thrive Market, get a free trial, and to save $20 off our first order.
15. KETO BANANA BREAD MUFFINS WITH ALMOND FLOUR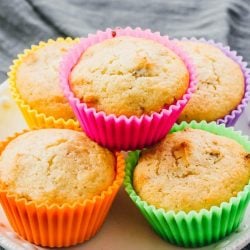 My kids love muffins and they love bananas. These keto banana bread muffins by Savory Tooth are a slam dunk for them! Make sure you include a pat of butter. Plus, since these are made out of almond flour, they have a good amount of protein and won't cause a sugar crash!
16. CHEDDAR BACON BISCUITS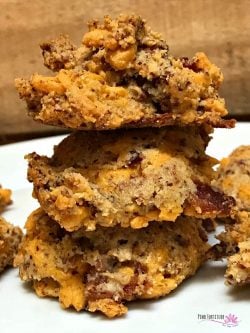 (dairy-free)
These cheddar bacon biscuits by Pink Fortitude will keep your child full! Plus, since the recipe makes a large batch of 20 biscuits I'd freeze some for last-minute lunches.
17. PEANUT BUTTER PROTEIN BALLS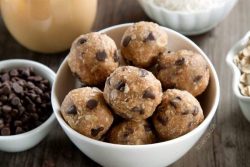 (dairy-free, vegan option)
These peanut butter protein balls by Texanerin Baking may taste like dessert—but are truly a healthy addition to lunch! Just make sure to use purity protocol oats like these to ensure against the cross-contamination often present in oats.
Gluten-Free Lunch Ideas: Additions and Sides
Here are some of my favorite sides to add in with these gluten-free lunch ideas!
Bonus: click here for my roundup of 11 favorite gluten-free snack ideas!
Do you have another favorite gluten-free lunch idea? Comment below and share it with us. And don't forget—download your FREE weekly menu planner and shopping list below so you are always prepared with your favorite gluten-free lunch ideas!
Don't forget– Clear the confusion and make dinner simple with "FIVE IN FIVE"–the free e-cookbook containing easy dinners you can make with 5 ingredients or less!
Other posts you may like: