Are you looking for tips on how to make chocolate lollipops that are both gluten free and vegan?
This step by step tutorial will tell you everything you need to know about the best brands of gluten free vegan chocolate plus answer all your questions about how do you make chocolate with chocolate molds.
You can keep reading for all this information, or use the jump to recipe button to go straight to the printable recipe.
---
Are you new here? I also have the following posts to help you live gluten-free without the stress!
…get valuable support from me, and gluten-free peers, in my EXCLUSIVE Facebook community "Stress-Free Gluten-Free" by clicking here!
---
The gluten-free guide below is based on personal experience and research. Always be sure to discuss any medical changes with your doctor for your personal medical needs. Additionally, this post contains affiliate links. As an Amazon Associate I earn from qualifying purchases. My full disclosure isn't that interesting, but you can find it here.
Ready to take back control of your meals and love your gluten free life? Take the 45 second quiz to get a personalized plan with the guide you need to thrive!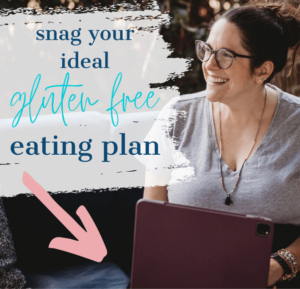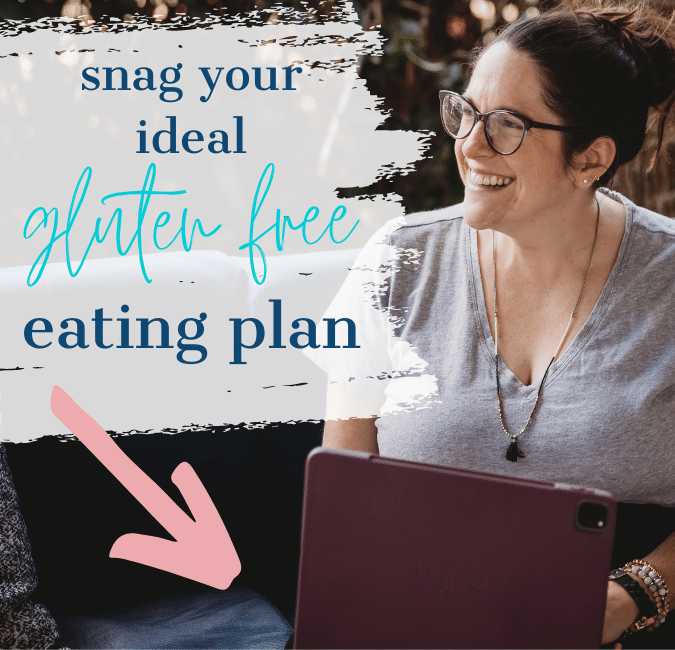 Why you'll love these homemade gluten free and vegan chocolate lollipops
They're the perfect edible craft to make with your gluten free kids!
These are gluten free (and vegan) if you use the right chocolate (see ingredient suggestions below)
These vegan and gluten free lollipops are excellent for holidays and special events (and even make a great homemade gluten free gift!)
What you need to make vegan gluten free chocolate lollipops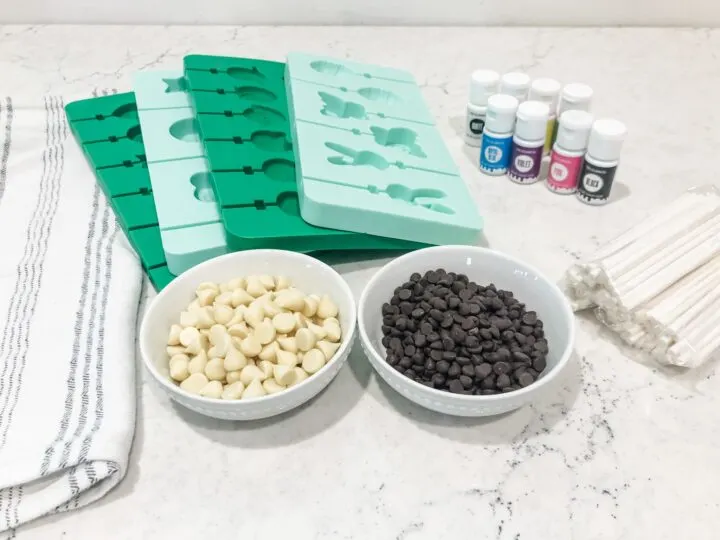 Equipment for making DIY chocolate lollipops
To make these delicious gluten free treats you'll need some basic equipment:
Chocolate lollipop molds. For these, I definitely prefer silicone (it makes it easy to pop your lollipop out of the mold once cool). I purchased these on Amazon and they were really affordable.
Lollipop sticks. My lollipop sticks came with my molds, but you can find them really affordably here.
Double boiler set up. If you don't have an actual double boiler, you can use an electric chocolate melting pot like this one or even DIY a double boiler (like I did!) To do this, use a saucepan with a heat-safe bowl that sits on top trapping the steam below.
Ingredients for homemade chocolate lollipops
Making these delicious homemade gluten free chocolate lollipops only requires two ingredients. You may find these at your local grocery store, but you'll find great deals on gluten free and vegan chocolate at Thrive Market.
Learn more about why I love Thrive Market here, or you can snag a promotional link to receive up to 25% off your first order plus a free gift by clicking here!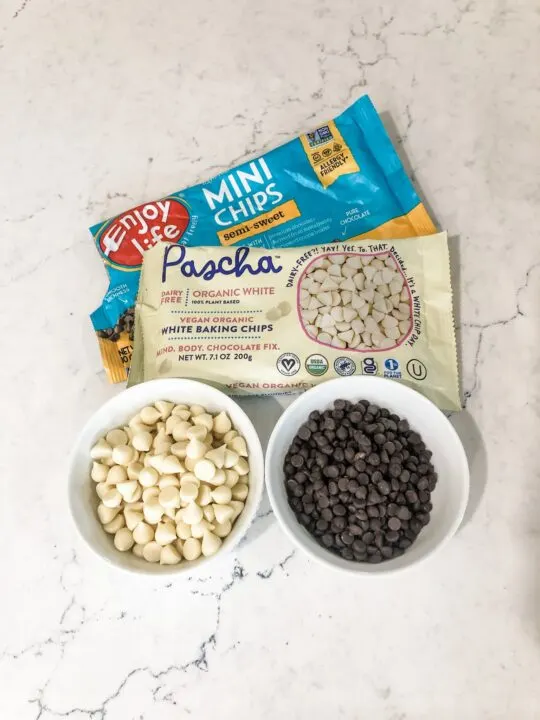 To make these homemade vegan chocolate lollipops, you'll need:
Gluten free vegan chocolate chips. I used two different kinds:

Enjoy Life Semi Sweet. These are free of 14 major allergens making them totally gluten free and vegan. Plus, they taste great! You can find them at Thrive Market here or also on Amazon here.
Pascha White Chocolate Chips. These are gluten free and vegan, plus they melted really well. These are available at Thrive Market here.

Gluten free food coloring. Be careful with this ingredient as not all food coloring is gluten free. I used this food coloring from Amazon that is both gluten free and vegan, but sometimes this is out of stock. If so, this gluten free food coloring is another good option.
Note: while I used chocolate chips for this recipe, you could definitely also use a bar of chocolate, just be sure to chop it before trying to melt it.
What kind of chocolate is allergy friendly?
There are quite a few brands of allergy friendly chocolate that are both gluten free and vegan.
Here are some of my favorites: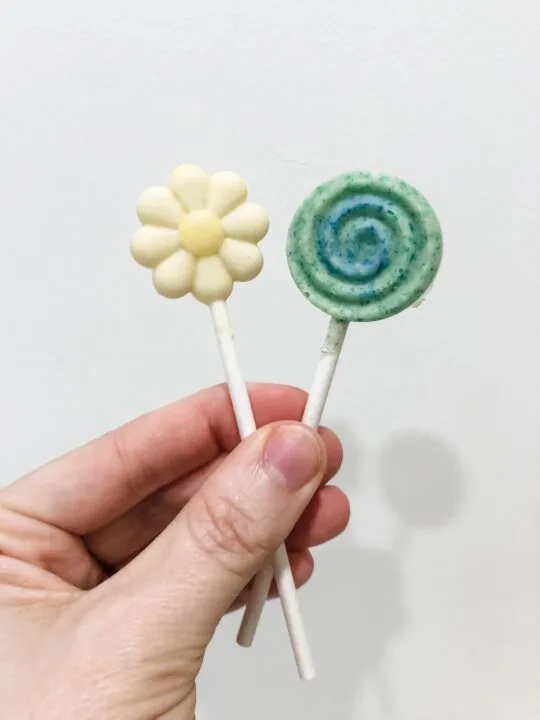 How to Make Chocolate Lollipops
If you want to know how to make chocolate lollipops in molds, I've got you covered! Just follow these step by step directions (with pictures) and you'll be all set!
First, be sure to gather all your ingredients, ensure your molds are washed and dry, and that your chocolate is ready to melt (either in chocolate chip form or chopped from a bar)
How do you melt chocolate for molds?
The first step to melting chocolate for molds is to add 1-2 inches of water to the bottom of your double broiler (or sauce pan) and set the insert or a heat-safe bowl on top.
Turn the heat to medium. Once the water begins to steam, add your chocolate to the bowl.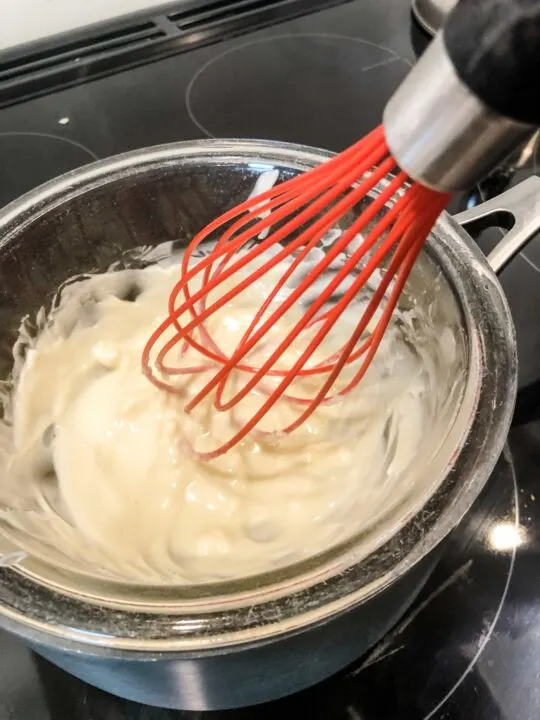 Stir or whisk regularly until the chocolate is mostly melted. Remove from heat and continue to stir until totally smooth.
Alternatively, you can use a chocolate melting pot like this one:
If you have kids that are going to melt chocolate regularly, this is a really good investment!
If you want to color your chocolate, now's your chance!
Divide white chocolate into separate bowls adding food coloring a drop at a time and stirring until the desired color is achieved.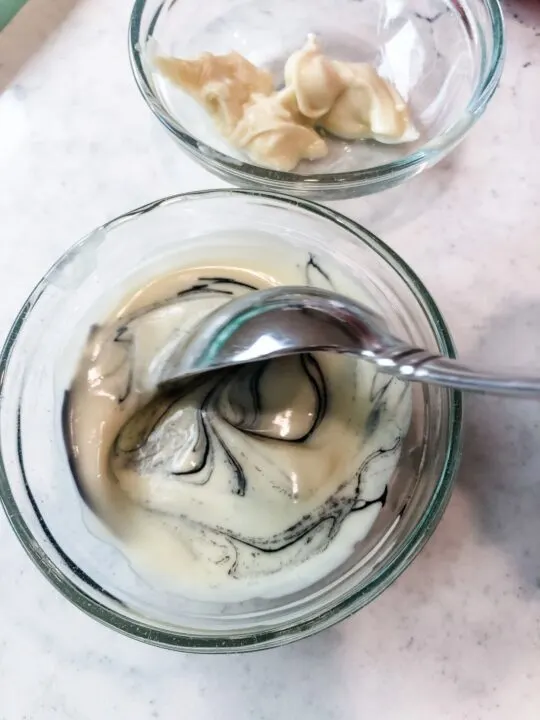 Next, you add your chocolate to the molds.
Using a small spoon, carefully spoon your chocolate into the molds, layering on the colors as you desire. You can also swirl colors using a toothpick.
Insert the stick into the chocolate, rotating it once in. If the stick isn't fully covered, add more chocolate on top.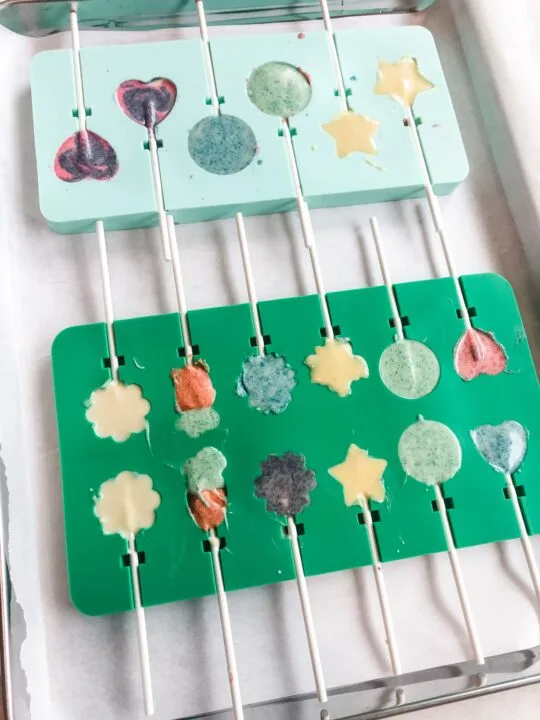 If using silicone molds (like I did), be sure to place them carefully onto cookie sheets so they rest flat in your fridge.
Allow to chill for four or more hours, until completely set.
Carefully remove chocolate lollipops from the molds and they are ready!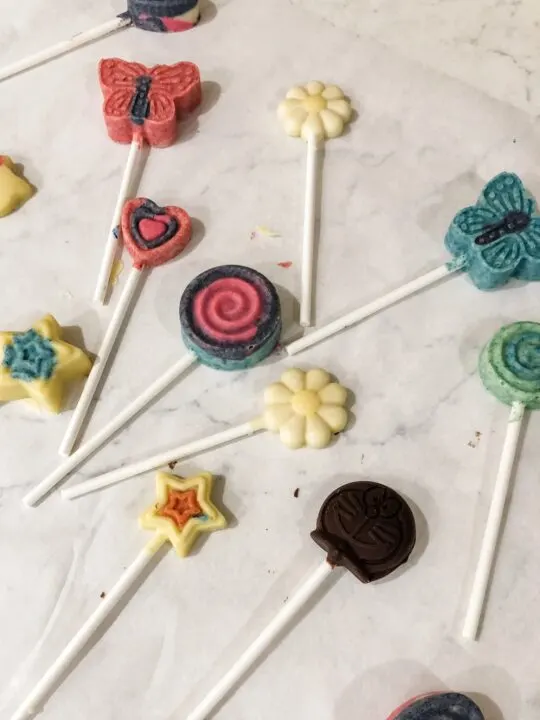 How long do chocolate lollipops last?
As long as they are stored in an airtight container in a cool dark place, they should last for months!
Keep scrolling for the printable recipe!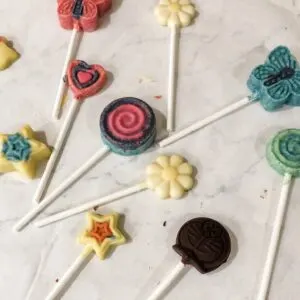 Gluten Free Vegan Chocolate Lollipops
These homemade gluten free and vegan chocolate lollipops are the perfect treat to make with your kids. They're excellent for holidays and special events–they even make a great gift!
Equipment
1 whisk

mixing bowls

1 small saucepan
Ingredients
1

bag

gluten free vegan chocolate chips

white chocolate and/or semi sweet chocolate

gluten free food coloring
Instructions
Place 1-2 inches of water in a saucepan and place on the stove.

Add a shallow heat-safe bowl over the saucepan so it stays above the brim of the saucepan and traps the steam below.

Add chocolate chips to the mixing bowl and heat the saucepan over medium heat.

As the bowl heats from the steam, the chocolate will begin to melt. Whisk constantly as it begins to melt.

Once the chocolate chips are mostly melted, remove from heat and continue to stir until smooth.

If wanting to color the chocolate, divide into small bowls and add 1-2 drops of gel coloring and stir until the chocolate is a uniform color.

Add chocolate into lollipop molds, insert stick and twist to ensure the stick is fully coated in chocolate.

Put in the fridge for four or more hours until hardened.

Remove lollipops from the molds and enjoy!
Notes
note: nutrition information is provided as a courtesy, but may not accurately reflect the final nutrition composition of your final dish depending on ingredients, substitutions, and serving size.
see the full blog post above post for:
ingredient and equipment suggestions & substitutions,
troubleshooting tips, and
frequently asked questions
Did you love this post about how to make homemade chocolate lollipops?
If so, be sure to share it on your social media or pin it to Pinterest using the social sharing buttons below.
Check out these other 100% gluten free candy recipes you will love: