Cooking healthy and delicious meals doesn't have to take hours of hard labor and guesswork. This remarkable slow cooker butternut squash risotto recipe proves it.
In just minutes of prep and a few hours in the slow cooker, anyone can easily make a gluten-free meal that will satisfy the whole family. With this easy-to-follow recipe, you'll soon be serving up a creamy and nutritious butternut squash risotto made with brown rice.
In this article, you'll learn all about this amazing and convenient meal, including how to prep the ingredients, how to make the risotto in the slow cooker, and how to add your own personal touches and enjoy your delicious creation.
---
Are you new here? I also have the following posts to help you live gluten-free without the stress!
…get valuable support from me, and gluten-free peers, in my EXCLUSIVE Facebook community "Stress-Free Gluten-Free" by clicking here!
---
The gluten-free guide below is based on personal experience and research. Always be sure to discuss any medical changes with your doctor for your personal medical needs. Additionally, this post contains affiliate links. As an Amazon Associate I earn from qualifying purchases. My full disclosure isn't that interesting, but you can find it here.
Ready to take back control of your meals and love your gluten free life? Take the 45 second quiz to get a personalized plan with the guide you need to thrive!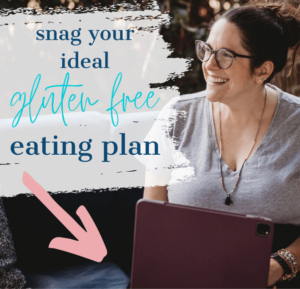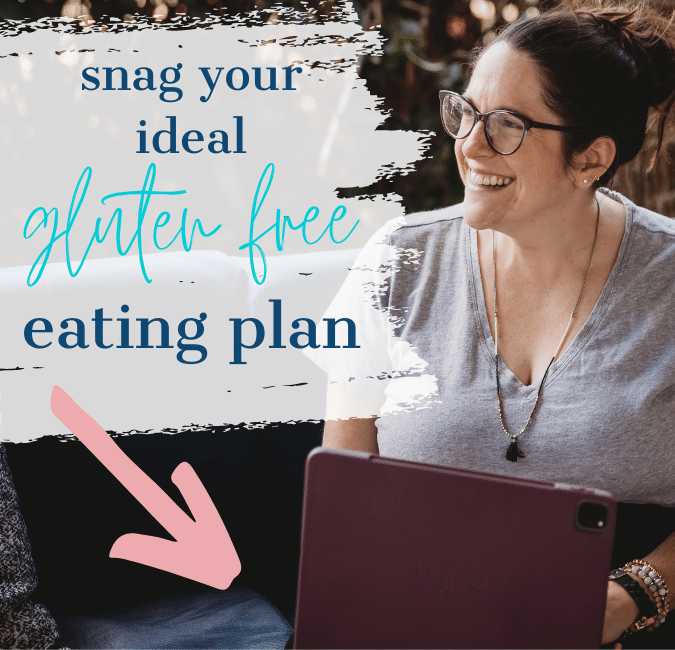 Why you'll love this gluten free butternut squash risotto recipe: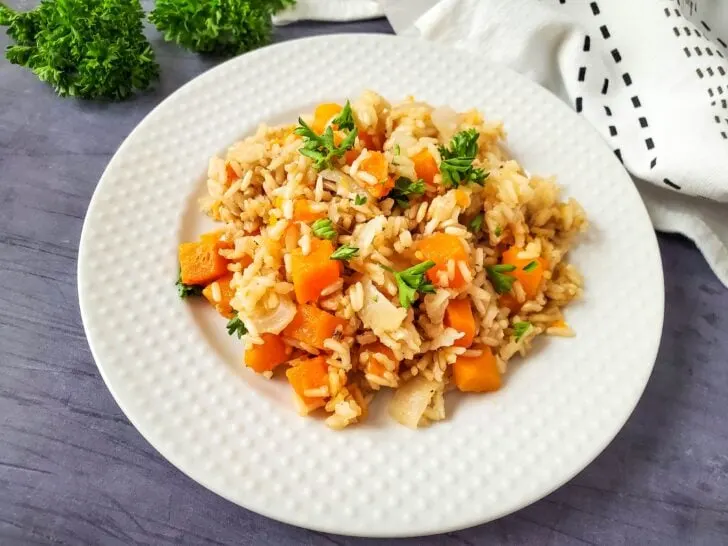 Can you use brown rice in risotto?
Risotto is a traditional Italian dish, which is usually made using Arborio rice. This medium-grain rice has a creamy consistency because of its higher amylopectin content, making it ideal for risotto-making. Although traditional Arborio rice is gluten free, this recipe uses brown rice for a healthier option filled with extra fiber!
Cooking with brown rice does take a bit more time than with Arborio since it hasn't been parboiled and tends to require more liquid for cooking. It's extra important when using brown rice to make sure you simmer the grains slowly and add enough liquid throughout the cooking process so that your risotto turns out delicious and has a creamy texture.
This is why it's so perfect to make brown rice risotto in the slow cooker, giving you a hearty and healthy meal!
Equipment for Crockpot Risotto
To make this slow cooker risotto you only need a few pieces of equipment:
Ingredients for this gluten free risotto crockpot recipe:
Most of these ingredients can be found at your local grocery store, but you'll find great deals on specialty rice, spices, and more at Thrive Market.
Click here to learn more about Thrive Market and read my full review. Want to try Thrive Market? Click this promotional link to save 30% and a free gift on your first order!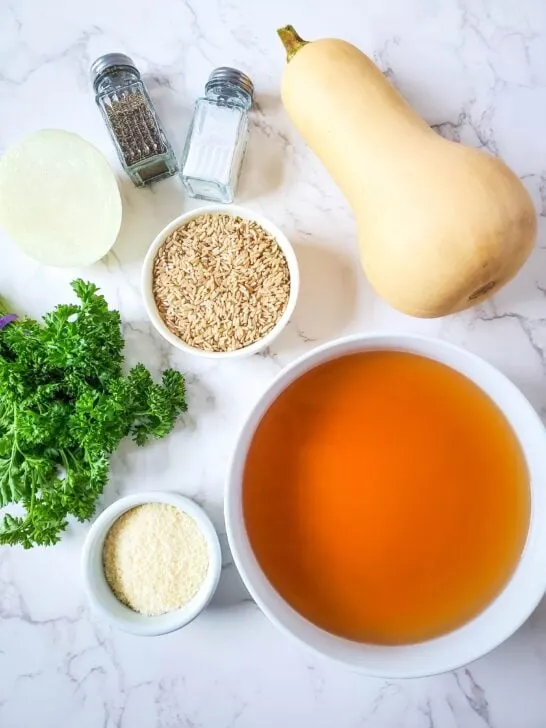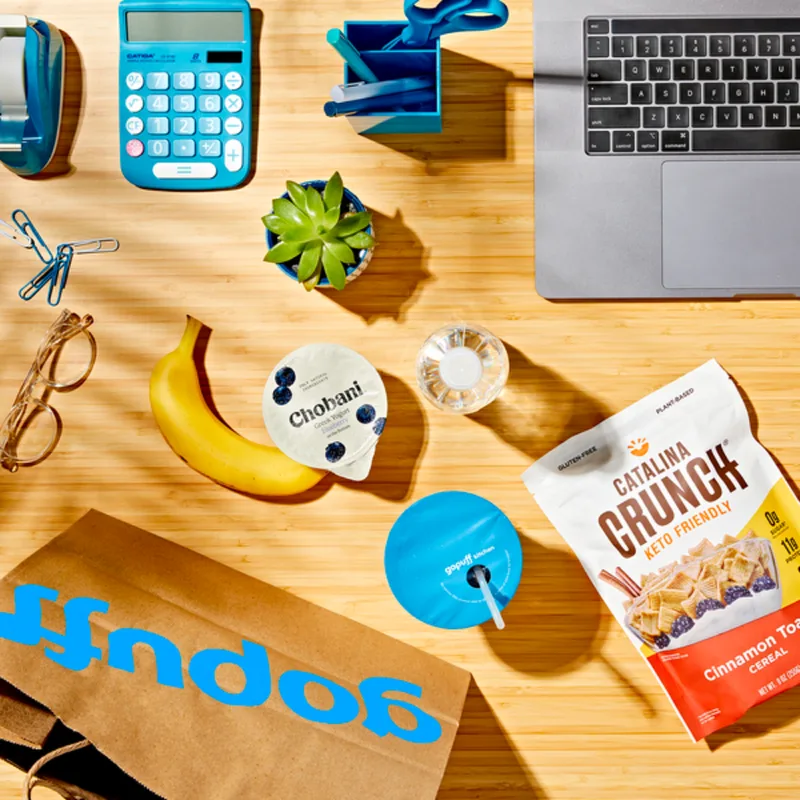 Sick of making grocery runs? Me too!
Try GoPuff for quick and easy grocery delivery including your favorite gluten-free essentials!
Get $100 off + free delivery on SUMMER snacks, drinks, booze & more. Use Code: Welcome1010
Are you looking for a vegan risotto option instead? Try this delicious gluten-free and vegan summer vegetable risotto!
How to Make Butternut Squash Slow Cooker Risotto
Prepare your Ingredients. Begin by cutting the butternut squash into ½ inch cubes, and finely chop the onion. Having your ingredients ready makes the process smoother. You can also add a slow cooker liner to your crockpot or spray your slow cooker with cooking spray to prevent sticking.
Combine in the Crockpot: In your slow cooker, add the diced butternut squash, brown rice, chopped onion, and grated parmesan cheese. Pour in the broth (or water and bullion), and season with a pinch of salt and a dash of pepper according to your taste preferences.
Note: if using dairy-free parmesan or nutritional yeast instead of traditional parmesan, save this until after cooking.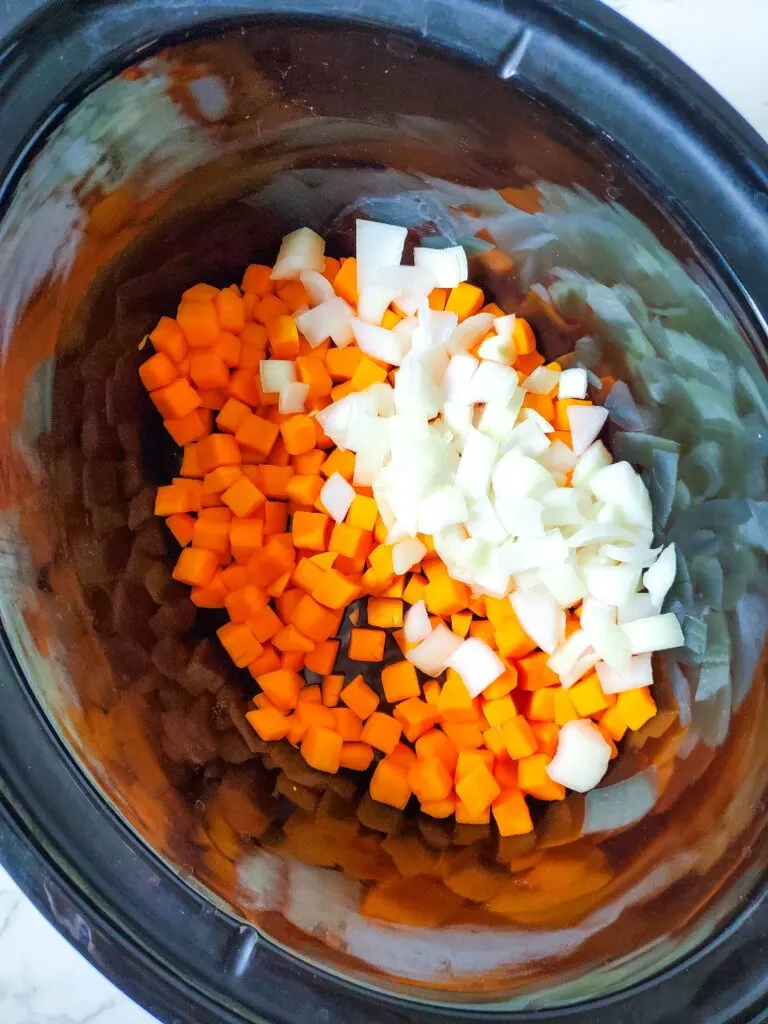 Set and Forget: Cover your slow cooker and set it to cook on high for about 2.5 hours. At the halfway point (around 1 hour and 15 minutes in), give everything a good stir. This helps ensure even cooking and creaminess.
Check for Doneness: After 2.5 hours, check if the brown rice is tender. If it's not quite there yet, you can cook for an additional 30 minutes, keeping an eye on it. The exact cooking time can vary depending on your slow cooker, so a little extra time might be needed. Additionally, if it seems a little dry, feel free to add more broth as needed.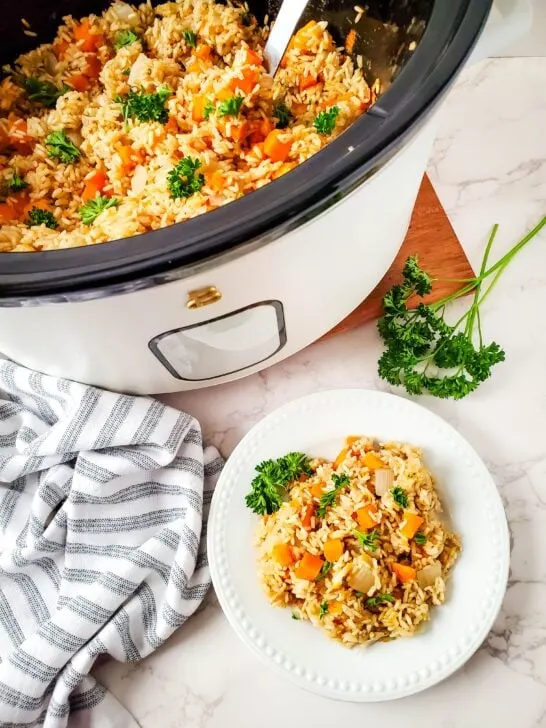 Garnish and Serve: Once the brown rice is tender and the butternut squash is creamy, it's time to serve. Garnish your delectable risotto with freshly chopped parsley for a burst of color and flavor. You can also add more parmesan or salt and pepper as desired.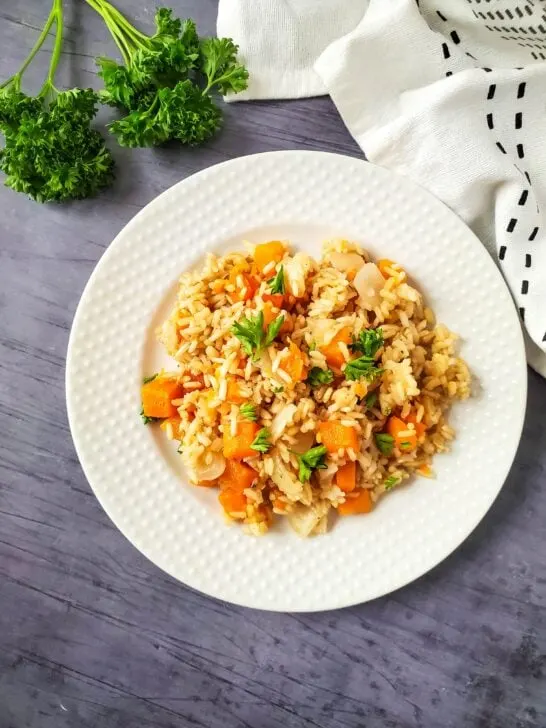 Making a Butternut Squash Risotto made with brown rice in the slow cooker is a nutritious and delicious way to reap the benefits of the fiber-rich vegetable while still having the comfort of a slow-cooked classic recipe. This gluten-free version is simple to make and requires minimal ingredients or preparation time. It can be served as an entrée or a side dish, for an effortless and nutritious meal.
What's they key to loving your gluten free life? Take this quick quiz to get a personalized plan with the guide you need to thrive!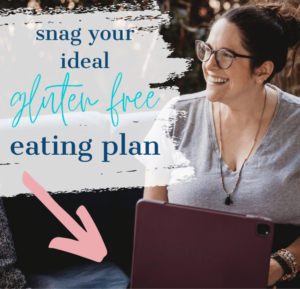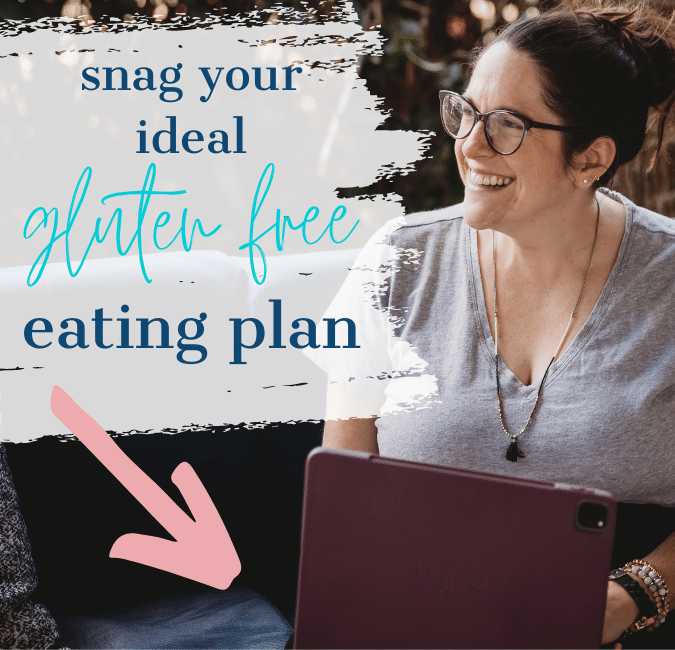 What goes well with butternut squash risotto?
If you're wondering what protein goes well with butternut squash risotto to make it a full meal, pair the risotto with some quick and healthy recipes like baked fish, chicken or pork to add a touch of protein. To round out the dish, serve it alongside steamed broccoli or a fresh salad.
Alternatively, you can make your butternut squash risotto as the main attraction of the dish. In this case, the risotto will be perfect paired with a side salad or roasted green vegetable.
Did you love this brown rice butternut squash risotto recipe?
Then be sure to share this creamy dish on social media, pin it to your gluten free crockpot recipes board, or flip it to Flipboard using the social sharing buttons!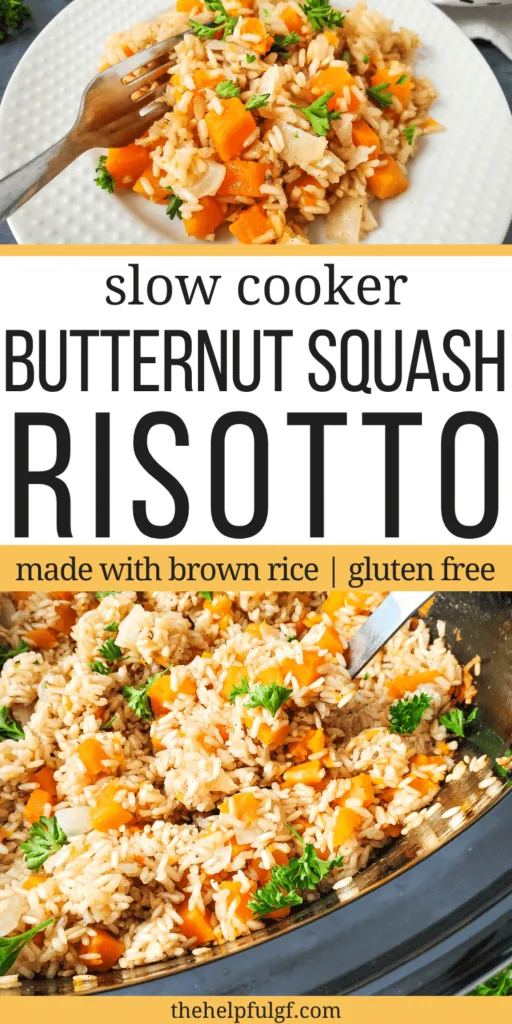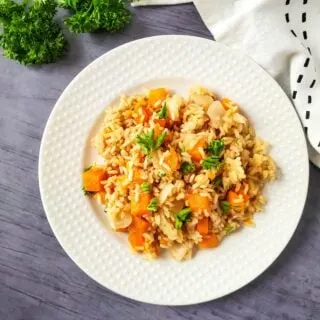 Slow Cooker Butternut Squash Risotto – Gluten Free
With this easy-to-follow recipe, you'll soon be serving up a creamy and nutritious slow cooker butternut squash risotto made with brown rice.
Equipment
1 slow cooker

1 knife

1 cutting board

1 set of measuring cups and spoons
Ingredients
3

cups

butternut squash

1/2 in cubes

1

cup

short-grain brown rice

3

cups

broth

vegetable or chicken

1/4

cup

parmesan cheese

grated

1/2

yellow onion

diced

salt and pepper

to taste

fresh shopped parsley

for garnish
Instructions
Cut the squash into ½ inch cubes, and chop the onion.

Add the squash, rice, onion, and parmesan to the crockpot, then pour into the broth, and season with salt and pepper.

Cover and let cook on high for 2.5 hours, stirring at the halfway point. If rice is not tender enough, cook for an additional 30 minutes. Add extra broth if needed.

Garnish with chopped parsley to serve.
Notes
note: nutrition information is provided as a courtesy, but may not accurately reflect the final nutrition composition of your final dish depending on ingredients, substitutions, and serving size.
see the full blog post above post for:
ingredient and equipment suggestions & substitutions,
tips for modifying the recipe, and
frequently asked questions
Other gluten free slow cooker recipes you'll love: