This post reviews California Baby's collection of products, the company itself, and the product's ingredients so you can be totally informed! You can use this table of contents to quickly navigate to your California Baby review questions or to see individual product reviews.
---
Are you new here? I also have the following posts to help you live gluten-free without the stress!
…get valuable support from me, and gluten-free peers, in my EXCLUSIVE Facebook community "Stress-Free Gluten-Free" by clicking here!
---
The gluten-free guide below is based on personal experience and research. Always be sure to discuss any medical changes with your doctor for your personal medical needs. I received products free of charge from California Baby, and after receiving products I chose to write this full review and all opinions expressed are my own.
Additionally, this post contains affiliate links. As an Amazon Associate I earn from qualifying purchases. My full disclosure isn't that interesting, but you can find it here.
Ready to take back control of your meals and love your gluten free life? Take the 45 second quiz to get a personalized plan with the guide you need to thrive!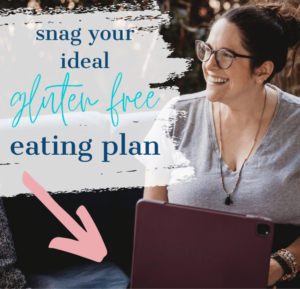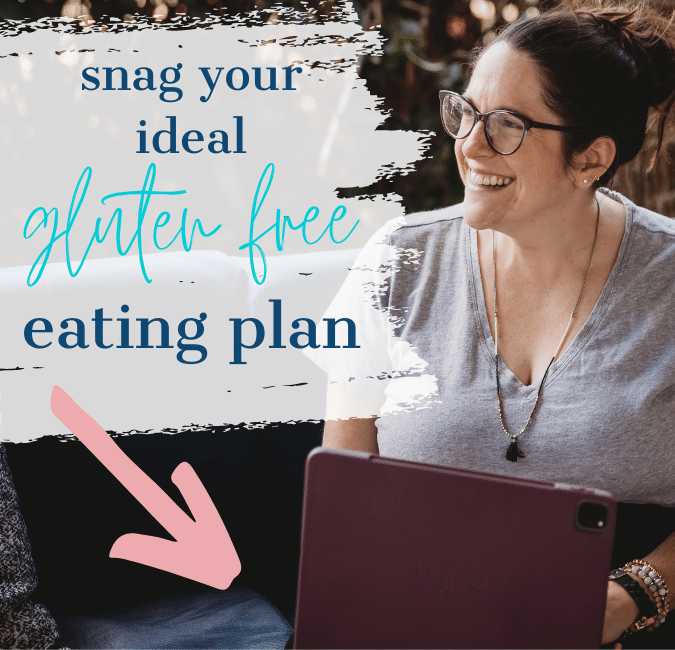 Is California Baby Gluten-Free?
Yes! California Baby is gluten-free—but California Baby is also a line of clean, gentle skin care that is vegan, gluten-free, soy-free, and dairy-free.
Do I need gluten-free skin care?
Whether or not you choose to use gluten-free personal care products is a personal choice.
Celiac Disease is only shown to cause internal inflammation when gluten is ingested, although a subset of those with Celiac Disease have dermatitis herpetiformis which is a skin reaction. Additionally, if you have a true wheat allergy, it's important to reduce any exposure to wheat.
Personally, we choose to try to limit bringing gluten-containing products into the house to reduce the risk of accidental ingestion.
Learn more about gluten in skin care, what ingredients it hides in, and whether you should consider avoiding it in this post.
More About the Company
They do not test on animals, nor do their products contain harsh chemicals like synthetic fragrances. Instead, their products contain organic calendula (which they grow themselves) and other soothing ingredients like aloe vera.
Furthermore, they are an FDA registered facility, USDA organic, and a women owned business.
In addition to baby care, California Baby also produces products for kids and animals (your fur babies!)
I tried a number of these products on myself, my kids, and my pup to test them and see what we thought.
California Baby uses Clean ingredients and is gluten-free and vegan—but does it work?
Keep reading for my full, in-depth review of the products I tried out!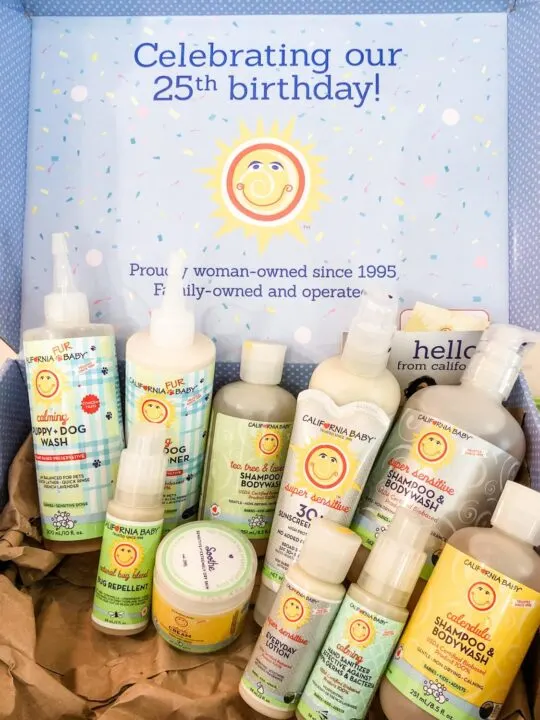 Overall Review of California Baby Products
Pros
First off, despite not containing synthetic ingredients, these products smell good! The fragrance free products actually have no scent! The products that are scented are scented with essential oils (no synthetic fragrances), and do have a very strong smell (albeit natural). This smell may be overpowering for some people, but I found it to not be.
The products did not irritate our family's skin.
The products actually bubble up so it makes it easy for my kids to see where they've already washed (which some clean products do not bubble well)
I'm a big fan of companies who go above and beyond to create products in an ethical way with as minimal environmental impact as possible. So this is a definite plus!
Cons
As mentioned, some people may find some of the scented products a bit overpowering (although I personally didn't)
The only other con is that the products are a bit pricey. While they are pricier than some drugstore options, they are not pricier than other clean beauty products that are allergen free and are cruelty free; plus have all of the other environmental benefits (such as being certified organic and using solar energy).
Now, let's break down each of these products so you can determine if you want to try them for yourself!
Calming Hand Sanitizer
Personally, I love that this is a hand sanitizer spray. This keeps my kids from squirting too much and making a mess—just 2-3 sprays and their hands are set.
This product is not sticky or super drying like some of the alcohol sprays I've tried.
The scent is strong, but not that overpowering artificial smell.
Click here to explore California Baby Hand Sanitizer in various scents.
Shampoo + Body Wash
They produce a variety of different shampoos and body washes for babies and kids (and adults too!)
The super sensitive shampoo & bodywash is completely fragrance free. I know in other brands "fragrance free" sometimes means that there's a weird smell that isn't masked by fragrance, but this literally has no scent. My oldest daughter has very sensitive skin, and this product works really well on her skin without irritation.
If using in long hair, be sure to follow it up with conditioner as this doesn't contain conditioner as well.
See the super sensitive shampoo and bodywash + more reviews by clicking here.
While all of California Baby shampoos and body washes contain calendula as an ingredient, the calendula shampoo & body wash also contains lavender and clary sage essential oil.
This one is tear free and free of sulfates just like the other shampoos and body washes.
Learn more about calendula shampoo & body wash and read more reviews here.
The tea tree & lavender shampoo & bodywash is also gentle and nondrying. You can totally tell this has real tea tree in it as it tingles a bit when you use it (in a good way!) I often add a few drops of tea tree oil to my kids' shampoo to prevent any, *ehm* infestations. 😉 so I do love that this already has tea tree.
My kids are older, so I couldn't personally try this, many reviews claim it has helped tremendously their babies' cradle cap.
Find tea tree & lavender shampoo and body wash, and read more reviews, here.
Calming Everyday Lotion
This lotion is lightly scented with lavender (not as strong of a scent as the bodywashes) and is a pretty light lotion. It's not greasy, and leaves a really soft feeling on your skin.
I personally think it's a really nice lotion.
If you want something unscented they also make a super sensitive everyday lotion which has the same feel and moisturizing effect as the calming everyday lotion but is totally unscented.
Check out the calming everyday lotion here.
Calendula Cream
The calendula cream is thick and creamy with a very light scent resembling the calming everyday lotion. I've been using this on my older daughter's inner elbows and backs of knees where she often gets eczema flair ups—and a little bit goes a LONG way.
Although the container is small, it's going to last a long time!
Super Sensitive 30+ Sunscreen Lotion
This sunscreen is a nice, clean sunscreen that's water resistant (up to 80 minutes) and doesn't have any scent. It's not sticky when applied, rubs right in, and works really well.
I really like this product and perhaps the only downside is that they do not make it in a higher spf. So for my family it's good for everyday use, but not for days at the pool or trips to the beach where we will be in the sun for many hours (we're too pale for that!)
You can also get this super sensitive sunscreen in stick form as well if that's something you like better.
Find the super sensitive sunscreen by clicking here.
Natural Bug Blend Bug Repellent
This bug spray (it is a spray bottle) contains citronella and lemongrass essential oils to repel bugs and flies. It smells way better than most bug repellents, and this product does not contain DEET.
I tried the travel size, and despite the small size, it actually lasts for a while since it doesn't over spray (like aerosol sprays).
The only downside to this (in my opinion) is that it doesn't last super long—the directions state to use every 2-3 hours. So, you'll definitely want to bring it along when you're outside.
It works well at preventing bug bites (as well as other bug sprays I've tried—both natural and chemical) and smells way better than most!
Check out the full sized bug repellent by clicking here and you can see the travel sized by clicking here.
Calming Puppy + Dog Wash and Conditioner
I really like the California Fur Baby Calming Puppy + Dog Wash and Conditioner smell really nice and work really well!
Our puppy is super furry (she's an Aussie) and looooves digging holes, and it helps us remove the caked on mud. In addition, the conditioner keeps her fur really soft.
We haven't noticed any skin irritation or reactions, so these products are winners in our book!
Do I Recommend California Baby Products?
As stated in my overall impression, I do think these products are really nice! I'll definitely keep buying the bug repellent, sunscreen, calendula cream, and puppy products.
I don't currently have their kids' conditioner, but I'm going to purchase that soon to pair with the bodywash and shampoo products that I have.
Have you tried any of these California Baby review products? Comment below and let us know what you think!
Other Gluten-Free Reviews You will Love:
A Gluten-Free Review of California Baby Skin Care Products