When I first discovered how common gluten is in makeup and cosmetics, I had a really difficult time sorting through all the products on the market to find items that I could trust would be gluten-free.
Keep reading for the reasons why someone should switch to gluten free makeup (including if Celiacs need gluten-free cosmetics and makeup products), what it means for makeup to be 'clean,' and even BIG list of gluten-free makeup brands that are clean.
Plus, where to buy these gluten-free cosmetic brands.
Or use the Table of Contents below to navigate to a specific area in this post.
---
Are you new here? I also have the following posts to help you live gluten-free without the stress!
…and of course, you should join my EXCLUSIVE Facebook community "Stress-Free Gluten-Free" by clicking here!
---
The gluten-free guide below is based on personal experience and research. Always be sure to discuss any medical changes with your doctor for your personal medical needs. Additionally, this post contains affiliate links. As an Amazon Associate I earn from qualifying purchases. My full disclosure isn't that interesting, but you can find it here.
Why Gluten-Free Makeup?
Whether or not you need gluten-free makeup depends on your initial reason for going gluten-free.
Are you gluten-free due to allergies, Celiac Disease, a sensitivity, an intolerance?
While many people have a topical or skin reaction to gluten (due to eczema, an allergy, or dermatitis herpetiformis), others only have a reaction to gluten when it is ingested.
However, even if you do not react topically to gluten but do have a reaction to gluten ingestion, you may want to seriously consider switching all of your makeup, cosmetics, and personal care items to gluten-free due to the risk of accidental ingestion.
It's intuitive that makeup items like lipstick could easily be ingested (albeit in small amounts), but other makeup can be ingested through sweating or not washing your hands after applying.
In my personal opinion, if you have Celiac Disease, you should seriously consider switching all your cosmetics and personal care items to gluten-free.
Ready to take back control of your meals and love your gluten free life? Take the 45 second quiz to get a personalized plan with the guide you need to thrive!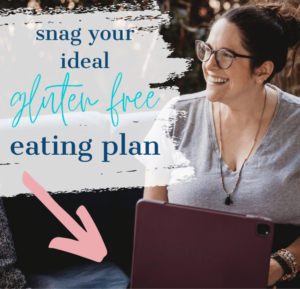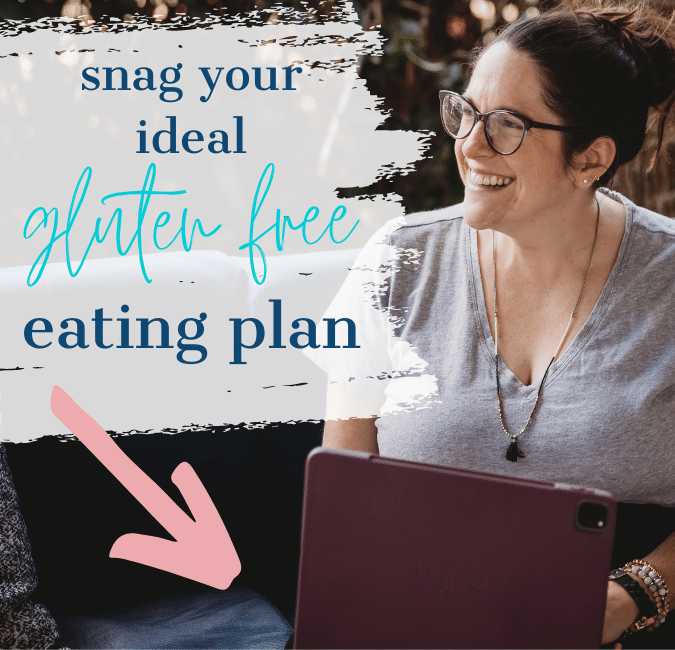 Why Clean Makeup?
In addition to causing skin irritation, many common cosmetic ingredients are carcinogenic, endocrine disruptors, and even are shown to cause cancer.
Your skin is an organ and absorbs the personal care and makeup products you use and some of these toxic components can enter your bloodstream.
While Europe has banned over 1,000 ingredients from cosmetics, the United States has only banned 11.
In addition to wanting my makeup to be free to toxins, I also look for my makeup to be cruelty-free (not tested on animals) and vegan (not containing any animal by-products).
Note: If you want to know more about Clean Beauty, I highly recommend my friend Jenny's website.
Keep reading for my favorite gluten-free makeup brands (that are clean as well!)
Arbonne
What is Arbonne? Arbonne is my absolute favorite gluten-free cosmetics company (and they also have a great line of nutrition products).
All Arbonne products are botanically based, vegan-formulated, formulated without gluten (including many that are certified gluten-free), dermatologist-tested, allergy-tested, clinically tested, and cruelty-free.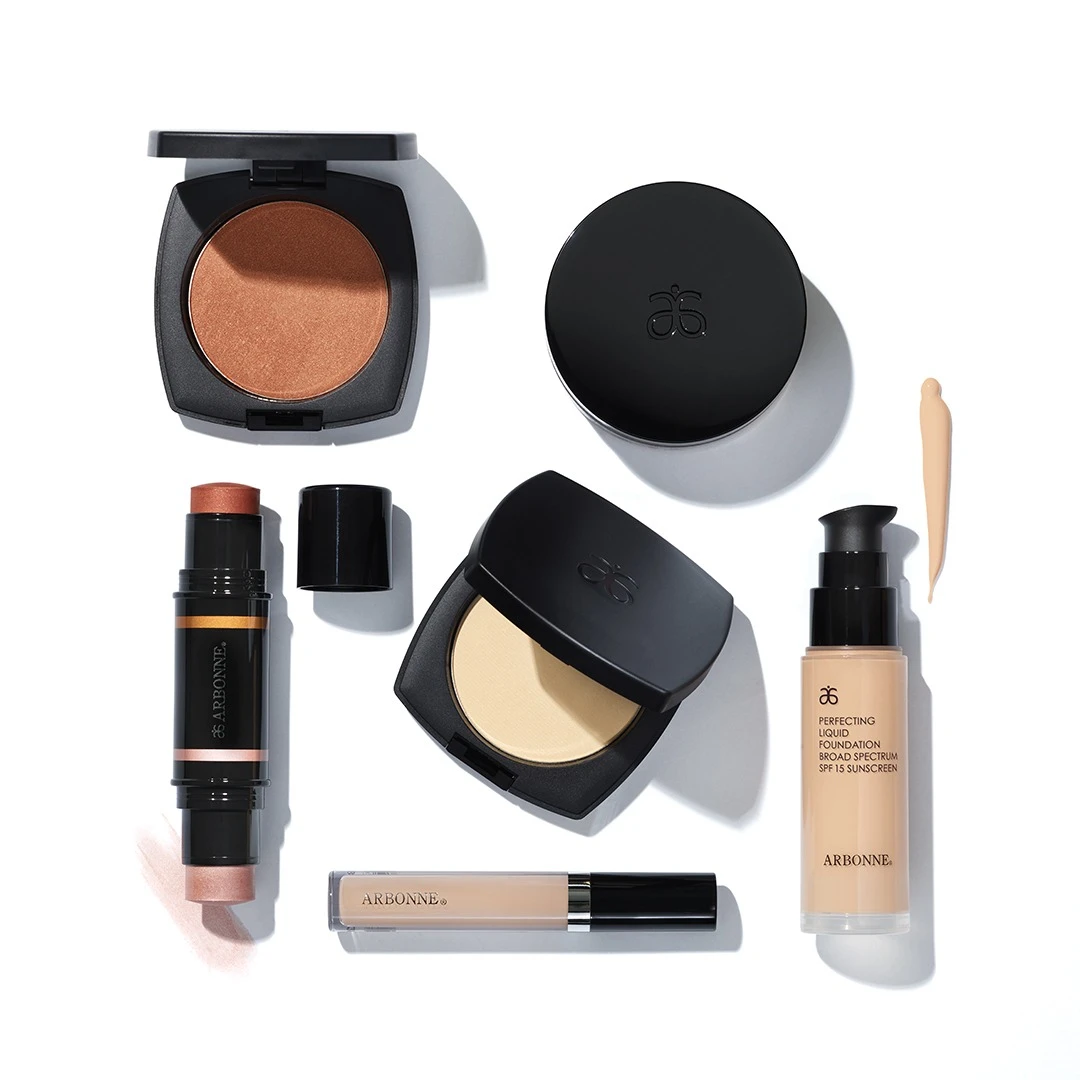 I seriously love every Arbonne makeup product I've used, and the products last a really long time.
Some of Arbonne's most popular makeup choices (that I personally use as well) are the Arbonne mascara, Arbonne foundations (both liquid and powder), and Arbonne CC cream.
Where to buy Arbonne:
Arbonne Cosmetics are only available through their website: Click here to shop Arbonne Makeup.
*Arbonne is a direct sales company, however I am not a consultant nor I do not personally benefit from any sales
W3ll People
W3ll People is a great vegan and cruelty free brand that are also gluten-free.
All W3ll People cosmetics are formulated without dyes, fillers, fragrance, propylene glycol, petrochemicals, petroleum by-products, or sulphates.
W3ll People has received awards from Elle, InStyle, and Vogue and has been verified by the Environmental Working Group (EWG).
Some of W3ll People's most popular items are the W3ll People mascara, W3ll People bio tint, W3ll People concealer, and W3ll People foundation.
W3ll People is sold on both Amazon and Thrive Market. Click through to cost compare:
Shop W3ll People on Amazon here.
or shop W3ll People on Thrive Market here.
Juice Beauty
Juice Beauty is another clean beauty brand that has an excellent cult following.
According to Juice Beauty's website, all cosmetics are manufactured without gluten but manufacturing plants may also process gluten-containing products, so if you have Celiac Disease, DH, or an allergy, it may not be worth the risk.
Some of Juice Beauty's most popular items are the Juice Beauty foundation, Juice Beauty CC Cream, and Juice Beauty Mascara.
Where to buy Juice Beauty: Shop Juice Beauty on Amazon here.
Gabriel Cosmetics
Gabriel Cosmetics are not only organic, gluten-free, cruelty free, and vegan, but made with sea minerals.
This company has a full line of cosmetics (including clean nail polish) as well as skin care for men and children.
Some of Gabriel Cosmetics' most popular makeup products are Gabriel Cosmetics foundation and Gabriel cosmetics lipstick.
Where to buy Gabriel Cosmetics:
Shop Gabriel Cosmetics on Amazon here.
Mineral Fusion
Mineral Fusion produces mineral based cosmetics that are make up plus help to nourish your skin. Their items are hypoallergenic, clean, cruelty free, and vegan as well as gluten-free.
All Mineral Fusion cosmetics are made in the USA and have been verified by the Environmental Working Group (EWG).
Some of Mineral Fusion's most popular cosmetics are the Mineral Fusion foundation and Mineral Fusion nail polish (and nail polish remover).
Where to buy Mineral Fusion makeup:
Mineral Fusion products are sold at both Amazon and Thrive Market. Click through the links below to cost compare:
Shop Mineral Fusion at Amazon here.
Shop Mineral Fusion at Thrive Market here.
Mirabella Beauty
Mirabella is a professional cosmetics company originally created for salons, but now is also available to purchase directly! Their makeup formula is not only gluten-free but also paraben-free, tested to be lead free, and talc-free. Additionally, it's infused with antioxidants, vitamins, and minerals.
You can read more about Mirabella Beauty's commitment to gluten free products here.
I'm personally a big fan of Mirabella's lipstick and their sugar lip scrub for makeup prep.
If you're wondering where you can buy Mirabella makeup, you can get it from a distributor or even straight from Amazon here.
As a note: if you're looking for a clean skin care brand for babies and kids, I highly recommend California Baby. Their products are clean, ethical, and gluten-free and perfect for kids and babies with sensitive skin. Check out my full review here.
Have you tried any of the clean beauty products above? Comment below and tell us your favorites!
Also, this is not a complete and exhaustive list, so if you have a gluten-free clean beauty brand you LOVE that I left off the list, please comment below and share it with us!
What's they key to loving your gluten free life? Take this quick quiz to get a personalized plan with the guide you need to thrive!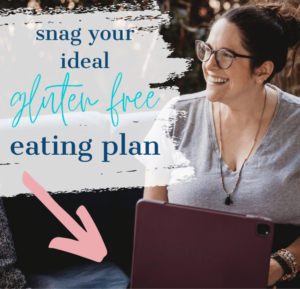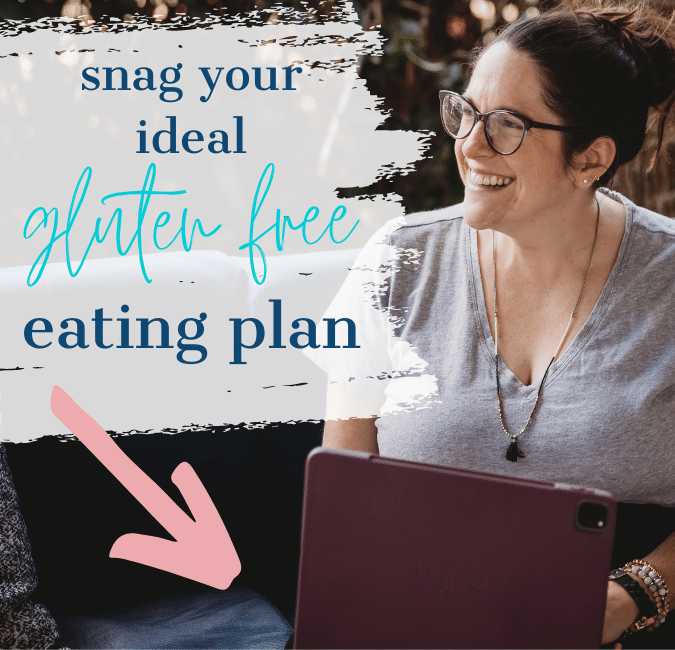 Here are some more posts that you will LOVE: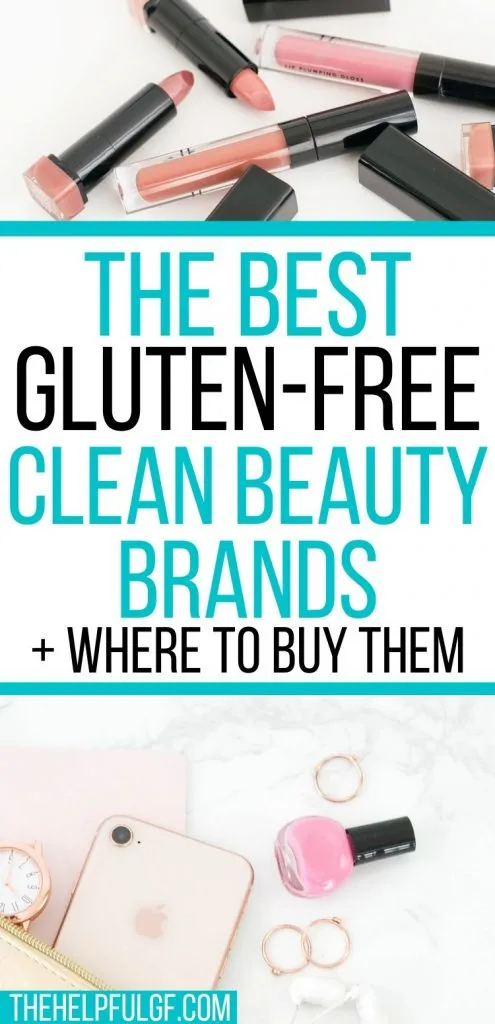 Best Gluten-Free & Vegan Clean Beauty Brands