Once fall comes my mindset instantly goes "pumpkin!" and these gluten free pumpkin dinner rolls really fit this craving. (honestly though, who am I kidding… I eat pumpkin all year around!
This easy low carb pumpkin recipe is savory, hearty, and flavorful making it the perfect addition to a holiday meal.
Keep reading for step by step directions and tips, or use the jump to recipe button below to go straight to the printable recipe.
---
Are you new here? I also have the following posts to help you live gluten-free without the stress!
…get valuable support from me, and gluten-free peers, in my EXCLUSIVE Facebook community "Stress-Free Gluten-Free" by clicking here!
---
The gluten-free guide below is based on personal experience and research. Always be sure to discuss any medical changes with your doctor for your personal medical needs. Additionally, this post contains affiliate links. As an Amazon Associate I earn from qualifying purchases. My full disclosure isn't that interesting, but you can find it here.
Ready to take back control of your meals and love your gluten free life? Take the 45 second quiz to get a personalized plan with the guide you need to thrive!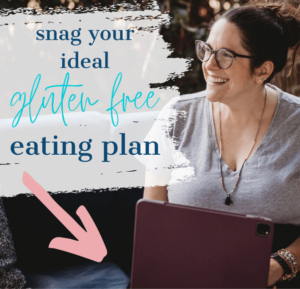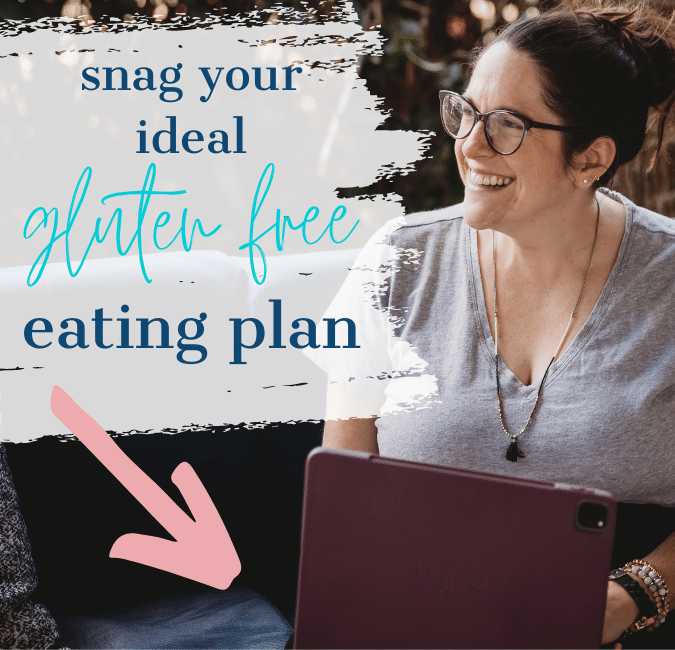 Why you'll love this recipe for pumpkin dinner rolls
This recipe is a hearty gluten free dinner roll with the delicious taste of pumpkin
Made with almond flour, this recipe won't give you a sugar spike and is high in vitamins and minerals
This is a pumpkin dinner roll recipe with no yeast, making it so simple to throw together without lots of advance planning
It's a great recipe for any time really, but also perfect for the holidays!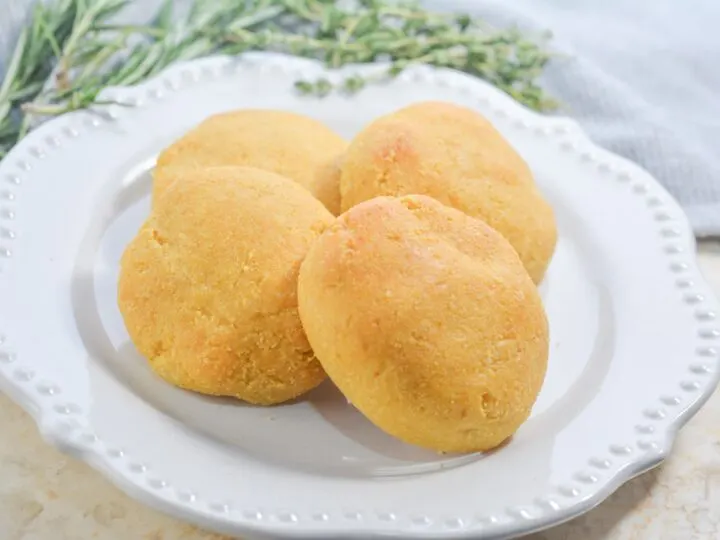 Ingredients you'll need for this low carb pumpkin dinner roll recipe
It only takes a few ingredients to make these keto pumpkin rolls–some which you likely already have on hand!
You should be able to find most of these ingredients at your local grocery store (use the instacart button in the recipe card to add them to your grocery delivery easily), but you can also find great deals on some of the specialty ingredients like almond flour online through Thrive Market.
Learn more about why I love Thrive Market here, or you can snag a promotional link to receive up to 25% off your first order plus a free gift by clicking here!
To make these gluten free pumpkin buns you'll need:
Almond flour
Mozzarella cheese
Pumpkin puree (not pumpkin pie filling)
Cream cheese
Xanthan gum
Baking powder
Garlic powder
Rosemary
Thyme
Salt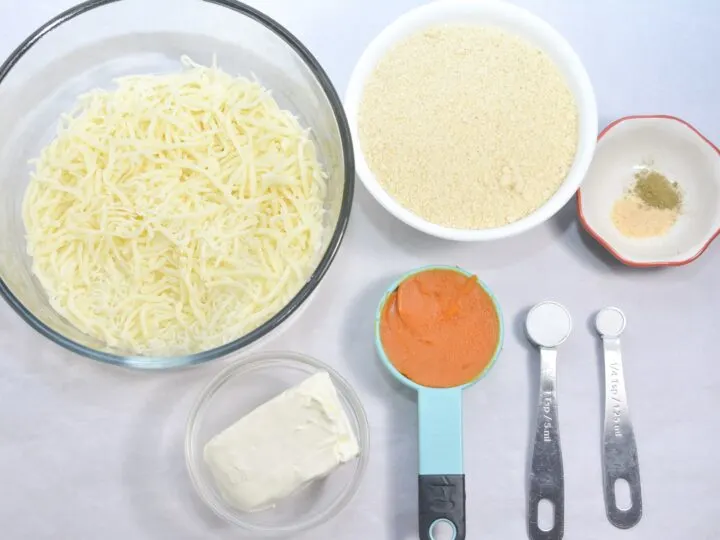 Note: while cheese is naturally gluten free, some cheeses contain fillers or added flavorings that aren't gluten free. Learn more about gluten free cheese in this guide I created.
I also have another guide all about gluten free baking powder here with brand recommendations.
My favorite gluten free almond flour
I love the fine ground gluten free almond flour by Anthony's Goods. It's blanched and helps create a fluffier texture than some of the denser almond meals (which you do not want to use for this recipe!)
This brand is also really affordable certified gluten free almond flour compared to a lot of grocery store prices I've seen.
You can buy it on Amazon for a really great price here.
How to make this gluten free pumpkin bread roll recipe
This recipe for pumpkin dinner rolls is easier than you might think!
First you need to prepare by preheating your oven and lining a baking sheet with parchment. I prefer parchment when doing gluten free baking over using a spray as this recipe already contains a good deal of fat, and adding spray may create an undesirable texture on the bottom of the rolls.
In a microwave safe bowl, add the shredded mozzarella and the cream cheese. Microwave it in 30 second intervals stirring between each interval. Continue until the cheeses are smooth when stirring.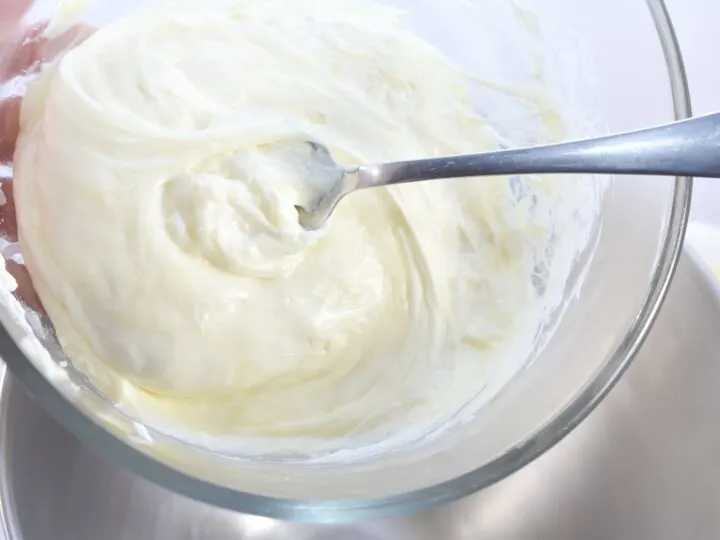 Add the rest of the ingredients and beat in a stand mixer until it is a uniform dough (this will take a while, and will be difficult to do by hand)
Once everything is well combined, wet your hands and form the dough into 9 even balls, shaping into a roll shape. (wetting your hands helps you form a nice ball of dough and keeps the dough from sticking to your hands)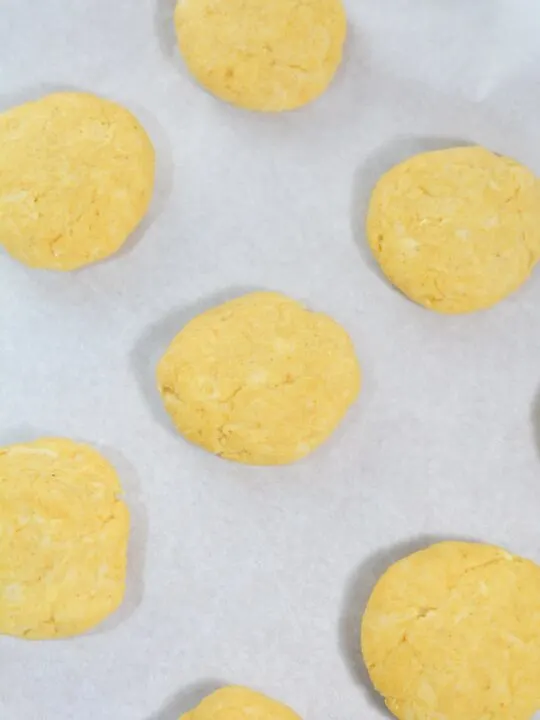 Place on the parchment lined baking sheet and bake until done! Serve warm.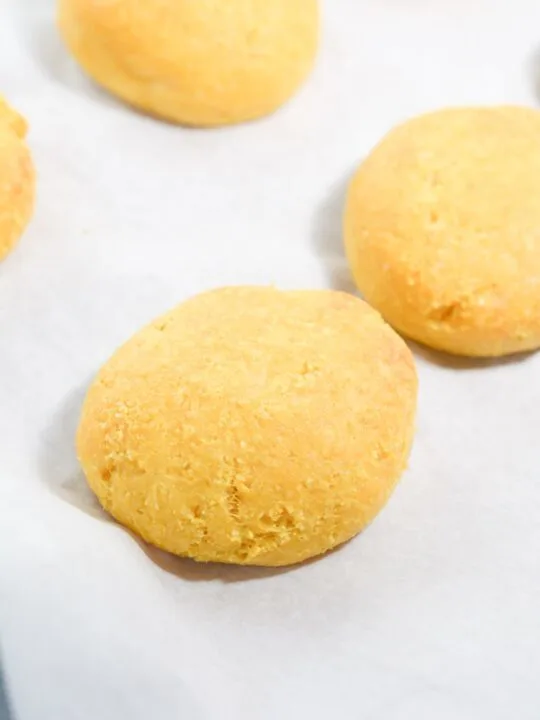 Frequently asked questions about almond flour pumpkin rolls
What do I eat with these gluten free rolls?
If you are eating low carb, just stick with butter, and maybe a sprinkle of cinnamon!
Otherwise, these would taste great with some apple butter or jam, cinnamon sugar mix, or even some honey.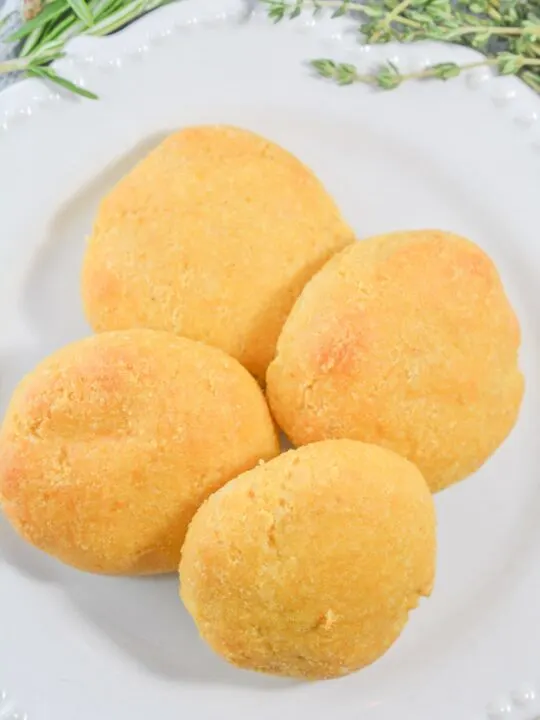 These make a delicious side dish to a holiday meal! They would also pair well with a savory honeynut squash recipe.
How to store homemade almond flour rolls last?
While these rolls definitely taste better fresh with your holiday meal, you can store them for a few days in an airtight container in the fridge. They may dry out a bit, but you can always reheat them wrapped in a damp towel.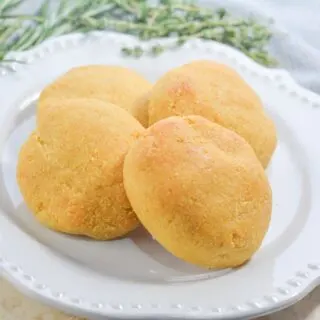 Gluten Free Pumpkin Dinner Rolls
This recipe for hearty gluten free pumpkin dinner rolls is a simple and easy recipe that has all the autumn and holiday flavors you love in a savory bread roll.
Equipment
1 stand mixer

1 baking tray

parchment paper
Ingredients
1 1/2

cup

almond flour

2

cups

shredded mozzarella cheese

1/4

cup

pumpkin puree

3

oz

cream cheese

1/4

tsp

xanthan gum

1

tsp

baking powder

1/4

tsp

garlic powder

1/4

tsp

rosemary

1/4

tsp

thyme

pinch

salt
Instructions
Preheat the oven to 350 degrees F and line a baking sheet with parchment paper.

Add the cream cheese and shredded mozzarella into a microwave safe bowl. Heat for 30 second intervals, stirring between, until mixture is uniform and smooth

Add the cheese mixture and the rest of the ingredients into the mixing bowl of a stand mixer and beat until well combined.

Wet your hands and form the dough into 9 even sized balls, shaping into dinner rolls. Place the rolls onto your parchment lined baking sheet.

Bake for 23-26 minutes, until slightly golden and firm.
Notes
note: nutrition information is provided as a courtesy, but may not accurately reflect the final nutrition composition of your final dish depending on ingredients, substitutions, and serving size.
see the full blog post above post for:
ingredient and equipment suggestions & substitutions,
troubleshooting tips, and
frequently asked questions
Did you love this recipe for gluten free pumpkin dinner rolls?
If so, be sure to share it on your social media or pin it to Pinterest using the social sharing buttons below.
Be sure to check out some more gluten free almond flour baking recipes: