This post has all the tips you need to eat gluten free for the holidays and have the perfect gluten free Thanksgiving!
Eating gluten-free for the holidays can be tricky—especially if it's your first year being gluten-free due to Celiac or gluten intolerance. But don't worry! I have the tips and the holiday essentials you need to make prepping your first gluten-free Thanksgiving easy and stress-free!
---
Are you new here? I also have the following posts to help you live gluten-free without the stress!
…get valuable support from me, and gluten-free peers, in my EXCLUSIVE Facebook community "Stress-Free Gluten-Free" by clicking here!
---
The gluten-free guide below is based on personal experience and research. Always be sure to discuss any medical changes with your doctor for your personal medical needs. Additionally, this post contains affiliate links. As an Amazon Associate I earn from qualifying purchases. My full disclosure isn't that interesting, but you can find it here.
Pieces of this content are reproduced, with permission, from Thrive Market.
How to Make a Gluten-Free Thanksgiving Meal
The first step in planning a gluten-free Thanksgiving meal is to plan the menu. To do this, be sure to think of all your favorite dishes—any dish has a gluten-free substitute or can be naturally made gluten-free!
While many traditional Thanksgiving foods can be made deliciously gluten-free from scratch, there are also so many shortcuts to having a great meal. Keep reading for the different elements of a traditional Thanksgiving menu, including the main course and the sides, and easy ways to make each part gluten-free.
The Main Course
Whatever you traditionally eat at Thanksgiving, whether it's turkey, eat ham, or a vegan main, there is definitely a delicious gluten-free option available that everyone—even non Celiacs will love!
Turkey. A fresh turkey is gluten-free (just watch out for added spices and flavorings). Simply season it yourself—try a blend of pepper, garlic, Italian seasoning, and paprika for a delicious rub! Click here for some of my favorite gluten-free seasoning brands.
By preparing this yourself, you can ensure If there is anything added to the turkey you want, simply contact the manufacturer to ensure that it meets your dietary needs.
Ham. Gluten in ham can be a bit trickier to detect since it is cured and seasoned (and some are already glazed) there is a possibility that it has gluten in it. That said, many brands, such as Boar's Head, do guarantee that their ham is gluten-free.
Pro Tip: Order your holiday meats from Thrive Market! It makes planning so much easier—Pederson's Natural Farms Hams are pre-cooked and Mary's Free-Range Turkey and Turkey Breasts are ready to be delivered to your door! Mary's Turkey Breast is perfect for a smaller holiday gathering—unless you want leftovers. Then cook the whole bird! Click here to get your Ham and Turkey delivered right to you!
Meatless. If you prefer a plant-based main, it can be tricky to find a premade one that is gluten-free. Try making your own lentil meat loaf or go untraditional and serve a gluten-free pasta dish!
Ready to take back control of your meals and love your gluten free life? Take the 45 second quiz to get a personalized plan with the guide you need to thrive!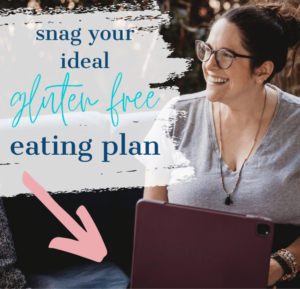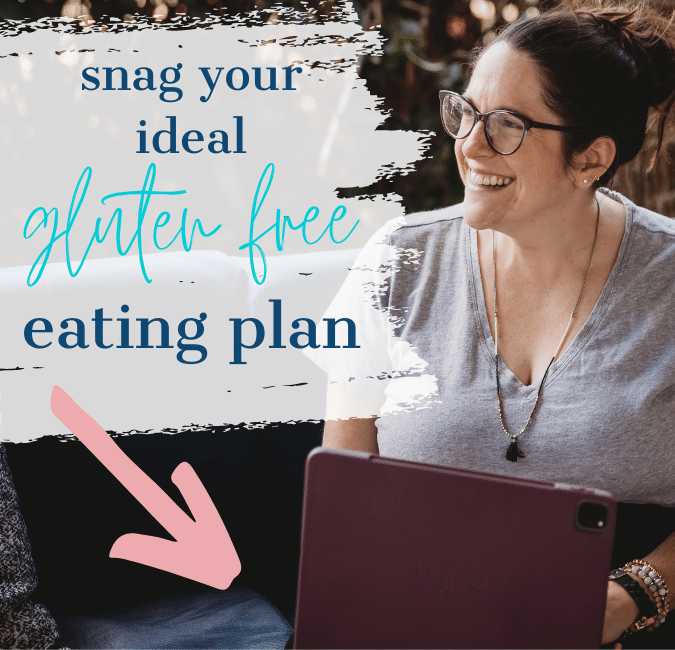 Stuffing
If stuffing is your favorite part of the meal—you can still have gluten-free stuffing! I promise.
You have a few options here: make your own from scratch, buy a box mix, or order premade gluten-free stuffing from a local gluten-free bakery.
Make your own gluten-free stuffing. If you have a traditional stuffing recipe you already love, dry your own gluten-free bread cubes from a loaf of gluten-free bread! My favorite brand of gluten-free bread that is hearty and won't simply crumble into dust is Canyon Bakehouse.
If you like cornbread stuffing you can make your own gluten-free cornbread from scratch or use a gluten-free box mix.
Or try a rice-based stuffing. Rice stuffing is delicious and is typically made gluten-free, naturally.
Use a gluten-free stuffing box mix. During the holidays, sometimes you can find a gluten-free stuffing mix at your favorite local store! If not, you can order one from Thrive Market here or Amazon here.
Order premade stuffing. If you have a gluten-free bakery nearby, give them a call! Many gluten-free bakeries or restaurants will sell either their own stuffing mix or even a premade pan as long as you place an order ahead of time! Not only is this a tasty option but supports your local gluten-free business.
Mashed Potatoes
Your traditional mashed potatoes should be fine as is! Just be sure that they are made with real potatoes, not a box (boxed potatoes often contain wheat), and that a new stick of butter was used to prevent gluten cross-contact.
Gravy
You can't really talk about the meat and potatoes without talking about gravy! Luckily, you can easily make your own gluten-free gravy from scratch, buy a gluten-free gravy mix, or buy premade gluten-free gravy!
Make your own gluten-free gravy. Use your traditional gravy recipe and either substitute gluten-free all-purpose flour or use corn starch. To use corn starch, use half the amount of corn starch as you would flour.
Gluten-free gravy mix. Luckily, there are a few trusty gluten-free gravy mixes available. You can try the McCormick brown gravy that's labeled gluten-free or this one specifically for turkey by Simply Organic. It's available both on Amazon here and Thrive Market.
Buy premade gluten-free gravy. Buy a jar or box of premade gluten-free gravy like this one.
Rolls
Just like stuffing, there are a few options for rolls. You can either make your own from scratch, buy a mix, buy frozen, or order some from a bakery!
Make your own gluten-free rolls. I love my recipe for savory pumpkin dinner rolls made with almond flour (pictured below).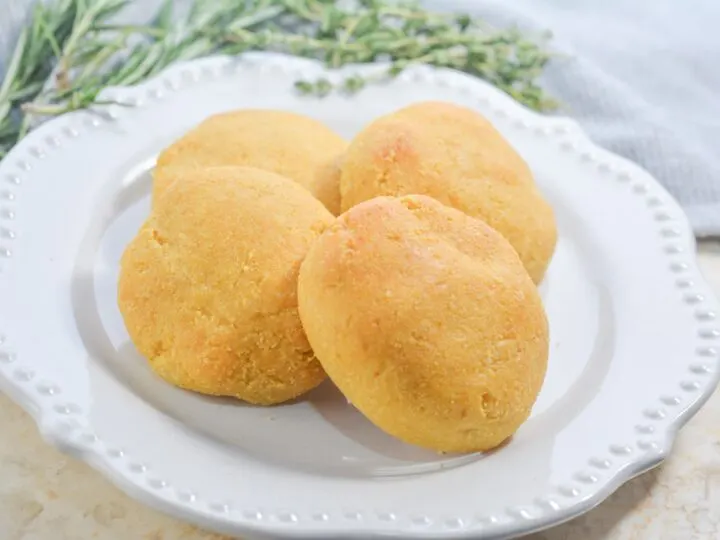 Gluten-free rolls mix. You can make your own gluten-free crescent rolls with this mix or make grain-free rolls using this mix (which is delicious by the way!)
Buy frozen gluten-free rolls. There are a few brands of frozen take-and-bake rolls available at your local stores, but my favorite brand is Against the Grain. Whole Foods also sells its own brand of premade gluten-free rolls.
Order from a bakery. Call your local gluten-free bakeries! Chances are, they'll sell you a bag of their scratch-made gluten-free rolls for your holiday event.
Pro tip: If you are serving both gluten-free and traditional gluten rolls at your holiday meal, be sure to have separate butter for both! We typically just give everyone who is gluten-free their own small dish of butter for their meal.
Sweet Potatoes
Just like mashed potatoes, your sweet potatoes or sweet potato casserole should be fine as is. If making sweet potato casserole, just be sure that your marshmallows and nuts are gluten-free. Many nuts are processed in a factory that also processed wheat so there is a risk of cross-contact. Read the nutritional label to be sure.
Cranberry Sauce
As traditionally made, cranberry sauce should be naturally gluten-free. I've also never seen a canned sauce that contains gluten—but always read the label just in case!
What's they key to loving your gluten free life? Take this quick quiz to get a personalized plan with the guide you need to thrive!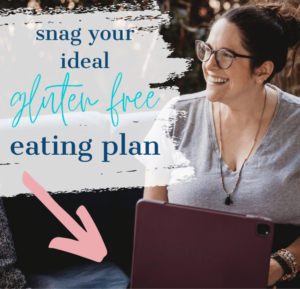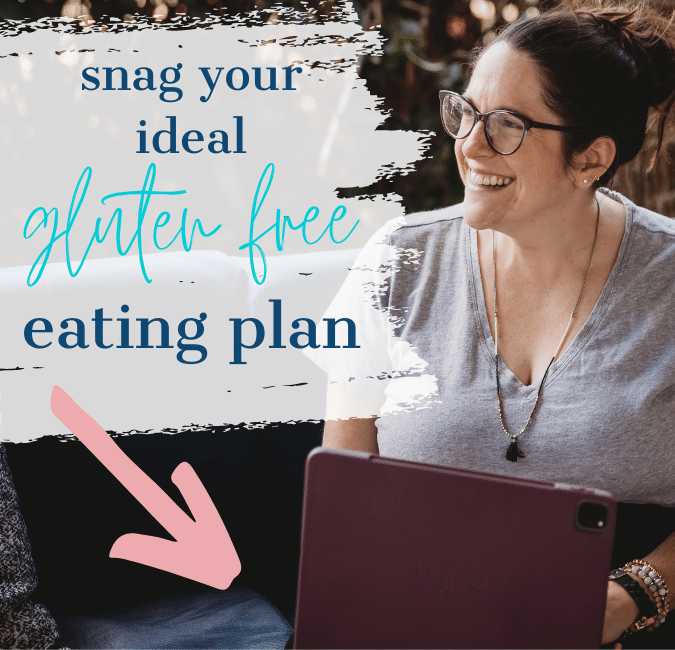 Creamed Corn
This homemade gluten free creamed corn recipe (pictured below) is so simple to make in a skillet, but absolutely delicious! It includes variations for sweet creamed corn or creamed corn with a kick of spice.
Green Bean Casserole
Green bean casserole can easily be made gluten-free with the right substitutions! Get a gluten-free cream of mushroom soup such as this one by Pacific Foods that's available at Amazon in your Whole Foods order.
See my full guide to gluten free cream of mushroom soup substitutes here (including some gluten free and vegan options too!)
You can also buy gluten-free fried onions for the topping at Amazon although you might also find them at your local store seasonally.
Pies and Dessert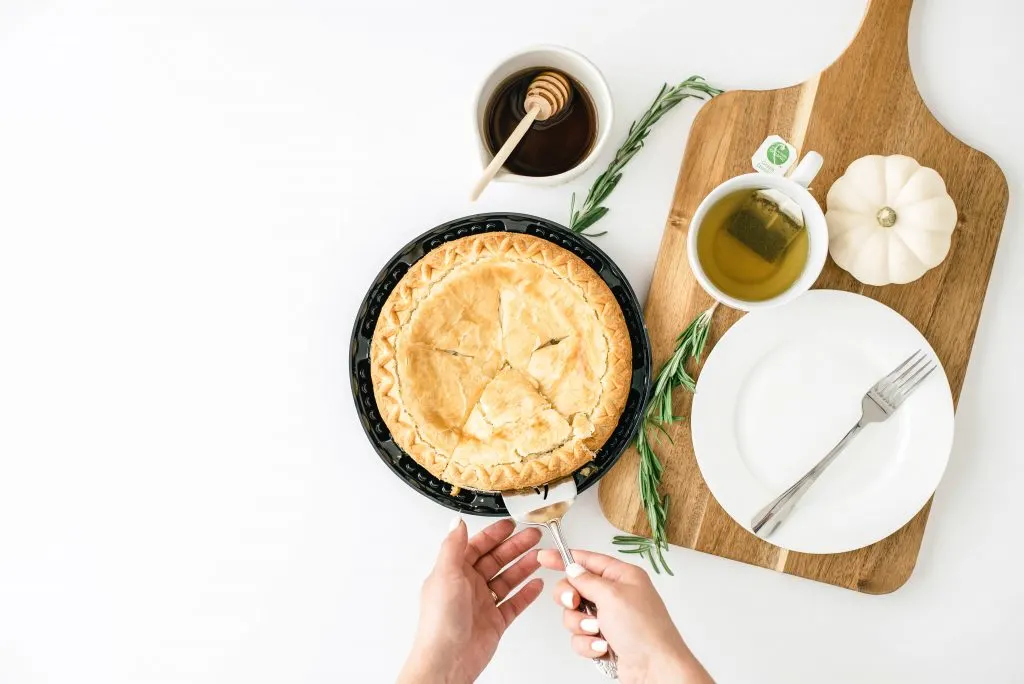 Just like the other options above, you can either make your own gluten-free dessert from scratch by modifying your favorite recipe or trying a new gluten-free recipe. You can also buy a box mix, a premade gluten-free dessert or pie crust, or order desserts from a local gluten-free bakery.
Make your own gluten-free dessert. There are so many great gluten-free recipes for desserts. Give one a try! Or modify a family favorite using the tips in this post.
Buy a gluten-free box mix. There are some delicious, boxed mixes for desserts! You can get a gluten-free pie crust mix, this amazing gluten-free and grain-free pumpkin bread mix on Amazon or at Thrive Market, or jazz up the Simple Mills gluten-free brownie mix by turning it into pumpkin brownie bites with this recipe!
Buy a pre-made gluten-free pie crust or dessert. These pre-made gluten-free pie crusts are the perfect base for your favorite pie filling! Some stores also sell gluten-free pies, cheesecakes, and cakes. Just check your freezer section, or add some frozen gluten-free pies to your Whole Foods order.
Order from your local gluten-free bakery. Again, if you have a delicious local gluten-free bakery, call and order your favorite dessert! Treat yo self!
Looking for other dessert ideas? Check out this mega list of gluten free Thanksgiving dessert recipes!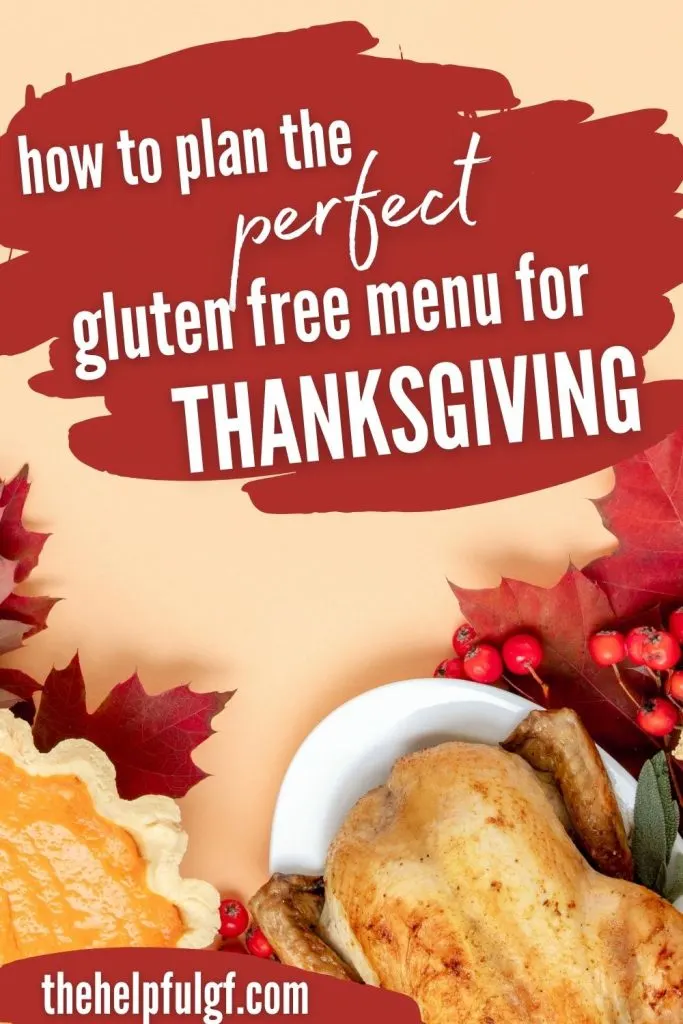 If these tips for planning a gluten-free Thanksgiving menu were helpful to you, please pin the post to Pinterest for later or share it with your friends using the social sharing buttons below!