Wegmans is a grocery store with over a hundred locations across the Northeast and Mid-Atlantic United States. But with gluten-free food now widely available at most grocery stores, how does Wegmans measure up?
This Wegmans gluten-free products list is one that should encourage you to literally take a trip to Wegmans JUST to stock up on some gluten-free greatness.
They not only have so many of the big gluten-free brands, but they also have their own Wegmans gluten free food items as well that you'll definitely love!
Keep reading to see some of my top gluten-free finds at Wegmans, or use the Table to Contents to jump to the section of your choice.
---
Are you new here? I also have the following posts to help you live gluten-free without the stress!
…get valuable support from me, and gluten-free peers, in my EXCLUSIVE Facebook community "Stress-Free Gluten-Free" by clicking here!
---
The gluten-free guide below is based on personal experience and research. Always be sure to discuss any medical changes with your doctor for your personal medical needs. Additionally, this post contains affiliate links. As an Amazon Associate I earn from qualifying purchases. My full disclosure isn't that interesting, but you can find it here.
Ready to take back control of your meals and love your gluten free life? Take the 45 second quiz to get a personalized plan with the guide you need to thrive!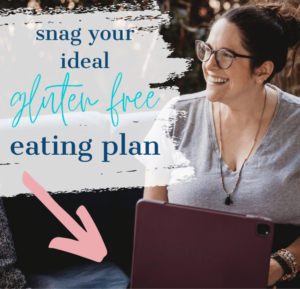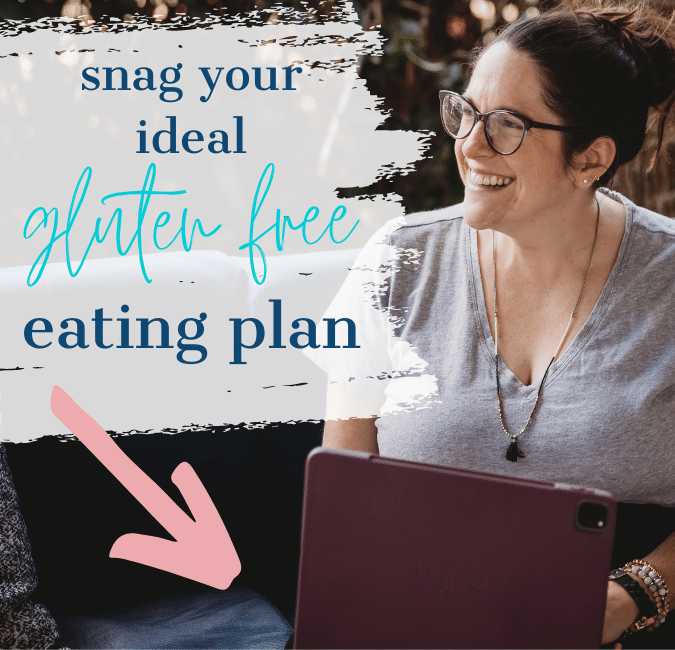 While Wegmans has a large produce section, I'm going to focus on packaged gluten-free products that you can easily find here!
This post is going to focus on refrigerated, pantry, and frozen picks.
Eden Organic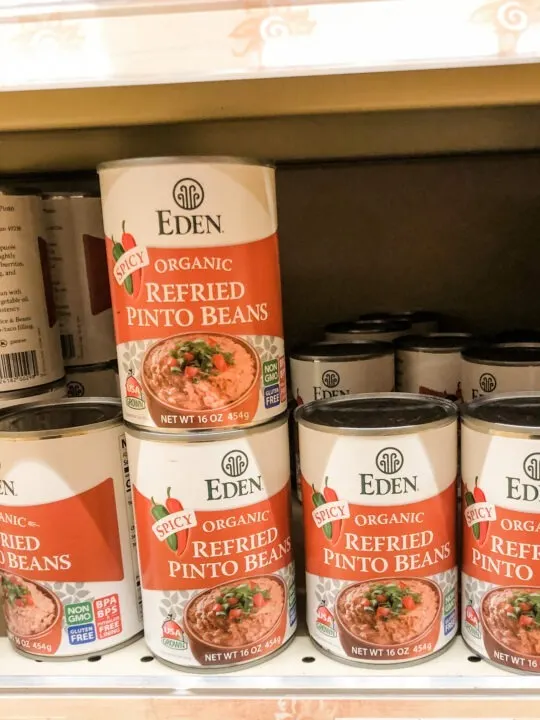 Eden Foods has a large line of gluten-free essentials such as canned beans, condiments, dry goods, and more. Beyond the organic certification and testing for the presence of gluten, Eden focuses on environmental impacts and follow LEED principles.
And you can find a few of their items regularly at Wegmans.
Can't make it to Wegmans? You can find Eden Organic products at Thrive Market too.
Applegate Farms & Jones Dairy Farm Gluten-Free Meats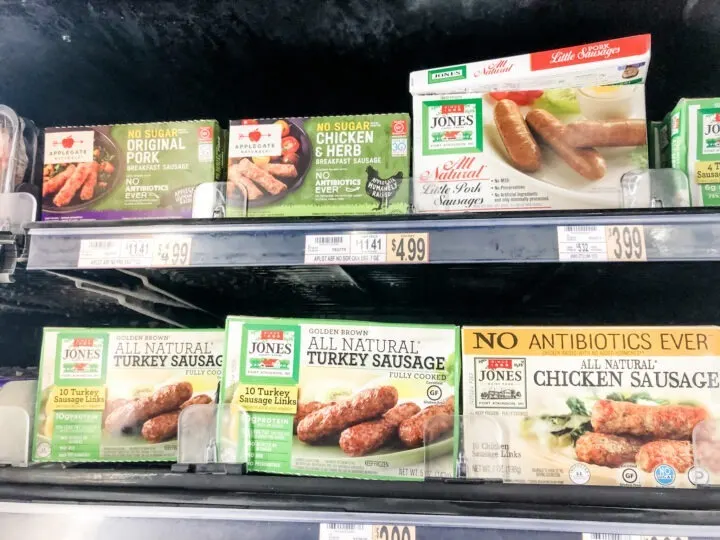 Wegmans stocks a decent selection of gluten free sausage and other meat products by both Applegate Farms and Jones Dairy Farm. Products by both of these companies are certified gluten-free and very tasty. These products are made without extra fillers and binders and taste great.
Gluten Free Broth at Wegmans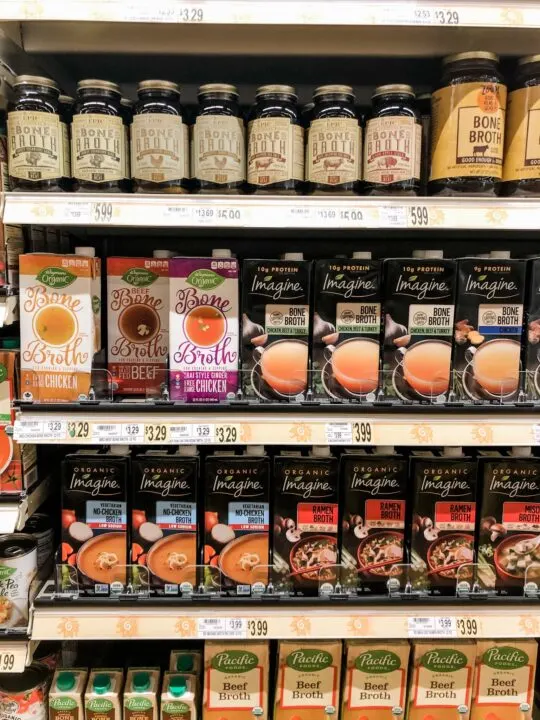 There is a wide selection of gluten-free broth & stock products at wegmans that have gluten-free claims and/or are certified gluten-free (including Wegmans Organic Bone Broth).
You can get Epic Bone Broth, Zoupa Bone Broth Imagine bone broth & Imagine Ramen Broth, as well as Pacific Foods Broth.
Many of these products & brands are also available for order at both Thrive Market and Amazon, but it's so convenient to snag them right at your local store.
Simply Organic Sauces & Seasonings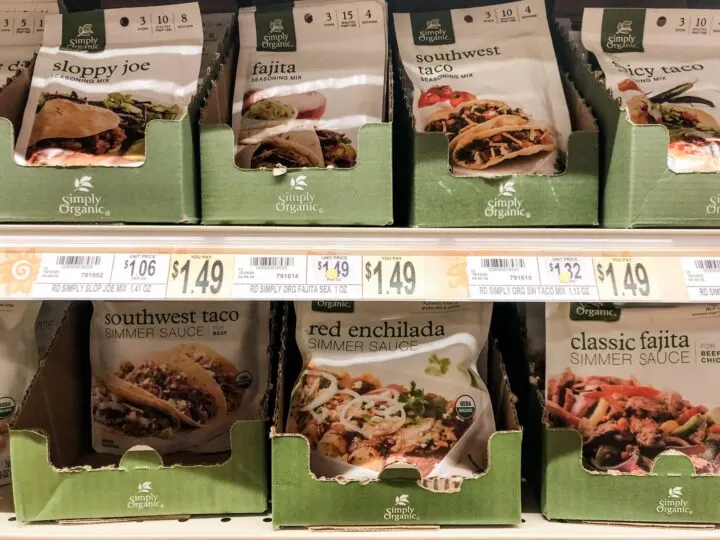 While not all of Simply Organic's products are gluten-free, many of them are! Although I tend to make seasonings from scratch most of the time, it's so convenient to keep a couple packets in stock.
Wegmans has a good number of these available, but you can also find some at Amazon or Thrive Market.
Edward & Sons Organic Mashed Potatoes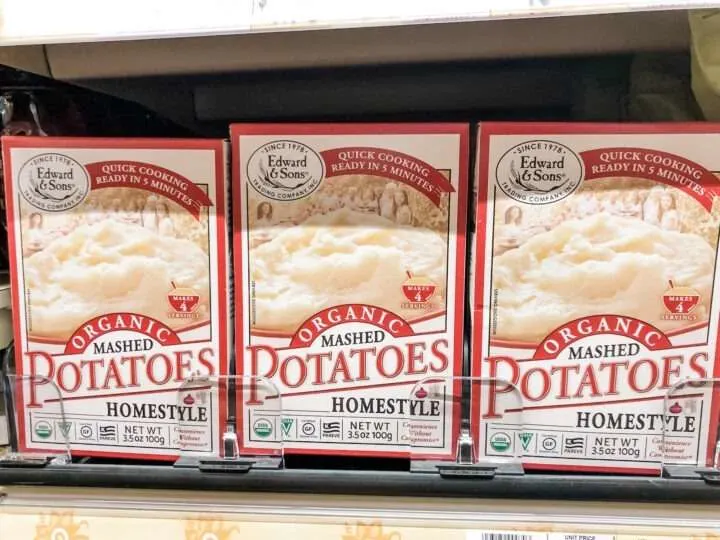 Typically, boxed / instant mashed potatoes are not gluten-free, so I was floored to find these gluten-free boxed mashed potatoes at Wegmans! Plus, they're also organic & vegan.
Edward & Sons manufactures a wide range of gluten-free products that are all third party certified gluten-free below 5 parts per million (5ppm).
Since we don't live close to Wegmans, I double checked, and yes! You can also find this product on Amazon here.
Maya Kaimal at Wegmans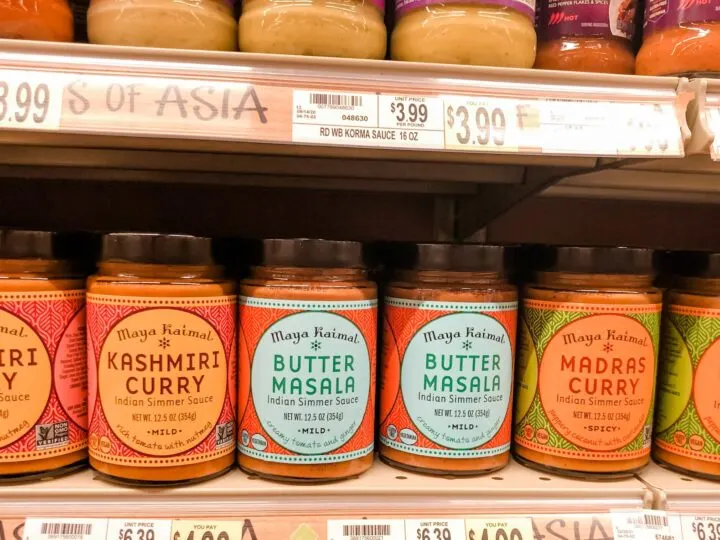 Maya Kaimal produces a delicious line of Indian sauces and products–plus its gluten-free. Wegmans has a decent sized collection.
Gluten-Free Taco Shells at Wegmans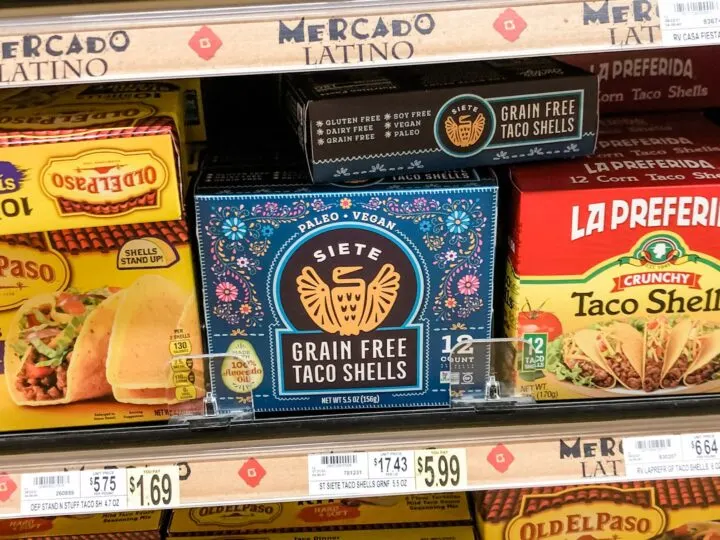 Here, gluten-free people can rejoice for having a choice about brands. This Wegmans stocked not only Old El Paso gluten-free shells, but Siete grain-free and La Preferida crunchy shells.
Gluten-Free Spices at Wegmans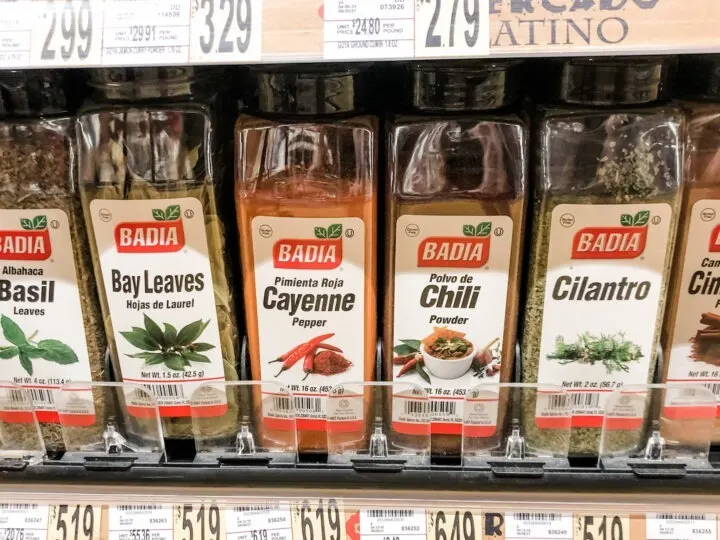 My favorite spice brand, Badia, is at Wegmans! Not only can you find an assortment of their spices, but they also have the large containers for a better price per ounce (yessss!)
Spices one of the best ways to take more boring or cheap recipes and make them taste amazing!
Wegmans Steamables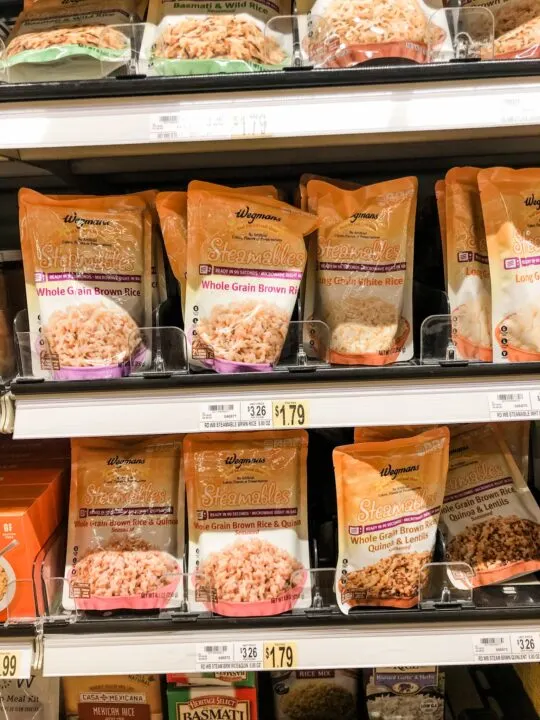 Wegmans has their own line of steamable rice and other grains. These are really great gluten-free blends and would be perfect for on-the-go or quick and easy meals.
Wegmans Gluten Free Pasta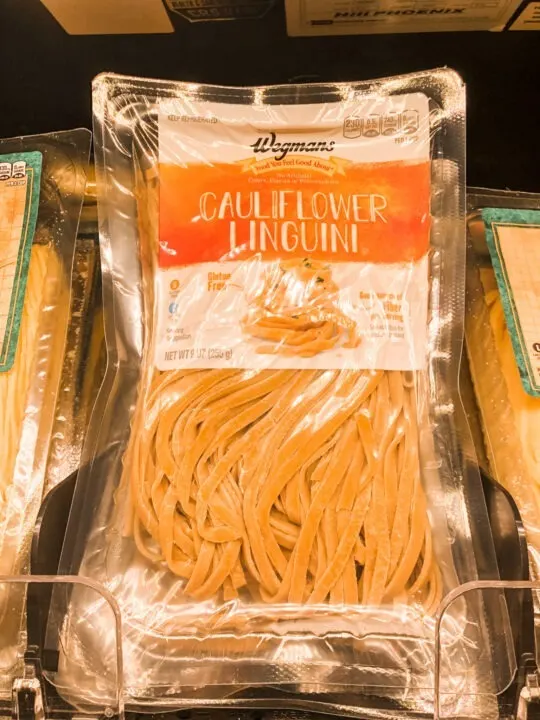 Not only can you find a variety of boxed pasta at Wegmans, but Wegmans produces their own refrigerated fresh pasta! They even have cauliflower gnocchi.
Gluten-Free Baking at Wegmans
Wegmans also offers a variety of gluten-free baking essentials. You can get some trustworthy gluten-free favorites like Gluten-Free Bisquick, Simple Mills, Pamela's and King Arthur.
But you can also find other brands I haven't seen in local stores such as LillyBean (which is gluten-free and vegan) as well as Wegmans own brand.
Gluten-Free Snacks at Wegmans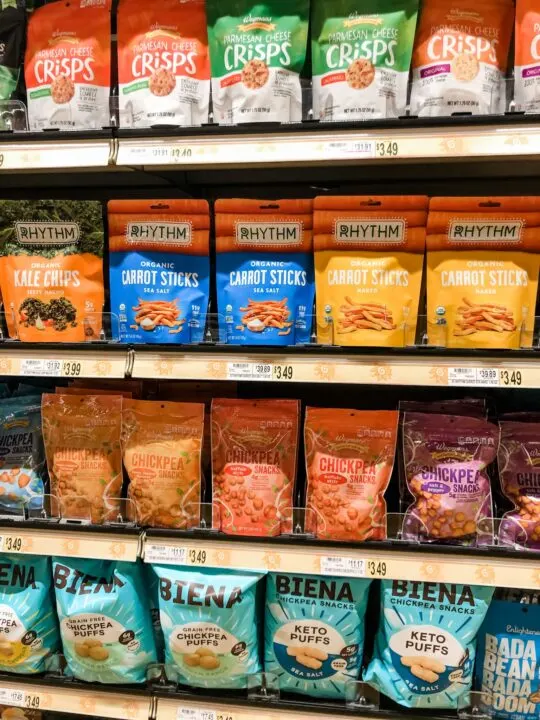 Wegmans has the motherlode of gluten-free snacks. Not only can you find national brands like Rhythm, Biena, Lotus Foods Ramen, and Bada Bean Bada Boom, but Wegmans also has their own line of gluten-free snacks! I'm a big fan of more variety.
Looking for more gluten-free snacks? Check out this post.
Gluten-Free Pizza at Wegmans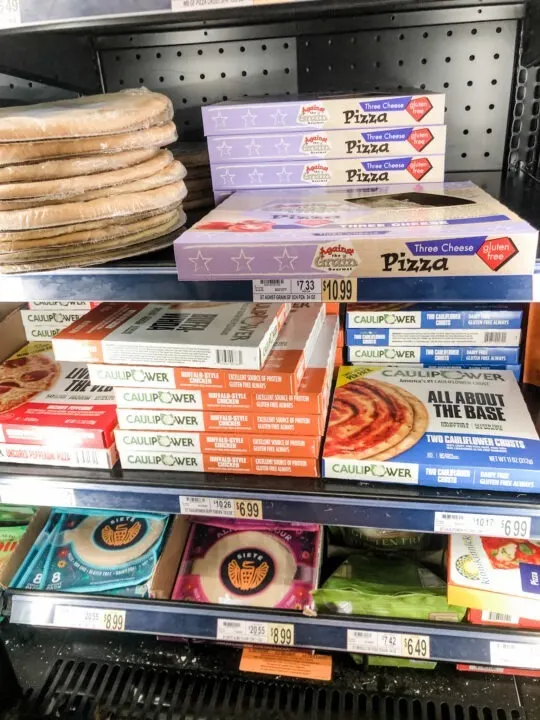 Wegmans has a wide variety of gluten-free frozen pizza! Not only do they have their own brand of gluten-free pizza, but they also sell Caulipower and Against the Grain gluten-free pizza too.
Frozen Gluten-Free Food at Wegmans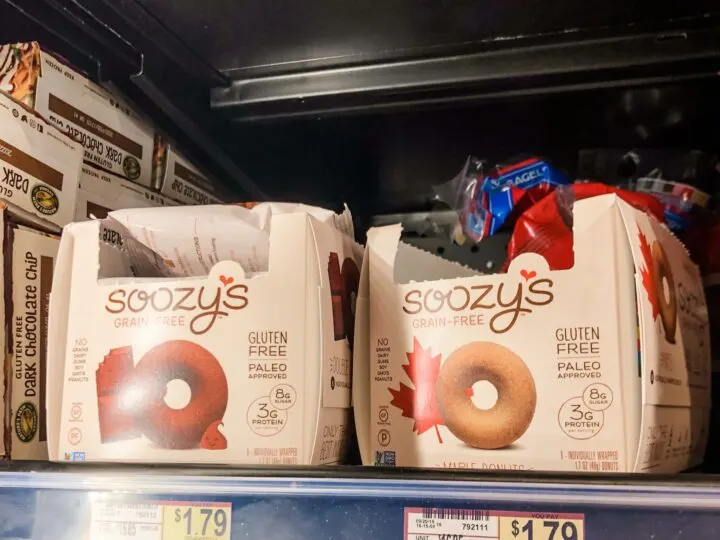 Lastly, this is where you'll want to spend all your money at Wegmans. There is such a variety of frozen gluten-free convenience foods at Wegmans, you will want to stock your freezer full!
These three products (Snoozy's donuts, Wegmans gluten-free mozzarella sticks, and Caesar's Kitchen lasagna) are what I snagged on my trip. But, if I had more room in my cooler, I would have snagged way more!
Do you have a Wegmans near you? If so, what gluten-free products do you purchase regularly? Comment below and let us know!
Also, be sure to share this Wegmans gluten free product list on social media or pin it to Pinterest using the social sharing buttons below.
Frequently Asked Questions about Shopping Gluten-Free at Wegmans
Does Wegmans have gluten-free desserts?
Yes, Wegmans has its own line of gluten-free desserts available pre-packaged in its bakery section (such as mini cupcakes) as well as other brand gluten-free baked goods like Alyssa's Cookies and My Dads Cookies. They also have a wide line of gluten-free frozen items such as ice cream treats that are gluten-free.
Does Wegmans have gluten-free baked goods?
Yes, in the bakery section Wegmans sells gluten-free marshmallow rice cereal treats, frosted brownies, gluten-free mini cupcakes, and more!
Does Wegmans have gluten-free prepared foods?
If you're ordering prepared meals at Wegmans, you will be able to find gluten-free food as well such as sushi and sandwiches made on gluten-free bread! Just be sure to ask the typical questions you would ask a restaurant when ordering to ensure that they can accommodate your individual gluten-free needs.
Is Wegmans chicken gluten-free?
Wegmans plain rotisserie chicken is made with no gluten-containing ingredients. However, it may come into contact with gluten during preparation, so you'll want to ask questions about how the chicken is prepared at your own Wegmans before purchasing.
Other Gluten-Free Reviews You Might Like: