Mustard is a classic American condiment. We put it on our hotdogs and hamburgers and use it in countless recipes.
But is mustard gluten free?
Yes, most plain mustard is gluten free. However, there are a lot of varieties of mustard available and not all of them are gluten free.
In this article I'll cover everything you need to know about which mustard varieties are gluten free and which mustard brands are safe to eat.
---
Are you new here? I also have the following posts to help you live gluten-free without the stress!
…get valuable support from me, and gluten-free peers, in my EXCLUSIVE Facebook community "Stress-Free Gluten-Free" by clicking here!
---
The gluten-free guide below is based on personal experience and research. Always be sure to discuss any medical changes with your doctor for your personal medical needs. Additionally, this post contains affiliate links. As an Amazon Associate I earn from qualifying purchases. My full disclosure isn't that interesting, but you can find it here.
Ready to take back control of your meals and love your gluten free life? Take the 45 second quiz to get a personalized plan with the guide you need to thrive!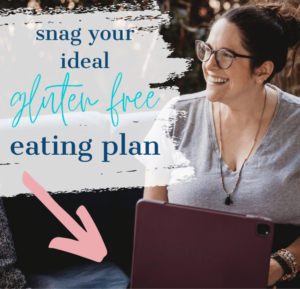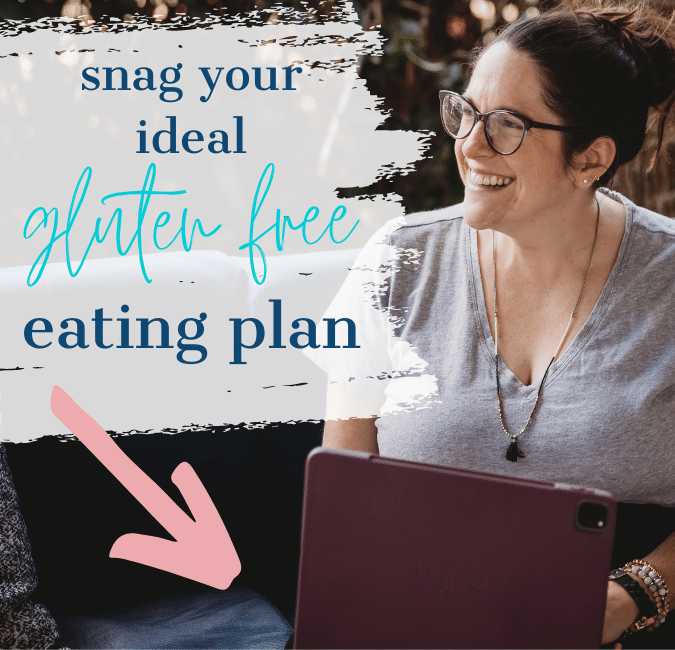 Is mustard gluten free?

If you look at the basic ingredients for mustard, you'd probably think it is definitely gluten free.
While plain mustard most often is, mustard is also one of those ingredients (just like Soy Sauce) that can contain "hidden gluten".
Plain mustard is usually made with mustard seed, vinegar or another liquid like water, salt and spices.
Those ingredients are typically gluten free. So you're probably wondering where gluten could possibly be hiding, right? Surprisingly, there are a few places.
Vinegar is a tricky ingredient. Plain white vinegar is gluten free, but what about malt vinegar which is sometimes found in mustard?
Gluten is a protein commonly found in wheat, rye and barley. Malt vinegar is made from barley. See the problem?
If your mustard is made with malt vinegar, it's no longer gluten free.
What about wheat? You probably wouldn't think mustard would contain wheat either.
Unfortunately, some specialty varieties like English mustard use wheat flour as a thickener or bulking agent.
One other source of hidden gluten in mustard is when beer is used as the liquid to make the mustard.
According to the Celiac Disease Foundation, not all beers are distilled. Depending on which type of beer is used to make the mustard it may not be gluten free.
Even though gluten may be hiding in mustard, it doesn't mean you can't still enjoy a yummy, mustard garnished hot dog! It just means you have to be more careful about choosing which mustard you eat.
When it comes to mustard, and any other ingredient for that matter, the best way to choose safe foods is to learn about gluten free labeling and certification.
The US Food and Drug Administration has strict rules around gluten free labeling. Once you get the hang of understanding which labels to look for, you'll have no trouble choosing ingredients that are safe for a gluten free diet.
In the meantime, I've compiled a list of mustard varieties and brands that you can feel confident choosing.
What yellow mustard is gluten free?
If you're looking for a good ol' fashioned yellow mustard, these brands are all great choices!
Thrive Market Organic Yellow Mustard
This yellow mustard is certified gluten free, certified organic, dairy free and contains no added sugars or sweeteners.
Simply "add to cart" on Thrive Market and you're all set.
French's Classic Yellow Mustard
French's Classic Yellow Mustard is just that – a classic! If this is your go-to mustard, you're in luck because this mustard is naturally gluten free.
Are you a mustard lover? You're going to love Amazon's 2-pack. Grab yours here.
Or add a single bottle to your next pick up order from Walmart by clicking here or Target by clicking here.
Sir Kensington's Yellow Mustard
With a slightly sweeter taste, this mustard is gluten free, certified vegan and paleo diet friendly. It has an award winning taste and as an added bonus the bottle is even made from 100% recycled materials.
Is dijon mustard gluten free?
Just like yellow mustard, dijon mustard can be gluten free. It's important to carefully monitor the ingredients list and look for gluten free labeling or certification.
What is dijon mustard made of?
Dijon mustard is similar to yellow mustard, but if you've ever tried it, you know it has a distinctly different flavor.
The ingredients used to make dijon mustard are slightly different. Dijon mustard typically uses black mustard seeds, rather than yellow or white seeds. It also usually contains wine as the liquid ingredient instead of vinegar.
This gives dijon mustard a distinct taste that makes it popular in many recipes, like this air fryer corned beef.
Gluten free Dijon mustard brands
Organicville's Organic Dijon Mustard
Certified products are the easiest way to feel confident when choosing your condiments. Organicville's Dijon Mustard is certified gluten free and certified organic.
It's also part of the Climate Friendly Pledge, so you can feel great about choosing this dijon mustard brand.
Nobel Made Coarse Dijon Mustard
If you're concerned about your mustard containing wine, this wine-free dijon mustard is just what you need! This brand is gluten free, dairy free, Whole-30 approved and keto friendly.
Get this delicious dijon mustard from Thrive Market.
Grey Poupon Country Dijon
Are you thinking there is only one true dijon? Grey Poupon needs no introduction. The Country Dijon variety is gluten free and packed with extra bold flavor.
Find your Grey Poupon on Amazon here.
Or use these links to add it to your next grocery pick up at Walmart or your pick up order from Target.
Is honey mustard gluten free?
Pure honey is naturally gluten free. Like so many other condiments, honey mustard can include other gluten containing ingredients, so it's important to use pure honey or read the labels very carefully.
Honey mustard is simply mustard that contains honey. As long as the honey and mustard you're using are both gluten free, your honey mustard will be gluten free as well.
Gluten free honey mustard brands
Annie's Organic Honey Mustard
While this one isn't certified gluten free, it is gluten free by ingredients and certified organic. The packaging does not contain a gluten free label, but according to their website it does not contain any obligatory allergens.
Add yours to your next Amazon order here.
True Made Foods Honey Mustard
Do you follow a keto diet? This 'no sugar added' gluten free honey mustard is exactly what you've been looking for!
This tasty mustard is sweetened with honey, apples, carrots and squash so you can feel completely confident choosing this brand!
Heinz Honey Mustard
All varieties of Heinz mustard, including their honey mustard are made gluten free.. Made with real honey and natural ingredients this delicious treat is great on hotdogs, sandwiches and for dipping.
Get your honey mustard on Amazon.
Frequently asked questions about mustard and gluten:
Is Heinz Mustard gluten free?
Yes, Heinz mustard is gluten free.
Is French's mustard gluten free?
Yes, French's mustard is gluten free.
Is mustard powder gluten free?
Yes! Mustard powder is made from mustard seeds which are naturally gluten free.
Is Gray Poupon Dijon mustard gluten free?
Yes, Gray Poupon Dijon mustard is gluten free. Although it is not labeled gluten free, their website provides a statement for gluten free information.
Is Great Value organic dijon mustard gluten free?
Yes, Great Value organic dijon is labeled gluten free.
Did you love this post on "Is Mustard Gluten-Free"?
If so, use the social sharing buttons below to share it on social media or pin it to Pinterest for easy reference later!
And don't forget to download your FREE gluten-free substitutes guide below!
What's they key to loving your gluten free life? Take this quick quiz to get a personalized plan with the guide you need to thrive!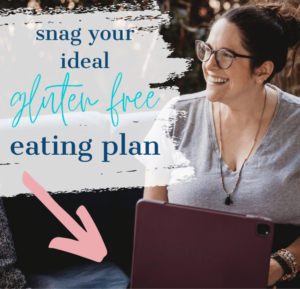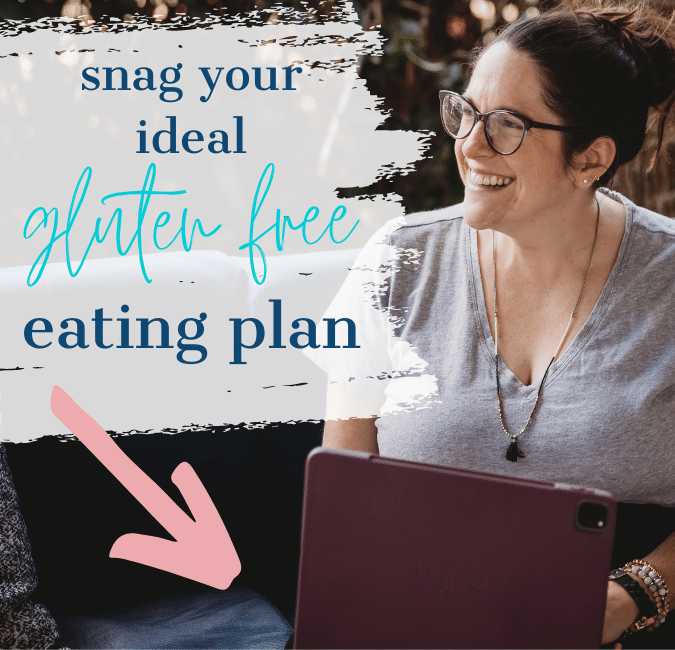 Other Posts You Will Love: