Yogurt is an easy and tasty option for breakfast or a snack. It comes in endless flavors and is great when you're on the go. But if you follow a gluten free diet, you're probably wondering "Is yogurt gluten free?"
Yes, traditional yogurt is gluten free! Like most dairy products, the natural form of yogurt is gluten free. However, you do have to be careful about which yogurt you choose as not all yogurt is gluten free.
Read on to learn all about which yogurt brands and vegan yogurt brands are the best for a gluten free diet. If you're curious about something specific, you can use the table of contents to go straight there.
---
Are you new here? I also have the following posts to help you live gluten-free without the stress!
…get valuable support from me, and gluten-free peers, in my EXCLUSIVE Facebook community "Stress-Free Gluten-Free" by clicking here!
---
The gluten-free guide below is based on personal experience and research. Always be sure to discuss any medical changes with your doctor for your personal medical needs. Additionally, this post contains affiliate links. As an Amazon Associate I earn from qualifying purchases. My full disclosure isn't that interesting, but you can find it here.
Ready to take back control of your meals and love your gluten free life? Take the 45 second quiz to get a personalized plan with the guide you need to thrive!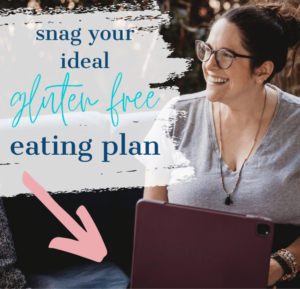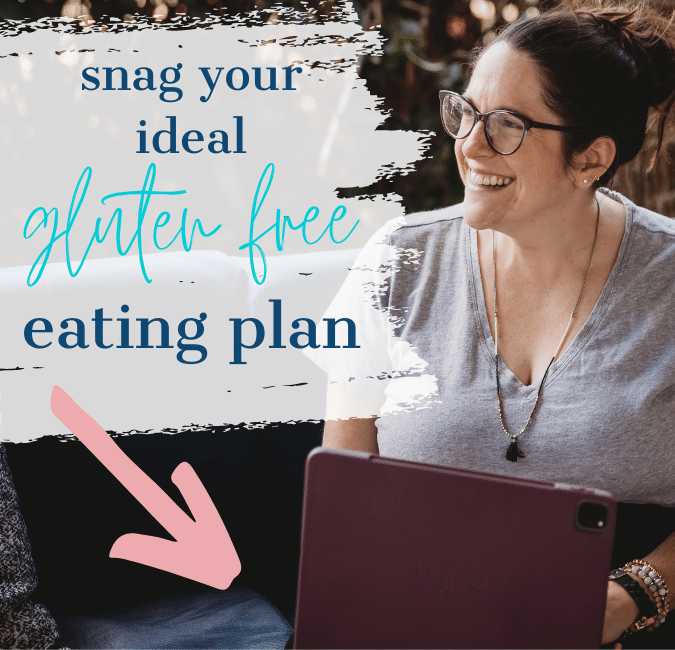 What is yogurt?
Yogurt is a dairy product that is made by fermenting milk with live bacteria cultures. It is then heated to a temperature that encourages bacteria to grow.
The word 'bacteria' can sound unpleasant, but yogurt can be very healthy!
Brands often use the term 'probiotics' when advertising their yogurt, as a big boost to your health. Probiotic is just another (perhaps less unappealing) way of saying their yogurt contains live bacteria.
In addition to traditional yogurt there are other varieties of yogurt including low fat or no fat, Greek yogurt, and dairy free yogurt.
Is yogurt gluten free?
If you are new to a gluten free diet, I'm happy to tell you that dairy in its traditional form is your friend. Naturally, dairy products including yogurt are gluten free!
Gluten is a protein that is found in wheat, rye and barley. Since natural yogurt does not contain wheat, rye or barley, it doesn't contain gluten.
It is, however, very important to understand that not all yogurt is gluten free. It is possible that the yogurt you're considering contains either a thickening agent of some variety, or an add-in like granola that would contain gluten.
A yogurt parfait, for example, could contain cookies. Cookies are typically made with wheat flour, which contains gluten, making the yogurt completely unsafe to eat.
When we start looking at flavored yogurt or yogurt with added ingredients, we also have to be much more diligent about reading labels and looking for gluten free certification.
In order for a product to be labeled gluten free, it must meet certain criteria set forth by the FDA.
Some brands take their gluten free status one step further by opting for gluten free certification. Certified gluten free means that the gluten free claim has been verified by a third party.
Take a minute to check out my quick and easy guide to understanding gluten free labeling and certification. It's available here.
Does Greek yogurt contain gluten?
Plain greek yogurt does not contain gluten. Greek yogurt is similar to traditional yogurt in that it is made with milk that is fermented with bacterial cultures.
What makes Greek yogurt unique is the way it is prepared. Greek yogurt is filtered to remove some of the water, which gives it that extra creamy texture.
Is yogurt good for Celiac disease?
Gluten free yogurt can be part of a healthy diet for someone with celiac disease as long as you can eat dairy.
The increased consumption of yogurt has been linked to many health benefits including a reduced risk of type 2 diabetes.
Some yogurt contains probiotics. Our bodies are made up of good bacteria and bad bacteria. Probiotics are the good bacteria, and adding them to your diet can help keep the bad bacteria in check.
Yogurt can also be a good source of several important nutrients including protein, calcium, phosphorous, and B vitamins.
When it comes to flavored yogurts, in addition to possibly containing gluten, the health benefits can be reduced with the addition of sugar and artificial flavors.
The health benefits of yogurt will vary depending on the specific yogurt you choose. To ensure your yogurt aligns with your health goals, be sure to read the labels or check in with your Registered Dietician.
Best gluten free yogurt brands
365 Whole Foods Market Organic Strawberry Yogurt
This flavored yogurt is certified gluten free and certified organic. It gets great reviews for flavor and price.
365 Whole Foods Market is also part of the Climate Friendly Pledge so you can feel great about choosing this yogurt.
Purchase 365 Whole Foods Market Yogurt for Whole Foods pick up or delivery at Amazon here.
Dannon Light + Fit Greek Yogurt
If you're looking for a low fat, high protein option, this yogurt has you covered. It comes in a whole variety of flavors and they're all gluten free.

With flavors like strawberry cheesecake and salted caramel, this yogurt makes for the perfect sweet treat!
Add Dannon Light + Fit yogurt to your Target order here.
Yoplait Original
It doesn't get any more classic than Yoplait original yogurt. Both their original and light products are gluten free so you can choose any flavor confidently.

Yoplait original is even made with real fruit!
Purchase Yoplait yogurt at Target here.
GoGo Squeez Yogurtz
These kid friendly, on-the-go packs are awesome. They are kosher certified and gluten free. As an added bonus they are shelf stable, so you can toss them in your bag and never worry about how long they've been out of the fridge!
The fantastic reviews are proof that kids love them!
Add GoGo Squeez Yogurtz to your next Amazon order here.
Chobani Greek Yogurt
Made with only natural ingredients, Chobani Greek Yogurt is a great gluten free choice. It's gluten free, kosher, vegetarian friendly, Non-GMO and contains no artificial flavors.
This greek yogurt is available in a variety of classic flavors including blackberry, blueberry, strawberry and vanilla. Be careful of Chobani Flips as they contain cookies, granola and other add-ins that are not gluten free.
Purchase Chobani Greek Yogurt from Amazon here.
Oikos Pro Yogurt
While all Oikos yogurt is gluten free, the Oikos Pro variety packs a serious punch of protein! Whichever flavor you choose, you'll find 20g of protein in each cup.

The vanilla option even has 0g of added sugar.
Purchase Oikos Pro Yogurt at Target here.
FAGE Total 2% Split Cup
This greek yogurt is unique in that the fruit comes split from the yogurt and you get to decide how much to add. It's delicious, gluten free and Non-GMO.

FAGE Total yogurt also comes in a variety of other options, with various levels of milk fat to suit your dietary needs.
Purchase FAGE Total yogurt at Target here.
Best gluten free dairy free yogurt brands
So Delicious Dairy Free Coconut Yogurt
This dairy free option is certified gluten free, certified vegan and made with organic coconut. It is Non-GMO, lactose and soy free as well.

It's available in 3 flavors including strawberry, strawberry banana and vanilla.
Get your So Delicious Dairy Free Yogurt at Target here.
Siggi's Plant Based Coconut Blend
All Siggi's yogurt products are gluten free including this plant based coconut blend. This dairy free yogurt has 3x more protein & 40% less sugar than leading yogurt alternatives. And from my own personal experience, this yogurt is SO delicious it's ridiculous!
This yogurt is available in a variety of flavors and the vanilla is available in a larger 24oz size.
Get your Siggi's Plant Based Coconut yogurt at Whole Foods through Amazon here
Silk Dairy Free Yogurt Alternative
Silk Dairy Free yogurt is made with soy. It's free of cholesterol, dairy, lactose, gluten, carrageenan, nuts, and casein.
Silk Dairy Free is vegan and Non-GMO project verified.
Purchase Silk Dairy Free Yogurt at Amazon here
Frequently asked questions about yogurt and gluten:
Is Yoplait yogurt gluten free?
Yes! Yoplait yogurt offers regular and light options that are all gluten free.
Is Chobani yogurt gluten free?
Most, but not all Chobani yogurt products are gluten free. Be sure to read the label and avoid any product with side-car mix-ins.
Is Oikos Greek yogurt gluten free?
Yes! All Oikos products are certified gluten free.
Is Activia gluten free?
Most Activia products, but not all, are gluten free. Activia Breakfast Pots and Activia Grains and Nuts DO contain gluten. Be sure to check the labels on each Activia product individually. According to their website, allergens will be clearly labeled on their products.
Ready to take back control of your meals and love your gluten free life? Take the 45 second quiz to get a personalized plan with the guide you need to thrive!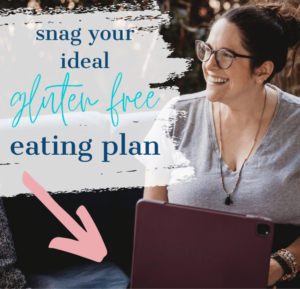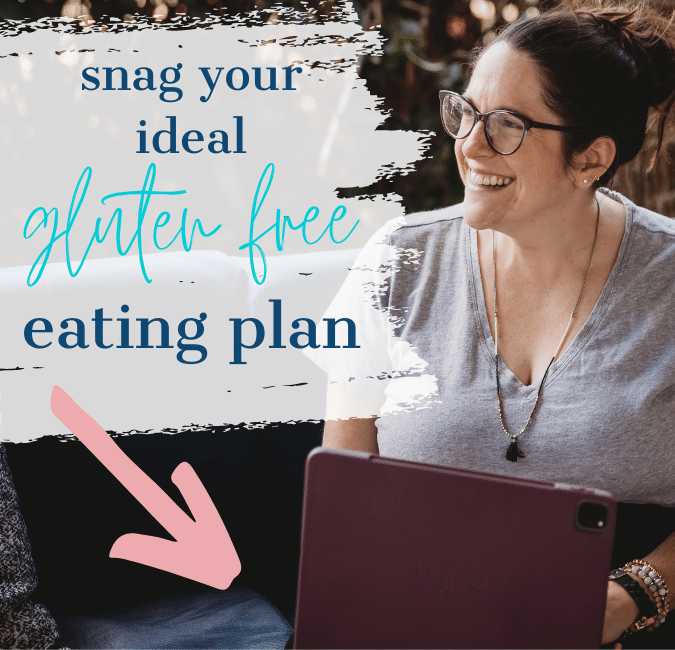 Other posts you'll love: