Do you miss those crunchy, bite-sized goldfish crackers your kids love? Say hello to a homemade, gluten-free version made with real ingredients you can feel good about. In this article, you'll learn how to make your own gluten-free goldfish crackers from scratch – all you need are a few simple ingredients and less than two hours of your time. With this recipe, you can make a delicious gluten-free snack full of nutrients that you and your family can enjoy any time.
Keep reading for the full recipe, ingredient suggestions, tips, and even some gluten free cheese cracker alternatives or use the jump to recipe button below to go straight to the printable recipe card.
---
Are you new here? I also have the following posts to help you live gluten-free without the stress!
…get valuable support from me, and gluten-free peers, in my EXCLUSIVE Facebook community "Stress-Free Gluten-Free" by clicking here!
---
The gluten-free guide below is based on personal experience and research. Always be sure to discuss any medical changes with your doctor for your personal medical needs. Additionally, this post contains affiliate links. As an Amazon Associate I earn from qualifying purchases. My full disclosure isn't that interesting, but you can find it here.
Ready to take back control of your meals and love your gluten free life? Take the 45 second quiz to get a personalized plan with the guide you need to thrive!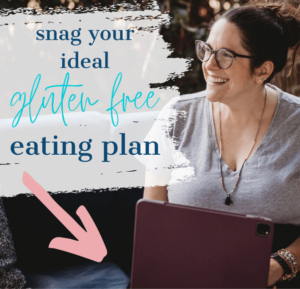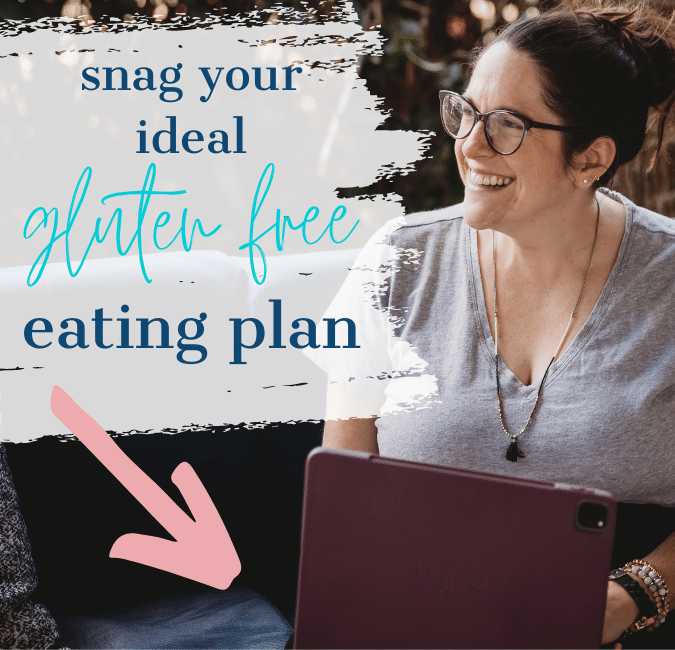 Why you'll love this gluten-free fish crackers recipe:
This goldfish recipe is honestly simple and uses only a few ingredients that are available at your local store
Honestly, it totally hits at the childhood nostalgia. And for gluten free kids it definitely helps them feel like they're eating what their friends are (but better!)
It's a great snack recipe that kids with celiac disease or other dietary restrictions will love to help make–and eat!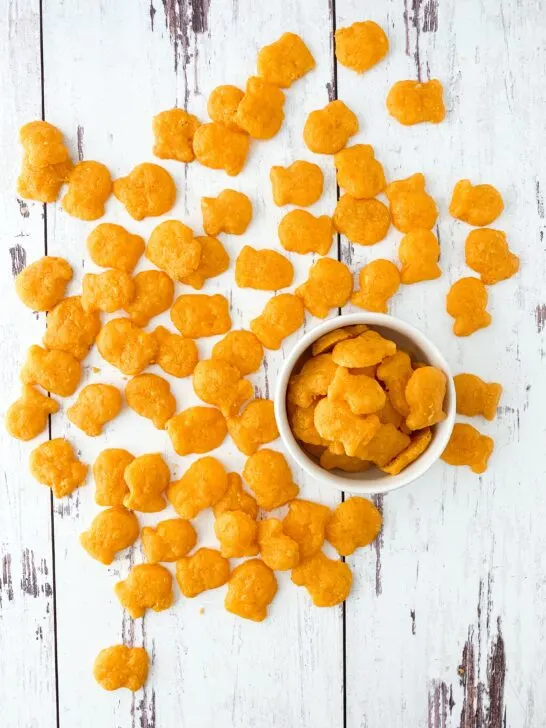 Are Goldfish crackers gluten free?
Unfortunately, Goldfish crackers are not gluten free. Cheddar Goldfish from Pepperidge Farm contain enriched wheat flour as the first ingredient.
A decade ago, Pepperidge Farm, the maker of Goldfish crackers, did make Goldfish Puffs which were gluten free, but they are now discontinued. Honestly, it's a big bummer for gluten free kids!
Whether you're making these for a kid or yourself, the way to have these delicious crackers on a gluten free diet is to make your own gluten free Goldfish crackers.
Making your own version is honestly way easier than you think and will offer an enjoyable snack experience for children and adults alike within the confines of a gluten free lifestyle.
Is there a gluten free version of Goldfish crackers?
If you don't want to make homemade gluten free goldfish crackers (which trust me–it's worth it) there are some store-bought options available. While Goldfish doesn't make a gluten-free version, there are a few gluten-free goldfish alternatives on the market.
Where can I buy gluten-free goldfish alternatives?
You likely can't find these goldfish dupes at your local grocery store (unless your grocery store is AMAZING!). But you can find gluten free cheddar crackers them at specialty stores and online retailers like Thrive Market or Amazon.
Learn more about why I love Thrive Market here, or you can snag a promotional link to receive up to 25% off your first order plus a free gift by clicking here!
---
Shop Gluten Free Products in this Post

---
Equipment for gluten free fish crackers:
To make these delicious gluten free crackers, you'll need a few pieces of equipment you likely already have on hand, plus a super fun goldfish cookie cutter!
---
Shop Recommended Equipment for this Recipe

---
Food Processor. While any food processor should work, this is the one I use, it will also shred your cheese for you!
Cheese grater. Only if your food processor won't also do that for you!
Measuring Cups and Spoons
Parchment Lined Baking Sheet
Rolling Pin. I'm a big fan of this one because you can specify the thickness you want and get consistency every time without guessing!
Plastic wrap
1 inch mini fish cookie cutter. I used this goldfish cracker cutter from amazon! It makes the cutest little fish shapes! Pro Tip: If working with kids order more than one cutter 😉
Do you need a new cookie sheet or baking pans? Check out my guide to the best pans for gluten free baking!
Ingredients for gluten free copycat goldfish crackers:
This healthy goldfish alternative only uses a few simple ingredients. You should be able to find these healthy ingredients at your local grocery store or order them for quick grocery delivery from GoPuff. Alternately, you can find great deals on items like gluten free spices or gluten free all purpose flour at Amazon or Thrive Market.
Learn more about why I love Thrive Market here, or you can snag a promotional link to receive up to 25% off your first order plus a free gift by clicking here!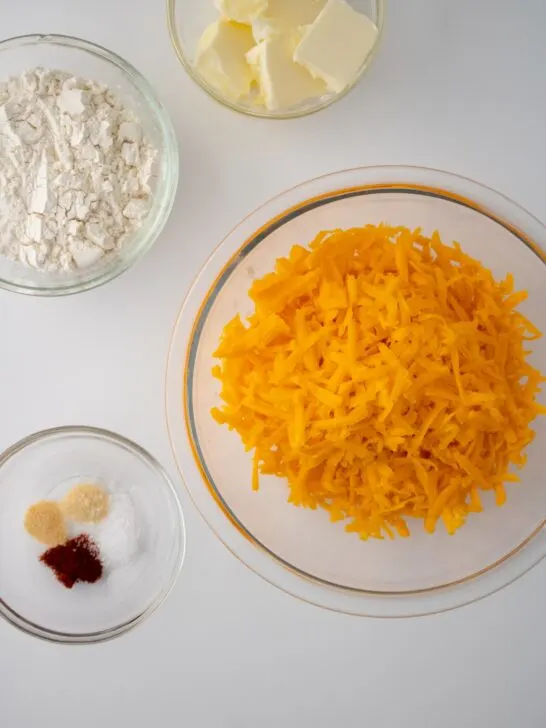 To make homemade goldfish crackers you'll need:
block cheddar cheese. This can be mild or sharp (depending on your preference) but it must be block cheese! The starches added to store-bought shredded cheddar cheese will mess with the consistency of the dough. Want to vary the flavor? Try other cheeses! Pepper Jack would be delish.
gluten free 1:1 flour. My favorite is King Arthur's measure for measure flour. There are many gluten-free flours and blends available, but be sure to use an all-purpose blend containing xanthan gum.
paprika
onion powder
garlic powder
salt
cold unsalted butter. Trust me–make sure it's COLD. I have not tried this recipe with vegan butter or margarine, only real butter.
cold water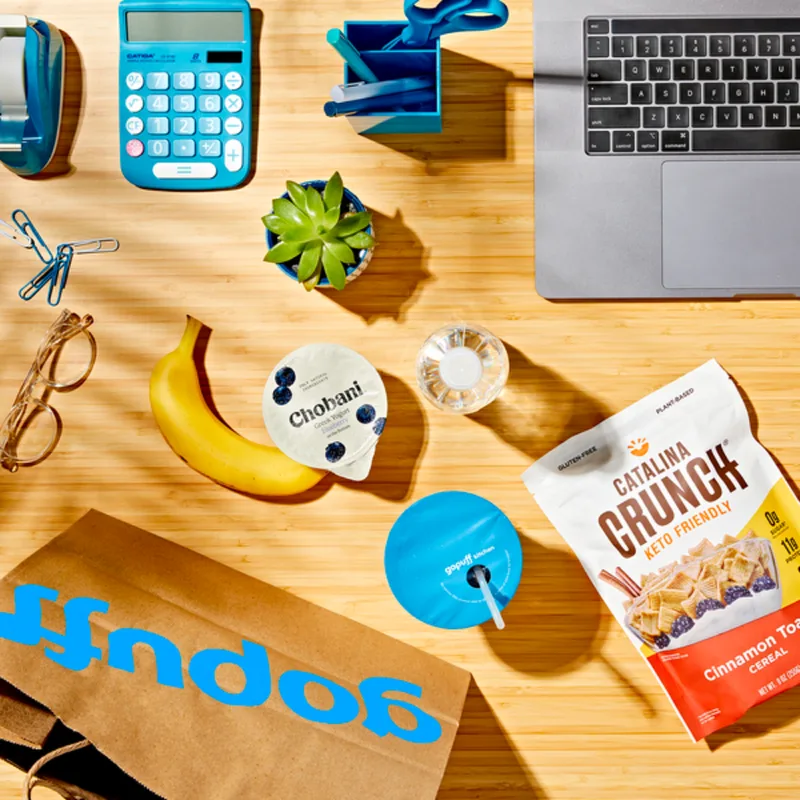 Sick of making grocery runs? Me too!
Try GoPuff for quick and easy grocery delivery including your favorite gluten-free essentials!
Get $100 off + free delivery on SUMMER snacks, drinks, booze & more. Use Code: Welcome1010
How to make homemade gluten free goldfish crackers from scratch
Making this cheesy cracker recipe is definitely easier than you'd initially think.
First, preheat the oven and prepare your parchment lined baking pan. While the oven is reheating, shred the block cheese. I like to use my food processor to make this quick and easy!
Next, add all ingredients to a food processor!
Blend in a food processor until a dough forms. Dump it out onto a clean surface and knead in any loose flour or cheese until you have a cohesive dough. Form into a dough ball.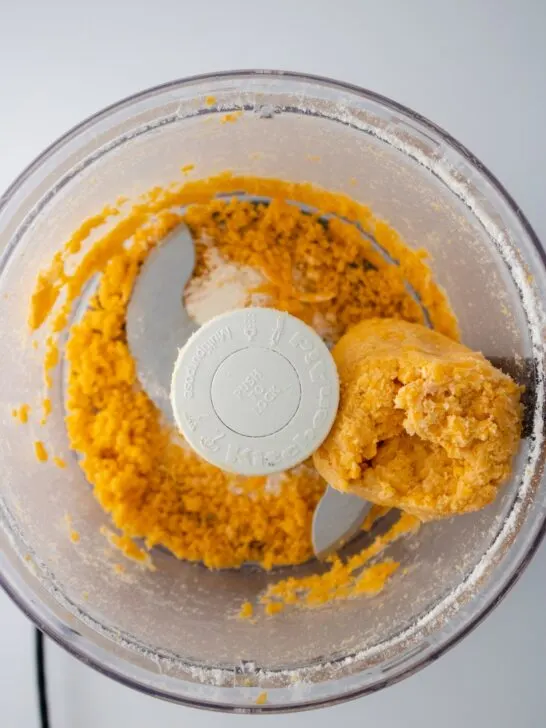 Wrap in plastic wrap and place in your freezer for 15 mins. This makes it MUCH easier to roll out.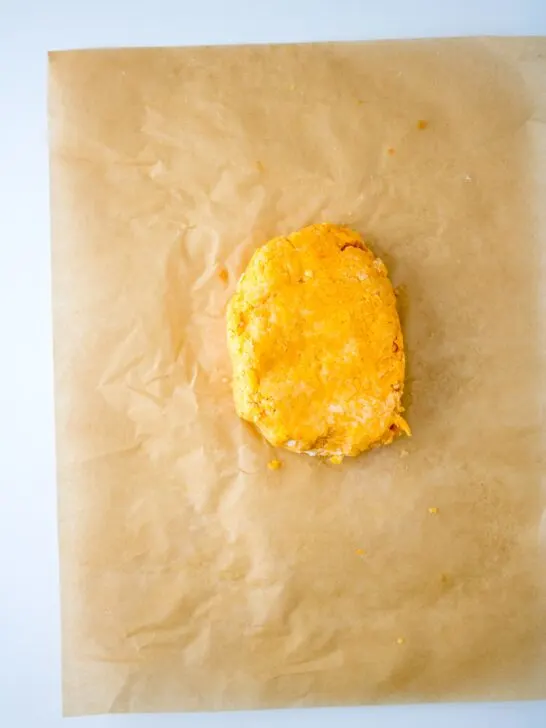 Roll out the dough on a floured surface until it's thin (about 1/4 inch)–having a consistent thickness will definitely help cut the shapes.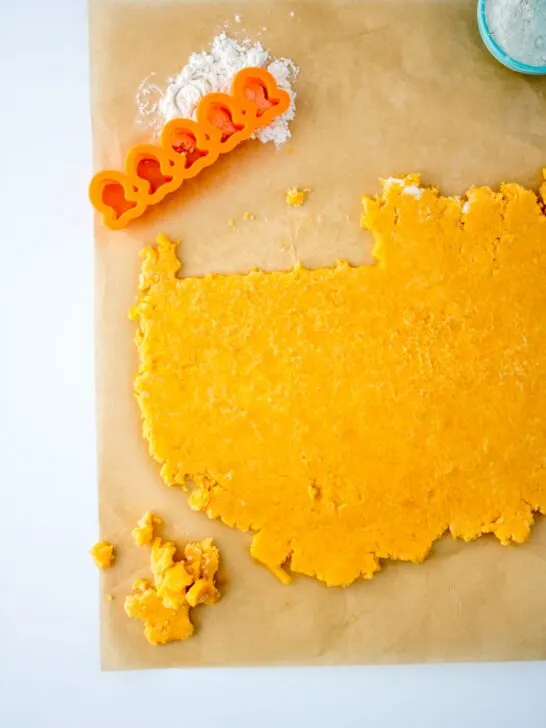 Cut out the shapes, placing each piece on your parchment lined baking sheet. Dipping the fish cutter in flour will help the dough not stick to the cutter.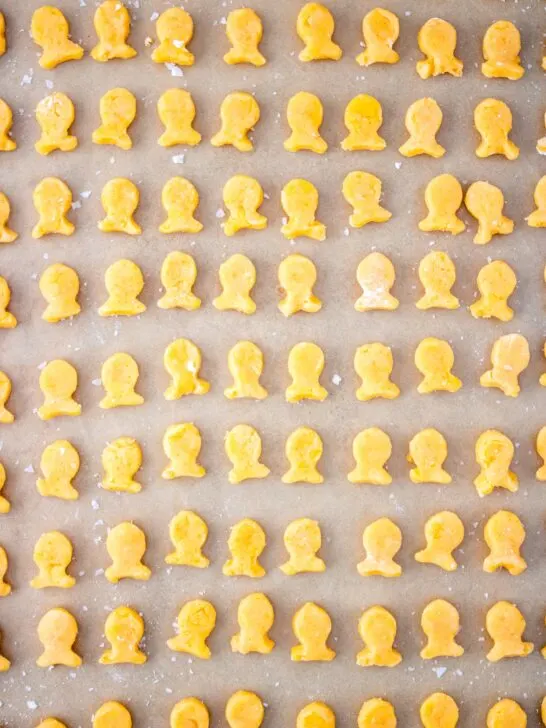 This step takes some time (especially if you're working with kids) so be patient. The more you do it, the easier it becomes.
If you truly have no patience (like honestly, that's me) you can use a pizza cutter and just cut tiny little squares, triangles, whatever fun shapes you want. Just make sure it's tiny like the goldfish and it will cook the same.
Bake until just turning golden brown and remove from the oven. Let cool for 10-15 mins.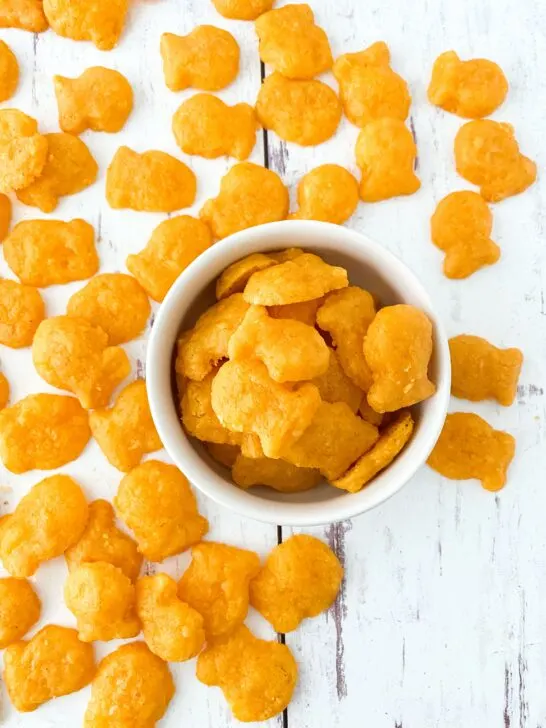 Serve and enjoy this perfect snack!
How do I store gluten-free goldfish?
The best way to store these healthy snacks is in an airtight container for up to 3 days (if you don't eat them all first–trust me, these are tastier and more addictive than store-bought crackers!)
Can you freeze homemade goldfish?
Yes, you also may consider freezing your gluten-free Goldfish if you know you won't be eating them right away. This will help preserve the flavor of this classic snack for a bit longer.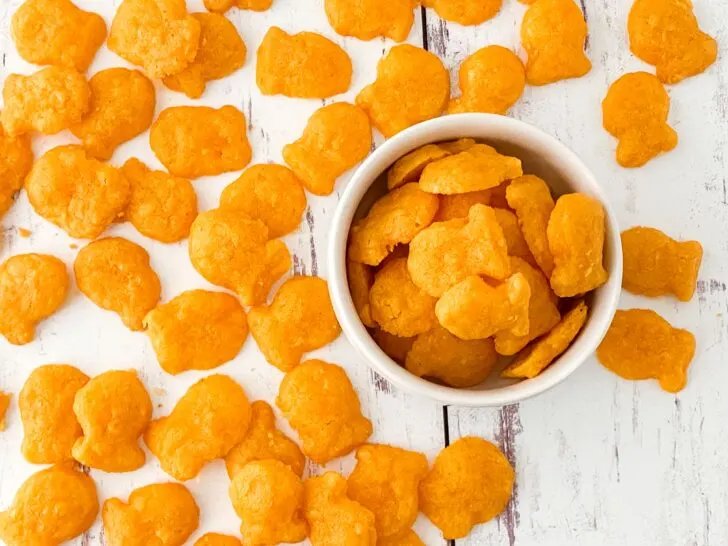 Did you love this healthy goldfish alternative?
Then be sure to pin this gf goldfish recipe to one of your allergy-free snack boards or share it on social media using the social sharing buttons below!
Scroll down for the printable recipe!
Other gluten free recipes for kids' snacks for goldfish lovers:
What's they key to loving your gluten free life? Take this quick quiz to get a personalized plan with the guide you need to thrive!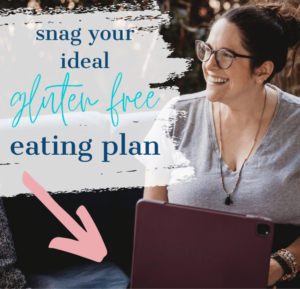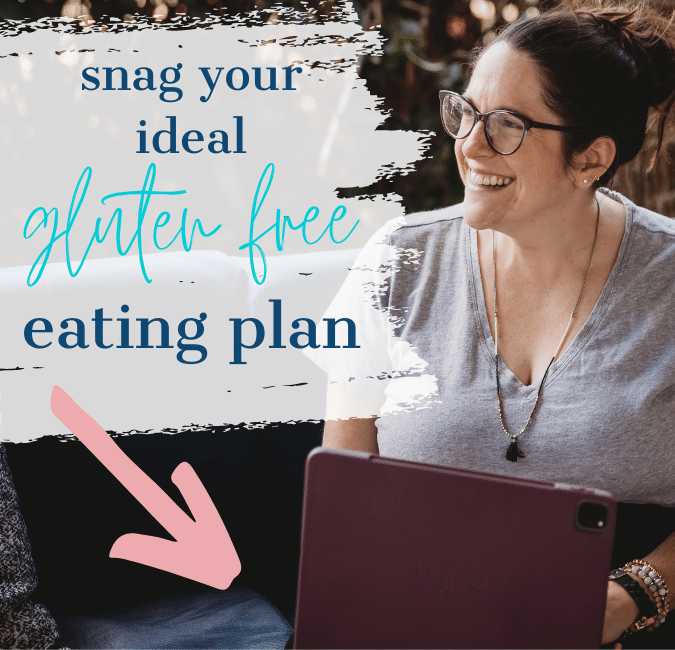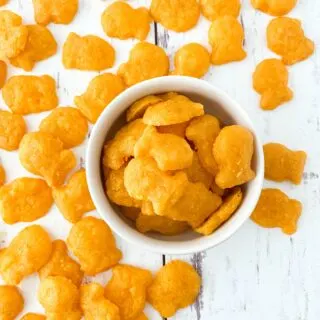 Homemade Gluten Free Goldfish
Are you looking for a delicious homemade snack that's both gluten free and free of artificial flavors and additives? Look no further than this homemade gluten free goldfish crackers recipe made with wholesome, real ingredients!
Equipment
cheese grater

food processor

Measuring Cups and Spoons

baking sheet

parchment paper

Rolling Pin

fish cookie cutter

see notes
Ingredients
8

oz

cheddar cheese

block, not preshredded

1

cup

gluten free AP flour

1/4

tsp

paprika

1/4

tsp

onion powder

1/4

tsp

garlic powder

1/2

tsp

salt

6

tbsp

cold butter

1

tbsp

cold water
Instructions
Preheat the oven to 350 degrees

Shred the block cheese using a cheese grater or food processor.

Add all ingredients into a food processor and blend the food until it becomes a dough. Knead any loose flour or cheese back into the dough.

Wrap the dough in parchment or plastic wrap and place in the freezer for 15 minutes to harden.

Use your cookie cutter to cut the fish shapes and place them on a parchment lined baking pan.

Let cool 10-15 minutes before enjoying!
Notes
This is the fish cookie cutter I used
Be sure to check all ingredients to ensure they fit your dietary restrictions.
note: nutrition information is provided as a courtesy, but may not accurately reflect the final nutrition composition of your final dish depending on ingredients, substitutions, and serving size.
see the full blog post above post for:
ingredient and equipment suggestions & substitutions,
troubleshooting tips, and
frequently asked questions