Are you looking for a healthy and nutritious snack that's both gluten-free and dairy-free? Look no further! This delicious no-bake dairy-free protein bar recipe can be made with certified gluten-free oats and peanut butter in minutes.
Not only is this recipe easy to make, it's nutritious too! Using just five ingredients—peanut butter, honey, oats, protein powder, and peanuts—you can make an on-the-go snack that's ready in minutes and provides 14g of protein per bar. You'll be well on your way to better-for-you snacking that doesn't sacrifice flavor!
Read on to learn how to make this scrumptious snack with ingredient suggestions and modifications or use the jump to recipe button to go straight to the printable recipe card.
---
Are you new here? I also have the following posts to help you live gluten-free without the stress!
…get valuable support from me, and gluten-free peers, in my EXCLUSIVE Facebook community "Stress-Free Gluten-Free" by clicking here!
---
The gluten-free guide below is based on personal experience and research. Always be sure to discuss any medical changes with your doctor for your personal medical needs. Additionally, this post contains affiliate links. As an Amazon Associate I earn from qualifying purchases. My full disclosure isn't that interesting, but you can find it here.
Ready to take back control of your meals and love your gluten free life? Take the 45 second quiz to get a personalized plan with the guide you need to thrive!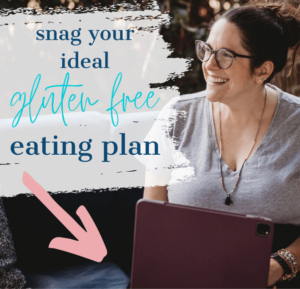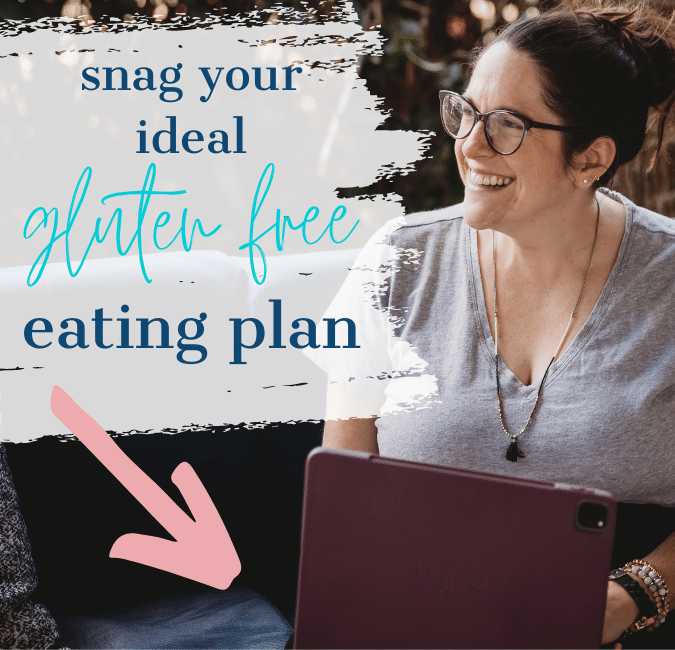 Why you'll love these homemade dairy-free protein bars:
I love these bars for breakfast on-the-go or as an anytime snack, especially when my children get the munchies.
It's a healthy snack packed with 14 grams of plant based protein and healthy unsaturated fats to sustain your energy levels
Coming in at under 80 cents per bar, these are much more affordable than store-bought protein bars!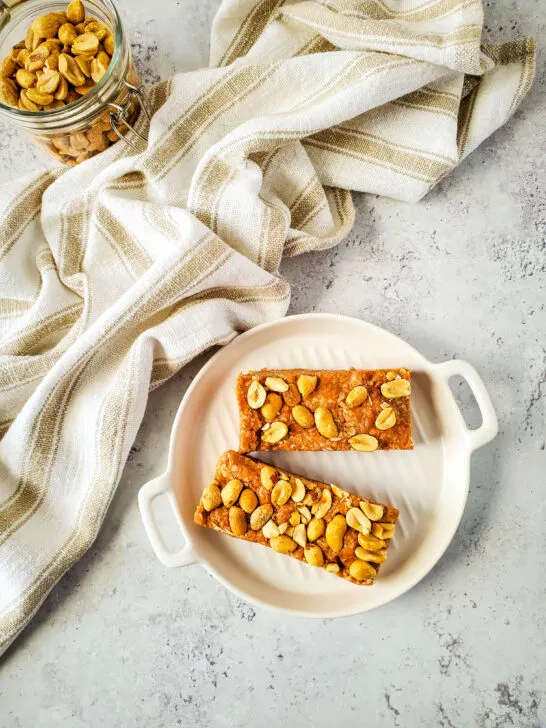 Equipment for Gluten free Dairy Free Peanut Butter Protein Bars
To make this gluten free dairy free protein bars recipe, you'll need a few pieces of equipment you likely already have on hand, but just in case, here's the essentials:
Measuring cups and spoons
Large mixing bowl
Wooden spoon or spatula
8×8 baking dish
Parchment paper
Large knife
Ingredients to make No-Bake Oatmeal Protein Bars
This gluten-free protein bars recipe uses only 5 simple ingredients. You should be able to find these healthy ingredients at your local grocery store or order them for quick grocery delivery from GoPuff. Alternately, you can find great deals on items like natural peanut butter or protein powder online at Amazon or Thrive Market.
Learn more about why I love Thrive Market here, or you can snag a promotional link to receive up to 25% off your first order plus a free gift by clicking here!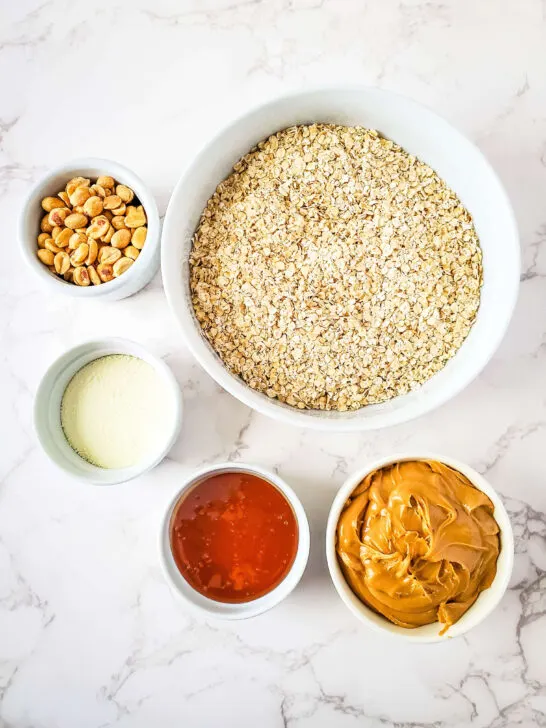 To make this gluten-free protein bar recipe you'll need:
Certified Gluten Free Oats. Be sure that if you have celiac disease or a true gluten intolerance that you use purity protocol oats. We use Gluten Free Prairie, these are grown and harvested by a family who has celiac disease. You can find Gluten Free Prairie oats on Amazon here. I used old fashioned oats style.
Natural peanut butter. I used this creamy peanut butter for this recipe, but you could definitely use chunky peanut butter for a different texture.
Honey. Looking to make your recipe vegan? Check below for substitution ideas!
Dairy free protein powder. This can be an egg white protein, pea protein, or any gluten-free vegan protein powder. Honestly, it doesn't matter much, just choose your favorite protein powder! Just be sure to avoid whey protein powder as whey is a milk protein. Need a suggestion? Check out my full protein powder rating & comparison here.
Peanuts. Since nuts are often processed with wheat, be sure to use a gluten-free peanuts brand. If you need help finding one check out my guide to gluten free peanut brands here.
---
Shop Gluten Free Products in this Post

---
Ingredient Substitutions for Gluten Free Dairy Free Protein Bars
Want to customize this protein bar gluten-free recipe and make it your own? It's so easy! Here's some suggestions:
Instead of peanut butter, you can sub really any nut butter such as almond butter or sunflower seed butter for a nut-free option.
Instead of honey, try subbing maple syrup, brown rice syrup, or date syrup to make vegan protein bars
Instead of peanuts, you can top these bars with dairy-free dark chocolate chips or mini chocolate chips to get a delicious peanut butter and chocolate flavor.
Change out the type of protein powder. I used vanilla protein powder to make this recipe, but chocolate protein powder would taste pretty good too!
Add a delicious coconut flavor by swapping out 1/2 cup of the oats with 1/2 cup of shredded coconut!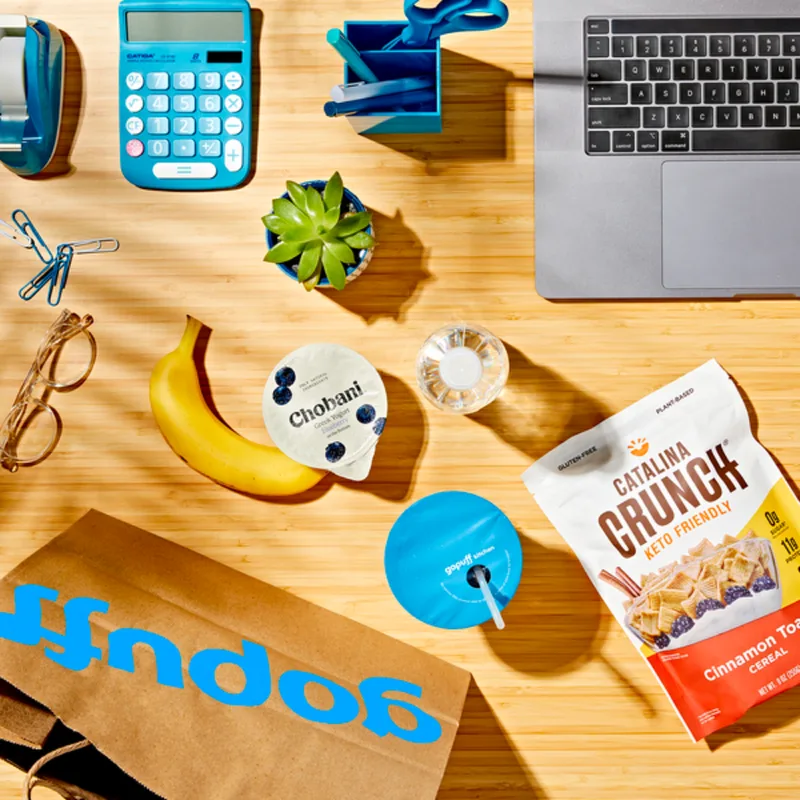 Sick of making grocery runs? Me too!
Try GoPuff for quick and easy grocery delivery including your favorite gluten-free essentials!
Get $100 off + free delivery on SUMMER snacks, drinks, booze & more. Use Code: Welcome1010
How to Make This Gluten-Free Dairy-Free Protein Bar Recipe
To make these gluten and dairy free protein bars, prep your baking pan by lining it with parchment paper.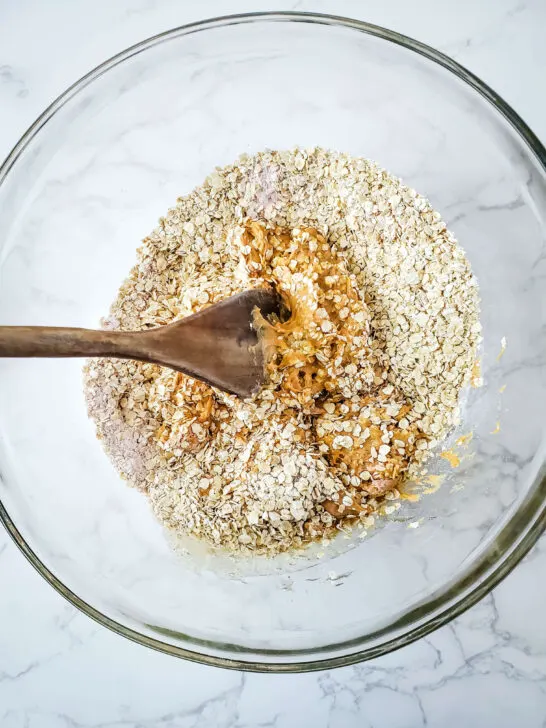 In your mixing bowl, combine the gluten free oats, protein powder, peanut butter, and honey stirring well until fully combined. If it really is difficult to mix, you can also mix it up in a food processor!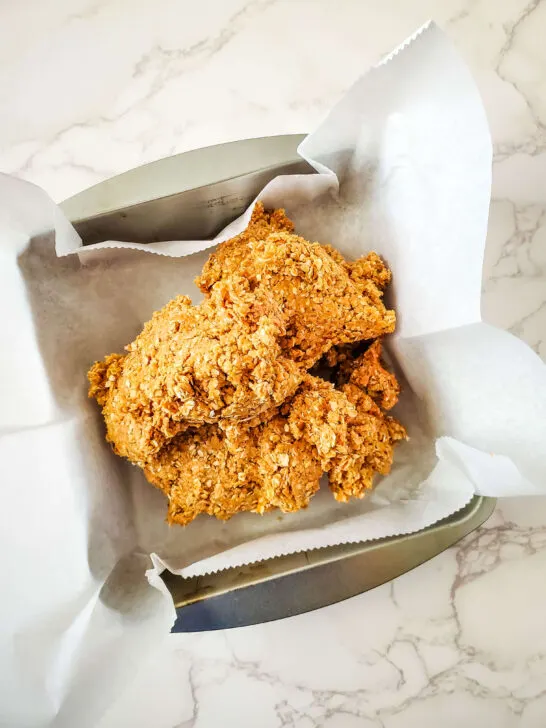 Dump the mixture into your baking pan and press it down. You can use your hands or the back of a measuring cup to get an even thickness.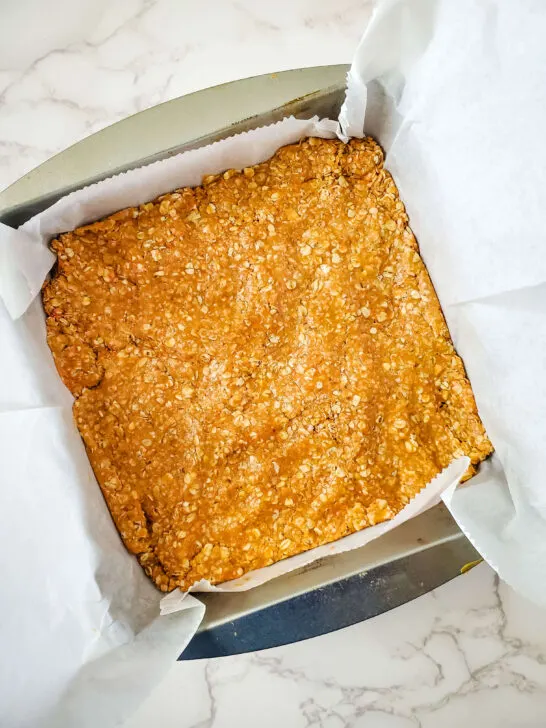 Sprinkle the peanuts on top and press them into the mixture.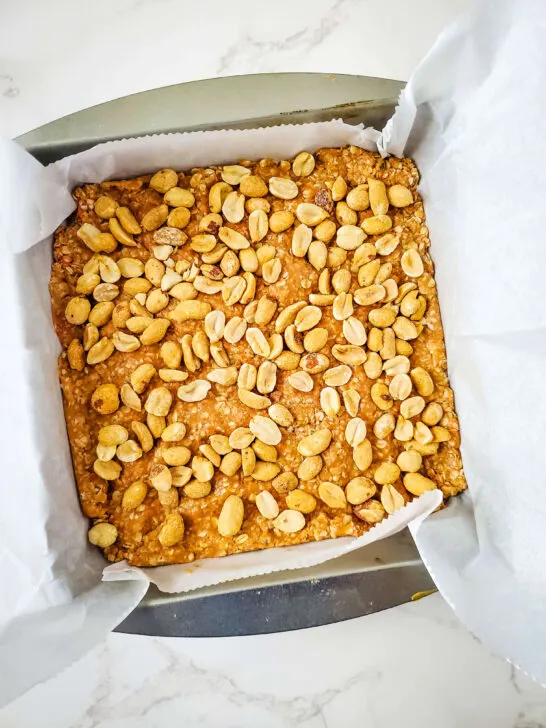 Refrigerate your bars until firm (this should take around 4 hours).
Once chilled, remove from the fridge and cut into 8 even bars.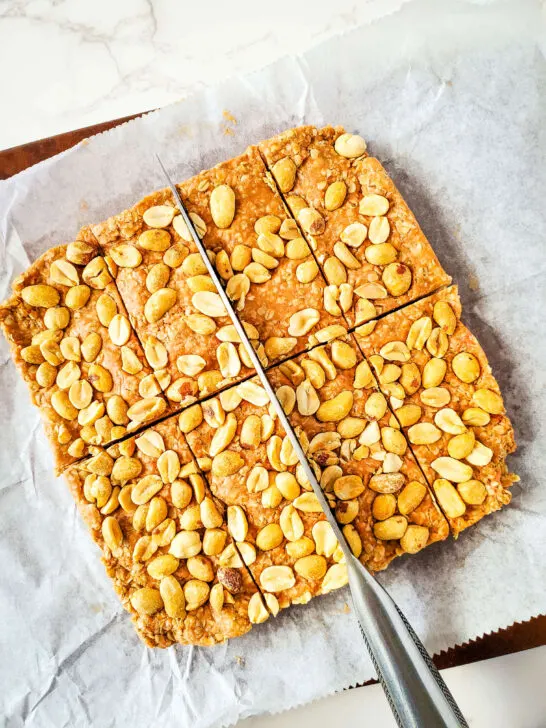 Store the bars in the fridge in an air tight container or wrap them individually.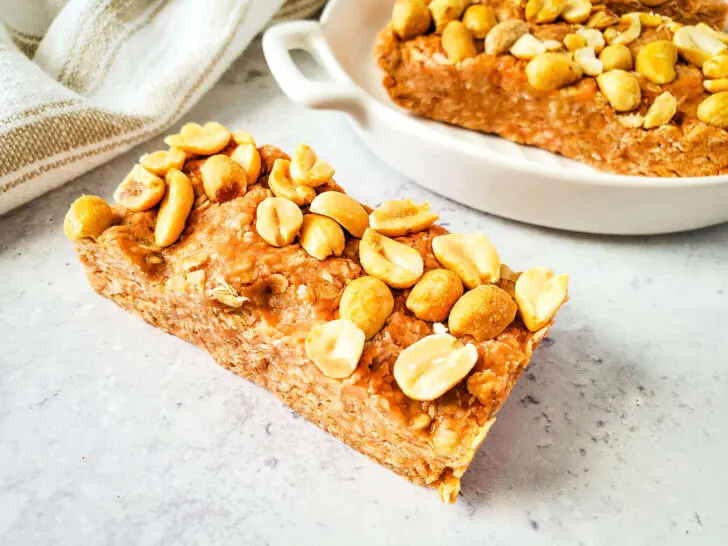 Storage Tips for No Bake Protein Bars
These homemade protein bars can be stored at a mild room temperature in an airtight container or in individual baggies in the fridge.
In addition, I like to prep ahead and freeze some protein bars so I have them on hand all month long. To freeze, wrap individually in parchment and store in an air-tight freezer safe container or bag. They still taste great after freezing, making them the perfect option if you're running low on time but still want something healthy to eat. No matter how you store them – either in the fridge or frozen – these homemade protein bars remain delicious!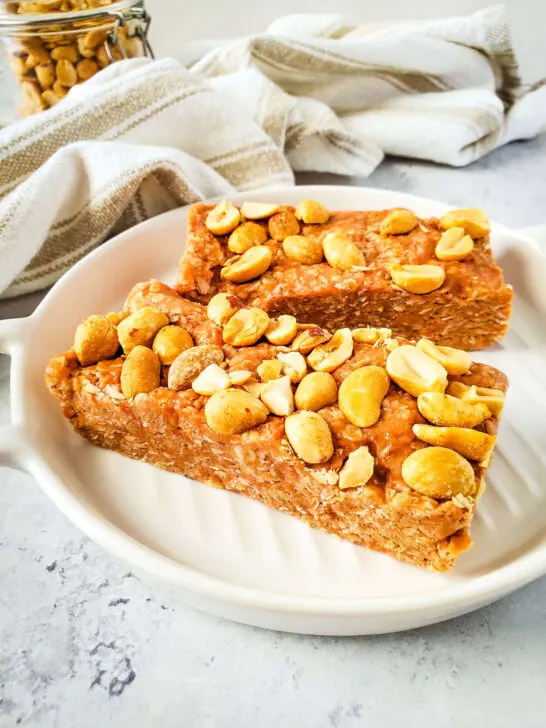 What to Serve with Gluten Free Protein Bars to make a Quick Meal
These bars already have 14 grams of protein and around 350 calories making them a decent start to a meal, but you'd definitely want to pair this with some veggies and hummus, a dairy free shake or smoothie, or even some beef jerky to really round it out.
What's they key to loving your gluten free life? Take this quick quiz to get a personalized plan with the guide you need to thrive!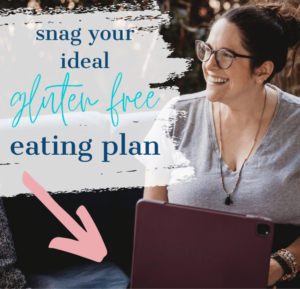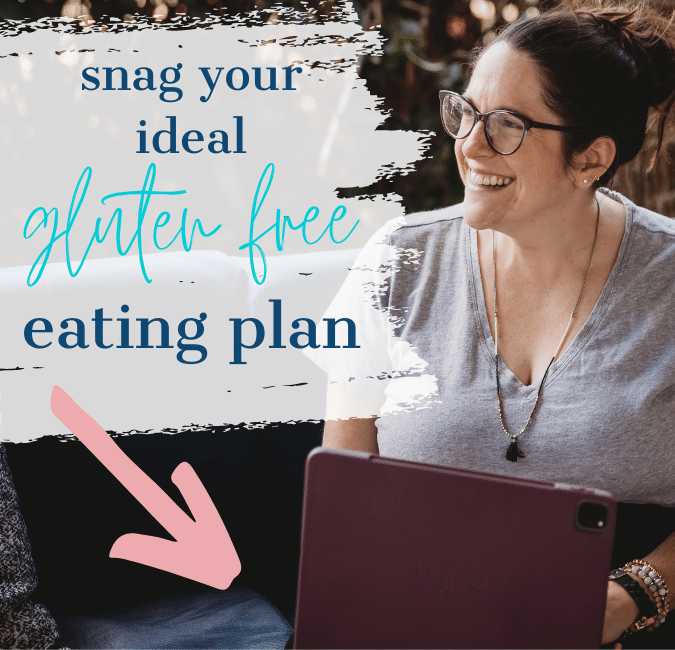 Do you love these Gluten Free Dairy Free Protein Bars?
If so, be sure to rate the dairy-free protein bar recipe below and share this to your gluten free snacks board on Pinterest or flip it to Flipboard!
More Healthy Gluten Free High Protein Snacks:
Scroll down for the printable recipe for dairy free protein breakfast bars!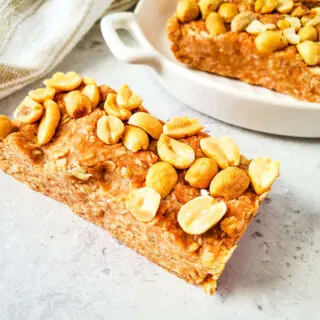 No-Bake Dairy-Free Protein Bar Recipe
This no-bake dairy-free protein bar recipe is made with only 5 ingredients, has an amazing peanut butter flavor, and is totally gluten free. You'll definitely want to make these for a nutritious protein-packed snack!
Equipment
measuring cups

spoon or spatula

large mixing bowl

parchment paper

8×8 baking dish

knife
Ingredients
2 1/2

cups

gluten free oats

purity protocol oats

2

tbsp

gluten free protein powder

1

cup

peanut butter

1/2

cup

honey

1/2

cup

peanuts
Instructions
Line an 8×8 in pan with parchment paper

Combine gluten free oats, protein powder, peanut butter, and honey in a large bowl stirring well. Mixture will be very thick!

Dump the mixture into the prepared pan and press down until evenly distributed

Sprinkle the peanuts over the top and press them into the mixture.

Refrigerate until firm (about 4 hours)

Remove from the fridge and cut into 8 even bars
Notes
Be sure to check all ingredients to ensure they fit your dietary restrictions.
note: nutrition information is provided as a courtesy, but may not accurately reflect the final nutrition composition of your final dish depending on ingredients, substitutions, and serving size.
see the full blog post above post for:
ingredient and equipment suggestions & substitutions,
troubleshooting tips, and
frequently asked questions
Thanks for trying this gluten-free dairy-free protein bar recipe!