This recipe for southwestern quinoa salad is the perfect healthy salad recipe that makes a delicious meal or side dish!
You'll love this quinoa recipe as an easy clean eating lunch idea for two that is naturally gluten-free, dairy-free, and vegan.
It's also perfect for the Trim Healthy Mama Plan as a THM-E recipe or the Arbonne 30 Days to Healthy Living Challenge.
KEEP READING FOR THE BEST TIPS ON HOW TO PREPARE QUINOA SALAD
---
Are you new here? I also have the following posts to help you live gluten-free without the stress!
…get valuable support from me, and gluten-free peers, in my EXCLUSIVE Facebook community "Stress-Free Gluten-Free" by clicking here!
---
The gluten-free guide below is based on personal experience and research. Always be sure to discuss any medical changes with your doctor for your personal medical needs. Additionally, this post contains affiliate links. As an Amazon Associate I earn from qualifying purchases. My full disclosure isn't that interesting, but you can find it here.
Ready to take back control of your meals and love your gluten free life? Take the 45 second quiz to get a personalized plan with the guide you need to thrive!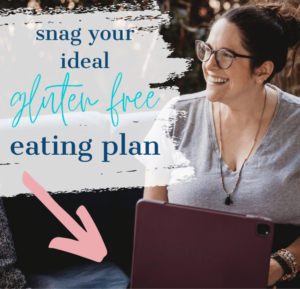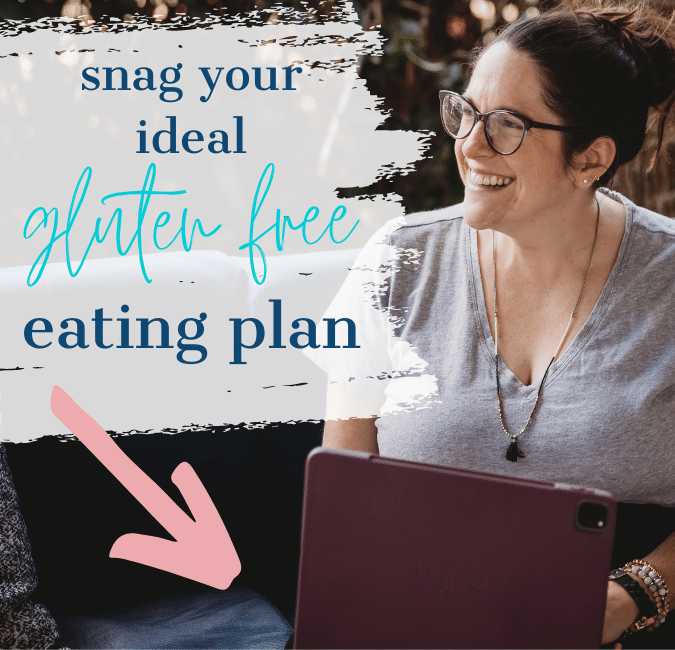 Is Quinoa Gluten Free?
Yes! Quinoa is actually an edible seed–not a grain, and is totally gluten free!
How to Make Quinoa
Making quinoa is no more difficult than making rice!
…and honestly, I find cooking quinoa on the stovetop easier than rice on the stove top because it doesn't change so quickly from undercooked to a clumpy sticky mess.
You'll need a 2:1 ratio of liquid and quinoa. I typically just use water but depending on what I'm making with the quinoa I'll sometimes use broth instead.
First, you need to rinse your quinoa under cool running water using a fine mesh strainer.
note: I skip this step because I use Anthony's quinoa which is already rinsed (and it's certified gluten free!)
Then, add it to your saucepan and toast it on the stove for 1-2 minutes.
Once the water starts to evaporate off, add in the liquid and bring it to a boil.
Once boiling, lower the heat to a simmer (the lowest setting), cover, and cook for around 15 minutes or until the water has all evaporated or cooked into the quinoa.
After simmering, remove from heat and let your quinoa stand (keep the cover on) for 5 minutes.
Your quinoa should be fluffy and perfect! Totally ready to use as a base in your favorite quinoa recipe.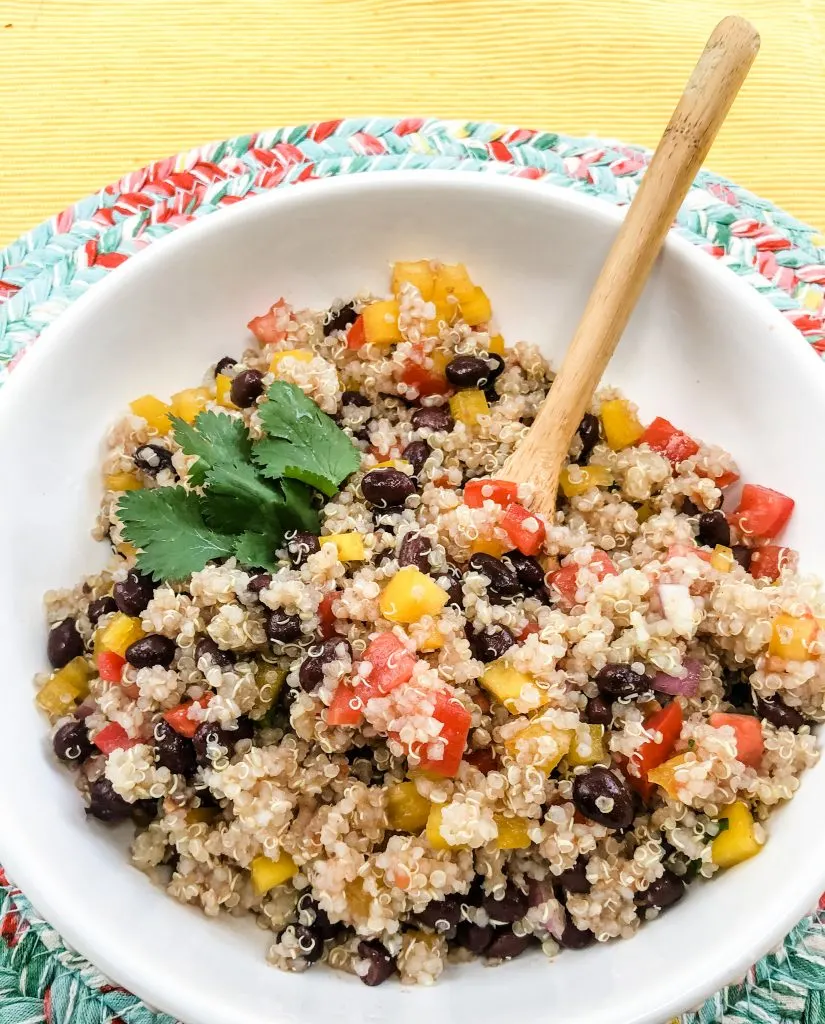 Equipment for Zesty Quinoa Salad
To make this recipe, you'll need:
a small whisk
a small bowl or jar (for your dressing)
a mixing bowl and spoon
cutting board and knife
(and if you don't have leftover quinoa you'll need a saucepan to cook the quinoa)
Since I used fresh lime for this recipe, I also used a lemon squeezer.
Ingredients for Quinoa Salad with Black Beans
Most of the ingredients for this recipe are fresh and can be found at your local grocery store, but you'll find great deals on gluten-free ingredients in general (and products like beans, salsa, and seasonings) on Thrive Market.
Click here to learn more about Thrive Market and a promotional link to get a free gift worth up to $24 on your first order!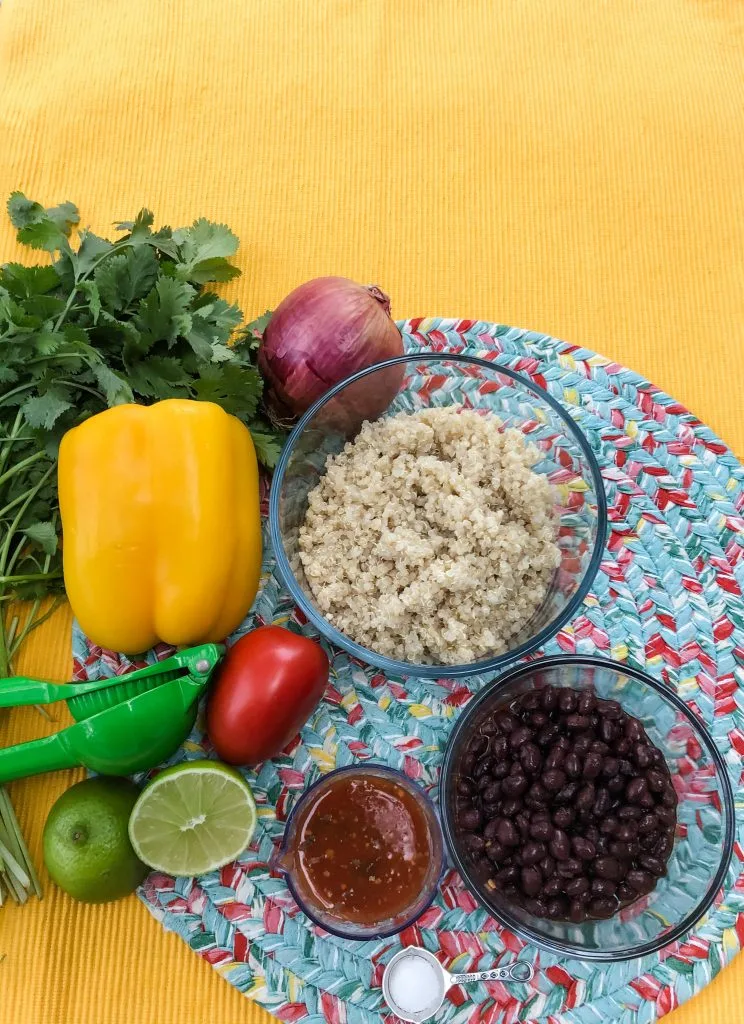 cooked quinoa. I make up big batches of quinoa and use it in recipes throughout the workweek. Cooked quinoa will last up to 5 days in the fridge, or can be frozen for longer! My favorite (and the most affordable) quinoa is by Anthony's–it's pre-rinsed and certified gluten free. You can find it on Amazon here.
a roma tomato. Be sure it's diced and seeded
diced bell pepper. Any color works!
black beans. I use canned, drained and rinsed.
diced red onion. A white or sweet onion works too, but red is so pretty in this colorful dish!
lime juice. I usually juice a fresh lime using one of these because it only takes a few seconds and tastes SO good!
salsa. Use your favorite brand & flavors. If you like the flavor of your salsa, you'll like how this recipe is seasoned–check out the best gluten free salsa brands here.
salt
fresh cilantro
How to Make Quinoa Salad
Preparing this quinoa salad is a simple as mixing everything together!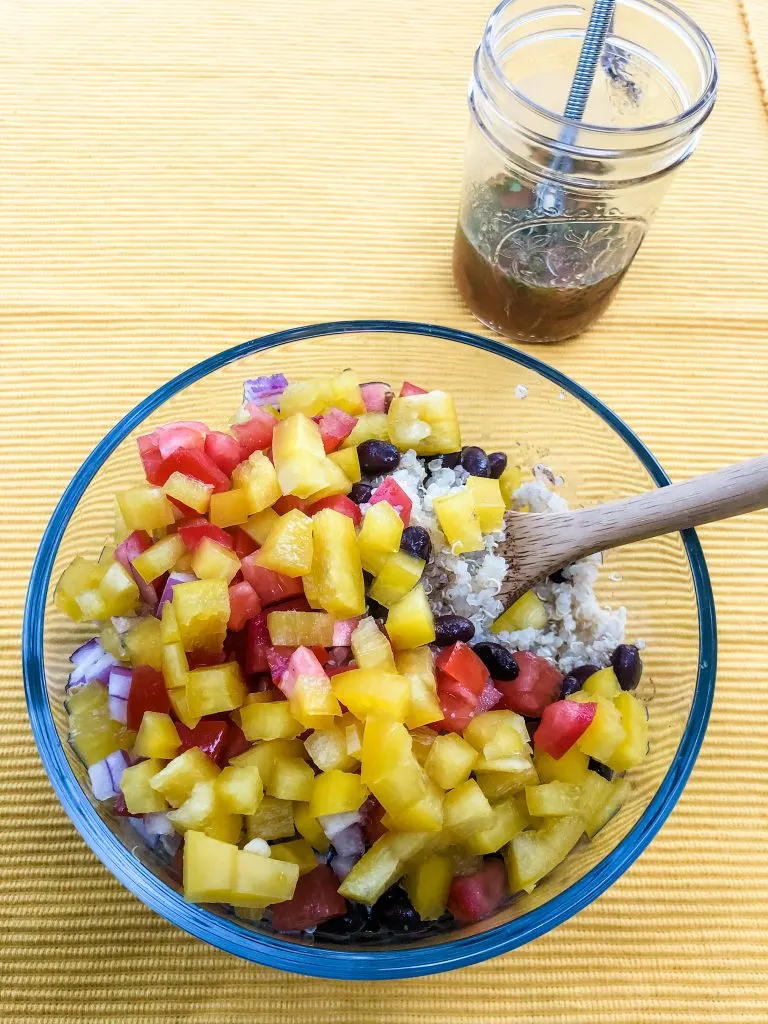 First, be sure all your ingredients are prepped and chopped. Mix together your quinoa, tomato, pepper, black beans and red onion.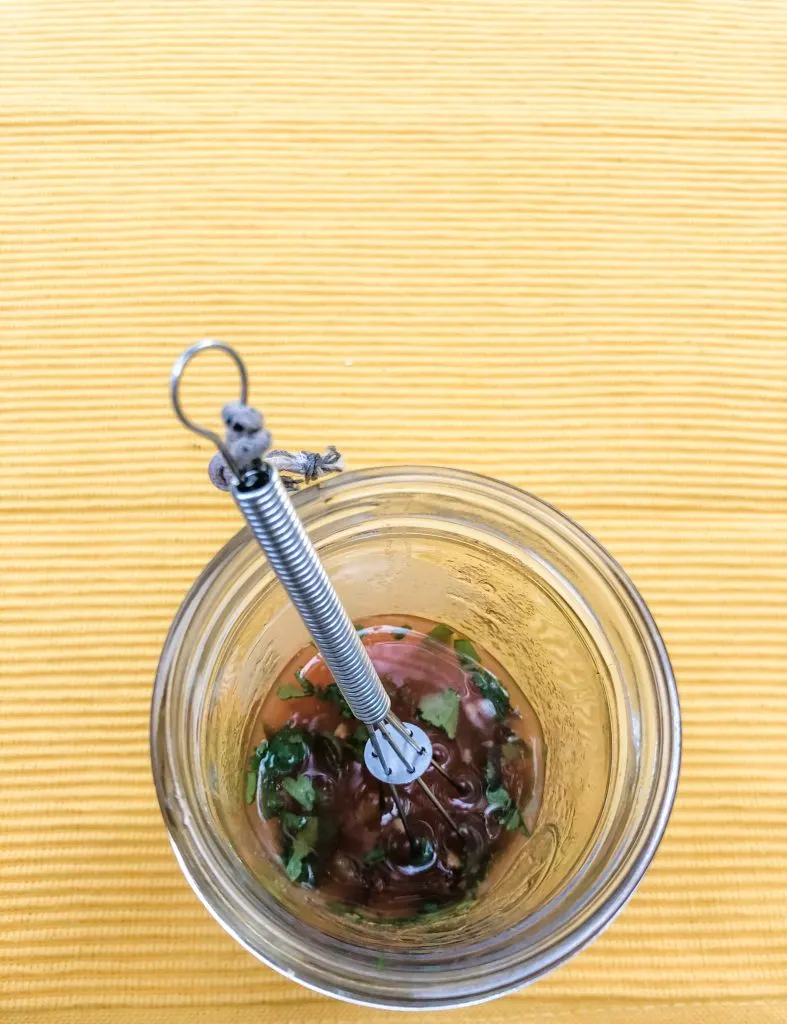 Then, prepare the southwestern quinoa salad dressing by combining the lime juice, salsa, salt, and fresh cilantro in a small bowl or jar.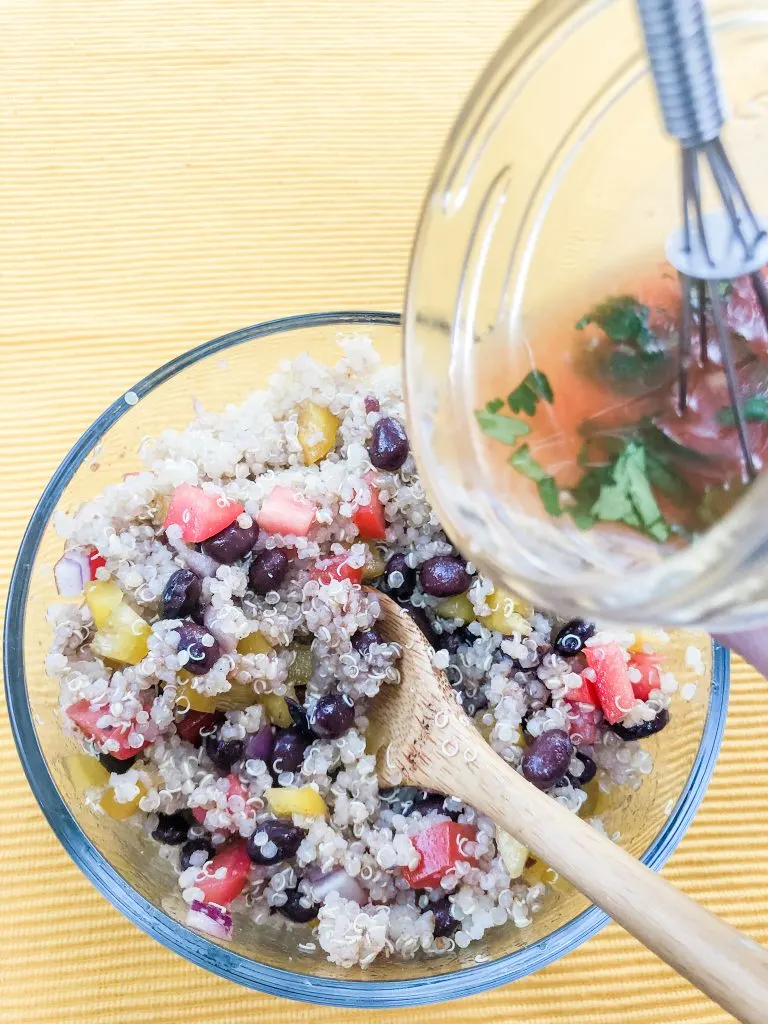 Next, pour the zesty lime cilantro vinaigrette onto your quinoa mixture and you're good to go!
You can either eat this recipe right away or let the flavors marinate for a bit in the fridge.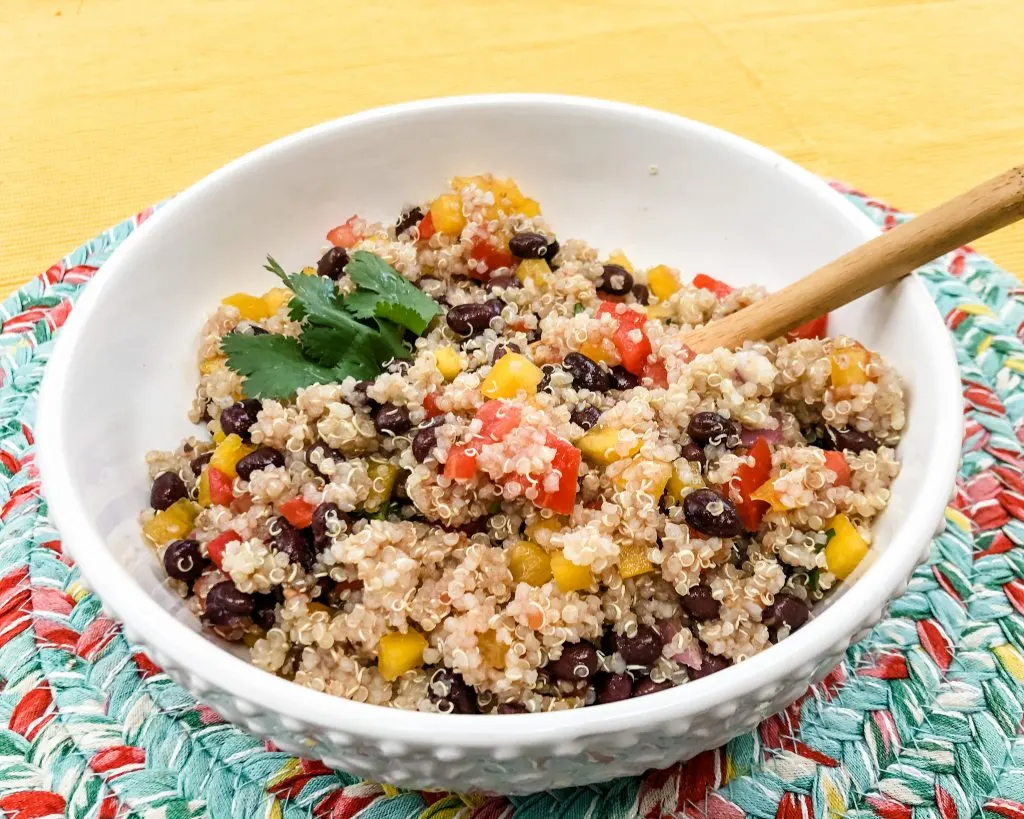 Frequently Asked Questions about Quinoa Salad Recipes:
What do you serve with vegan salad?
This vegan grain salad is a light dish that pairs perfectly with a green salad of a soup such as a homemade vegan "egg drop" soup.
How healthy is quinoa salad?
This easy quinoa salad with black beans is a delicious gluten-free grain salad packed with plant-based protein, veggies, complex carbs, and essential vitamins.
It's a very balanced recipe as is.
Is quinoa salad served hot or cold?
Typically it is a cold side dish.
However, this particular recipe would taste great warmed up with extra beans or an additional protein—almost like a burrito bowl!
How long will a quinoa salad last in the fridge?
This recipe lasts about 3 days in the fridge, just be sure to give it a quick mix before eating in case the dressing has settled to the bottom.
Can I freeze quinoa salad?
You can definitely freeze this southwest quinoa in an airtight container for about 3 months, but I wouldn't freeze the assembled vegan quinoa salad. The raw vegetables and dressing taste best fresh!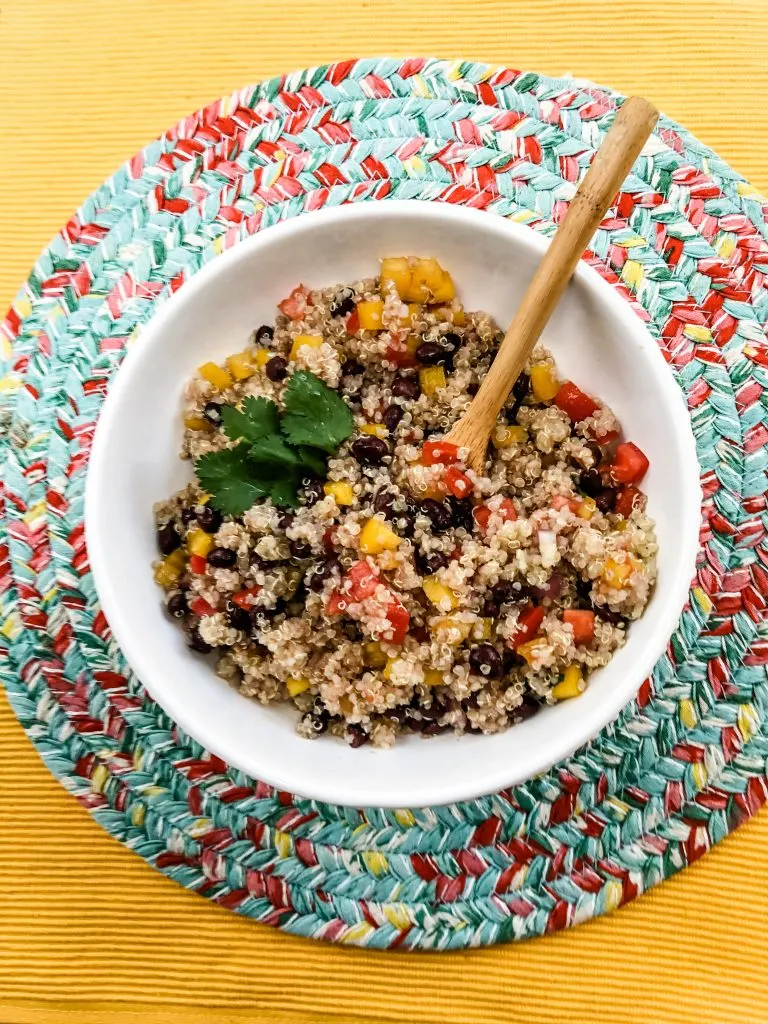 Did you love this clean eating recipe?
Be sure to pin this recipe to your Healthy Recipes Pinterest board using the social sharing buttons so you can access this with your quinoa salad recipes whenever you're ready to make it!
Scroll down for the printable recipe, and take the FREE quiz to discover your personalized gluten free plan to claim back your love of food!
What's they key to loving your gluten free life? Take this quick quiz to get a personalized plan with the guide you need to thrive!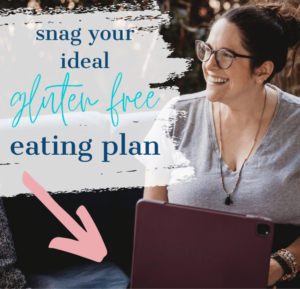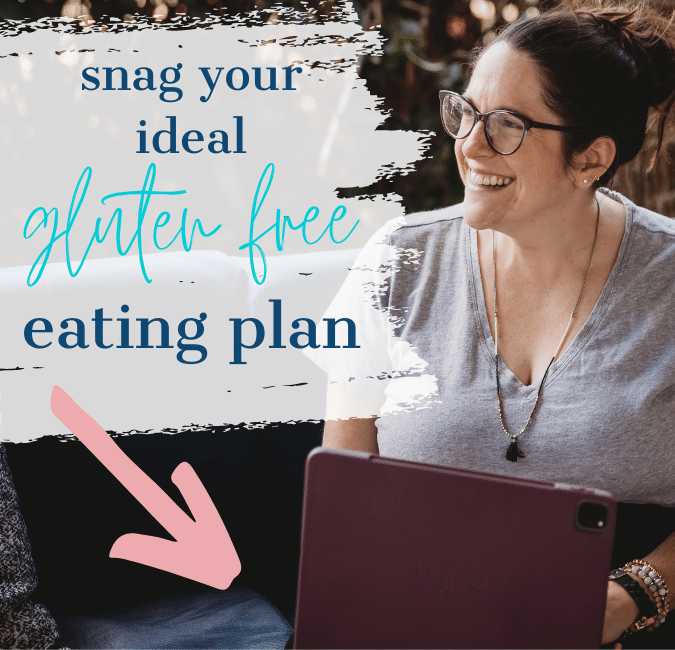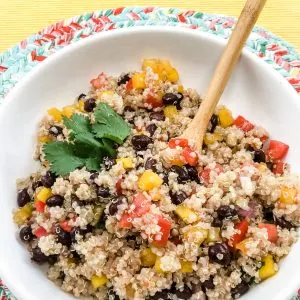 Southwestern Quinoa Salad
This recipe for southwestern quinoa salad is the perfect healthy salad recipe that makes a delicious meal or side dish! You'll love this quinoa recipe as an easy clean eating lunch idea for two that is naturally gluten-free, dairy-free, and vegan (as well as a THM-E or fitting for Arbonne's Healthy Living Program).
Equipment
whisk

small bowl or jar

mixing bowl and spoon

cutting board and knife
Ingredients
1 1/2

cup

cooked quinoa

1

roma tomato

diced & seeded

1/4

cup

bell pepper

diced

1/2

cup

black beans

drained & rinsed

1

tbsp

red onion
Dressing Ingredients:
2

tbsp

lime juice

2

tbsp

salsa

1/8

tsp

salt

1

tbsp

chopped cilantro

(plus more for garnish)
Instructions
Combine the quinoa, tomato, diced pepper, black beans, and red onion in a bowl.

Make the dressing by mixing together the lime juice, salsa, salt, and cilantroleaves in a separate jar or small bowl.

Mix with the rest of the ingredients and thoroughly incorporate.

If desired, top with extra cilantro before serving
Notes
see the full blog post above post for:
ingredient and equipment suggestions,
tips for cooking quinoa, and
frequently asked questions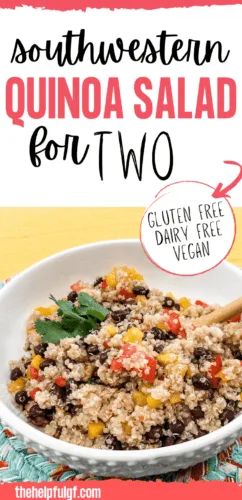 Looking for other easy gluten-free & vegan recipes that you will love (including quinoa recipes?)
SOUTHWESTERN QUINOA SALAD RECIPE: GLUTEN-FREE, DAIRY-FREE, VEGAN, THM-E, & ARBONNE 30 DAYS TO HEALTHY LIVING