This is a review of Kristin Cavallari's True Roots Cookbook which is 100% gluten-free.
I tested out so many recipes from this book and have to say it really does live up to the hype. Keep reading to see how they turned out and my favorites from the cookbook.
---
Are you new here? I also have the following posts to help you live gluten-free without the stress!
…get valuable support from me, and gluten-free peers, in my EXCLUSIVE Facebook community "Stress-Free Gluten-Free" by clicking here!
---
The gluten-free guide below is based on personal experience and research. Always be sure to discuss any medical changes with your doctor for your personal medical needs. Additionally, this post contains affiliate links. As an Amazon Associate I earn from qualifying purchases. My full disclosure isn't that interesting, but you can find it here.
An Overview of True Roots
The True Roots Cookbook is a collection of over 100 gluten-free, dairy-free, refined sugar-free recipes created by Celebrity Kristin Cavallari with chef Mike Kubiesa.
Cavallari begins the book with a quick synopsis of her own healthy eating journey and how she balances healthy cooking with her family.
While True Roots cookbook does claim to be gluten-free, dairy-free, and refined sugar-free, it is worth noting that she often uses oats as an ingredient.
If Celiac, be sure to use purity protocol gluten-free oats instead of mechanically sorted oats due to the increased risk of contamination. She also uses sheep milk yogurt and cheese in recipes as well as Paleo sweeteners like coconut sugar and maple syrup.
I tried out 6 of her recipes and had great success—keep on reading to see what I made!
Ready to take back control of your meals and love your gluten free life? Take the 45 second quiz to get a personalized plan with the guide you need to thrive!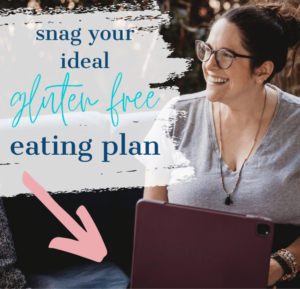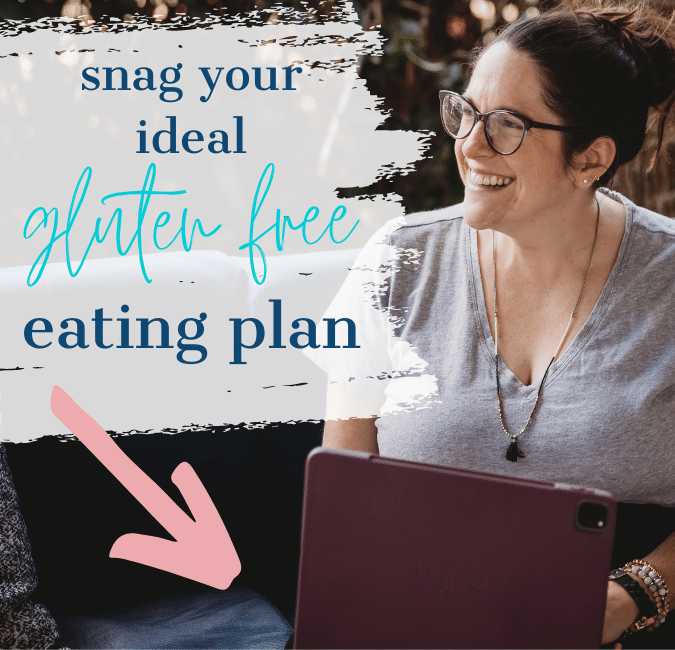 The Recipes
The recipes in the True Roots cookbook range from breakfast & kitchen staples (like almond milk), to desserts & treats. They even range from simple (seasoned salt) to fancy (veal braciola with cashew ricotta).
With this range of recipes, you are sure to find a recipe for almost any occasion! Also, my kids tried each of the recipes we made and LOVED them—so most of the recipes in the True Roots cookbook are family-friendly!
special note on ingredients: many of the specialty ingredients used in the recipes below can be ordered online. The links below will take you to Amazon, but another great place to find specialty ingredients is Thrive Market. Click here to read my full review of Thrive Market and get a coupon code for a huge discount.
Baked Oatmeal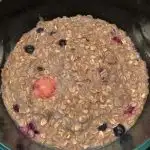 According to the True Roots cookbook, this recipe serves 4 and takes 15 minutes.
To make this recipe you'll use: coconut oil, berries, almond milk, oats (be sure to use purity protocol like these), egg, vanilla extract (make sure it's gluten-free like this brand!), maple syrup, and ground flaxseeds. For kitchen tools you'll need and an oven-safe pan.
Not only is this recipe super easy, but it is a great make-ahead recipe. I made a batch of this recipe and divided it into Pyrex containers to use for quick breakfasts!
Whipped Yogurt Parfait with Caramelized Peaches and Granola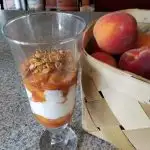 The True Roots cookbook states that this recipe serves 4 and cooks for 15 minutes.
This recipe takes sheep's milk yogurt (or you could use coconut milk yogurt if you need it truly dairy free), pure maple syrup, coconut oil, peaches, cinnamon, vanilla extract, and granola. You'll need a sauté pan for caramelizing the peaches.
We actually topped this with the recipe for Simple But Damn Good Granola also in the True Roots cookbook. This recipe is so simple as well and uses oats (again, use purity protocol if sensitive!), almonds, cinnamon, honey, and hemp seeds. It bakes in the oven, so you'll need a cookie sheet.
These recipes were super easy as well and made a fun, healthy treat! Even my husband who isn't a big fan of peaches really enjoyed them caramelized. While this recipe is in the breakfast section of the True Roots cookbook, we ate it as dessert. yum!
Dutch Baby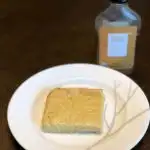 A "Dutch Baby" is a kind of baked pancake. This recipe will serve 4 and takes about 25 minutes.
This True Roots cookbook recipe will need coconut oil, almond milk, arrowroot powder, oat flour (again, be sure use purity protocol oat flour), lemon zest, eggs, Himalayan salt, maple syrup, and vanilla extract.
For kitchen tools you'll need a high-powered blender like this one and a Dutch oven.
Honestly, this is probably the easiest recipe out of the bunch. So easy in fact, that I might not make traditional pancakes on a griddle until my kids are old enough to flip them—haha. However, it was not only easy, but yummy.
We topped ours with maple syrup (as pictured) but this would be great with berries as well!
Roasted Garlic & Sage Chicken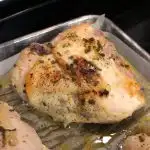 Moving on from breakfast, this True Roots cookbook main dish will serve 4 and need to cook for 45 minutes.
You'll need olive oil, fresh sage, garlic, chicken breasts, and salt & pepper. You'll need a baking dish and parchment paper for the cooking.
This recipe was just simple perfection. Sometimes you really don't need fancy—just plain old good food.
Zucchini Almond Butter Blondies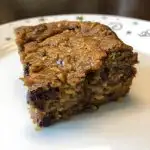 This is the first recipe I made from the True Roots cookbook. And it left me wanting to make more! This makes about 16 blondies (depending on how big you cut them!) and will take 30 minutes.
To make this recipe, you'll need creamy almond butter, eggs, Himalayan salt, baking soda, coconut sugar, vanilla extract, dark chocolate chips (Enjoy Life's chocolate chips are perfect for this!), and zucchini.
You'll need an 8×8 baking dish, but I also used this Kitchen Aid grater attachment to grate the zucchini quickly and easily!
This was a delicious recipe, the only drawback is that it doesn't really tell you how much zucchini to use—it just says "large" so it left me guessing. Mine turned out okay though, and I'd estimate I used about 1.5 cups.
Flourless Cashew Butter Cookies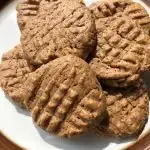 This recipe makes a TON of cookies (30+) with a short cook time of 10 minutes and only 6 ingredients: cashew butter, coconut sugar, eggs, vanilla extract, baking soda, and Himalayan salt. You'll need a baking sheet and parchment paper because this dough is sticky.
But it cooks up really well! You'll also need a cooling rack.
These cookies were similar in texture and consistency to peanut butter cookies—but the flavor is more mild and subtle.
My Opinion
The True Roots cookbook is great! I was honestly surprised that many of the recipes were not only family-friendly, but actually tasted good!
I know I reviewed 6 of the recipes here, but I have a list of many more to try—like pudding pops, golden milk, kids' favorite fritters, and blueberry cashew bars just to name a few.
It would've been nice to have more pictures of the recipes—but honestly, that's just me being picky.
If you are looking for a diverse, family-friendly cookbook filled with gluten-free and dairy-free recipes that are low in sugar, I really do encourage you to try out the True Roots cookbook.
Have you tried any of these recipes? Let us know in the comments below what you thought and be sure to pin this review on Pinterest so you can find it later!
If you are looking for another gluten-free, dairy-free cookbook? If so, read my review of Danielle Walker's Meals Made Simple here.
What's they key to loving your gluten free life? Take this quick quiz to get a personalized plan with the guide you need to thrive!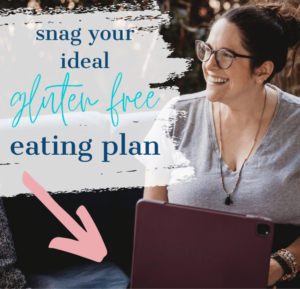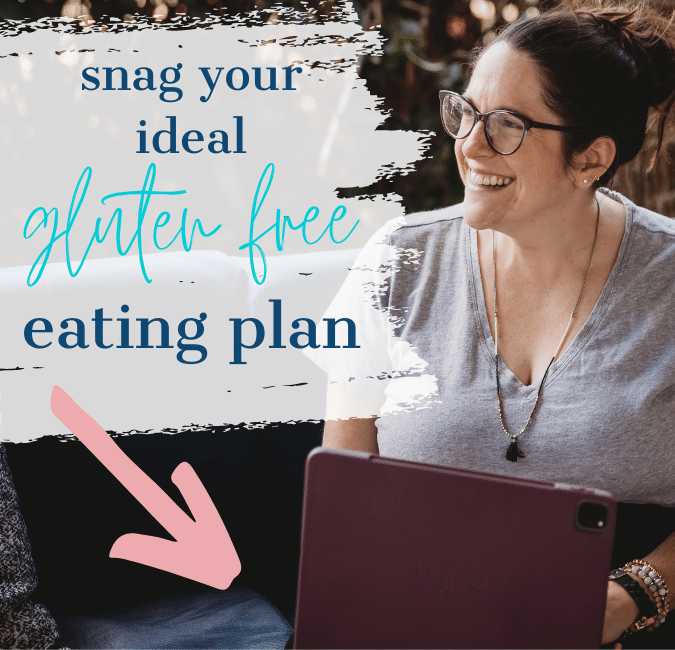 Here are more gluten-free recipes you will LOVE: