This post has the top tricks and tips for a enjoying a potluck–even if you are gluten free! Plus delicious gluten free potluck recipes.
Potlucks are a fun time of gathering and sharing food with people you enjoy spending time with—but if you have Celiac Disease or other dietary restrictions, they may also be a time of great stress.
Keep reading for the best tips, food suggestions, and recipes for gluten-free potluck ideas! Or use the Table of Contents below to jump to the tip or recipe you want!
---
Are you new here? I also have the following posts to help you live gluten-free without the stress!
…get valuable support from me, and gluten-free peers, in my EXCLUSIVE Facebook community "Stress-Free Gluten-Free" by clicking here!
---
The gluten-free guide below is based on personal experience and research. Always be sure to discuss any medical changes with your doctor for your personal medical needs. Additionally, this post contains affiliate links. As an Amazon Associate I earn from qualifying purchases. My full disclosure isn't that interesting, but you can find it here.
These dishes are great gluten-free summer potluck dishes and gluten-free winter potluck dishes.
No matter the season, there are great ideas on this list that you would love to prepare or shop for to bring to the next gluten free potluck!
Keep reading for the best tips for eating gluten free at a potluck, what to avoid at potlucks, and food + recipe ideas for appetizers, main dishes, side dishes, and desserts!
Are you looking for some Christmas potluck ideas? Check out my post on the best gluten-free Christmas party recipes here!
Ready to take back control of your meals and love your gluten free life? Take the 45 second quiz to get a personalized plan with the guide you need to thrive!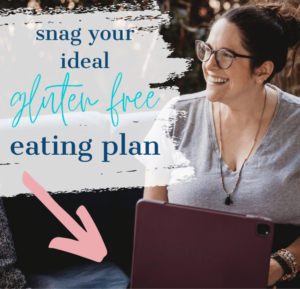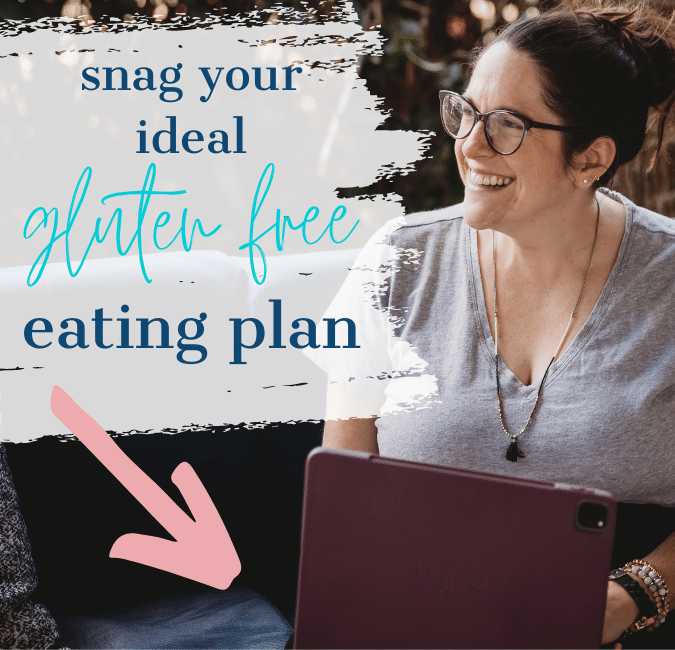 Best Tips for Eating at a Potluck when You're Gluten Free
While eating food you haven't prepared yourself is can be scary for something with Celiac Disease, there are useful tips and tricks you can do to minimize the risk of gluten cross-contact. (insert cross contamination post).
1. Bring the food you're happy to eat!
Definitely bring a gluten-free main dish, but you may also want to bring a side or dessert as well. This way, you won't be too hungry if there's nothing else safe for you to eat.
Keep reading for lots of ideas for gluten-free appetizers, main courses, and desserts to bring to a potluck (including store-bought items)!
2. Arrive early (better yet, volunteer to help set up)!
By coming early and helping set up, you are able to scope out what's available, be sure that each item has its own serving utensils to avoid switching the same utensil from dish to dish, and you can even set up a special designated table of 'allergy friendly' food.
Another advantage to arriving early is that it's easier to talk to people about what's in their dish! Most people are more than happy to share ingredients with you so you can assess whether it meets your dietary needs.
3. Go through the food line first.
The bigger the potluck, the more likely it is that any safe, gluten-free food could be contaminated due to spoon switching or crumb dropping. Going through the food line first minimizes this risk.
4. Ask if it's gluten-free!
Don't just guess or assume—and take a risk, talk to the people who made food and be sure it fits your dietary needs. It's not worth the pain and damage.
What to Avoid at a Potluck when You're Gluten-Free
The main thing you need to avoid at a potluck is taking risks by assuming food is safe. Survey the options. If something appears that it may be gluten-free, but sure to ask around to find out who made it and ask them what's in it! When looking around the table, look for things that are prepacked (like chips) so you can read the label and see if it is gluten-free.
Also, inspect the serving utensils—if it looks like it may have been used for multiple items, pass on those items as there is likely a high risk of cross contact.
Lastly, trust your gut. If you don't feel confident that it meets your needs—pass.
Gluten Free Appetizers for a Potluck
Whether you're in a rush and just wanna grab something at the store or you have time to prepare something delicious—here are some great gluten-free potluck appetizers!
Veggie Platter and Dip. Be sure to read the label on any dip you buy to ensure it is gluten-free! Try ranch dressing, hummus, and even guacamole.
Hot Baked Spinach Artichoke Dip. This classic favorite is made gluten free in this delicious spinach artichoke dip recipe.
Chips and Salsa. Everyone loves chips and salsa—and it takes no cooking effort on your part! Just be sure the chips are gluten-free and buy a few bags.
Cheese and Crackers. Buy some gluten-free crackers (I loooove these!) and slice up some cheese. Done! Short on time? Grab pre-sliced cheese at the store.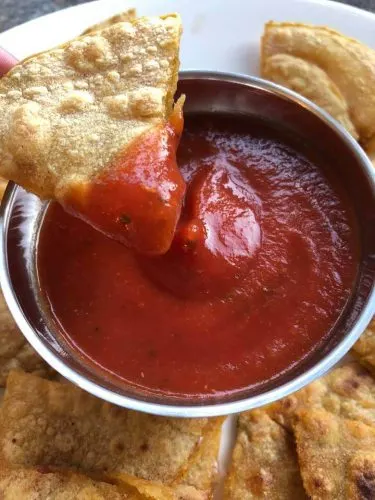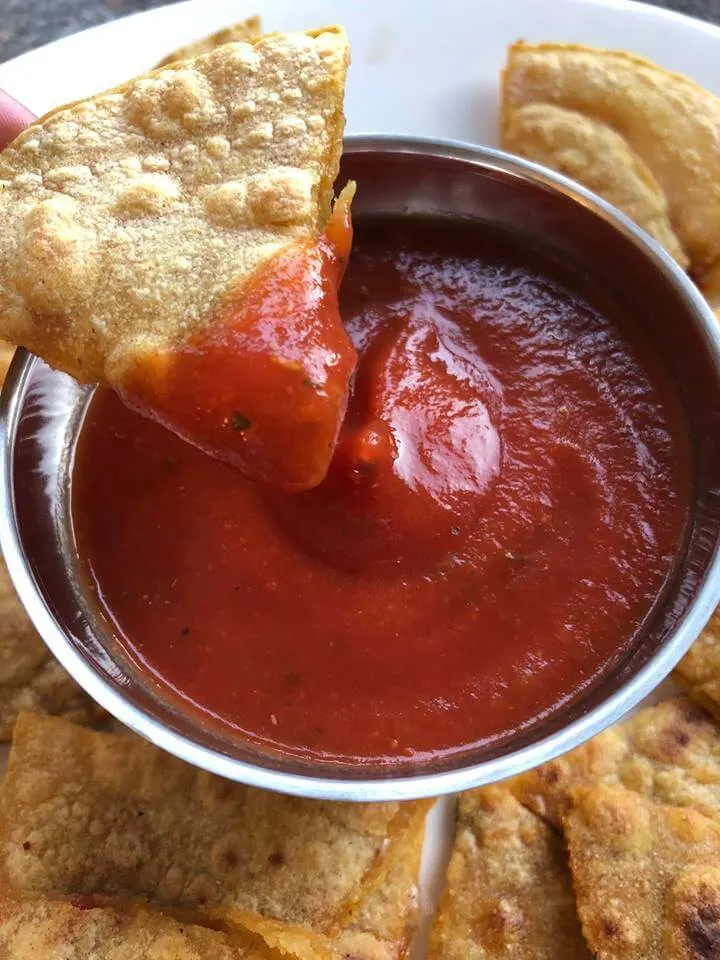 Pizza Quesadillas. This recipe for pizza quesadillas are quick to whip up—especially on a large electric griddle! You can use assorted toppings and bring marinara for dipping! I love this certified gluten-free marinara. Use code THEHELPFULGF10 to save 10% on an order.
Gluten Free Main Dishes for a Potluck
Casseroles and slow cookers are your friend at potlucks! There are some great options to grab!
Premade Gluten-Free Soup. Seriously don't have time to cook? Buy some gluten-free soup and toss it in a crock pot! Both Imagine and Pacific foods brands have some great tasting gluten-free options!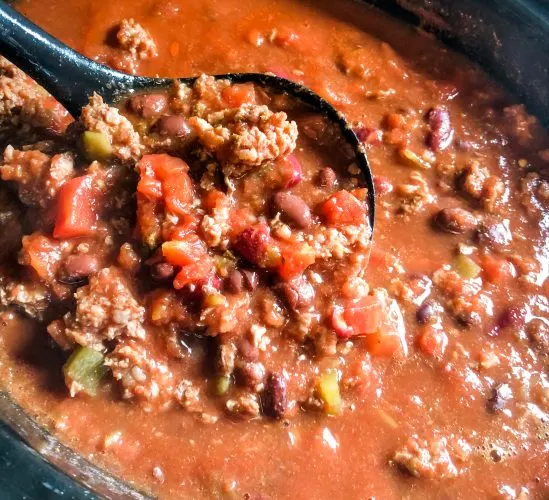 Chili. This recipe for chili is so simple and delicious! You can even whip up a box of gluten-free cornbread to go with it.
Vegetable Stew. This vegetable stew recipe is not only gluten-free but vegan as well. This is a great potluck option to bring in a crockpot and will delight both vegetarians and omnivores!
Hungarian Goulash. This stew made in the slow cooker is a simple and clean eating recipe that is super flavorful.
Moussaka. While moussaka isn't a traditional recipe in the United States it's a hearty casserole that hits all the spots! It's cheesy and filling.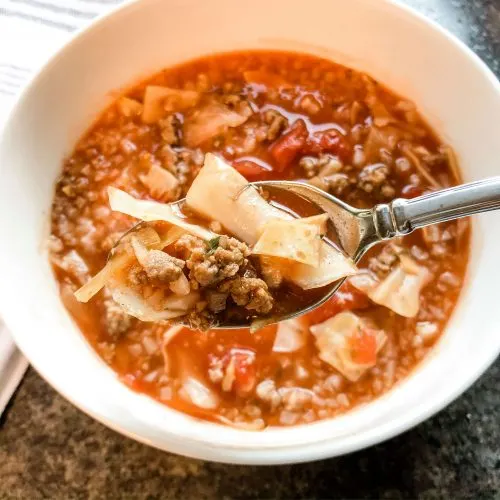 Cabbage Soup. This gluten-free cabbage soup recipe is so simple to make in the crockpot and is perfect for people trying to eat healthy and dairy-free.
Gluten Free Side Dishes for a Potluck
While some of the gluten-free appetizers above work as a side dish, there are a few gluten-free side dishes that are easy to throw together!
Salad. Bring a large salad! Salads are quick and easy to throw together, and you can bring a few different salad dressing options. Instead of croutons, use cheese whisps! Also, these salad dressings are my favorite! They have clean ingredients and are gluten-free, dairy-free, and many are vegan. Use code THEHELPFULGF10 to save 10% on an order.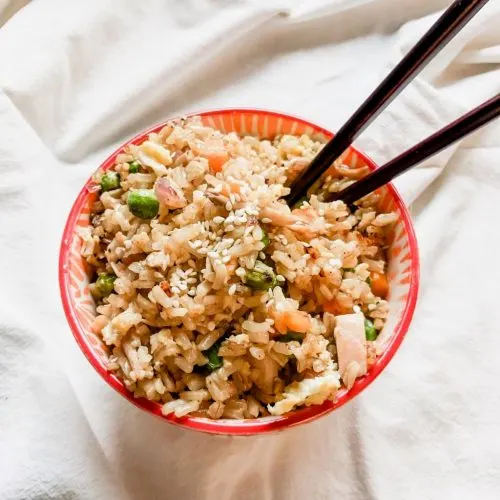 Fried Rice. This fried rice recipe is SO quick to prepare! To make it the perfect side dish, feel free to leave out the meat, multiply the recipe, and bring it in a warm slow cooker.
Homemade Applesauce. This recipe for homemade applesauce will make both adults and children super happy at your potluck. It's made in a slow cooker and so simple, it really couldn't be easier.
Quinoa Salad. This recipe for southwestern quinoa salad is a delicious gluten-free and vegan dish that's simple to make and so colorful!
Scalloped Corn. Scalloped Corn is a delicious southern recipe that is a true family favorite. Perfect for holiday gatherings, Sunday suppers, and bringing to potlucks.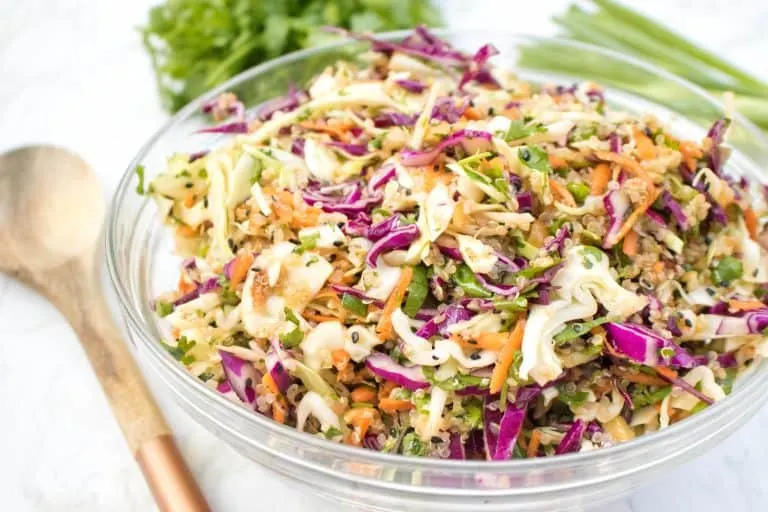 Asian Sesame Ginger Slaw. This Asian Sesame Ginger Slaw isn't your average slaw! It's heartier due to the addition of quinoa, but also mayo free and lighter with a delicious sesame ginger dressing! Just be sure to use gluten-free soy sauce or aminos.

Click here to read my full post unpacking soy sauce brands and if they are gluten-free.
Balsamic Brussel Sprouts. These Balsamic Brussel Sprouts are so easy to make by oven baking to the perfect crispiness!
Gluten Free Desserts
Honestly, I always keep a gluten-free box mix of something desserty on hand for last minute invites to get-togethers and potlucks. It just makes life so much easier! There are some great options for both store-bought and homemade dessert ideas!
Store bought gluten-free dessert. Check the freezer section of your local store for a frozen gluten-free cake, pie, or cheesecake. Most stores at least have a couple options. Nothing there? Grab yourself a box of gluten-free cookies to satisfy your sweet tooth at the event.
Almond Flour Blondies. This recipe for almond flour blondies is so simple and taste delicious! This is the perfect pan of bars to bring to an event.
Chocolate Chip Cookie Dip. This cookie dip recipe is simple with regular grocery store ingredients. Service it with gluten-free dippers like fruit, gluten-free graham crackers or gluten-free pretzels.
Vegan No Bake Blackberry Bars. Everybody always appreciates how this dessert is so purple, naturally! Using fresh or frozen blackberries, make your no-bake, barely fussed, healthier dessert wishes come true – it tastes like cheesecake, thanks to wonderfully creamy cashews, woot-woot!
Cake or cupcakes. Baking a gluten-free cake or cupcake from a gluten-free mix is so simple and easy. Here is a review of some of my favorite gluten-free cake mixes and frostings—including some dairy-free options.
Swedish Apple Pie. This Swedish apple pie is similar to a crisp and has an amazingly easy topping. It's my most-requested Thanksgiving dessert and as a bonus, is gluten-free and vegan. It's perfect with ice cream, vanilla sauce or custard on top.
Did you love this post? Don't forget to pin it to Pinterest for later or share on social media by using the social share buttons below.
Or take the FREE quiz to discover your personalized gluten free plan to claim back your love of food!
What's they key to loving your gluten free life? Take this quick quiz to get a personalized plan with the guide you need to thrive!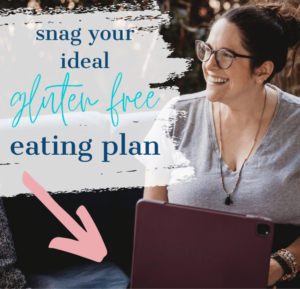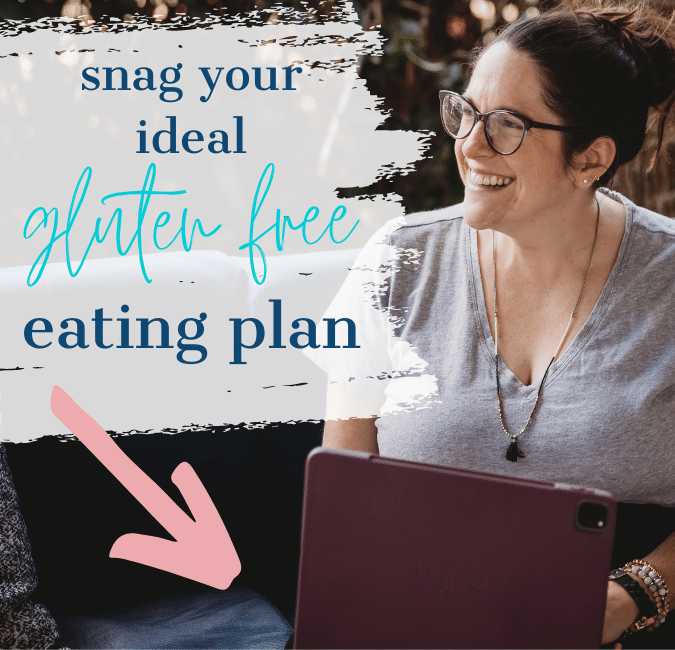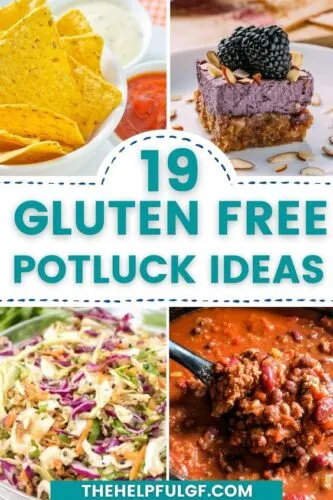 Looking for more gluten-free recipes to try?
Here are more easy gluten-free recipes you will love: