Meijer is a supercenter style store with locations across the Midwestern United States. These stores are very large, but with gluten-free food now widely available at most grocery stores, how does the Meijer gluten free list compare to its competitors?
The humongous gluten-free aisle and the great gluten-free meal prep offerings in the produce section should encourage you to run to your nearest Meijer and stock up on some great gluten-free essentials.
They not only have so many of the big gluten-free brands, but they also have their own Meijer gluten free food items as well that you'll definitely love!
Keep reading to see some of my top gluten-free finds at Meijer, or use the Table to Contents to jump to the section of your choice.
---
Are you new here? I also have the following posts to help you live gluten-free without the stress!
…get valuable support from me, and gluten-free peers, in my EXCLUSIVE Facebook community "Stress-Free Gluten-Free" by clicking here!
---
The gluten-free guide below is based on personal experience and research. Always be sure to discuss any medical changes with your doctor for your personal medical needs. Additionally, this post contains affiliate links. As an Amazon Associate I earn from qualifying purchases. My full disclosure isn't that interesting, but you can find it here.
Ready to take back control of your meals and love your gluten free life? Take the 45 second quiz to get a personalized plan with the guide you need to thrive!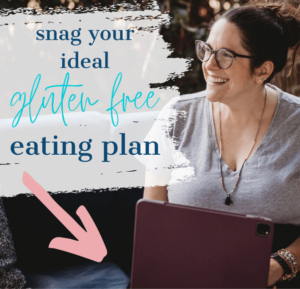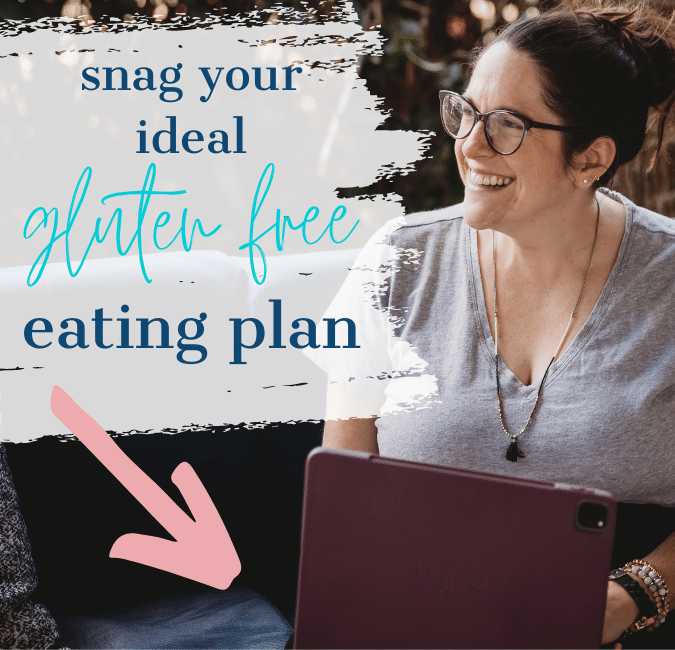 Meijer stores are located throughout the mid-west United States. You can find them in Illinois, Indiana, Wisconsin, and more!
Meijer has some great gluten-free products in both the produce section and their massive inner gluten-free aisle. And if you're shopping online, you can even refine your search by specialty diet including gluten-free!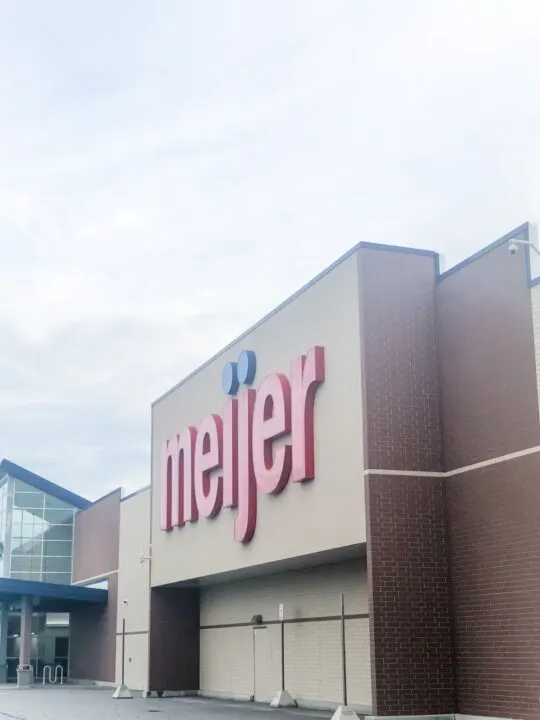 I'll be going through both (beginning with the produce section) and highlighting the variety for this Meijer gluten free list.
Wunderoots by Bolthouse Farms Gluten-Free Sides
These Wunderoots plant-based and gluten-free sides by Bolthouse Farms are a super delicious and simple side dish in a variety of flavors such as Sesame Stir Fry, Green Chile and Yellow Coconut Curry that is ready in just about 5 minutes.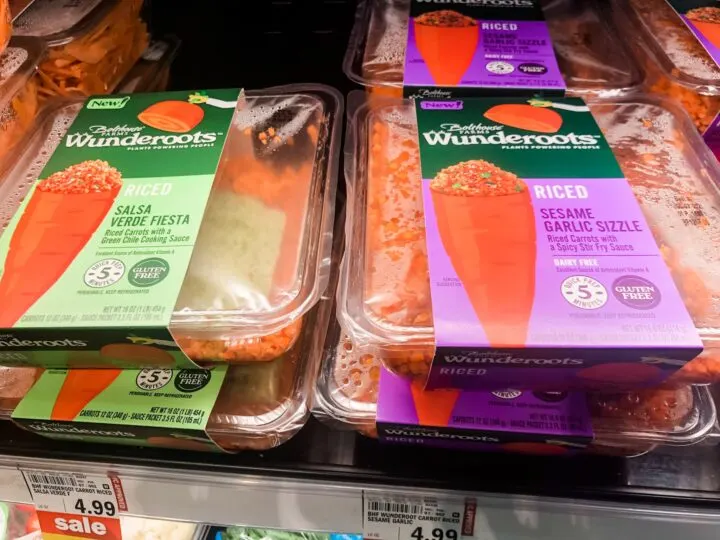 It's the perfect meal addition and I have never seen these at another store! It would also make a really good base for a bowl topped with some protein.
Mann's Better Pasta
In the produce section, Meijer has a wide variety of Mann's Better pasta–noodles cut straight from vegetables with no added starches or flours.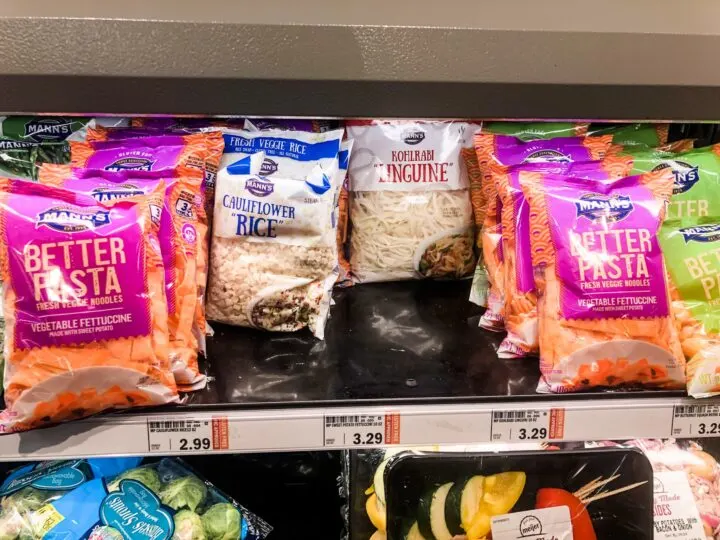 These make the perfect alternative to traditional pasta–or even to just bulk up your gluten-free noodles with more texture and flavor.
Popper Duos by Harvest Snaps
You may have seen Harvest Snap pea chips in the produce section at your local store, but Popper Duos are a different variety that were new to me. These come in a variety of flavors like BBQ Ranch, Yellow & White Cheddar, and Salsa Cheddar.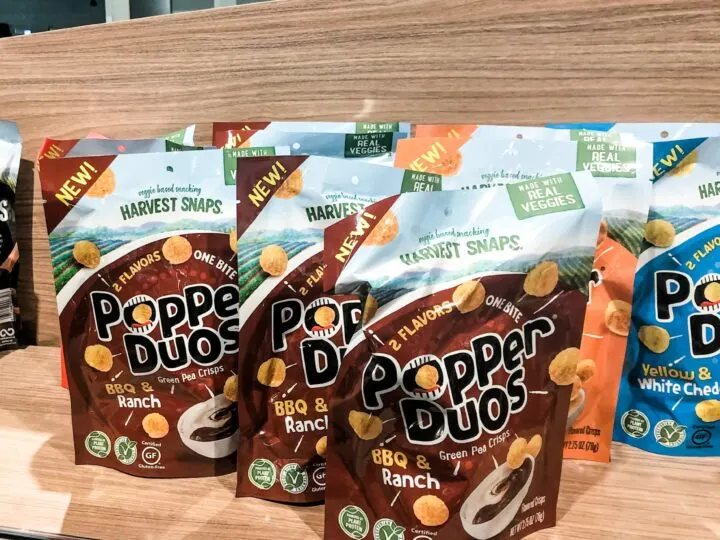 The texture is like a crispier cheese puff, and they are certified gluten free and vegan.
Olivia's Gluten Free Stuffing
While this is an item I can find at many grocery stores around Thanksgiving or Christmas, Meijer stocks it year around! Olivia's gluten free stuffing is perfect for making a simple side dish to go with your dinner or even a casserole.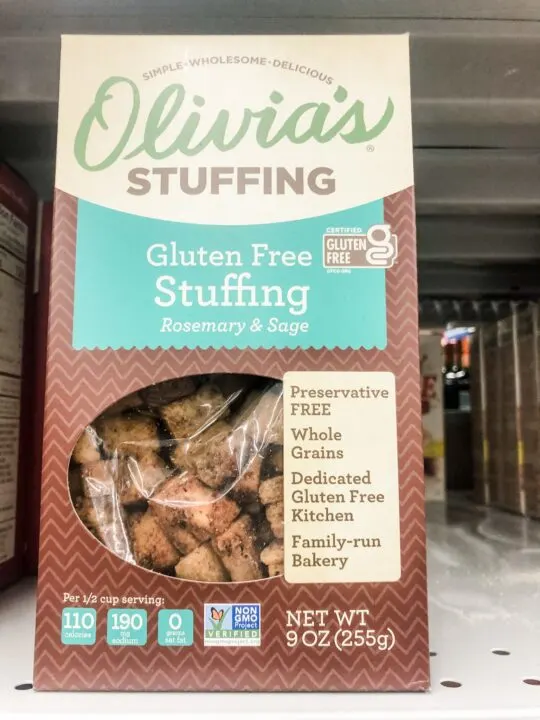 Don't live near a Meijer? You can also purchase this year around on Amazon too.
Gluten Free Pasta at Meijer
Meijer has an assortment of gluten-free pasta from Miracle Noodle to a wide variety of Banza, and even gluten-free gnocchi by DeLallo.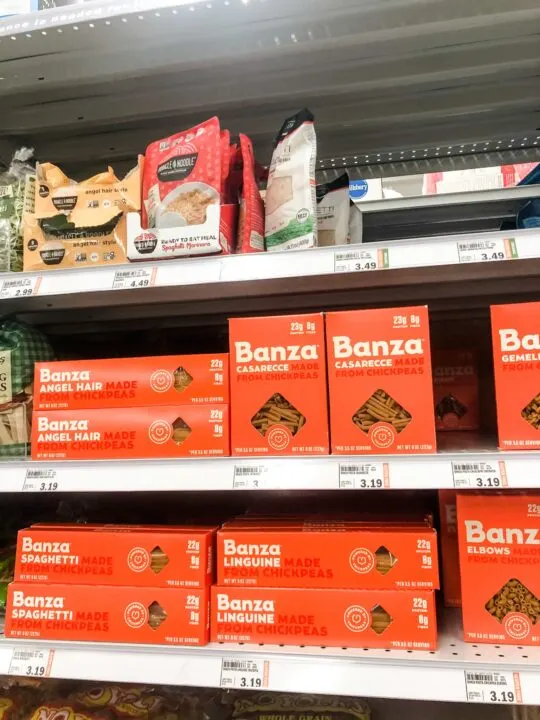 When I was at Meijer, I counted at least 6 brands of gluten-free pasta, so gone are the days of you get what you get and you don't get upset.
Fody Products
If you have to follow a low FODMAP diet, Meijer has the largest assortment of Fody products in-store that I've ever seen. (the image below is only some of what they had available)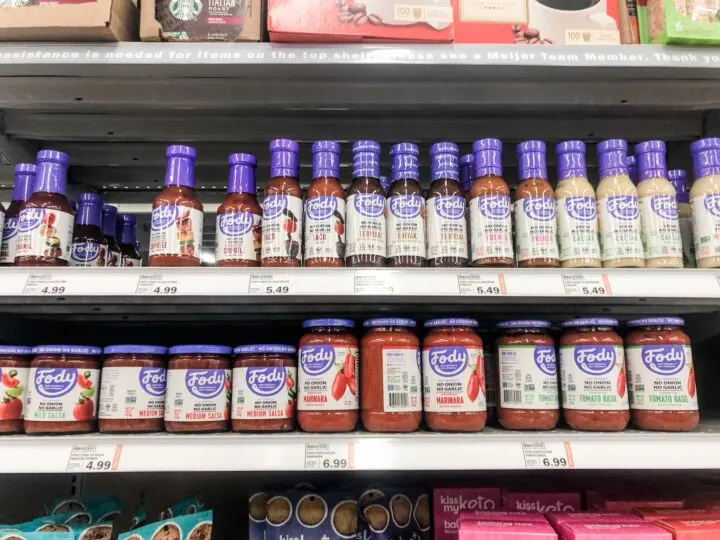 Don't live near Meijer but still need Fody products? You can also find these on Amazon here or on Thrive Market here.
Gluten Free Cake Mixes at Meijer
Just like the pasta, Meijer has a wide assortment of gluten free cake mixes and baking products. Not only do they have two of my favorite gluten-free cake mixes (Krusteaz and King Arthur) but they also have Birch Benders individual microwave mixes.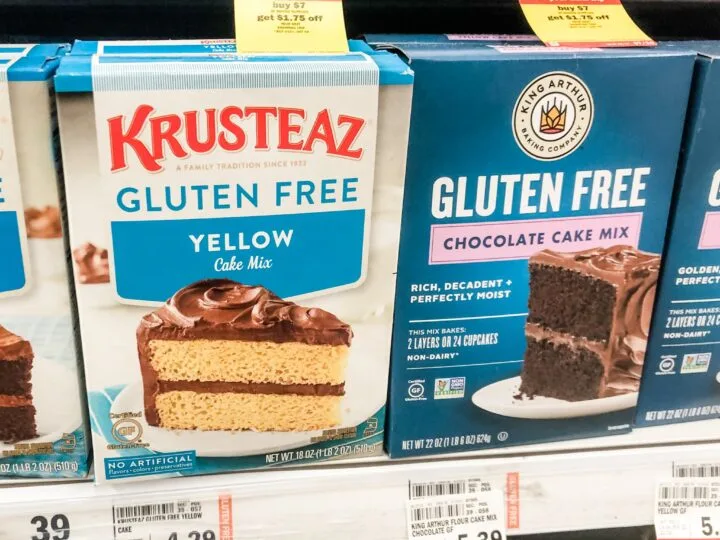 A wide assortment of Birch Benders microwave cups are available online at Amazon too for a similar price as in-store.
Gluten Free Crackers at Meijer
While Meijer has national brands such as Simple Mills and Nut-Thins, Meijer also has their own gluten free brand of crackers. There is a variety and the taste is great too.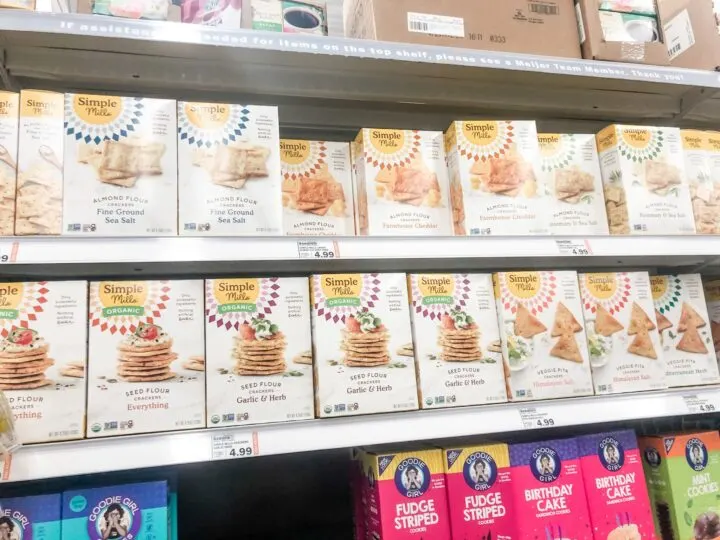 The grain-free Simple Mills crackers are also available on Thrive Market here and Amazon here.
Enjoy Life
If you need food that eliminates other major allergens, Meijer has you covered with Enjoy Life lentil chips, cookies, and more! Enjoy Life products are free of 14 allergens (going above and beyond the 9 required for labeling).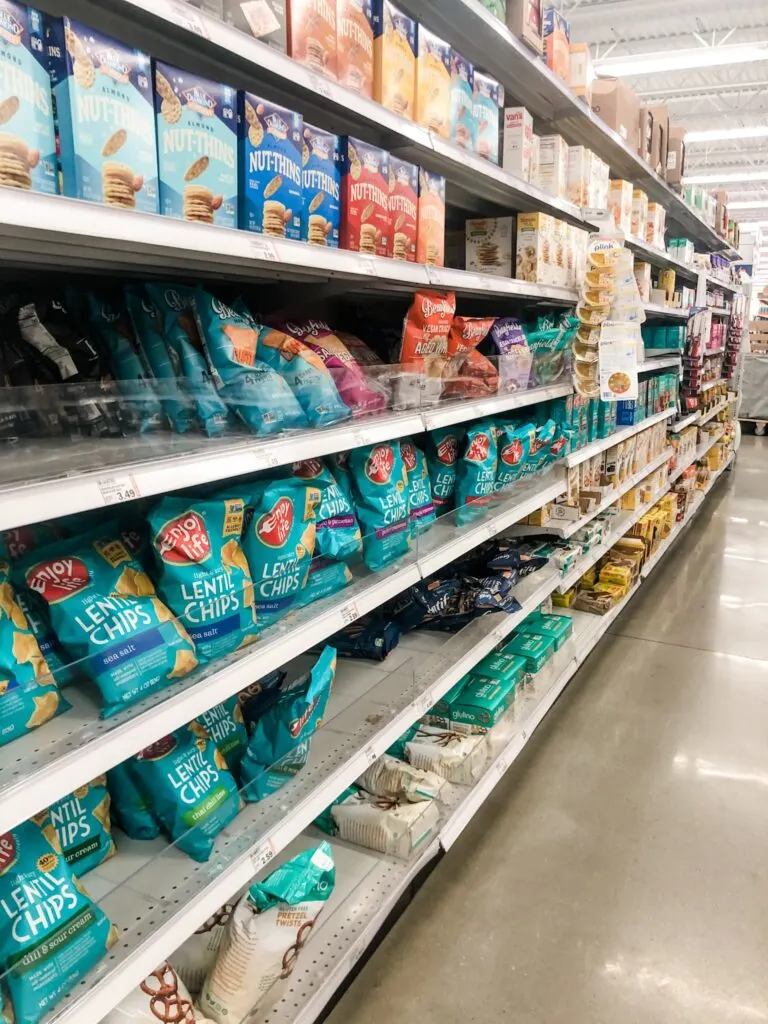 You can also purchase Enjoy Life products at either Amazon here or Thrive Market here.
Schar Gluten Free
While Meijer has an assortment of gluten-free bread products, they have quite a bit of Schar Gluten-Free. Schar has been a major player in gluten-free for over a decade, and their products continue to develop and improve both in variety and in taste/texture.
Can't make it to Meijer? You can order Schar online too.
Find Schar at Thrive Market here or on Amazon here.
Frequently Asked Questions about Shopping Gluten-Free at Meijer
Does Meijer have gluten-free bread?
Yes, Meijer sells an assortment of gluten-free bread including Schar, Canyon Bakehouse, Julia's, Udi's, BFree, Three Bakers, and Essential Baking.
Does Meijer make gluten-free cake?
Tha bakeries at MEijer do not bake gluten-free cake. However, they sell a wide assortment of gluten free cake mixes as well as some items in their frozen section like Katz creme cakes and Daiya cheesecake.
Are Meijer brand chips gluten-free?
Meijer brand potato chips do not have a gluten-free claim, but some of the varieties (such as the wavy) do not contain gluten ingredients.
Are Meijer tater tots gluten-free?
Meijer Tater Bites do not have a gluten-free claim, but also are not made with gluten ingredients.
Can you buy gluten free beer at Meijer?
Yes, some Meijer stores sell Lakefront New Grist Sorghum Beer as well as some gluten-free ciders.
I hope you enjoyed this mega Meijer Gluten Free List!
If so, please use the social sharing buttons below to share to social or pin to pinterest!
What's they key to loving your gluten free life? Take this quick quiz to get a personalized plan with the guide you need to thrive!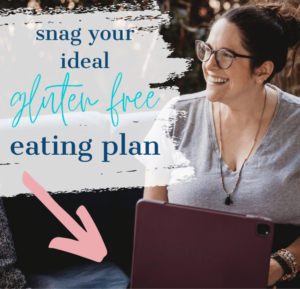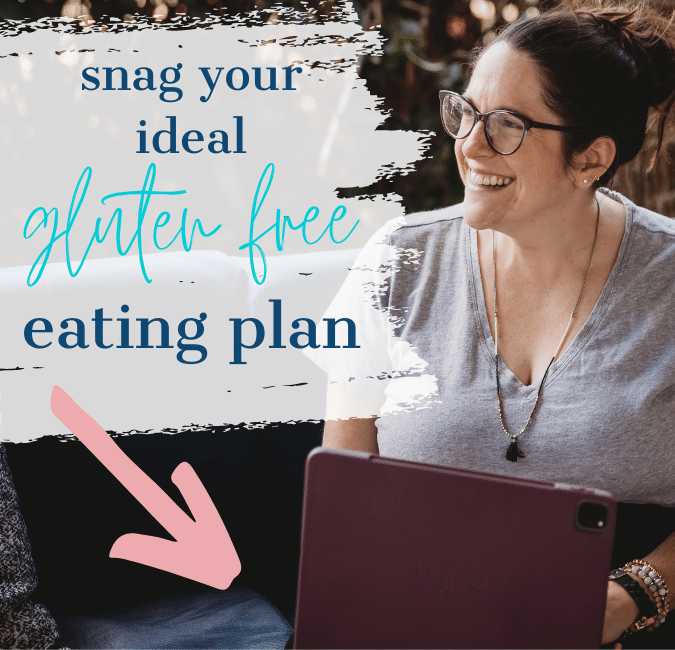 Other Gluten-Free Reviews You Might Like: