Gluten-Free Moussaka Recipe: Low Carb, Keto, Vegetarian Option
This gluten-free moussaka recipe made with lamb or beef (or kept vegetarian) is delicious, comforting, and when served with a crispy salad is a perfect dinner for those warm summer nights.
While many moussaka recipes are a higher difficulty, this one keeps things simple, easy, and perfect for a gluten free diet!
SCROLL DOWN FOR THE RECIPE FOR EASY GLUTEN-FREE MOUSSAKA
---
Are you new here? I also have the following posts to help you implement the gluten-free dietwithout the stress!
…and of course, you should join my EXCLUSIVE Facebook community "Stress-Free Gluten-Free" by clicking here!
---
The gluten-free guide below is based on personal experience and research. Always be sure to discuss any medical changes with your doctor for your personal medical needs. Additionally, this post contains affiliate links. As an Amazon Associate I earn from qualifying purchases. My full disclosure isn't that interesting, but you can find it here.
What is Moussaka?
Moussaka is an eggplant (aubergine) casserole from the Mediterranean/Balkans regions.
It's traditionally a layered casserole with eggplant, bechamel sauce, and meat sauce, but ingredients can easily be substituted to make this dish your own!
Not a fan of eggplant? Sub zucchini! Further customize it by using your favorite ground meat of choice (or omitting it entirely for a vegetarian version).
Is Moussaka Gluten-Free?
It depends on the recipe. This recipe is a naturally gluten-free version, but some traditional moussaka recipes may use flour to thicken the béchamel sauce (which would make it not gluten-free.)
If eating out at Greek restaurants, you'd definitely need to check on the chef's preparation to ensure safety.
If you want to know more about what questions to ask to ensure safe gluten-free dining, check out this post.
But rest assured this is a completely gluten-free recipe that is sooo simple to make at home! It also is naturally low in carbs making it a great keto moussaka recipe!
Be sure to add this super-simple recipe to your weekly menu, and keep reading for the recipe!
Easy Moussaka Recipe Variations:
Moussaka is very versatile. This traditional Greek dish can be a few different ways. Here are some variations you might want to try:
Gluten-Free Beef Moussaka
To make a gluten-free beef moussaka recipe, use a lean ground beef in the recipe.
Gluten-Free Lamb Moussaka
To make a traditional gluten-free lamb moussaka recipe, simply use ground lamb.
Gluten-Free Vegetarian Moussaka Recipe
To make this recipe into a gluten-free vegetarian moussaka recipe, omit the meat entirely! Simply fry the onion and garlic until cooked then add the tomato puree, cinnamon, herbs and cloves.
You could get creative and sub some gluten-free meat substitutes or lentils, but I do not think it's necessary to have a delicious dinner!
Can You Freeze Moussaka?
If you want to make this into a freezer meal, freeze the moussaka before baking.
Simply assemble the moussaka in a freezer safe baking dish (like this one!), cover the casserole directly with plastic wrap (to avoid air touching it and protect it from freezer burn), cover with aluminum foil, and freeze immediately. Casseroles can be frozen for up to 3 months.
To bake, thaw completely and bake according to the remaining recipe directions.
If you want to freeze after baking, be sure to cool to room temperature before wrapping and freezing.
What to Serve with Gluten-Free Moussaka
This recipe would taste great with so many different side dishes! Try a simple leafy greens salad on the side, a Mediterranean inspired white bean salad, roasted veggies, or this keto cucumber salad.
Ingredients Needed for Gluten-Free Moussaka
This gluten-free moussaka recipe couldn't be easier to prep and get cooking! All these ingredients can be found at your local grocery store, but you'll find great deals on gluten-free spices and organic canned tomatoes at Thrive Market.
Click here to learn more about Thrive Market and a promotional link to save up to $20 on your first order!
To make gluten-free lamb, beef, or vegetarian moussaka you'll need:
Ground beef or lamb (omit for vegetarian)
Onion
Eggplant (aubergines)
Cream cheese
Red wine (optional—can use water)
Heavy cream
Grated Romano & Parmesan cheese or feta cheese
Garlic
salt & black pepper to taste
Tools Needed for Making Moussaka
To make this recipe you'll need:
a large skillet
medium microwave safe dish
If you wish to grate your own cheese (which will make for a smoother sauce and omit added starches), you'll need a cheese grater as well.
Personally, I love grating my own cheese, but find it super tedious.
I LOVE putting my cheese through this kitchen-aid grater attachment! It makes grating cheese SOOO simple and quick! I use it all the time.
Gluten-Free Moussaka Recipe
While many moussaka recipes are an 'intermediate' level difficulty, these steps make this recipe simple and easy!
Step 1: Prepare the tomato sauce mixture
In a skillet over medium-high heat, fry the onion and garlic until fragrant and translucent, then (if using), add ground meat and fry until cooked.
Add tomato paste, cinnamon, herbs and cloves stir together well. Once combined, add water (or wine if using) so the mixture isn't too thick then put it to one side.
Step 2: Prepare the eggplant
This simple preparation of the eggplant is the step that takes this recipe to SO simple!
Wash eggplant, pat them dry and cut them into long slices about a quarter of an inch thick.
Cook the eggplant slices in the microwave for five minutes and drain off the liquid, then put to one side. If you don't drain the liquid enough, you can get a watery moussaka. No one wants that!
Alternatively, you could roast the eggplants in the oven.
Step 3: Prepare the Gluten-Free Bechamel Sauce
In a sauce pan, warm the cream cheese gently over medium heat until it becomes liquid, add cream, nutmeg and whisk together well until smooth. Season with salt to taste.
Step 4: Assemble the Moussaka
In a large casserole dish, layer half the tomato mixture, half the eggplant, then half the cream. Repeat and then top with grated cheese.
Step 5: Cook until the grated cheese is golden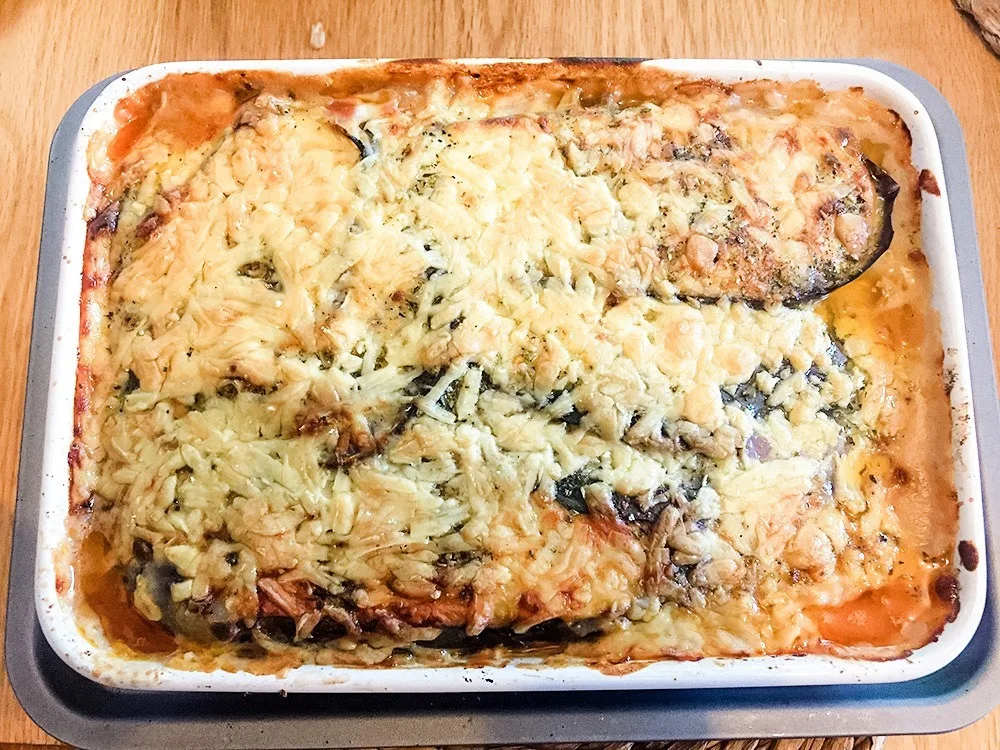 Step 6: Dig in! Enjoy your low carb moussaka!
Be sure to pin this super easy recipe to your Gluten-Free Recipes or Dinner Recipes Pinterest board so you can access it quick and easy whenever you're ready to make it!
Scroll down for the printable recipe, and take the FREE quiz to discover your personalized gluten free plan to claim back your love of food!
Did you love this simple moussaka recipe?
If so, be sure to pin it to Pinterest or share it on social media using the social sharing buttons below. And be sure to try some other creamy and delicious low carb recipes like this keto sausage curry.