Are you ready to taste the best gluten-free lemon blueberry scones you've ever had? These scones are so packed with flavor that you won't believe they're made with completely natural ingredients. Plus, baking them from scratch is surprisingly easy!
In this article, you will learn how to make the perfect gluten-free lemon blueberry scones with just a few simple ingredients. We guarantee you won't be disappointed in the delicious taste and fluffy texture. And best of all, you won't have to worry about any uncomfortable after-effects because these scones are completely gluten-free. So let's get baking!
Keep reading for the blueberry lemon scone recipe!
---
Are you new here? I also have the following posts to help you live gluten-free without the stress!
…get valuable support from me, and gluten-free peers, in my EXCLUSIVE Facebook community "Stress-Free Gluten-Free" by clicking here!
---
The gluten-free guide below is based on personal experience and research. Always be sure to discuss any medical changes with your doctor for your personal medical needs. Additionally, this post contains affiliate links. As an Amazon Associate I earn from qualifying purchases. My full disclosure isn't that interesting, but you can find it here.
Ready to take back control of your meals and love your gluten free life? Take the 45 second quiz to get a personalized plan with the guide you need to thrive!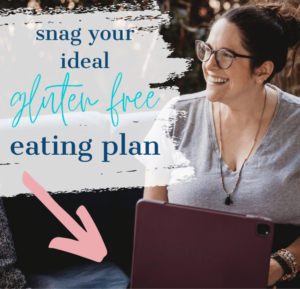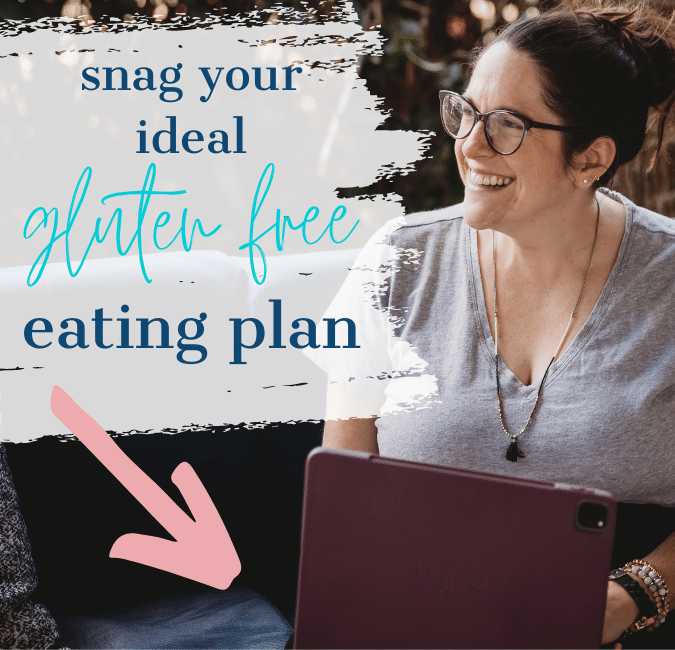 Why you'll love this gluten free blueberry scones recipe
Pairing the all purpose gluten-free flour with almond flour gives these scones a perfect texture—just like your coffee shop favorite!
Making your own gluten-free scones is so much more affordable than trying to special order them.
The lemon adds a tartness to the natural sweetness of the scone resulting in a beautiful bright flavor!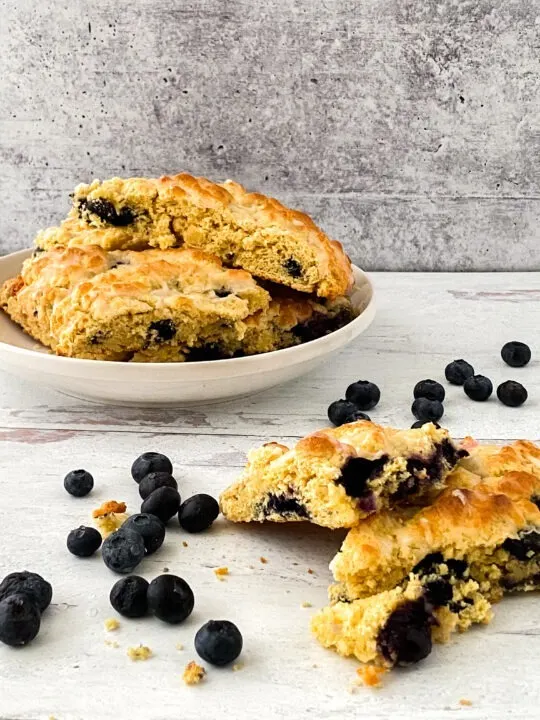 What should I serve with scones?
These gluten free blueberry scones will pair perfectly with either tea or coffee. I'm a big fan of this best chai tea.
They already have a buttery flavor and are topped with a sweet glaze, but if you want to add more butter—I won't tell you no!
Whipped cream is also a delicious option that would pair really well with these scones. Whip some up from scratch for a perfectly fluffy scone topping.
If you're eating these scones for breakfast, pair it with some fresh fruit—I think some cut strawberries would be perfect!
Equipment for homemade gluten-free blueberry scones
To make these scones, you only need a few essential pieces of equipment:
A large bowl. For mixing of course!
A wooden spoon. If you bake with gluten in your house, you want a wooden spoon that's dedicated specifically to gluten-free cooking! Gluten isn't a contaminant you can wash out, it likes to hang out in porous surfaces—such as wood.
Learn more about avoiding cross-contact with gluten in this post.
A rubber spatula. For mixing. 😊
A whisk. A whisk will really improve your batter by helping it be more airy—resulting in a flakier scone.
A grater. I personally recommend instead of just dicing your butter, you freeze your butter and grate it with a cheese grater. This really makes mixing everything together super simply. If you do NOT want to grate your butter, dice it very finely and perhaps mix it with your hands to ensure you coat every little piece in the dry mixture.
Parchment lined Baking Sheets. I looove parchment because it helps your gluten-free baked goods not stick!
Silicone basting brush. Using a basting brush helps you get an even coat of egg wash on your scones to help them brown beautifully!
Ingredients for gluten-free lemon blueberry scones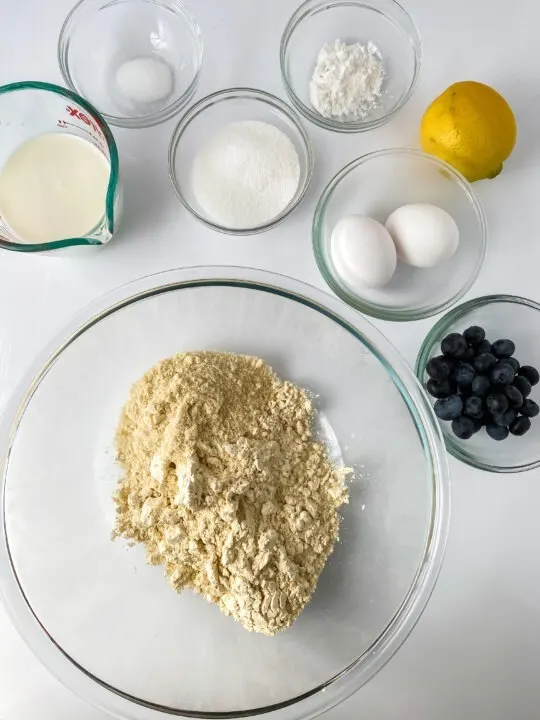 I know this list is longer than many of my typical recipes. BUT it honestly makes something SO delicious.
And the recipe itself IS NOT overwhelming. Just get everything out and bake it baby!
Many of these scones can be found at your local grocery store, but you can find GREAT deals on gluten-free ingredients like gluten-free cup for cup flour or almond flour online at Amazon or Thrive Market.
Click here to learn more about Thrive Market and a promotional link to get 25% off and a free gift worth up to $24 on your first order!
Frozen butter. Freeze your butter for easy dicing or grating. As mentioned I HIGHLY recommend grating your butter, but you can dice it in little pieces if you wish.
Gluten-Free All Purpose Flour. This may also be called cup for cup or measure for measure flour. There are quite a few good gluten-free all purpose flours, but my favorite is King Arthur brand. You can find this on Amazon for a REALLY great price here.
Almond Flour. Yes, this recipe uses all purpose flour and almond flour. Honestly, this contributes to the great texture of these scones!
A note on almond flours—almond flour for baking is different than almond meal. Almond meal is grainier and coarser. I love Anthony's brand super fine blanched almond flour as it has an excellent fine consistency for uniform baking. You can find Anthony's on Amazon here or order it from the company's site here.
Granulated Sugar. Just the classic sugar!
Baking powder. NOT baking soda. Looking for gf baking powder? Check out this guide here.
Salt.
Egg.
Fresh blueberries. This recipe uses fresh blueberries, see notes below on making scones with frozen berries or raspberries.
Lemon zest + lemon juice. Zesting and juicing 1 lemon will result in about 1 tablespoon of lemon zest and 2-3 tablespoons of lemon juice.
Vanilla Extract. I use Watkins because they are labeled gluten-free.
Buttermilk. Don't have buttermilk? See the notes below for how to easily make your own.
Egg Wash. Egg wash is simply 1 egg + 1 tbsp water mixed well.
Ingredients for perfectly sweet lemon glaze
To make this deliciously sweet lemon glaze, you only need 3 ingredients:
Powdered sugar.
Lemon juice.
Vanilla Extract. I use Watkins because they are labeled gluten-free.
Can you make blueberry scones with frozen blueberries?
In these scones, fresh is best! However, you can sub frozen. Here are some tips!
Frozen blueberries are likely to bleed color into your scone dough causing purply streaks. To avoid this, thaw your blueberries and rinse them in a strainer before adding them to your dough!
How do you make your own buttermilk?
Make your own buttermilk at home by adding 1 ½ tbsp white vinegar or lemon juice to 1 cup of milk and let it sit for 15 minutes.
Can you make raspberry lemon scones with this recipe?
Ummmm yes. That would be delicious.
Use fresh raspberries, just be SO gentle when folding them in!
How to make lemon blueberry scones: Step by Step with pictures tips!
To make these fluffy and airy lemon blueberry scones with lemon glaze, whisk together all the dry ingredients.
To this, add your grated or frozen butter and coat the butter thoroughly with the dry mixture.
The mixture should still have chunks of butter—this is what makes the final scone flaky!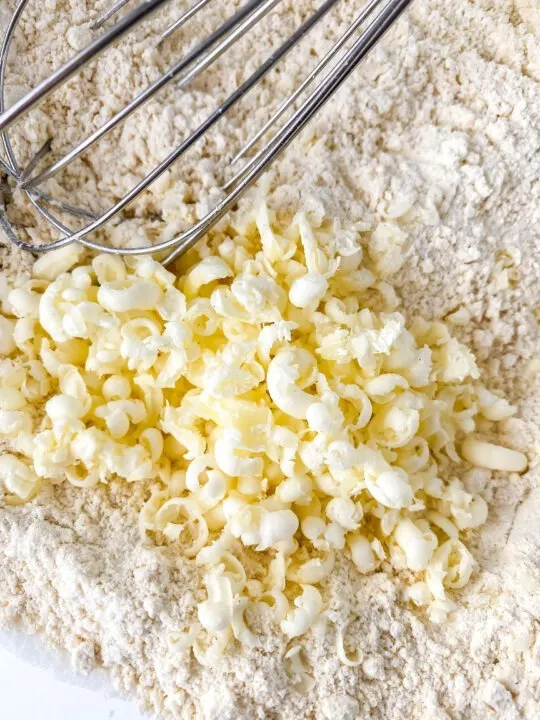 Create a well in your dry mixture, and add your liquid ingredients.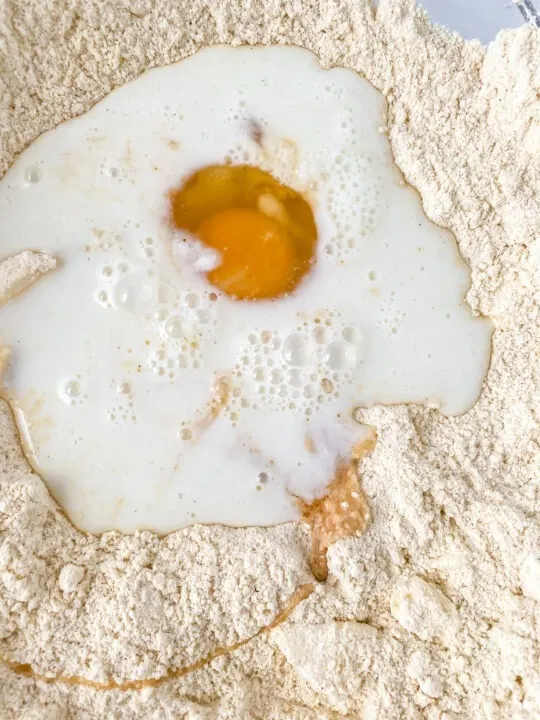 Stir until almost incorporated.
Add the berries, and mix gently.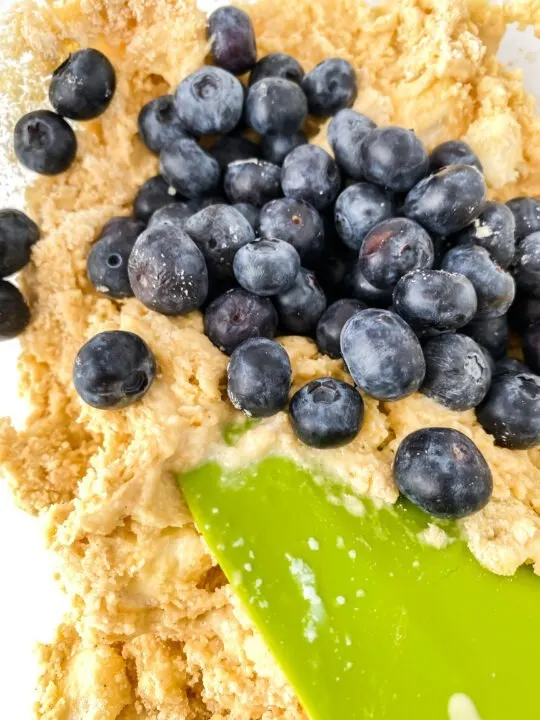 Spray your parchment paper lined cookie sheet with gluten-free cooking spray and add your scone mixture to the center.
Use your hands to form the mixture into a circle.
Using a knife, cut the scone into 8 wedges, but don't slice ALL the way through.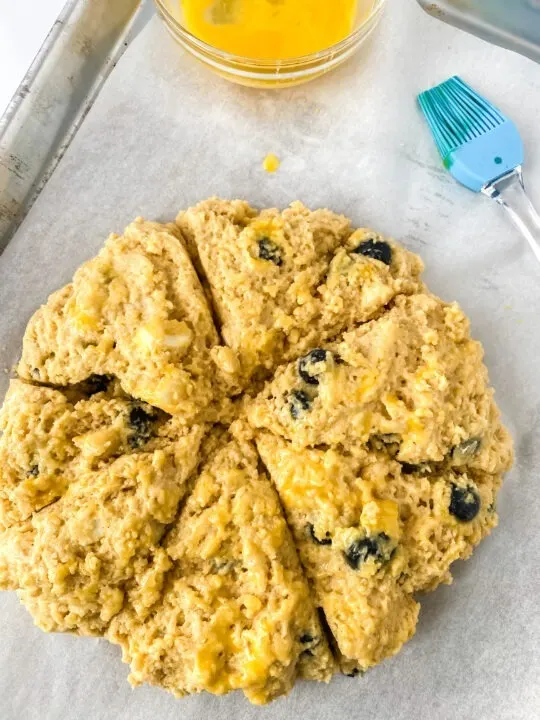 Brush the circle with eggwash and bake 12-15 minutes until golden brown.
Let the baked scones rest for 5-10 minutes.
While resting, make your lemon glaze by whisking all the glaze ingredient sin a bowl until smooth.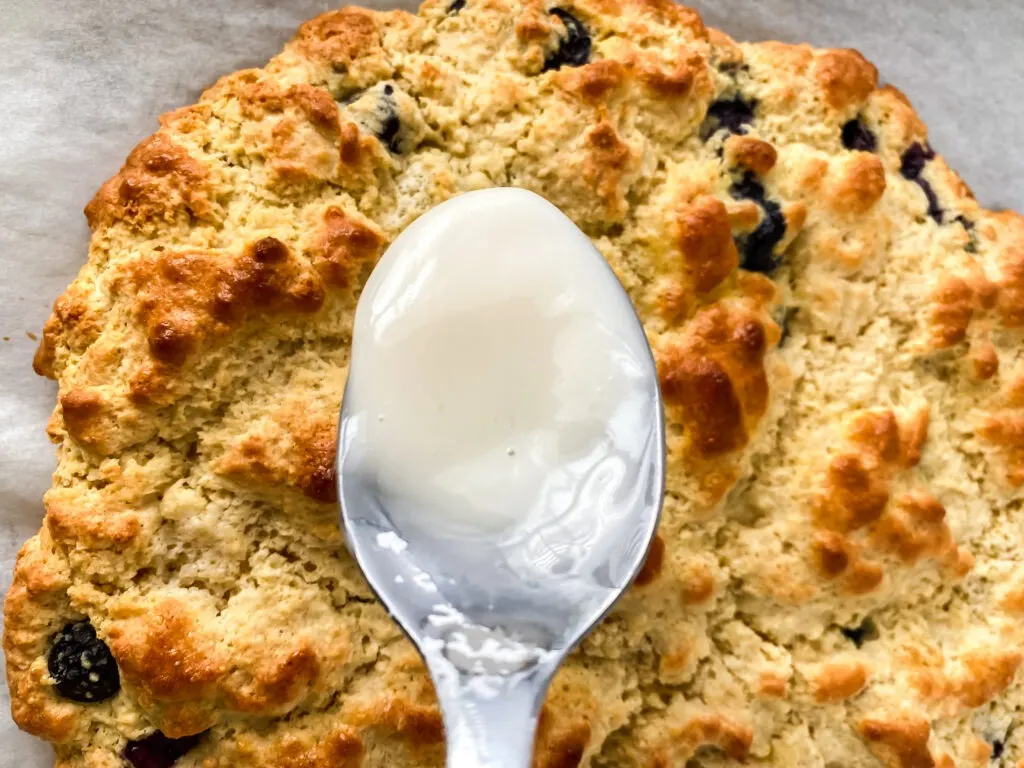 Drizzle the glaze over your scones, and serve!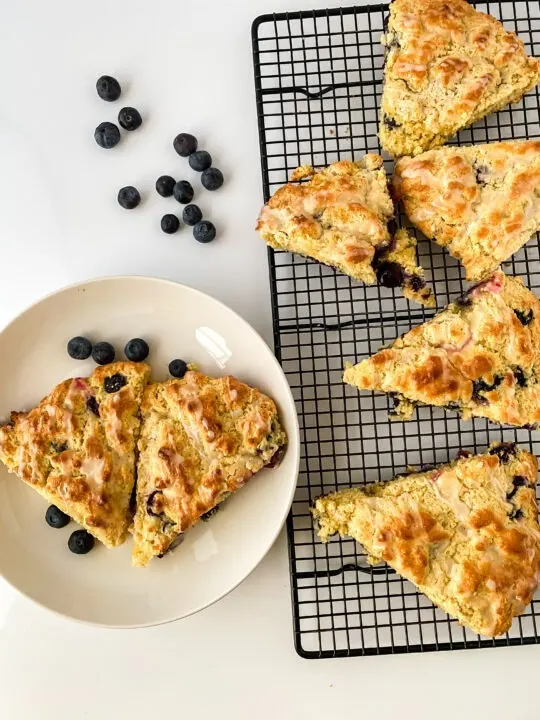 Troubleshooting: Help! What went wrong with my scones?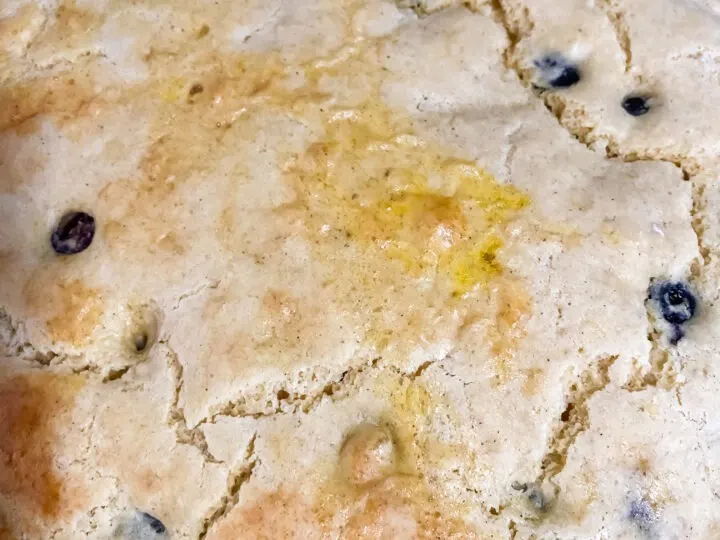 If your scones did not brown correctly or become flaky (it's cakey like the image above)—your batter was likely too wet. This could either be the result of using a sweetener substitute OR your flours may not be as dense.
Remedy this the next time you bake by adding a bit more flour (a tablespoon at a time) until your dough is firmer.
Note: sweetener substitutes just will not brown as nicely—even with egg wash. Sugar causes the beautiful caramelization.
If your scones are too dense and dry, it's likely because you added too much flour. This can happen if you scoop flour right out of the bag and it becomes packed down.
Instead, you spoon the flour into your measuring cup and then level it.
Did you love this recipe for flaky gluten-free blueberry lemon scones?
If so, be sure to pin this recipe to your "Gluten-Free Baking" Pinterest board using the social sharing buttons so you can access it whenever you're ready to make it!
Scroll down for the printable gluten free blueberry lemon scones recipe and be sure to download the FREE printable gluten-free substitutes guide!
What's they key to loving your gluten free life? Take this quick quiz to get a personalized plan with the guide you need to thrive!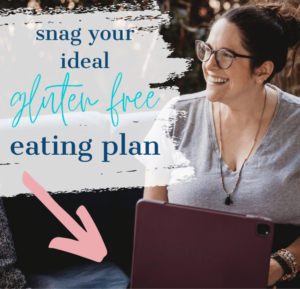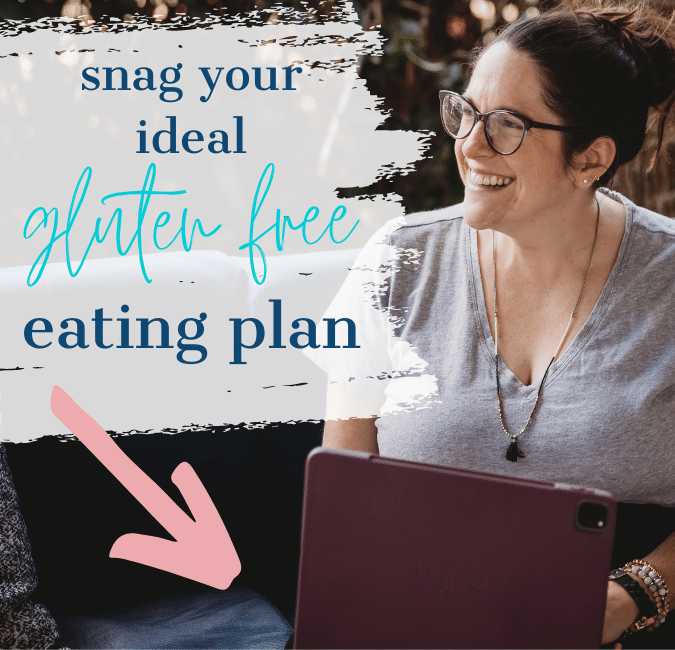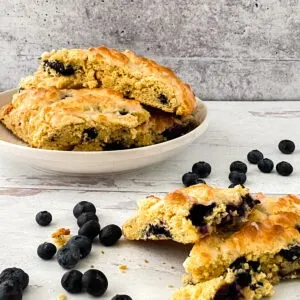 Gluten-Free Lemon Blueberry Scones
This recipe for gluten-free lemon blueberry scones is a classic flaky scone recipe made from scratch. It's not as hard as you might think and so worth the effort and the scones are ah-mazing!
Equipment
Grater

Large Bowl

wooden spoon

Rubber Spatula

whisk

parchment lined baking sheet

Silicone basting brush
Ingredients
Scone Ingredients
1/2

cup

unsalted butter

frozen (grated or diced)

2

cups

all purpose gluten free flour

1

cup

almond flour

1/3

cup

granulated sugar

2

tbsp

baking powder

1/2

tsp

salt

1

egg

large

1

cup

blueberries

fresh

zest from 1 lemon

juice from 1 lemon

1

tsp

vanilla

2/3

cup

buttermilk
Lemon Glaze
1/2

cup

powdered sugar

juice of half a lemon

1/2

tsp

vanilla
Instructions
Preheat the oven to 400 degrees F

Whisk all purpose flour, almond flour, granulated sugar, lemon zest, salt, and baking powder in the large bowl.

Add diced or grated frozen butter and coat with dry mixture.

Create a well in the dry ingredients and add buttermilk, lemon juice, an egg and vanilla to center.

Mix into almost incorporated. Add blueberries. Mix gently until incorporated.

Spray a parchment lined baking sheet with non stick baking spray.

Add mixture to the center of parchment and form into a circle.

Using a knife, cut 8 slices, but not all the way through.

Mix the egg and water for the egg wash. Brush the scone with egg wash using a silicone basting brush.

Bake for 12-15 minutes or until golden brown

Remove from oven and let rest for 5-10 mins.

While resting, make lemon glaze by adding all the glaze ingredients to a bowl and mixing until smooth.
Notes
nutrition information is provided as a courtesy, but may not accurately reflect the final nutrition composition of your final recipe depending on ingredients, substitutions, and serving size.
See blog post above for:
Step by step preparation images
specific brand equipment and ingredient suggestions
baking and troubleshooting tips
and more!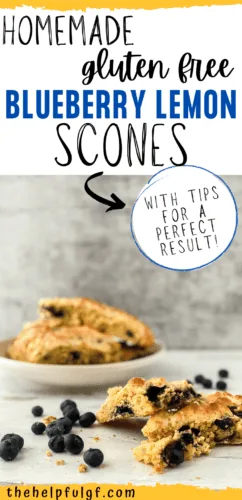 Other gluten-free baked goods you will love
Thanks for trying this gluten free lemon blueberry scones recipe!