The demand for gluten-free products has steadily risen over the years, and if you're wondering: Does pizza dough contain gluten? The answer is YES! Traditional pizza dough does contain gluten.
You might have seen many people on social media 'lettuce wrapping' their sandwiches and burgers. That's one way to have a gluten-free diet. But what about pizza? We can't just lettuce-wrap a pizza, right?
So, what's a gluten-free person supposed to do when it comes to pizza? We need gluten-free pizza crust.
Pizza is almost a lifestyle essential. It is a comfort food! Abandoning pizza is NOT an option.
You might be wondering how you can make gluten-free pizza and how gluten-free pizza is different from other pizzas. Well, this post breaks down all the answers.
Gluten-free pizza is different from other pizzas as it's not made with wheat flour but with other grains instead.
Did I make you curious? Well then, let's find out more about gluten-free pizza and the best options for perfect pizza dough including a homemade recipe and the best store bought options.
Scroll on down to find out more, or use the table of contents below to jump to your question for a quick answer!
---
Are you new here? I also have the following posts to help you live gluten-free without the stress!
…get valuable support from me, and gluten-free peers, in my EXCLUSIVE Facebook community "Stress-Free Gluten-Free" by clicking here!
---
The gluten-free guide below is based on personal experience and research. Always be sure to discuss any medical changes with your doctor for your personal medical needs. Additionally, this post contains affiliate links. As an Amazon Associate I earn from qualifying purchases. My full disclosure isn't that interesting, but you can find it here.
Ready to take back control of your meals and love your gluten free life? Take the 45 second quiz to get a personalized plan with the guide you need to thrive!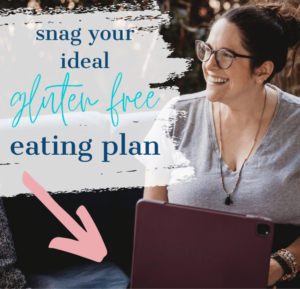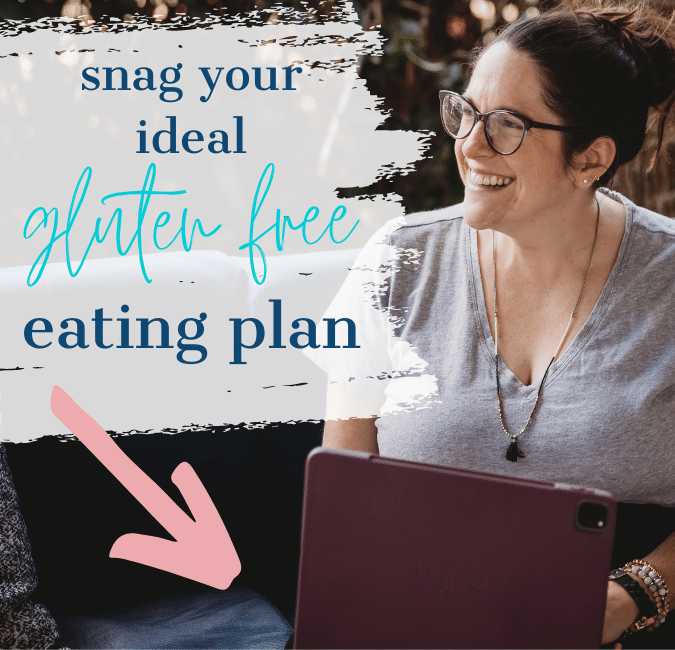 How Is Gluten-Free Pizza Different From Other Pizzas?
Nowadays, many popular pizza chains like Pizza Hut have started to include Gluten-Free pizzas in their official menu with their regular pizzas.
Put simply, this gluten-free pizza is made with gluten-free ingredients.
However, for individuals with Celiac Disease, an allergy, or a severe intolerance, you may need to go the extra step when eating out to ensure that there is no cross contact with wheat flour during preparation. Find out more about eating out gluten-free in this post.
Your regular pizza doughs are made with wheat flour and thus have viscosity and structure. This is where the two kinds of pizza differ.
You can use gluten-free substitutes to make your delicious pizza. This way, you don't have to ditch your favorite food just because it has gluten. But what grains can you use, and will it be the same?
I know these questions currently cloud your mind. Don't worry, when I first started messing around with mixing gluten free flours, my mind was blown!
Rice, sorghum, and buckwheat are some grains that you can use for your gluten-free pizza dough.
Mixing two or more flours and starches together will make a great gluten-free flour. You can use a mixture of rice flour and almond flour and some potato and tapioca starch. Adding psyllium husk in the mixture can help the structure hold similar to gluten.
Alternatively, you can use an all-purpose gluten-free flour as a shortcut. Just keep in mind that although this is definitely easier and less complicated, it may yield a less desirable result as combining specific flours in specific ratios.
Which road do I take? If I make something from scratch… 9 times out of 10, I use the all-purpose gluten-free flour like this one by King Arthur Flour.
Can You Buy Pre-Made Gluten-Free Pizza Crust?
Yes you can! If you don't want to go through the hassle of making gluten-free pizza crust yourself (like below), you can totally purchase a pre-made gluten-free pizza crust!
Keep reading to see the best gluten-free pizza crusts to buy!
The Best Gluten-Free Pizza Crust Mix
If you want to make your own gluten-free pizza crust, but don't want to deal with mixing all the flours together, this gluten-free pizza crust mix by Cup-4-Cup is going to be your best bet!
All you'll need to add to this mix is milk, oil, and eggs!
The Best Frozen Gluten-Free Pizza Crust
If you walk down the aisle of your local grocery store, chances are you'll see a few different options of frozen gluten-free pizza crusts!
While most of them are great (and honestly, I'm not too picky), these two are my family's favorites!
Caulipower Pizza Crust
The Caulipower gluten-free pizza crust comes in a 2-pack and is a gluten-free dairy-free pizza crust.
Honestly, there's no weird cauliflower taste and they cook up really great in the oven. We love to keep a pack of these in the freezer for impromptu pizza nights!
Cappello's, Naked Pizza Crust
The Naked Pizza Crust by Cappello's is another favorite.
While this is a little pricier, it is a grain free option and it really crisps up nicely. If you're looking for a paleo pizza crust–this is it!
The Best Refrigerated Gluten-Free Pizza Crust
Sometimes you don't want a pre-shaped pizza crust, but you don't have time to wait for dough to rise either. So, do they make gluten-free pizza dough?
Heck yes they do!
At many stores you can find a refrigerated ball of gluten-free pizza dough that's ready to shape!
Often, people ask me, Does Trader Joe's have gluten-free pizza dough?
The answer is YES! Yes they do, and it's the best.
Whenever I make a trip to Trader Joe's, my kids get so excited, because they know we're going to be making pizza! Their pizza sauce in the refrigerated section next to the dough is also fantastic.
The Best Packaged Gluten-Free Pizza Crust
If you're looking for a pre-made gluten-free pizza crust that's also shelf-stable, Schar's gluten-free pizza shells will be your pick.
They will cook up into a more dense-like pizza crust, but they're so easy to snag out of the pantry and they cook up quickly!
These gluten-free pizza shells are available in many grocery stores, but you can also snag a 4 pack on Amazon to stock your pantry here.
How To Make Gluten-Free Pizza Dough?
There are two ways you can go about making your gluten-free pizza dough.
The first way is your typical traditional route. Just mix the flour, starches, oil, and water along with some yeast and knead until you get a well-structured dough.
The other way is to make a batter rather than dough.
I know this sounds strange, but if you make the traditional dough, it may become very hard and stiff when baked as the flours used are highly absorbent.
On the other hand, if you use a batter for the pizza shell, it will get a beautiful golden crust after baking.
To make the pizza crust batter, you need to add more than double the water. You need to add about 130% water to the mix. Shaping this batter in the baking pan might be a hassle.
Also, before you add toppings to the batter, you should bake it first. It may be a little annoying, but the crust is amazing.
What Are The Ingredients Used To Make The Gluten-Free Pizza Dough?
The toppings for every pizza depend on your choice and preference–as long as they're gluten-free! So, what remains is how you can make gluten-free pizza dough.
Here are the ingredients used to make gluten-free pizza dough:
*Your water + milk should be at approximately 110 degrees F. If it is too hot, it will kill your yeast.
The mixture of these ingredients should give you the perfect dough for your gluten-free pizza. Not only that, you can make calzones or breadsticks with this dough. So, let's see how to make this dough.
Can You Buy Gluten-Free Flour?
You can buy gluten-free flour easily. Many brands offer a variety of gluten-free flour options. Some of them are multi-purpose flours, while some are specially curated for pizza dough requirements.
If you want to sub an all-purpose gluten-free flour instead of using the rice flour, potato starch, and tapioca starch, you can–but it may not yield the desired results. And if the flour blend you have already contains xanthan gum, omit it.
Scroll down for the printable recipe, and take the FREE quiz to discover your personalized gluten free plan to claim back your love of food!
What's they key to loving your gluten free life? Take this quick quiz to get a personalized plan with the guide you need to thrive!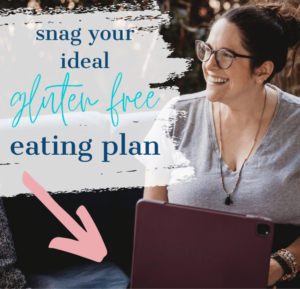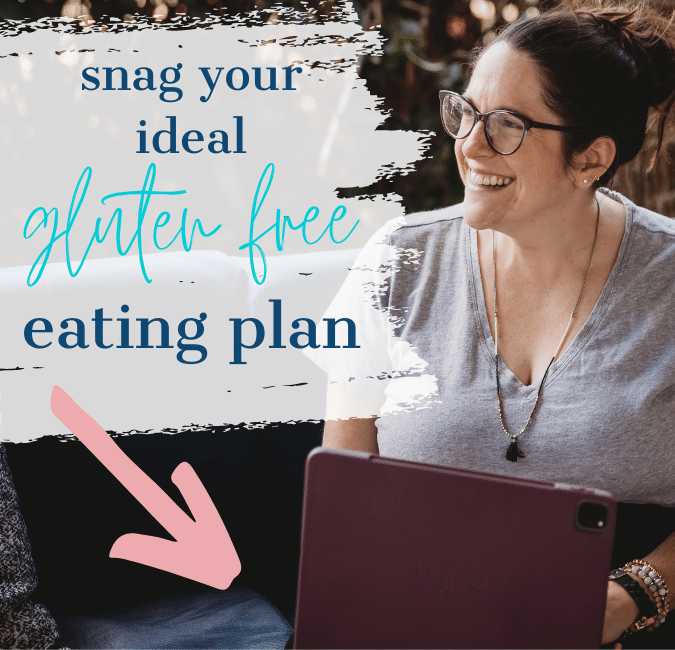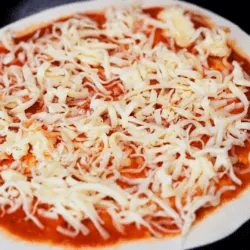 Homemade Gluten-Free Pizza Crust
Want to make your own gluten free pizza dough at home? This recipe makes a good gluten-free pizza crust to top however you want for reliable homemade gluten free pizza.
Ingredients
1

cup

Rice Flour

1/2

cup

Potato Starch

1/4

cup

Tapioca Starch

1

tsp

Baking Powder

1

tsp

Xanthan Gum

1/2

tsp

Salt

4

tbsp

Olive Oil

divided

1/2

cup

Milk

warm

1/2

cup

Water

warm

1

tbsp

Sugar

1 1/2

tsp

Instant Yeast
Instructions
Start by whisking rice flour, potato starch, tapioca starch, baking powder, xanthan gum, and salt in a large bowl. If there are any lumps in your flour, you may want to sift these ingredients together.

After that, take a small bowl and mix two tablespoons of oil with the warm milk, warm water, sugar, and yeast. When it's mixed, add about ½ cup of the flour mixture and mix until no lumps remain.

Cover the bowl with a kitchen towel, and set this mixture aside in a warm place for about 30 minutes until bubbly.

After that, add this mixture to the flour mixture. Using a stand mixer, beat the mixture for 4-5 minutes until it is a bit sticky and completely mixed. This dough will be very sticky!

Cover the bowl and set it aside for another 30 minutes.

While this sits, preheat the oven to 425°F.

Line a large baking sheet with parchment paper. This is very important! Drizzle the other 2 tbsp of oil over it and then empty the bowl over it.

Using your hands, press the dough into the pan to your desired pizza shape. This should be enough dough to make a 12-inch pizza base. (see notes below if your hands stick to the dough)

Once the dough is in the pan in your pizza-crust shape, let it rest for another 15 minutes. This is important to ensure the gluten-free grains and starches absorb all the liquid. It keeps your crust from being 'grainy'

After that, place the dough in the oven and bake for 8-10 minutes so that it is just set.

Then, take it out and sauce it up! Place some cheese and toppings of your choice on it. Pop it in the oven for another 10-15 minutes. Take out your delicious gluten-free pizza, slice it, and it's ready to serve!
Notes
If the dough is sticking to your hands, there are a couple things you can try:
You can spray your hands with some cooking spray

spray some plastic wrap with cooking spray and lay it over your dough (cooking spray side down) and use the plastic wrap as a barrier between your hands and the dough.
*Calorie count is for crust only and depends on ingredients used, and may vary widely.
With this, we have reached the end of our article on gluten free pizza vs. wheat pizza. I hope you found this article interesting and informative. If you did, let me know in the comments.
If you loved this article, be sure to pin it to Pinterest for later or share it on social media using the social sharing buttons below!
Other posts on gluten free living that you will love!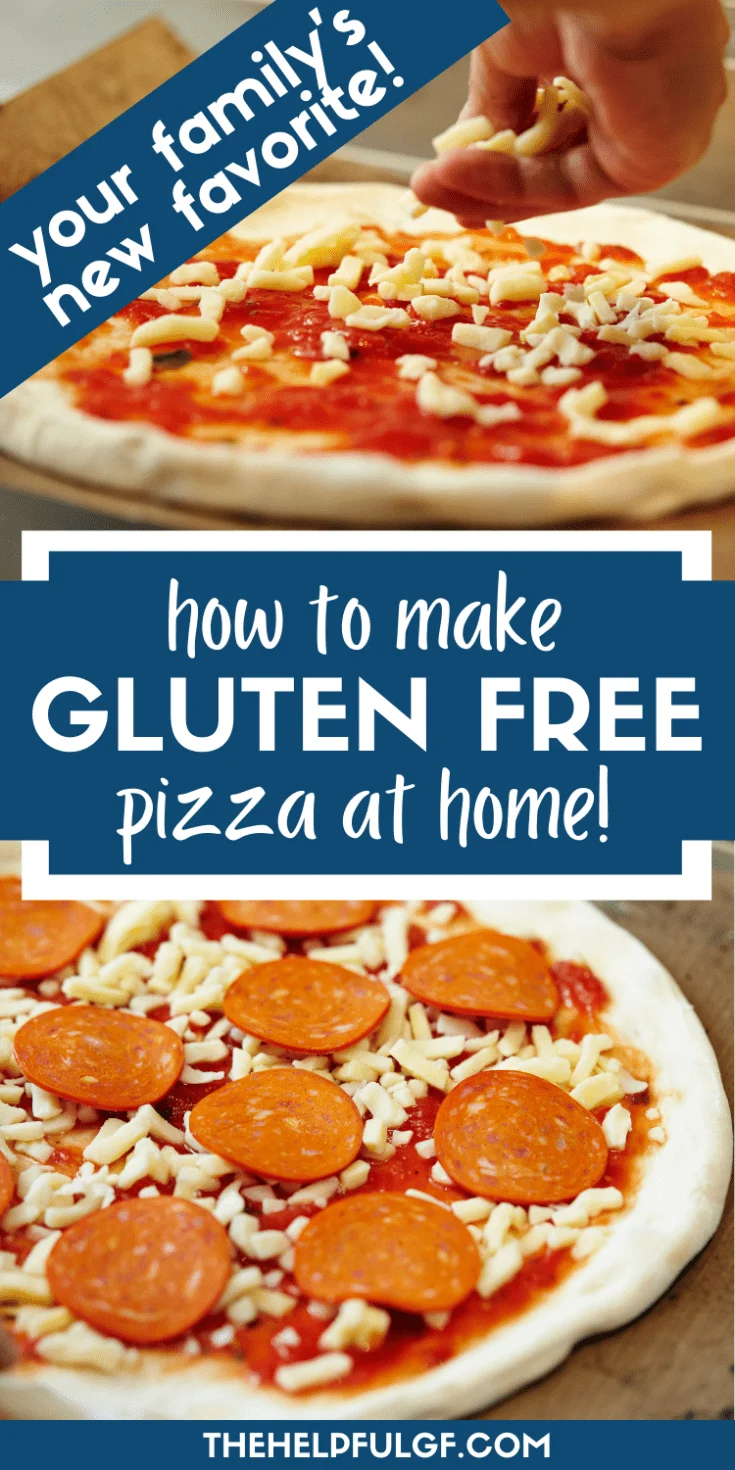 How Is Gluten-Free Pizza Different From Other Pizzas?