This is a detailed and delicious anti-inflammatory grocery list!
Anti-Inflammatory Grocery List
Looking to eat an anti-inflammatory diet? This anti-inflammatory grocery list contains my favorite and staple groceries that are gluten-free, dairy-free, sugar-free, soy-free, and peanut-free.
SCROLL DOWN FOR THE MUST-HAVE ANTI-INFLAMMATORY FOODS SHOPPING LIST!
---
Are you new here? I also have the following posts to help you live gluten-free without the stress!
…get valuable support from me, and gluten-free peers, in my EXCLUSIVE Facebook community "Stress-Free Gluten-Free" by clicking here!
---
The gluten-free guide below is based on personal experience and research. Always be sure to discuss any medical changes with your doctor for your personal medical needs. Additionally, this post contains affiliate links. As an Amazon Associate I earn from qualifying purchases. My full disclosure isn't that interesting, but you can find it here.
When Should I Eat an Anti-Inflammatory Diet?
Before we get into the shopping list, there are many reasons why someone would try an anti-inflammatory diet.
If you struggle with chronic inflammation due to an autoimmune disease such as Rheumatoid Arthritis
When you're recovering from being "glutened" and want to calm your digestive system
If you are struggling to identify possible food intolerances and get back to a general healthier way of eating such as the Arbonne 30 Days Program.
An anti-inflammatory diet is not a 'cure all' for health conditions, but is often recommended by doctors and dietitians as a helpful tool to work along side medications and other treatments.
In addition, anti-inflammatory eating is generally recognized as a healthier way of eating and may even lower your chances of developing other issues.
If you're curious about trying an anti-inflammatory diet, be sure to discuss it with your doctor or a Registered Dietitian.
Are you're curious about eating anti-inflammatory, the Mediterranean diet is a really popular option. Check out my full guide to eating the Mediterranean diet when you're gluten free here.
What Can I Eat on an Anti-Inflammatory Diet?
This grocery list is gluten-free, dairy-free, sugar-free, peanut-free, and soy-free and will help with internal inflammation. Click the links for my favorite items you can order easily online (and some even have promo codes to save you $$)!
Where Can I Purchase Anti-Inflammatory Foods?
The great thing about anti-inflammatory foods is you really can buy them almost anywhere! While your local grocery store and farmer's markets will have lots of great options, there are also lots of places you can order online to get some special foods you may not find at your local store.
Plus, ordering online is easy and you may even find better prices.
My favorite places to order anti-inflammatory foods online are:
Ready to take back control of your meals and love your gluten free life? Take the 45 second quiz to get a personalized plan with the guide you need to thrive!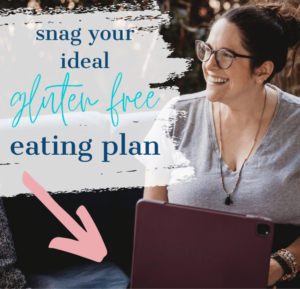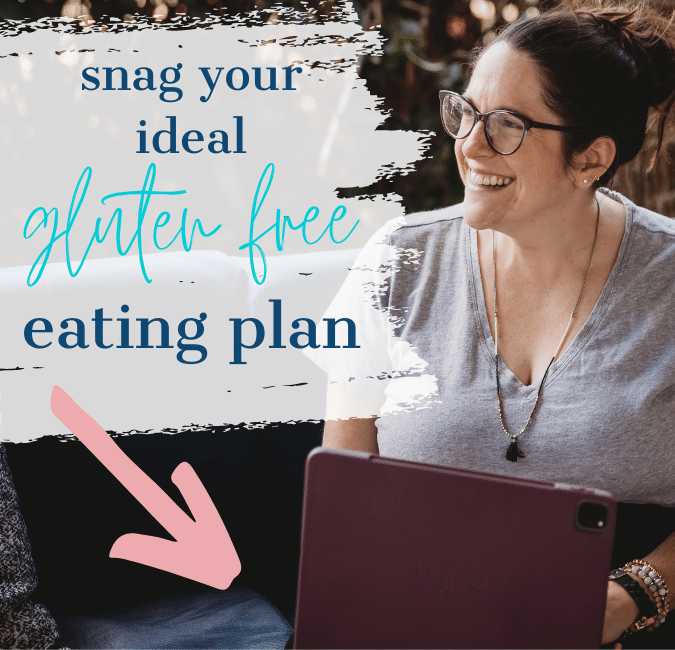 Anti-Inflammatory Foods Shopping List
This is a great list with brands that I love and trust. This list is not exhaustive, but is a great starting point for anyone looking for clean, healthy foods. Plus, I included tools you may find helpful for preparing foods and keeping things fun!
Click on the links in the list for my favorite tried & true brands that are gluten-free, dairy-free, peanut-free, and soy free!
Meat
Poultry (chicken, turkey, duck)
Beef or Bison
Game Meat (venison, elk, etc.)
Seafood (fish & shellfish–look for wild caught!)
Dairy Alternatives–Unsweetened
Almond milk. Curious about the best gluten free almond milks? This post has a great list.
Cashew milk
Coconut milk
Coconut cream
Vegan Creamer. See my favorite brands here.
note: most anti-inflammatory diets eliminate dairy products all together due to the high prevalence of lactose intolerance and milk allergies. However, some individuals without lactose intolerance or a milk allergy have good success eating fermented dairy products.
Seeds, Nuts & Nut Butters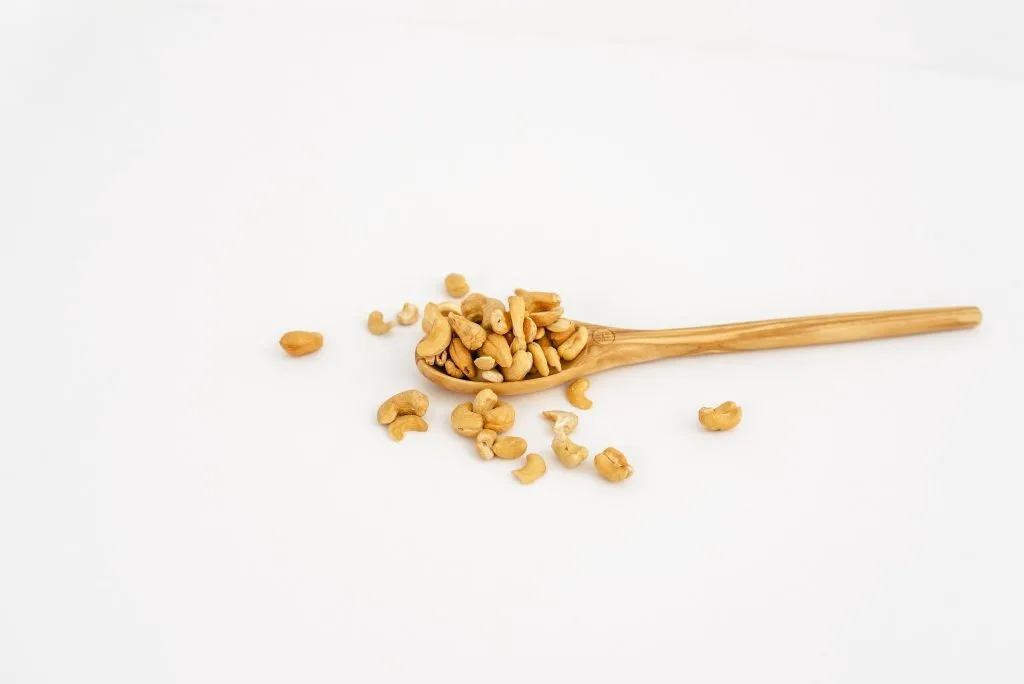 Almonds*
Almond Butter (unsweetened)
Almond Flour
Cashews*
Chia Seeds
Coconut Flakes (unsweetened)
Coconut Flour
Flax Seed
Hemp Hearts
Seed Butter (nut-free)

*be sure to read labels on nuts to ensure they aren't produced in a facility or on equipment with wheat and other allergens.

Vegetables (aim for organic/ local/ in season)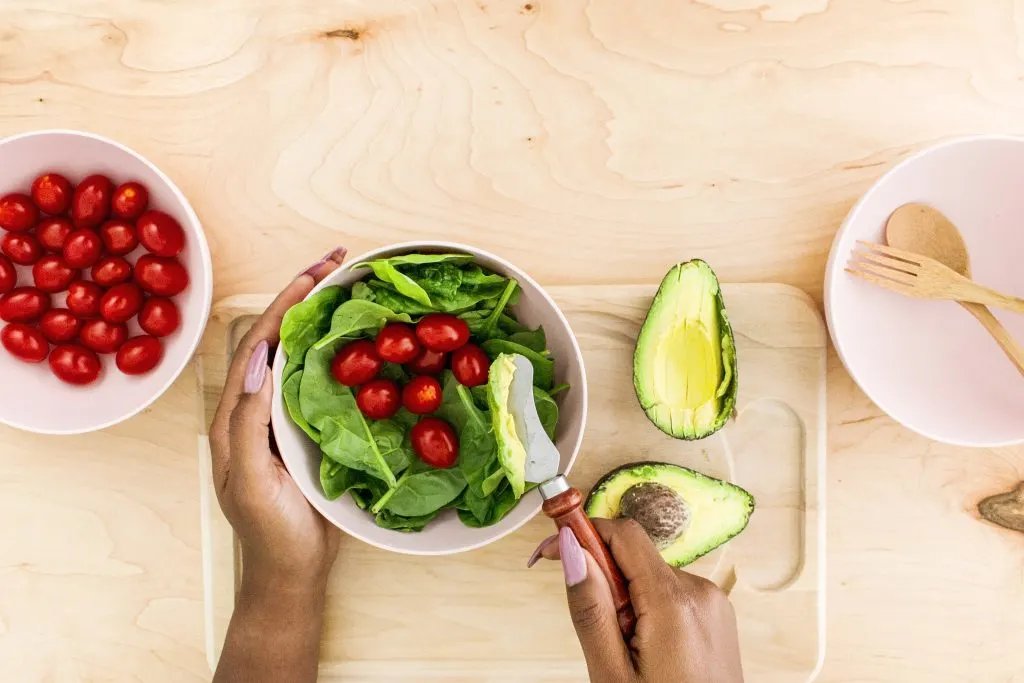 Any and all vegetables! Be sure to eat a variety of colors to get a wide range of nutrition.
Fruits (aim for organic/ local/ in season)
While any fruit is technically fine, some are recommended over others. The best fruit choices are:
Apples
Berries
Lemon
Lime
I hope you find some favorite products you love! Eating anti-inflammatory can be so easy and taste great!
Also, if you love this anti-inflammatory grocery list, don't forget to pin this post so you can find it easily when you are ready to shop or meal plan.
What's they key to loving your gluten free life? Take this quick quiz to get a personalized plan with the guide you need to thrive!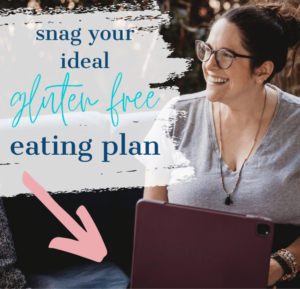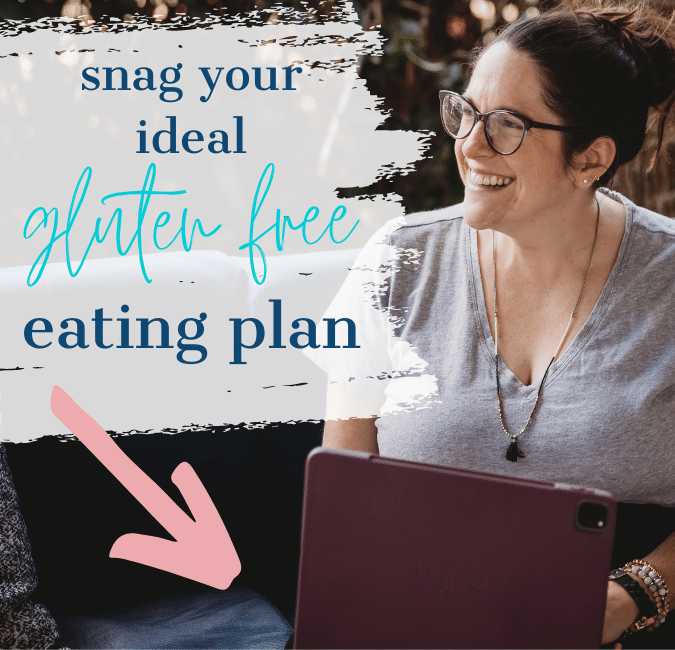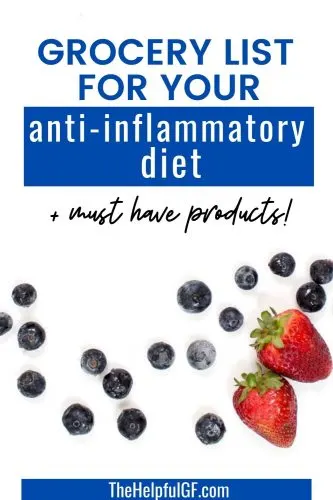 Looking for some anti-inflammatory recipes?
Here are more recipes you will LOVE: