If you're curious of what to eat on the Mediterranean diet and you're gluten-free, you're in the right place! The gluten free Mediterranean diet is a healthful option, and this post unpacks all the details you need for success.
The relationship between food and our body's health is a complicated one.
Eat too little, and you miss out on important nutrients, but eat too much of the wrong things, and you run the risk of developing major health conditions.
Recent studies have linked ultra-processed foods with higher incidences of cancer and early death. Insights into men who consume high amounts of ultra-processed foods indicate a 29% higher risk of developing colorectal cancer — the third most diagnosed cancer in the US.
…and this isn't the first or only research linking unhealthy eating habits with serious health issues.
This isn't a post trying to fearmonger you–we ALL rely on processed foods in one way or another. But it is important to find a balance and try to rely more on whole foods as a primary source of nutrition.
This could become anyone's priority if we want to prevent chronic disease such as metabolic syndrome, cancer or heart disease in the future.
Today, so many diets are being recommended, depending on who you ask.
It's important to note, however, that eating healthy doesn't have to mean eating less–and it's definitely not about crash dieting or drying to lose weight as fast as possible!
In this post, we'll go over the gluten-free Mediterranean diet and whether it seems like a good idea for you.
Keep reading for all the details, or use the Table of Contents below to jump to your section of choice!
---
Are you new here? I also have the following posts to help you live gluten-free without the stress!
…get valuable support from me, and gluten-free peers, in my EXCLUSIVE Facebook community "Stress-Free Gluten-Free" by clicking here!
---
The gluten-free guide below is based on personal experience and research. Always be sure to discuss any medical changes with your doctor for your personal medical needs. Additionally, this post contains affiliate links. As an Amazon Associate I earn from qualifying purchases. My full disclosure isn't that interesting, but you can find it here.
Ready to take back control of your meals and love your gluten free life? Take the 45 second quiz to get a personalized plan with the guide you need to thrive!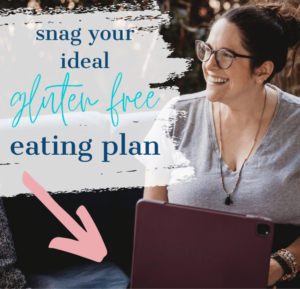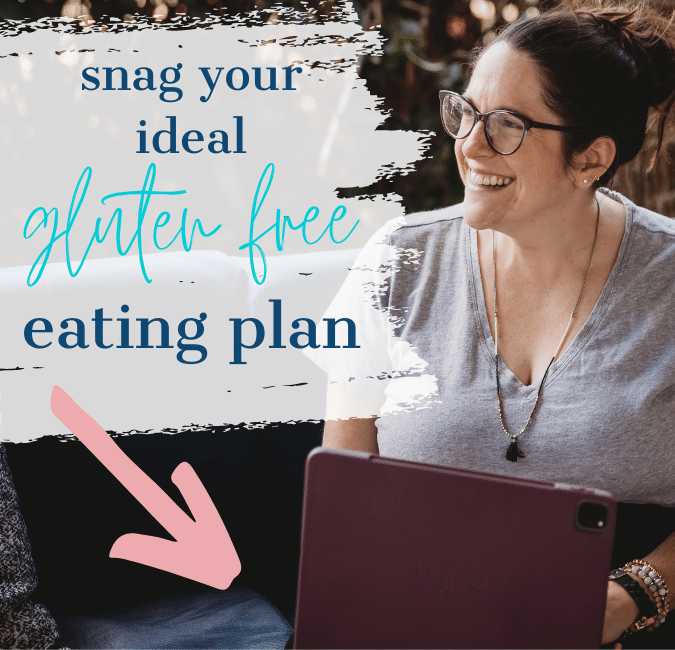 What is gluten?
Gluten is found in many grains, such as wheat, barley, and rye, and is commonly found in bread, pasta, pizza, and cereal. We've discussed the benefits of a gluten-free diet and its effects against conditions like rheumatoid arthritis in a previous post. This includes reduction of swelling and pain or discomfort in your joints.

Many rheumatologists often recommend a gluten-free diet to lessen joint pain and avoid triggering Celiac disease — an auto-immune condition often comorbid with rheumatoid arthritis.
Likewise, many rheumatologists also recommend a Mediterranean diet.
One advantage of the gluten-free way of eating is that it can mesh well with the Mediterranean diet.
Because there is already an aversion to processed ingredients in the Mediterranean diet, applying gluten-free restrictions won't be too difficult in your recipes.
In fact, you can easily substitute ingredients that contain gluten with ingredients which would easily fit with Mediterranean cookbooks.
Health Benefits of the Mediterranean Diet
One of the healthiest styles of eating in the world, the Mediterranean diet champions dishes that use fresh, leafy ingredients. Specifically, the benefits of a Mediterranean diet include:
Preventing heart disease
With recipes that are often rich in extra virgin olive oil, research shows that long-term consumption of a Mediterranean diet is associated with both increased cardiovascular health and the prevention of cardiovascular issues.
The study also concludes that the Mediterranean diet is more effective in providing this health benefit, compared to a low-fat high-carb diet.
Good for type-2 diabetes
Nutrition and diabetes affect each other, and people living with diabetes are often limited in their diet choices. As such, most weight loss programs suitable for diabetics tailor meal plans to avoid additional sugar and carbohydrates.
Some programs even include blood sugar trackers as well, so Type 2 diabetics can feel at ease when they eat.
A Mediterranean diet can be beneficial for dealing with Type 2 diabetes, as it helps maintain your blood sugar and is naturally low in carbohydrates.
Anti-inflammatory in nature
Studies also show a correlation between the Mediterranean diet and prevention of depression and frailty in older adults, thanks to its anti-inflammatory properties found in fiber and plant-based recipes.
In line with the Mediterranean lifestyle, increasing intake of anti-inflammatory foods such as fruits, vegetables, and other dietary antioxidants can help ease depression.
How to Mesh the Mediterranean Diet with the Gluten Free Diet
It's important to note that not all Mediterranean recipes will be gluten-free.
Many regular Mediterranean recipes may rely on gluten-containing grains and, therefore, not be suitable for those with celiac disease, non-celiac gluten sensitivity, or a wheat allergy.
Generally, however, a Mediterranean diet does focus on naturally gluten-free foods such as leafy greens, vegetables, and fruits, while completely avoiding processed foods and sugar.
What Foods Would be Included on a Gluten Free Mediterranean Diet?
Looking for some key food items you want to make sure you have at all times?
You'll want:
Fruits — Any type of fruit
Vegetables — Try sundried tomatoes, garlic, and the usual leafy greens as a great source of folic acid. For a more filling option, sweet potatoes are a great bet!
Nuts and peanuts — Particularly almonds and walnuts
Eggs and poultry — Experiment seasoning a variety such as chicken, turkey, duck, and geese. Try this air fryer blackened chicken recipe!
Fish — Fatty fish like tuna and salmon
Gluten-free grains — Sorghum, quinoa, oats, buckwheat, brown rice, and corn
Don't forget to regularly incorporate extra virgin olive oil in your recipes for some healthy monounsaturated fatty acids–a great source of fat!
As you can see, a Mediterranean diet is also very compatible with a plant based diet as it relies heavily on a variety of plant-based foods.
You can even make delicious treats like these dairy-free brownies made with sorghum and sweet potato.
What's they key to loving your gluten free life? Take this quick quiz to get a personalized plan with the guide you need to thrive!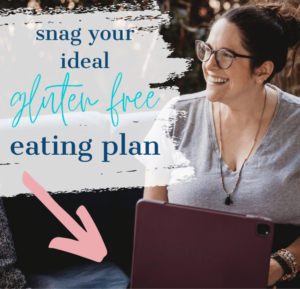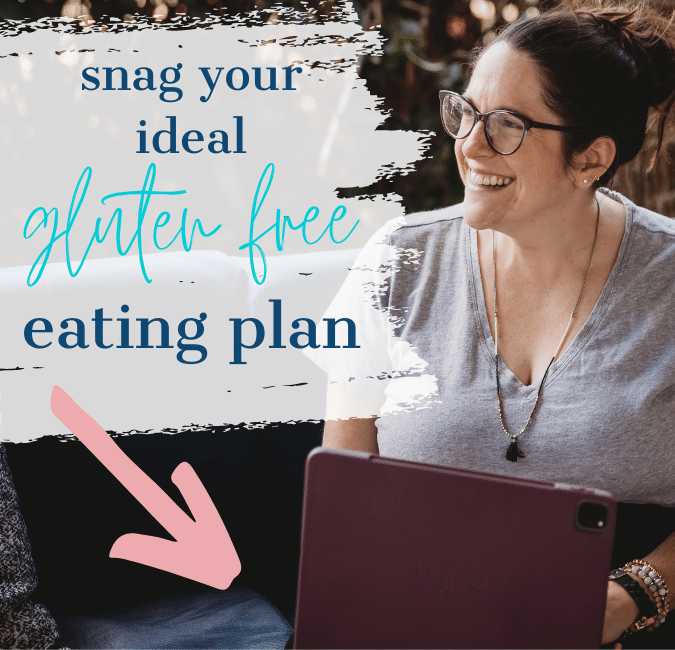 Looking for some gluten free Mediterranean diet recipe ideas?
Check out these gluten-free recipes that fit the Mediterranean lifestyle and will keep you healthy!
Homemade Tomato Soup
This homemade tomato soup is so quick to whip up and blend to perfection!
Green Goddess Hummus
This flavorful recipe for homemade hummus is the perfect side to fresh veggies, or topping for a delicious gluten-free grain bowl.
Garden Vegetable Risotto
Let your fresh veggies shine with this delicious tomato & zucchini risotto recipe!
Honey Garlic Shrimp Kabobs
These flavorful shrimp skewers can be made on the grill, stovetop, or in the oven. Serve them over rice for a rounded out meal.
Southwestern Style Quinoa Salad
This delicious gluten free grain salad is the perfect dish to prep ahead for a well balanced lunch idea!
Did you love this post on how to do the Mediterranean Diet when you're gluten free?
If so, be sure to share it on social media or pin it to Pinterest using the social sharing buttons.
Check out these other posts on living gluten-free: