GLUTEN-FREE PIZZA QUESADILLA RECIPE
This post contains affiliate links. If you order through one of these links I'll earn a small commission at no extra cost to you! My full disclosure isn't that interesting, but you can find it here.
A gluten-free pizza quesadilla, or as my kids say: "pizza dippers" can be thrown together quick and is sure to be a lunch (or appetizer, or even dinner!) that everyone can enjoy! These crisp up nicely and kind of remind me of those frozen pizza bites I used to eat as a kid, but I haven't found gluten-free version of yet. But hey—not only is my version gluten-free, but all around healthier!
This recipe for a gluten-free pizza quesadilla is also super versatile. Are you also dairy free? Sub the mozzarella with some vegan cheese (I use Daiya because it's certified gluten free—learn more about gluten-free certification and labeling here). Are you a vegetarian and or don't like pepperoni? Sub your favorite toppings like black olives or mushrooms! Can't stomach corn? Swap out the corn tortillas for a brown rice tortilla. Modify it to fit your needs.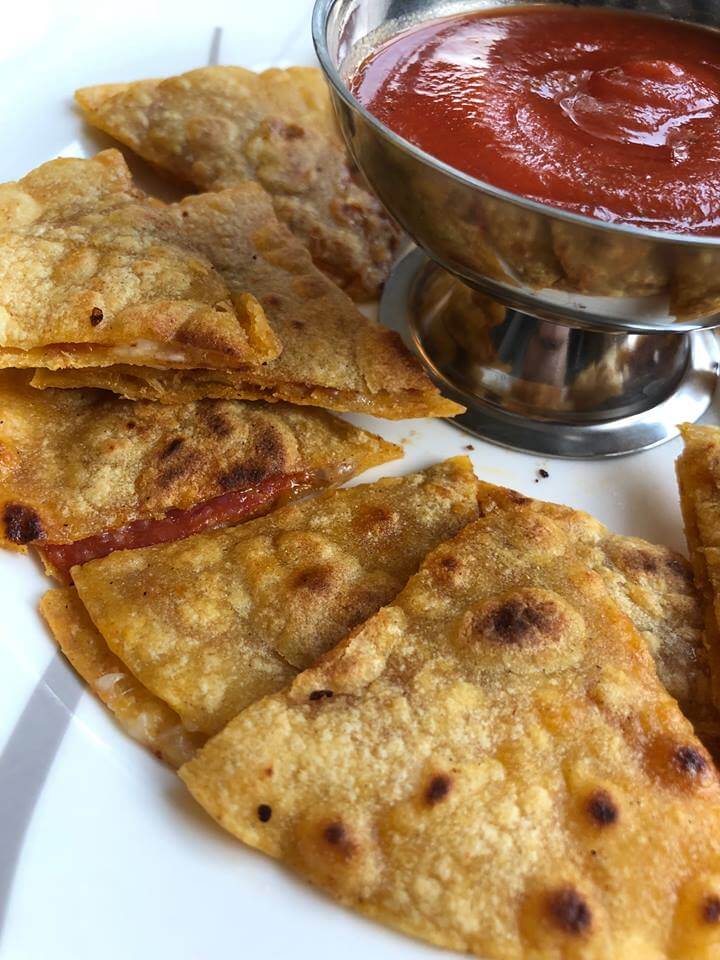 As a mama with young kids, meals are easier when they make everyone happy. But it's absolute necessary to have meal ideas that are quick and easy. I love experimenting with new recipes, but most of the time I come back to super simple recipes that I don't have to think about to cook. You know—you can make it with toddlers pulling on your legs? Gluten-free pizza quesadillas are one of those meals!
See my other tips for getting gluten-free meals on the table quickly and easily without added stress here!
Side note–there's something about giving my kids food that can be eaten with fingers and dipped in sauce that makes them want to eat. Does anyone know what it is with kids and dip??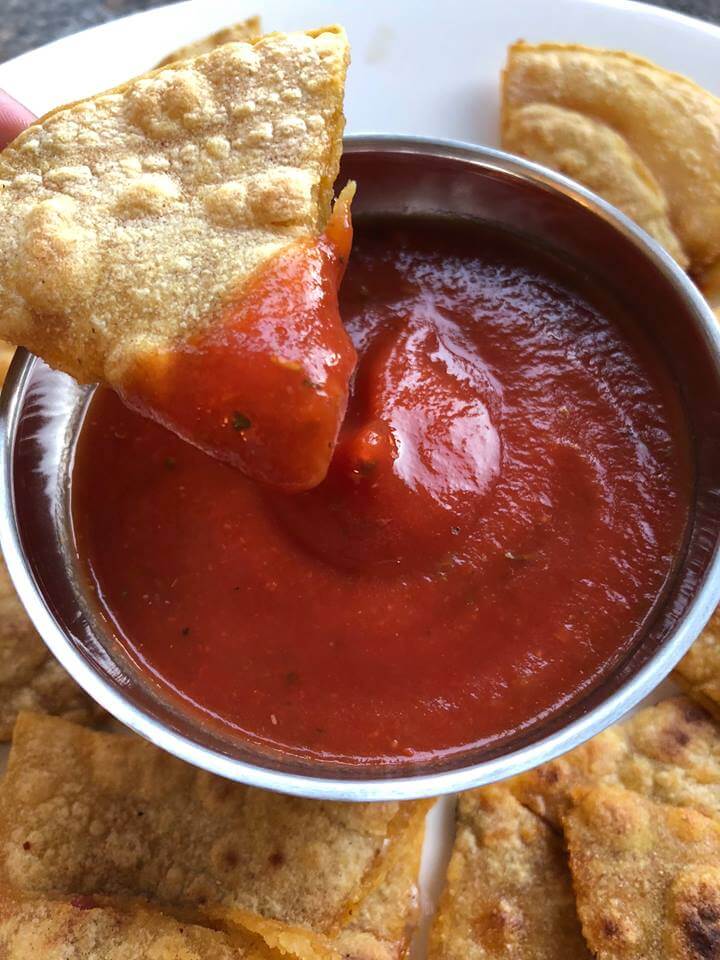 Be sure to add a gluten-free pizza quesadilla to your weekly meal plan this week and pin the recipe for quick and easy reference later!
Are you ready to simplify your dinner routine?
Download "FIVE IN FIVE"–my FREE e-cookbook of simple & easy gluten free dinners containing 5 ingredients or less!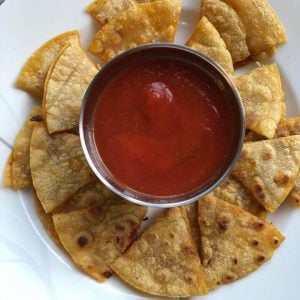 GLUTEN-FREE PIZZA QUESADILLA
Looking for a quick, easy, and healthy gluten-free recipe that will satisfy your kids? This gluten-free Pizza Quesadilla recipe is an easy lunch idea that will make your kids happy. 5 ingredients. Ready in 5 minutes
Ingredients
2

Corn Tortillas

or other gluten-free tortilla of choice

1/4

cup

shredded mozzarella

see notes for dairy-free/vegan modifcation

4

slices

pepperoni

see notes for vegan modification

sprinkle

Italian seasoning

1/2

cup

tomato sauce of choice

gluten-free cooking spray
Instructions
Once heated, spray with cooking spray and lay a tortilla on top of the pan.

Sprinkle cheese, seasoning, and pepperonis on top of the tortilla. Place a lid on top of the pan so the cheese melts. It should take 1-2 minutes for the cheese to melt.

Once the cheese is melted, remove the lid and place second tortilla on top. Flip quesadilla and toast the other side for 1-2 minutes so both sides can be toasted.

Slice the quesadilla into triangles and dip in favorite pizza or pasta sauce
Notes
Products I Recommend:
Dietary Modifications:
Make this recipe dairy-free by subbing your favorite vegan cheese
Make this recipe vegan by subbing your your favorite vegan cheese and vegan pizza topping